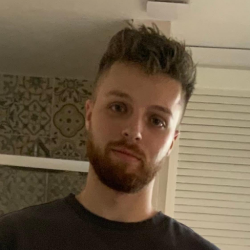 Latest posts by Linden Garcia
(see all)
Introduction
In many ways, BONELAB has become the Gary's Mod of VR. Like that game, an advanced engine was utilized to give a talented community everything they needed to make some of the most fun and creative mods available.
Thanks to developer support from the start, the modding scene for BONELAB is positively booming with content, and there's more coming every day. Having spent dozens of hours with the game myself, I've been scouring the forums to look for mods to take my experience further. In this list, I'll show you my list of sixteen favorites.
Bottom Line Up Front
While this article's main focus is to bring you a curated list of the best mods available for the game, you'll also find a brief overview of how to install mods, too. If you're in a rush and just want to see my absolute favorites, head down to the bottom of the article for my top three picks from the list.
Also, be sure to check out the Frequently Asked Questions section at the bottom of the article!
Bonelab Best Mods Selection Criteria
Will include skins

: Some people don't consider cosmetic alterations proper mods, but in BONELAB's case, they absolutely have to be included! Given the brilliant new avatar feature, there are so many amazing customs. I couldn't make a list like this without including some of them.

Won't include script mods

: Sometimes, a mod you want requires a prerequisite mod to load, but these will always be disclosed within the mod description page. This article will focus on the fun stuff instead.

Won't include any overly provocative mods

: If you've had a browse on a mod page before, you've likely come across some quite unsavory stuff from time to time. NSFW (not safe for work) content may be included, but I'll be filtering out some content that may be considered a bit much for some players.
How to Mod BONELAB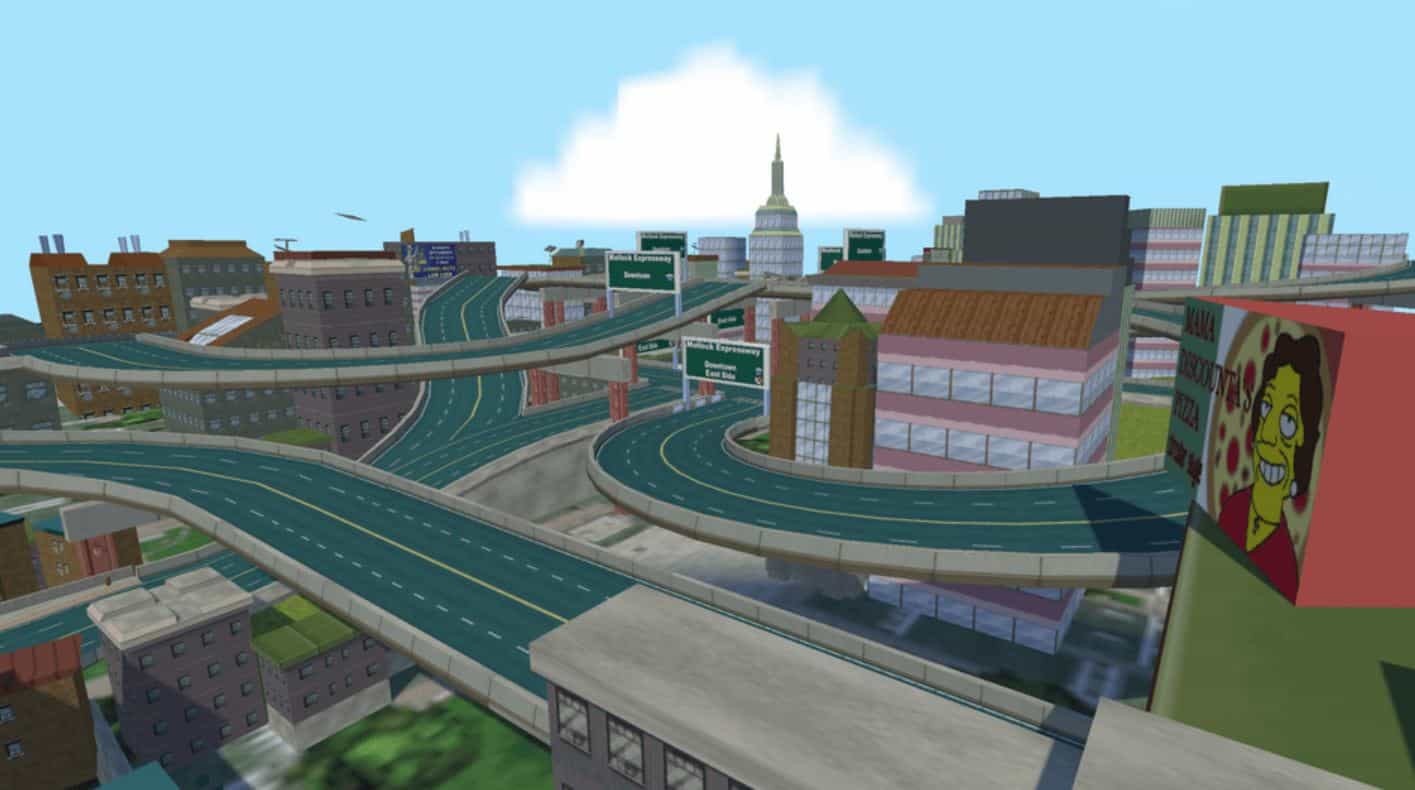 Thankfully, modding BONELAB involves a very minimalistic and streamlined process. The best place to download mods for the game is the BONELAB page on Mod.io. You'll find a wide plethora of mods to choose from here, and downloading them is as simple as clicking on the mod you want and selecting either the Windows or Android download link. PC players will want the Windows link, while Quest users click Android.
The mod will then quickly be downloaded to your platform as a Zip file, so you'll need an unzip program to extract your files. I highly recommend using Win Rar which can be downloaded here for free. It's a super handy program to have anyway, and once installed, any Zip file you download will automatically be unZipped using the software.
Once you have your chosen mod file on your computer, follow this directory thread: This PC > Local Disk (C:) > Users > Admin > AppData. From here, click on the file labeled LocalLow, and scroll all the way down until you find the Stress Level Zero folder. Click into that file and then into the BONELAB file. You'll then see the Mods folder, and all you need to do is open up your downloaded mod file and drag it in. That's it!
Is the Process the Same on Quest 2?
Setting up mods for BONELAB on Quest 2 follows a very similar set of steps as the above instructions. You'll need a USB Quest link cable (either official or unofficial) and a PC to download your files. This doesn't have to be a powerful VR-ready PC.
From there, you can simply follow the same process so far as downloading mods from mod.io, but clicking the Android download button instead of Windows. You can also filter the site to display only Android-supported mods on the left-hand side, but bare in mind most Windows mods will work on Quest unless explicitly stated otherwise.
Having downloaded your chosen mod, plug your headset into your PC. Putting on your headset, you'll now be prompted to both allow access and enable USB debugging. Agree to both of these requests.
You'll now want to follow this directory: This PC > Quest 2 > Internal shared storage > Android > data > com.StressLevelZero.BONELAB > files > Mods
Once in your mods folder, simply extract your mod file into the mods folder as you would do with the PC version. You have now installed the mod.
If you're on a mac, things can be a little different: I recommend following this tutorial to get you up to speed. With that out the way, let's get onto the mods!
Top 20 BONELAB mods
Creator: blockchat
Type: Vehicle
Downloads: 33,190
The inclusion of vehicles in BONELAB was a major step up from the toys in BONEWORKS, and it wasn't long before modders got their hands on the mechanics and started making their own models.
One of my favorites is this fully functioning Warthog from the Halo series. The vehicle's texture work is fantastic, and the buggy drives surprisingly similar to how it does in Halo. It even has a useable minigun: perfect for mowing down that incoming Null Body horde.
Pros
Like-for-like recreation of a classic Halo vehicle

Realistic handling
Cons
The mounted gun could use some work to feel more realistic

Would be the most fun with proper multiplayer support
Creator: Rexmec
Type: Weapon
Downloads: 219,646
The Desert Eagle has been a mainstay across video games and cinema for decades, and given all the new weapon inclusions in BONELAB, I was surprised to find it hadn't been included in the official arsenal.
Fear not, though, for modders quickly took care of that. This Desert Eagle mod has the sort of incredible power we've come to expect from the handgun. Blasting away Nullbodies in slow motion has never felt so fun, and you're even able to choose from a wide variety of different skins for the weapon!
Throw on the Neo avatar found later on in this list, and you'll be fulfilling a fantasy mankind could only have dreamt of in 1999.
Pros
Huge amount of power in a small form factor

A surprising degree of variety in appearance
Cons
Could be considered overpowered by some

More unwieldy for smaller avatars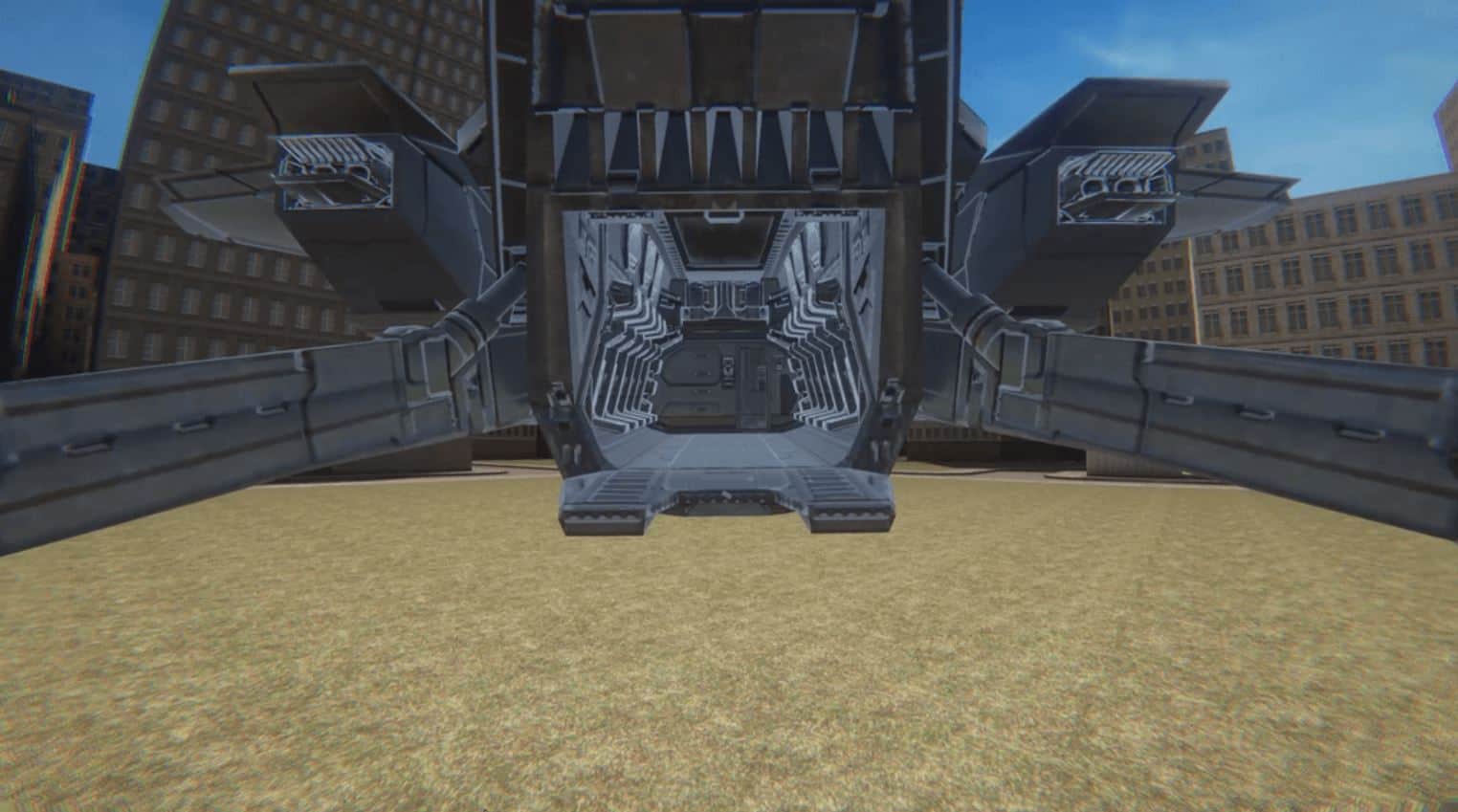 Creator: wert_ac
Type: Vehicle
Downloads: 24,044
This Halo 3 Pelican mod is by far one of the coolest mods I've seen in any game, never mind just in BONELAB. It's truly a vehicle with no compromises.
The first thing you'll notice is the huge scale. This is a one-to-one exterior replica of the same vehicle in Halo 3, meaning that the cargo bay is fully usable and accessible. This is also where you enter the cockpit: it's so awesome that you actually have to walk through the different parts of the ship to be able to fly it. Most mods, and even most games, are content with having you just press a button to enter your vehicle.
Once at the controls, a series of handles and thrusters control movement and acceleration. I was impressed with how weighty this thing feels — just make sure you pick a big enough map to test this beast out on!
Pros
One of the largest flying vehicles you can use

Superb cockpit design
Cons
Will be too large for some maps

Handling could use some work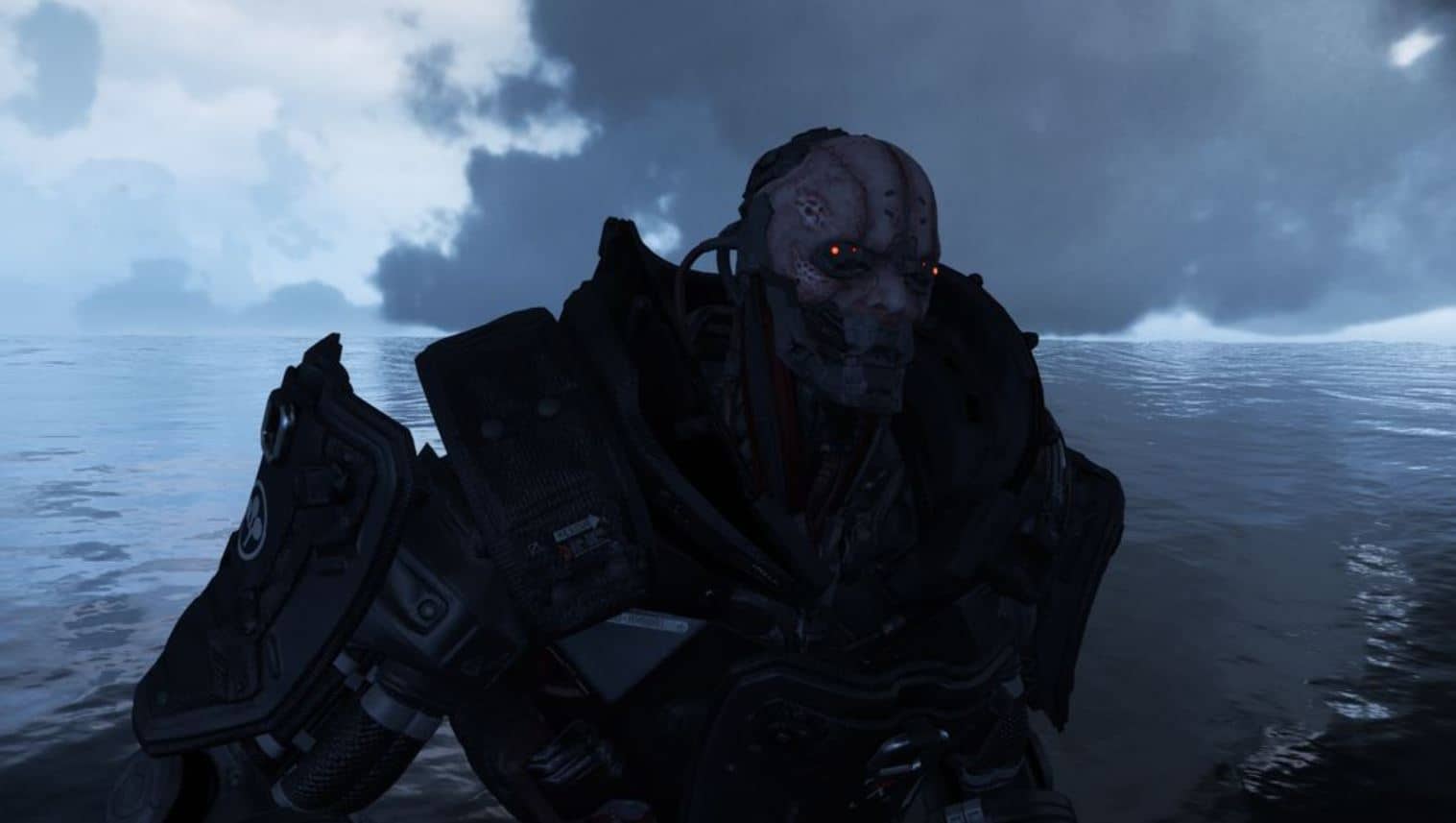 Creator: BaphomaTheDude
Type: Avatar/Weapon
Downloads: 139,961
Cyberpunk 2077 fans will be intimitly familiar with the hulking cyborg that is Adam Smasher. While you could significantly upgrade yourself in that game, Smasher's personalized kit was always out of reach. If you own BONELAB, though, you get to play around with his cybernetic arsenal for free.
Not only does this avatar look fantastically menacing, the gear actually functions! Rockets, lasers, and high-caliber ballistics are yours to use, and dashing about the sandbox disposing of helpless Fords and Nullbodies is the ultimate power trip.
There's nothing else on the mod market that offers this level of flexibility right now, so even if you're not a Cyberpunk fanatic, this destructive power armor offers a combat experience like nothing else!
Pros
One of the best equipt avatars on the mod market

Blurs the line between avatar and vehicle
Cons
Weapons need some tweaking to feel more accurate

Can be overpowered in some situations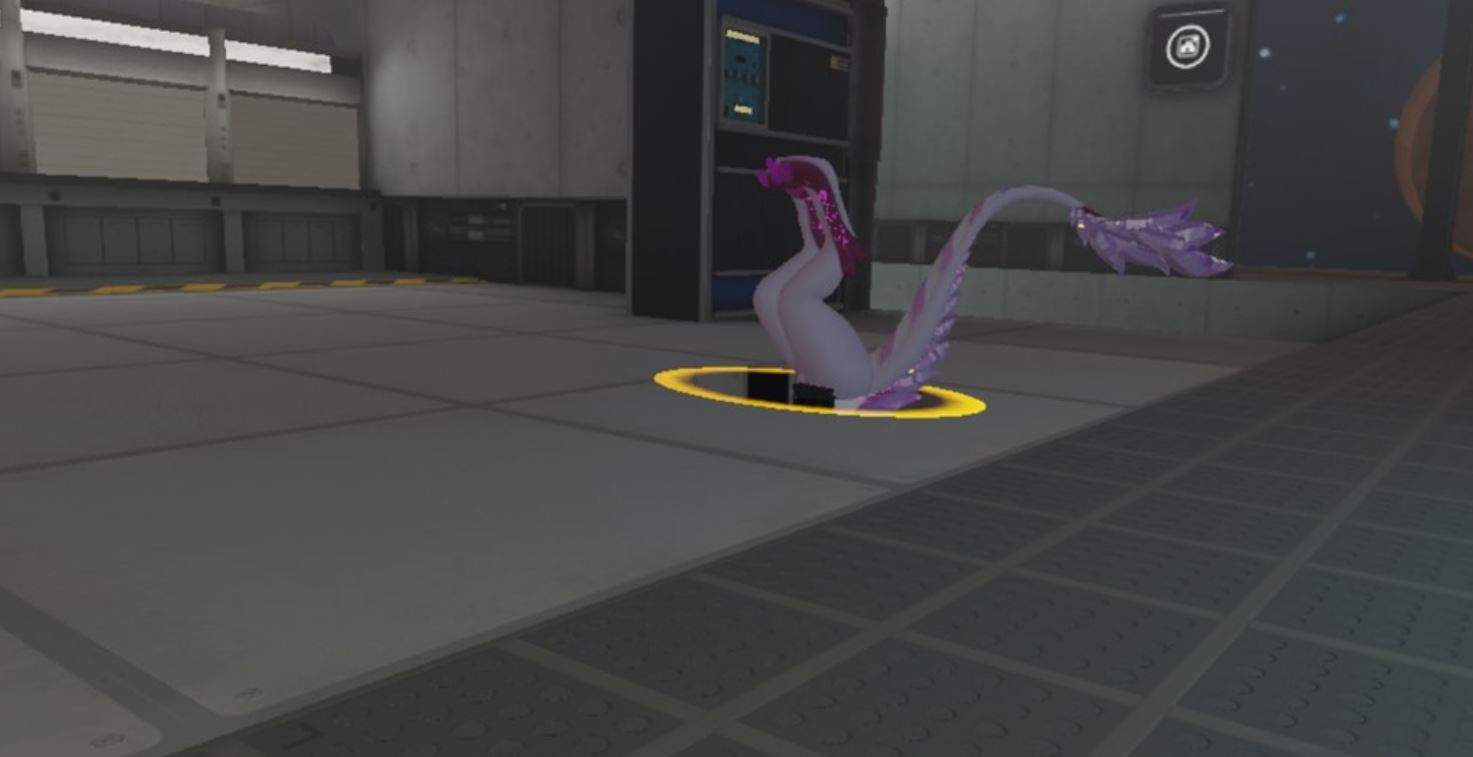 Creator: LlamasHere
Type: Utility
Downloads: 69,677
I wouldn't have thought this was possible, but here we are: fully functioning portals from Valve's classic series within BONELAB.
The portals function exactly as you'd expect, and they open up a whole new realm of possibilities so far as causing havoc in Sandbox mode. Portals mixed with driving, flying, slow-motion, and a killer physics engine will likely have you glued to your headset for hours. There's so much opportunity here for inventive custom puzzle designs, not to mention the innumerable hilarious ways you can dispose of your enemies.
There are few mods on the market that open up the gameplay possibilities quite as much as this mod. Its mind-bending mechanics may be a little much in VR for some people, but for those accustomed to games like Portal Stories: VR, there's no greater addition to your BONELAB mod catalog.
Pros
A real game changer for expanding the capabilities of the engine

Endless possibilities for physics fun
Cons
Can be buggy on occasion

Could make players feel nauseous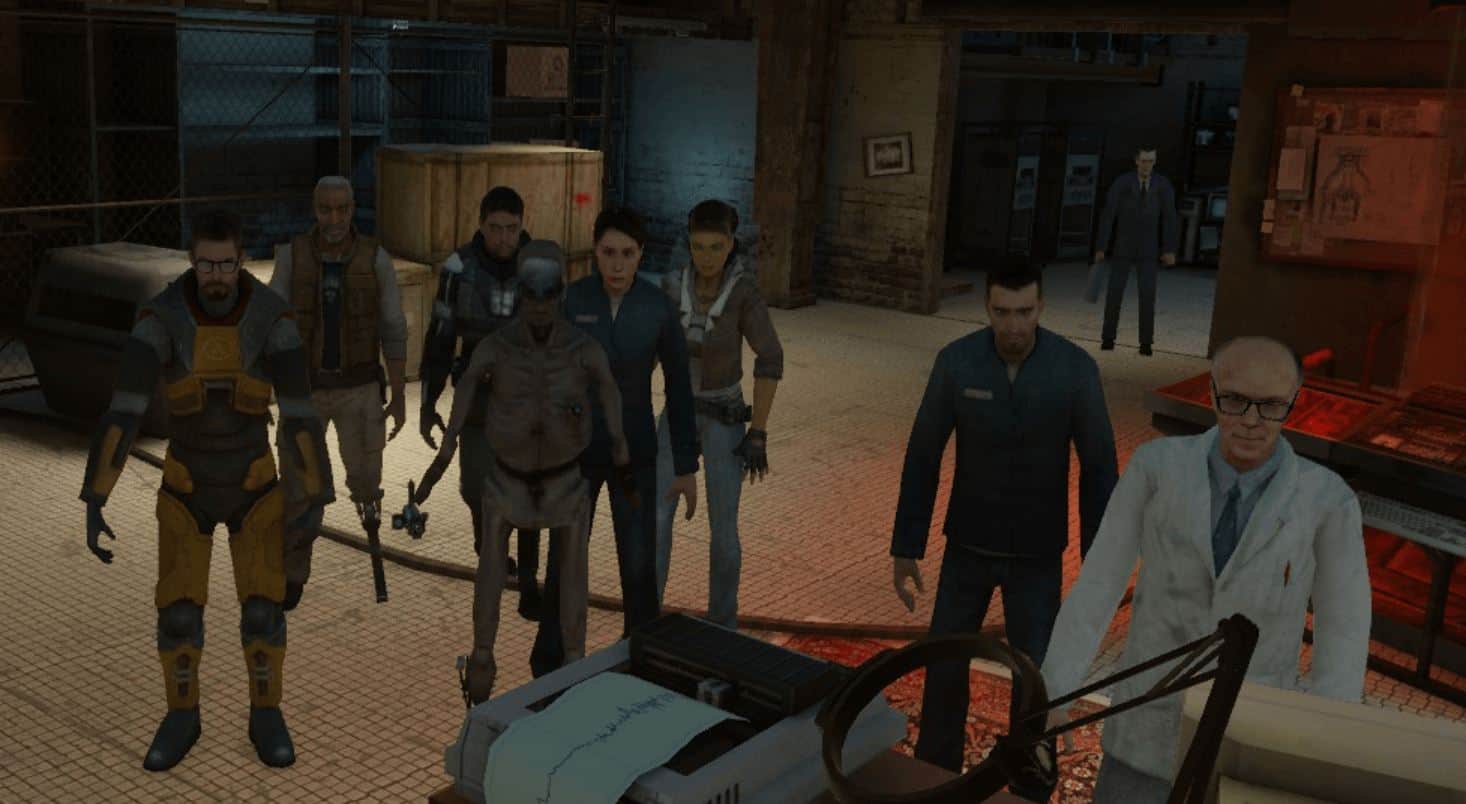 Creator: mobbb
Type: Utility
Downloads: 43,927
It's clear for all to see that both BONEWORKS and BONELAB drew heavily from the Half-Life series, which makes a mod like this work perfectly.
For one, it was great fun to be able to swing at Head Crabs with a crowbar in VR – a feat noticeably absent from Half-Life: Alyx. It's not just head crabs you have to look forward to, either. The vast majority of enemies and NPCs have been faithfully recreated for this mod, each with its own attack patterns and attributes.
Alyx follows you about as a companion as she does in the original game, and metro cops will charge at you with stun batons. They've even included the zombie that would throw poison head crabs at you in Ravenholm! This is a must-have for any fan of the Half-Life series, and if you have a look at the bottom of the mod's page, you'll see the developer has big ambitions for it in the future.
Pros
An extensive array of classic NPCs

Custom abilities make the models feel less like re-skinned stock models
Cons
Some NPCs behave a bit strangely

Occasional off texture from time to time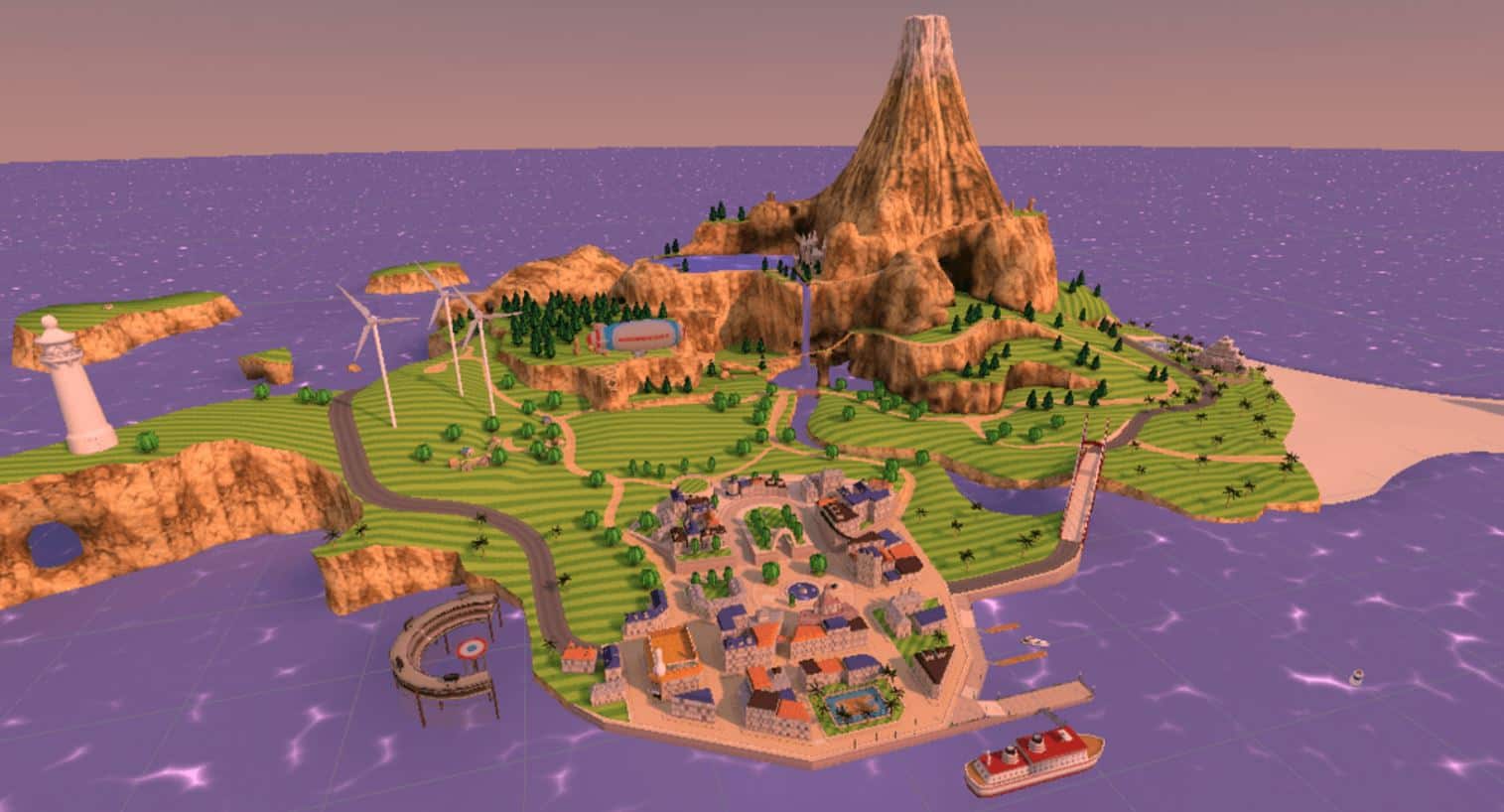 Creator: JoKiller230
Type: Map
Downloads: 15,701
Honestly, this map is just too great. It's exactly the sort of thing you love to see pop up when browsing a mod page.
Fans of Wii Sports will recognize this island as the tropical home of Wii Sports Resorts. It was a sunny destination you'd jog around with your little Mii dog beside you, and now it's the town where you ruthlessly slay Nullbodies back to the void. Quite the juxtaposition, but it exemplifies that sort of mad combination we've come to expect from the BONELAB modding scene.
Compared to the dulled tones we see in the standard maps, it's nice to play something with such a bright color pallet. The developers have really gone to town on the features, too. There are loads of custom animations and particle effects, with lots of hidden nooks and crannies to explore with secrets to find. 
Pros
The brightly colored setting makes for a nice change

Full of detailed textures, animations, and secrets
Cons
Might be a little large for some situations

Some in-game items can look a little jarring against the backdrop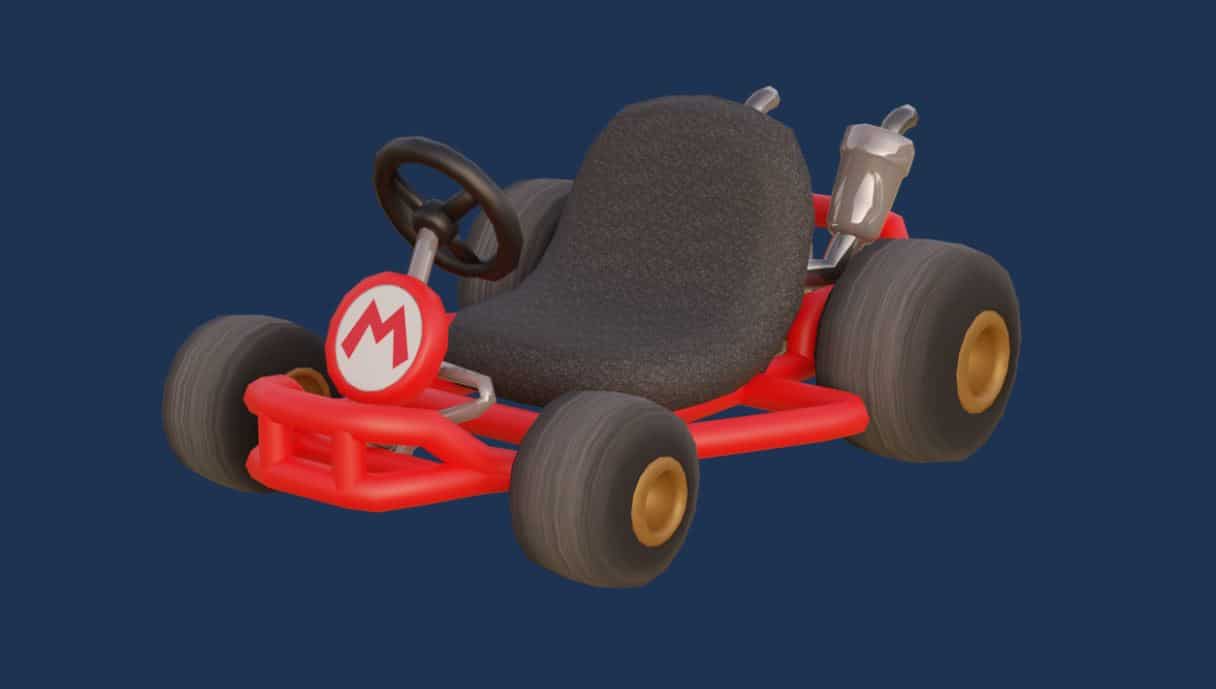 Creator: IDuzTheGames
Type: Vehicle
Downloads: 23,031
It was going to happen at some point, and it only took a short time after BONELAB was on the market for these mods to emerge.
This mod enables the player to spawn the classic Pipe-frame Kart from the Mario Kart series into BONELAB — and of course, it's fully drivable. The vehicles have great speed and handling: perfect for zipping around the classic sandbox map and the many custom maps I've included on this list.
I was particularly impressed with the attention to detail and how smooth the polygons are for these models. There are both the red Mario version and green Luigi variants available, and the shading and paintwork for both are really top-notch. This is most definitely a crucial mod for your vehicle collection.
Pros
Carefully modeled design with nice textures

Sharp handling makes for a go-to ground vehicle
Cons
Only two models are currently available

No way to reliably race against other players yet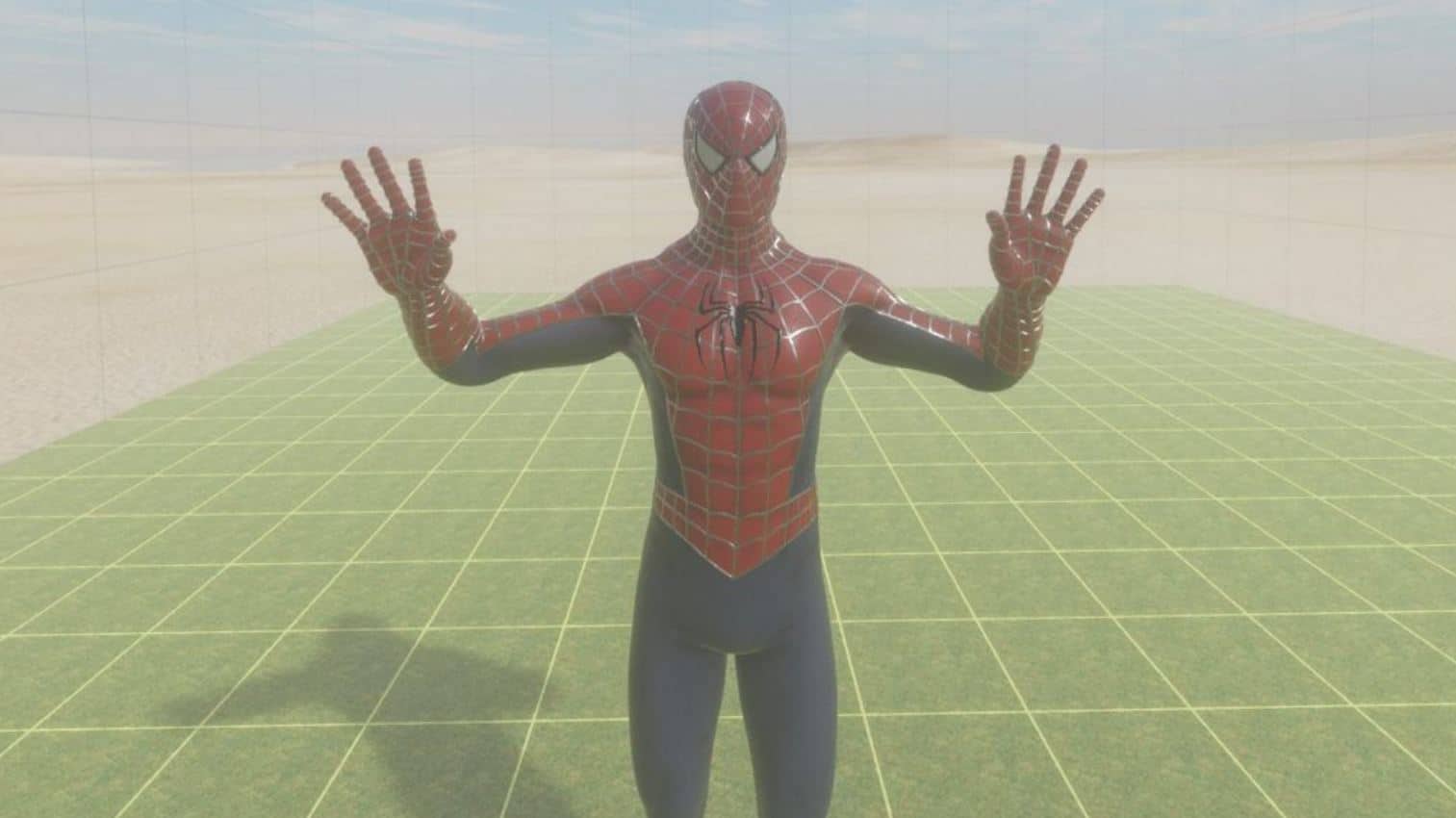 Creator: DRAZ2kV2
Type: Avatar
Downloads: 33,235
There were a few different versions of this mod available around the launch of the game, but the design has now reached its apex.
There are a lot of avatar mods available for BONELAB, but it's rare to see one with this level of detail and accuracy. The avatar is designed to be a one-to-one replica of the superhero and features some super cool reflective effects on the webbing of the suit.
I'm really excited to see where this mod goes in the future. In the comments and on Reddit, you can find lengthy discussions about the possibilities of not only firing web but also using the physics engine to be able to swing like Spidey himself. Given the extra abilities seen in the Adam Smasher avatar, the former is likely already possible and an update we'll see in the future. Once codable mods are available (which is expected in the future), it'll open up possibilities for the latter.
Whatever happens, right now we've got a kick-ass Spider-Man avatar to bomb around in, and that'll most certainly satisfy for the time being!
Pros
Brilliantly detailed design and texture work

Has a lot of potential for future script modding
Cons
No web available yet

Texture can look a little odd if stretched when using guns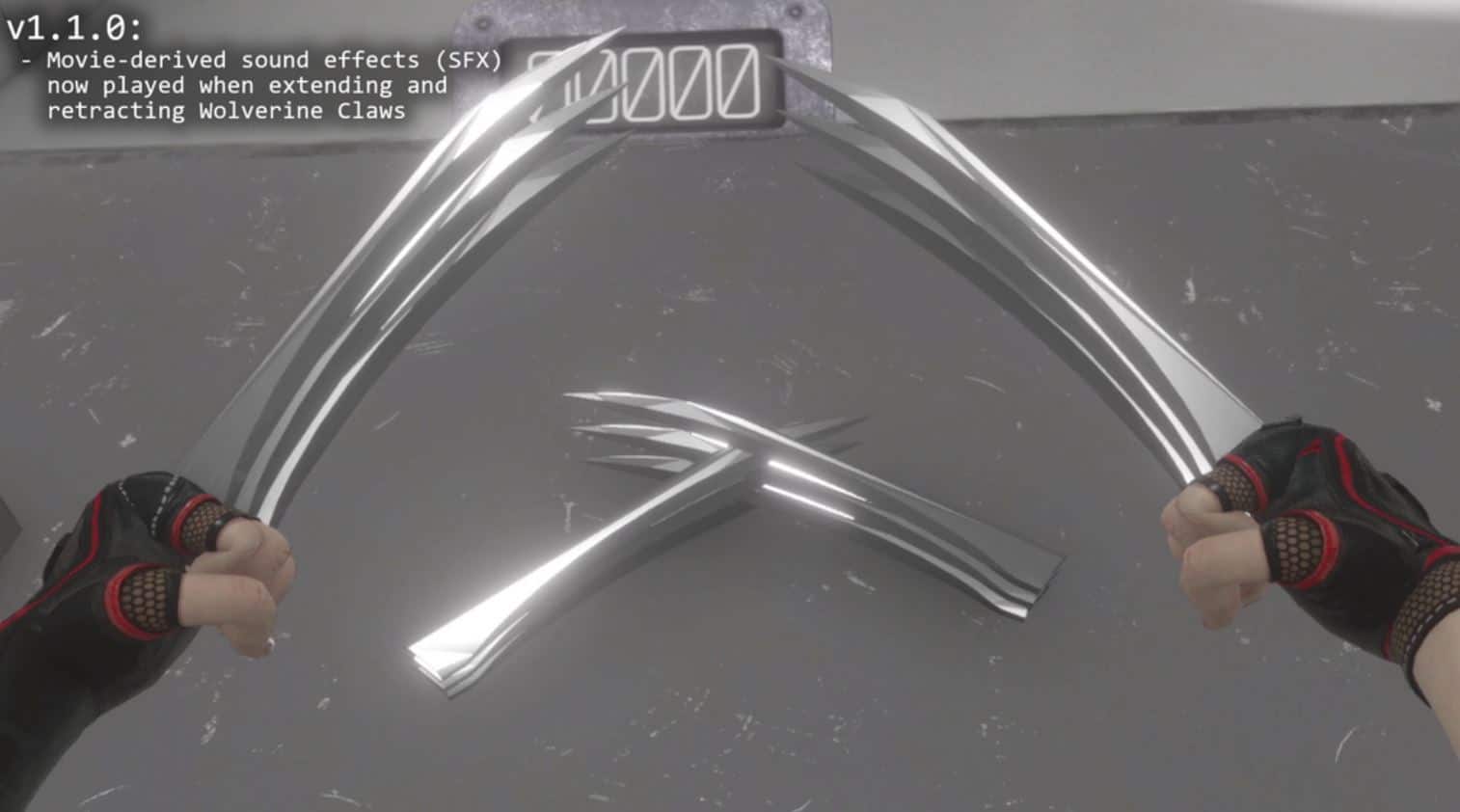 Creator: shinobi123
Type: Weapon
Downloads: 69,763
I'm not even an X-Men fan, but these Wolverine Claws have easily become one of my favorite melee weapons to date.
One of the aspects I always struggled with regarding melee combat was having to hold onto the trigger while swiping and stabbing; having the ability to retract a triage of deadly blades from your knuckles makes the knives an extension of your fist, and in this way, combat feels much more intuitive for me.
I had a ton of fun bouncing around in slow motion performing aerial attacks, and the ability to keep one blade out as you retract the other during combat led to endless possibilities. The model features some great-looking reflective textures, and there are even accompanying sound effects as you sheath and unsheath.
Pros
One of the coolest melee combat mods available

Very versatile once you get the hang of it
Cons 
Combat can take a lot to get used to

Works better with smaller avatars over bigger ones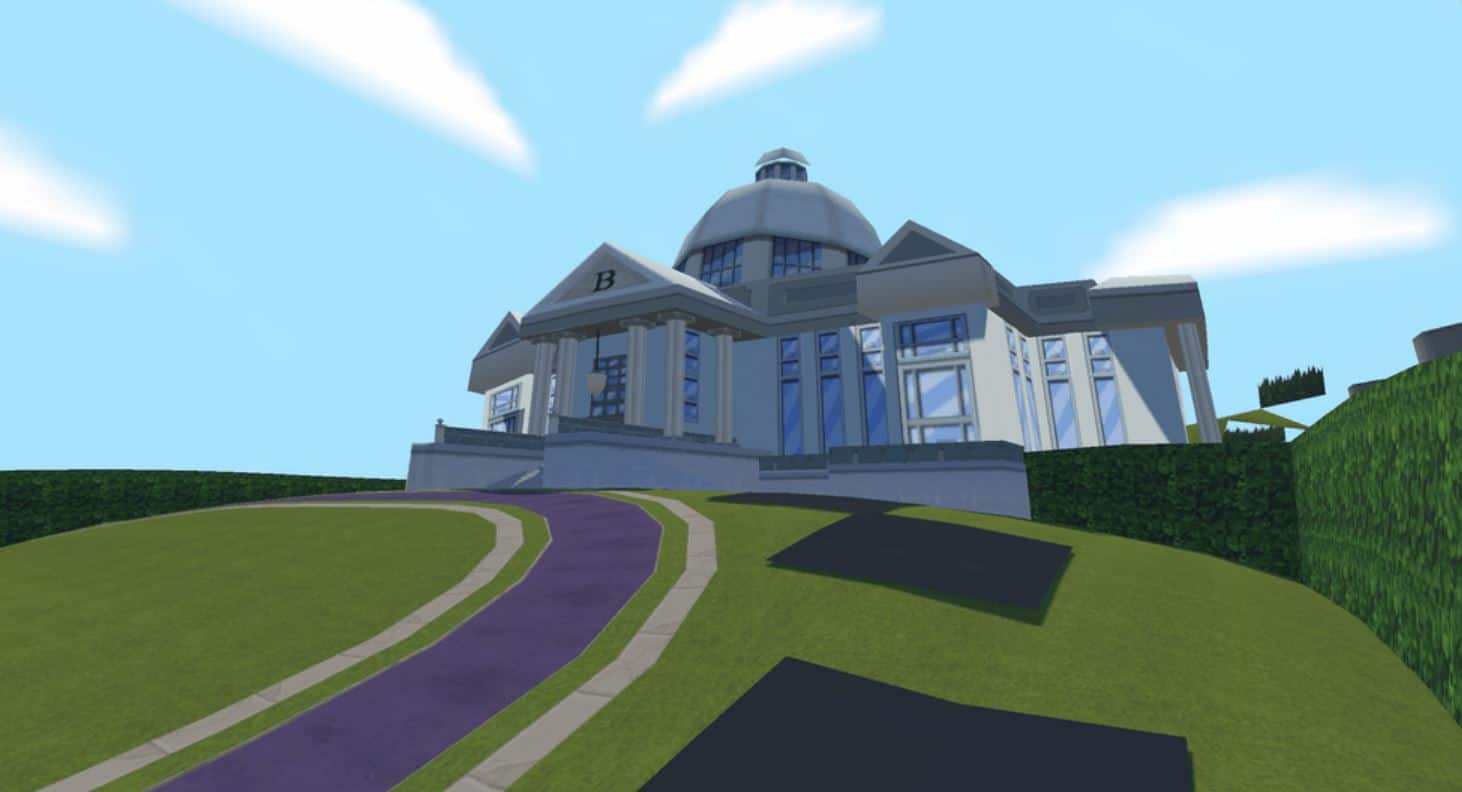 Creator: thehumbleonion
Type: Map
Downloads: 14,189
Since BONELAB's launch, maps have been getting bigger and better than ever, and as a huge Simpsons fan, I was thrilled to play this full recreation of the city map from The Simpsons Hit and Run.
Those who remember the original game will recall this small but action-packed map fondly, and no stone has been left unturned for this mod. The developer has gone into incredible detail in replicating absolutely everything, with even many of the buildings being enterable.
What I love doing most is jumping in a vehicle and setting off exploring around the city; seeing this world come to life in VR makes me wish for a properly licensed Simpsons VR experience.
Pros
Large, extensive, and detailed tribute to a classic map

Plenty to do and see with explorable interiors
Cons
Some areas look a little unfinished

The odd glitch here and there that can sometimes require a restart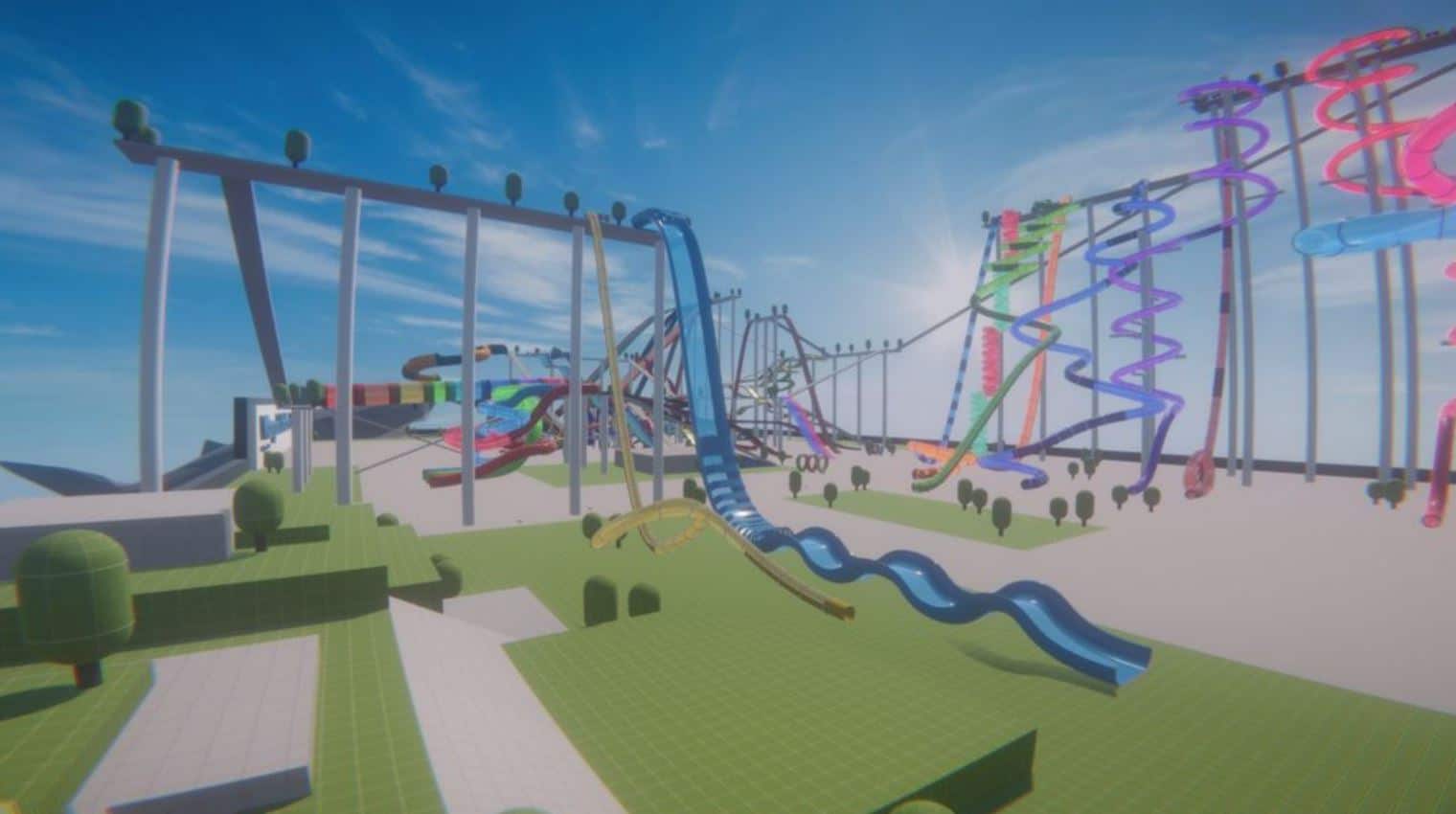 Creator: Spencer Johnson
Type: Map
Downloads: 65,622
There have been a lot of brilliant maps released recently, but Waterpark Sandbox is easily in my current top three.
Featuring over 30 different slides and kart spawning points, this is the perfect map for some high-speed action. The slides have been calculated to support the momentum required when using either the Bonetube or a kart, so if you're looking for that pseudo-G force rush, there's no better mod.
This is the sort of arena that makes me long for some form of official multiplayer support for the game. While there is a rudimentary multiplayer mod you can use to play the game with friends, it's pretty buggy at the moment; the day we get some official support will ascend this mod from amazing to God tier!
Pros
A surprisingly large array of slides and drops

 Some of the most exhilarating roller-coaster-style thrills available
Cons
The heights could be a bit much for those fearful of heights

The odd sticking point on some of the slides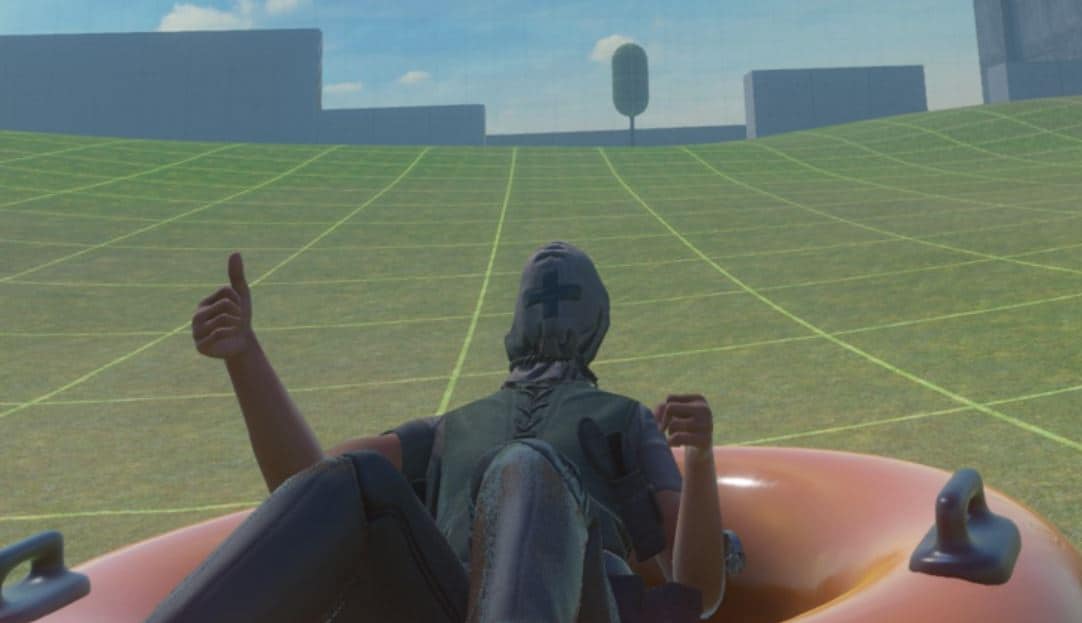 Creator: ElectricDragonJ
Type: Vehicle
Downloads: 70,444
It's surprising how much fun you can have sitting in an inflatable rubber dingy. I've spent too much time at this point slipping and sliding through custom maps: this is the ultimate tool for sledding down a high ramp and feeling the rush of being on a roller coaster, and paired with custom time trials, this takes fast-paced gunplay to a whole new level.
What's more, it's a great tool for practicing the more advanced move sets in the game. There's no better tool for getting used to crouch hopping and slow motion, so I consider this an essential mod for everyone to try and get to grips with.
It's become so popular that whole maps have been designed with it in mind, so if you're wanting to explore the best maps on offer, you best get used to the Bonetube!
Pros
One of the most fun vehicles in the game

Easy to maneuver with no noticeable bugs
Cons
Can be a little difficult to get to grips with at first

Requires momentum to use effectively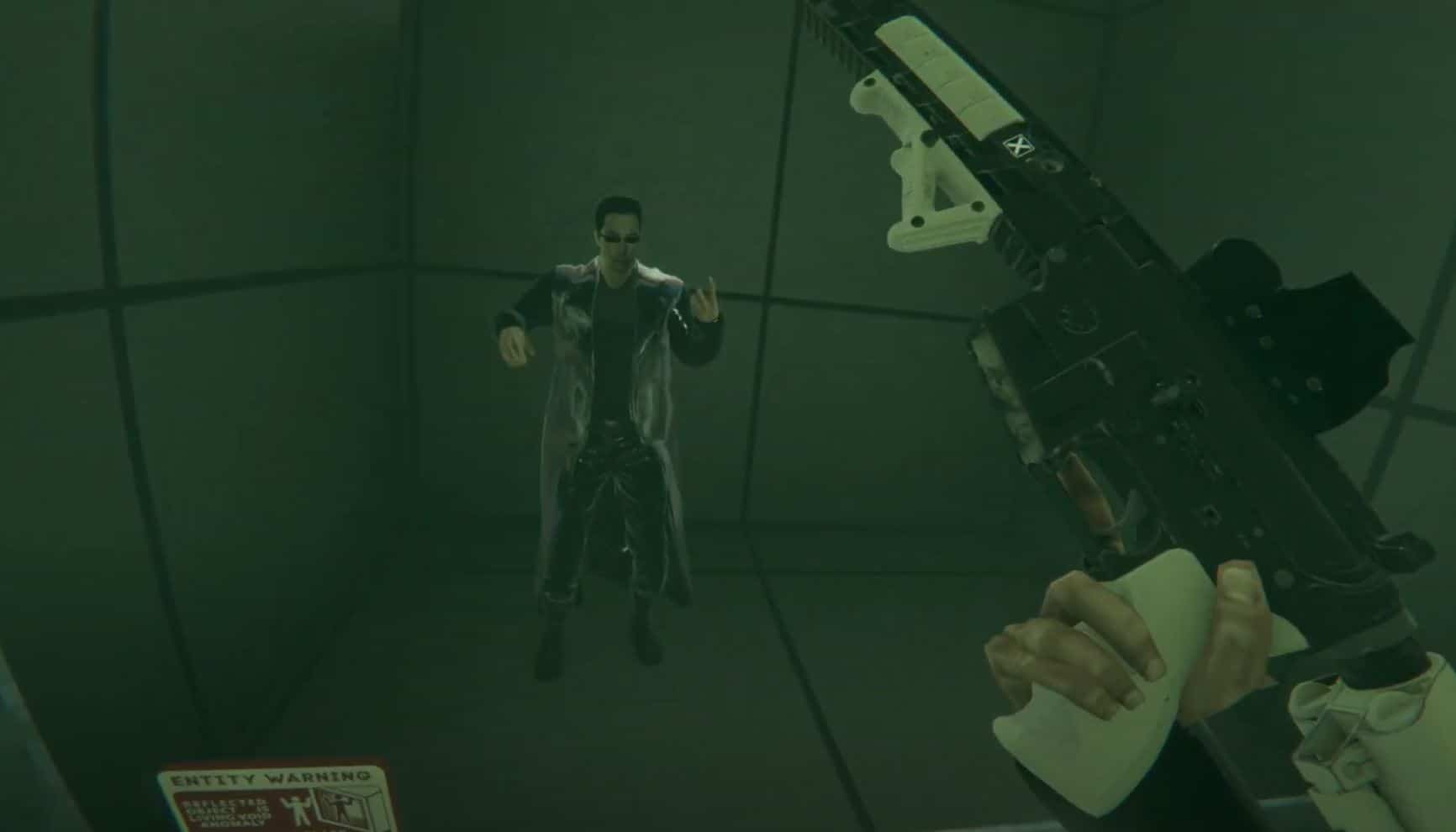 Creator: Kipachu
Type: Avatar
Downloads: 229
In many ways, both BONEWORKS and BONELAB owe a lot to The Matrix. Slow-motion bullet time wasn't a thing until the Wachowskies did it, so what better way to experience this sort of combat than as neo himself?
The avatar features full cape physics and even some cool Matrix-style post-processing on the character's movement. As you can imagine, this is a pretty stylish and impressive avatar, so the creator has included three different versions to ensure it runs well on your setup. If you're on Quest 2, you'll be able to toggle between the full effects version, no effects, and a minimal version optimized to maintain maximum performance.
It's great to see mods with extra considerations for Quest users; it goes a long way in widening the game's appeal and bridging the characteristically wide gap between platforms.
Pros
An avatar with impressive special effects

 One of the most fitting avatars for slow-motion combat
Cons
The full effects version is a little much for Quest to handle

The minimally animated variant can look a little stiff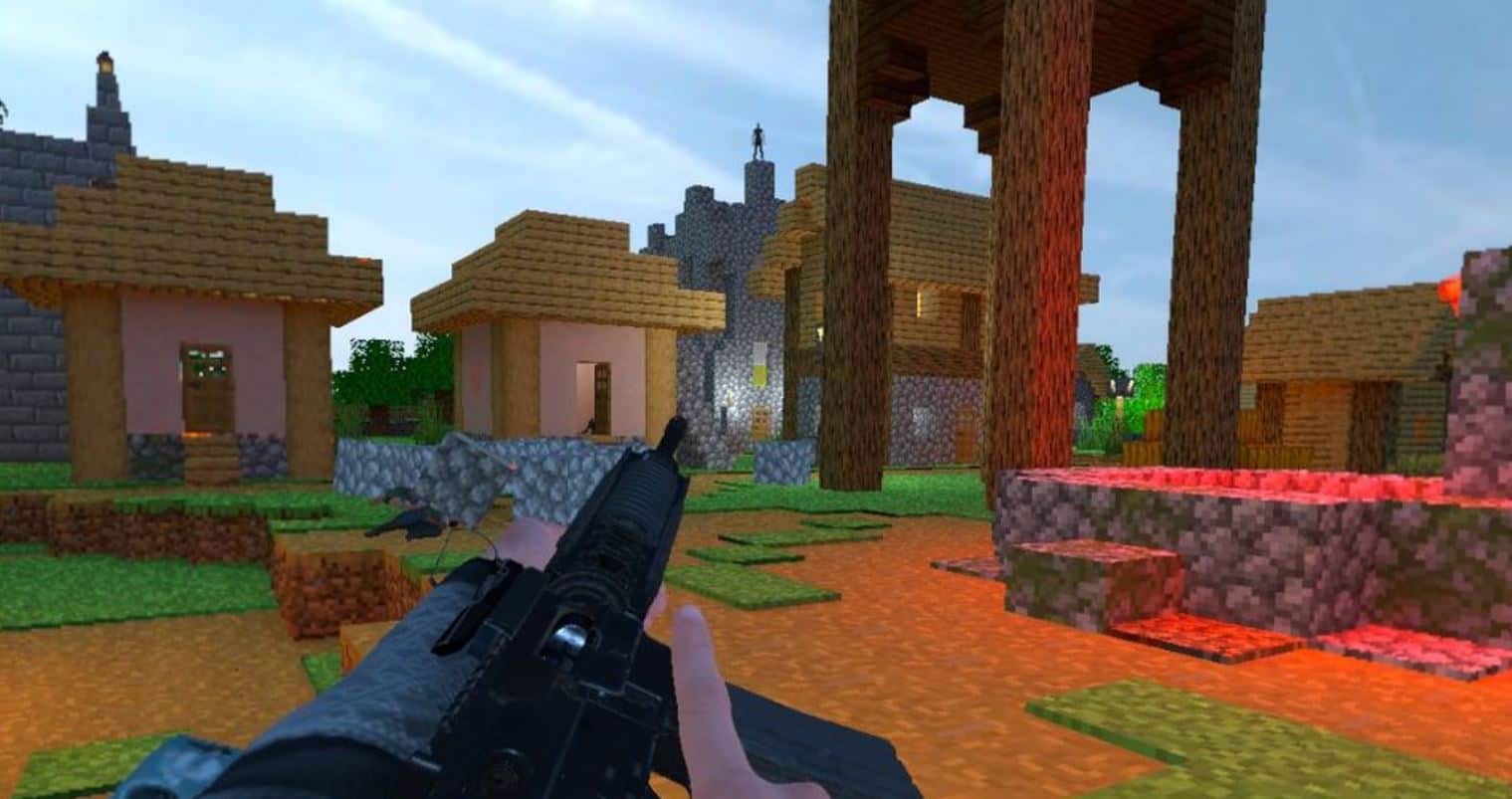 Creator: ZombVR
Type: Map
Downloads: 60,660
Minecraft is one of the most moddable games in the world, if not the most moddable. With a status like that, it's no wonder we started to see other games feature Minecraft mods such as Gary's Mod or Pavlov VR.
Now, BONELAB has been given the Minecraft makeover. The mod provides the player with a fully explorable Minecraft town, complete with accessible buildings and underground areas. This isn't just a static map, either. The mod has had a lot of extra detail added including an assortment of puzzles, physics items, and NPCs. There are plenty of secrets to find, too.
It's one of the few custom maps that adds stuff to do besides just being a new lick of paint for the game's sandbox mode, and I found the buildings with their extra elevation made for some super fun combat scenarios. This is definitely one to check out if you're a Minecraft fan, but even if not, you'll find a lot to love here!
Pros
Textures look bright and vibrant

Wide variety of interior and exterior areas to explore
Cons
The aesthetic can look a bit odd with BONELAB items

Using vehicles in this map can be a little glitchy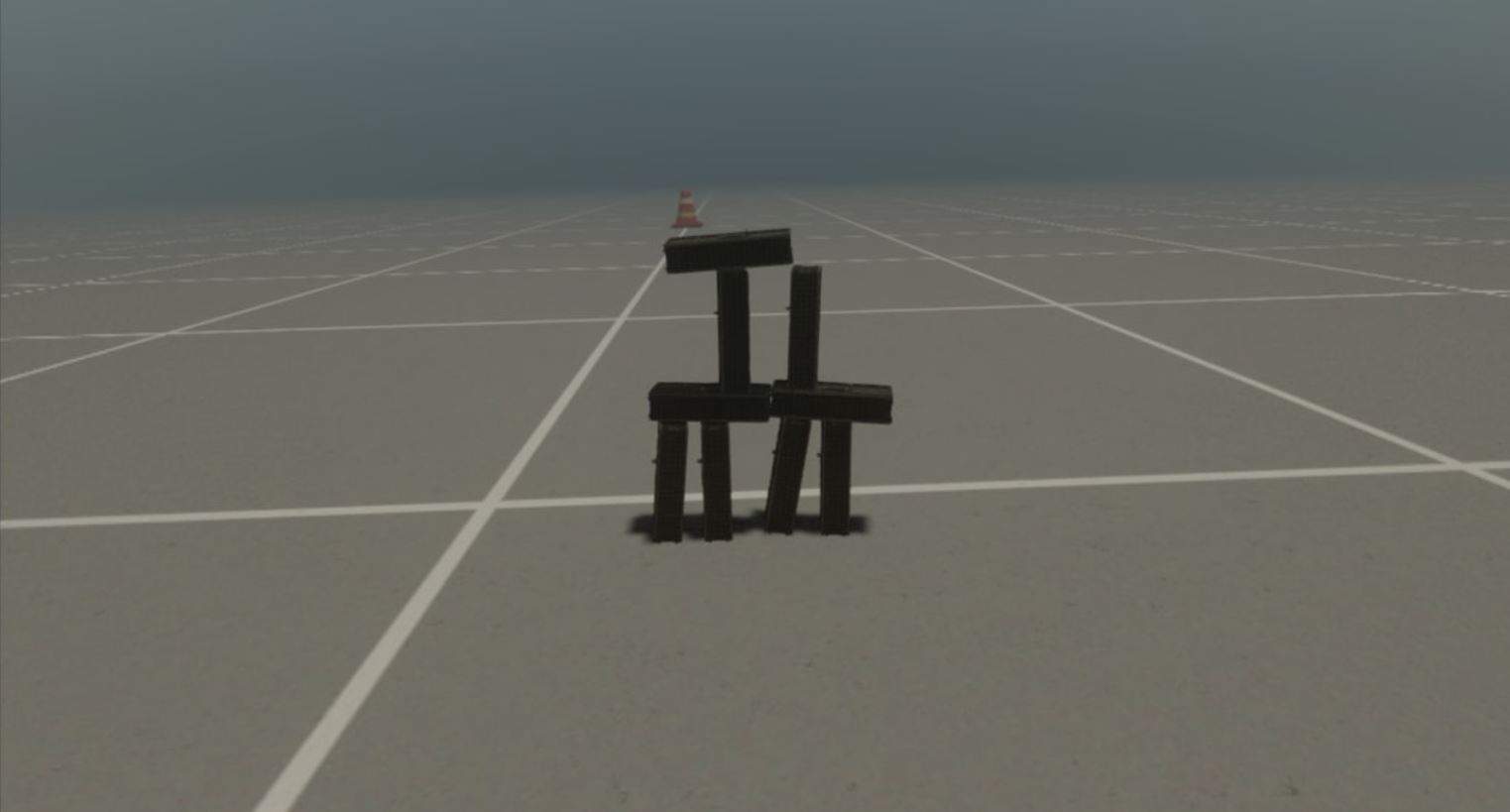 Creator: BaBaCorp
Type: Weapon
Downloads: 1,988
Here's another weapon that I'm surprised wasn't in the base game; in a game series that prides itself on causing physics-based havoc in a sandbox environment, proximity explosives are going to be your best friend.
Most of the enemies in this game haphazardly lollop toward you, so I had a lot of fun luring Null Bodies and Fords into my evil traps with these proximity mines. They're really easy to set up, but the ways you can arrange them for some explosive fun are limitless. I can imagine these being a particularly useful hazard to use for race courses with something like the Bonetube or used to show off the physics to full effect by placing them to topple structures.
If you're wanting to add more weapons to your arsenal, these mines should definitely be on your list.
Pros
A fantastic addition for setting up traps

Easy to set up and detonate
Cons
Could do with some extra options for setting the timer

Placing too many can cause a framerate hit
My Personal Top Three
I've thoroughly enjoyed messing around with every mod on this list, but if I had to pick three, it would be these:
The Bonetube

: It's just such a satisfying little vehicle that's easy to use and limitless in its application for fun activities. If you're looking for a simple but impactful addition to your BONELAB sandbox, get this!

Wolverine Claws

: Considering how fun and intuitive these are to use, I'm surprised there wasn't anything similar in the base game. Nevertheless, this mod greatly expands on the joy of melee combat. You won't be disappointed.

Waterpark Sandbox

: If I'm in the mood for some dizzying VR thrills, these days my first choice is BONELAB and Waterpark Sandbox. Given the huge array of slides, this map never gets old.
Frequently Asked Questions
Question: This is my first time modding a game. Is it safe?
Answer: In reality, BONELAB makes modding the safest it's ever been. As you can from the instructions above, the majority is handled either in-game or through some simple file navigation. This means there's not much messing around with files behind the scenes, and no real chance you'll accidentally delete something important or corrupt your game. You have nothing to worry about when modding BONELAB!
Question: Where can I learn about making my own mods for BONELAB?
Answer: To learn more about BONELAB modding, the best place to go is the BONELAB discord server. There, you can speak to modders who can guide you in the right direction to making a start. I'd also suggest checking out the BONELAB sub on Reddit. A lot of modders hang out there, and the discussions give you a good flair for what people are after in the mods.
Question: I used a lot of mods for BONEWORKS. Will BONEWORKS mods work with BONELAB?
Answer: Unfortunately, your BONEWORKS mods will not automatically work with BONELAB. While they are similar, BONELAB runs on a vastly improved engine to its predecessor, so you can't simply run BONEWORKS mods on the new name because the scripting and architecture are totally different. Having said that, many BONEWORKS mods will likely be ported to BONELAB properly as the community develops, so keep an eye out for your favorite mods on mod.io!
Conclusion
I hope this guide has given you some inspiration to start modding BONELAB for yourself and has got you up to speed on how to get started. I highly recommend you check out both the BONELAB subreddit and the Stress Level Zero Discord server. Both are excellent resources for learning about the latest mods as well as mod development. Have fun!