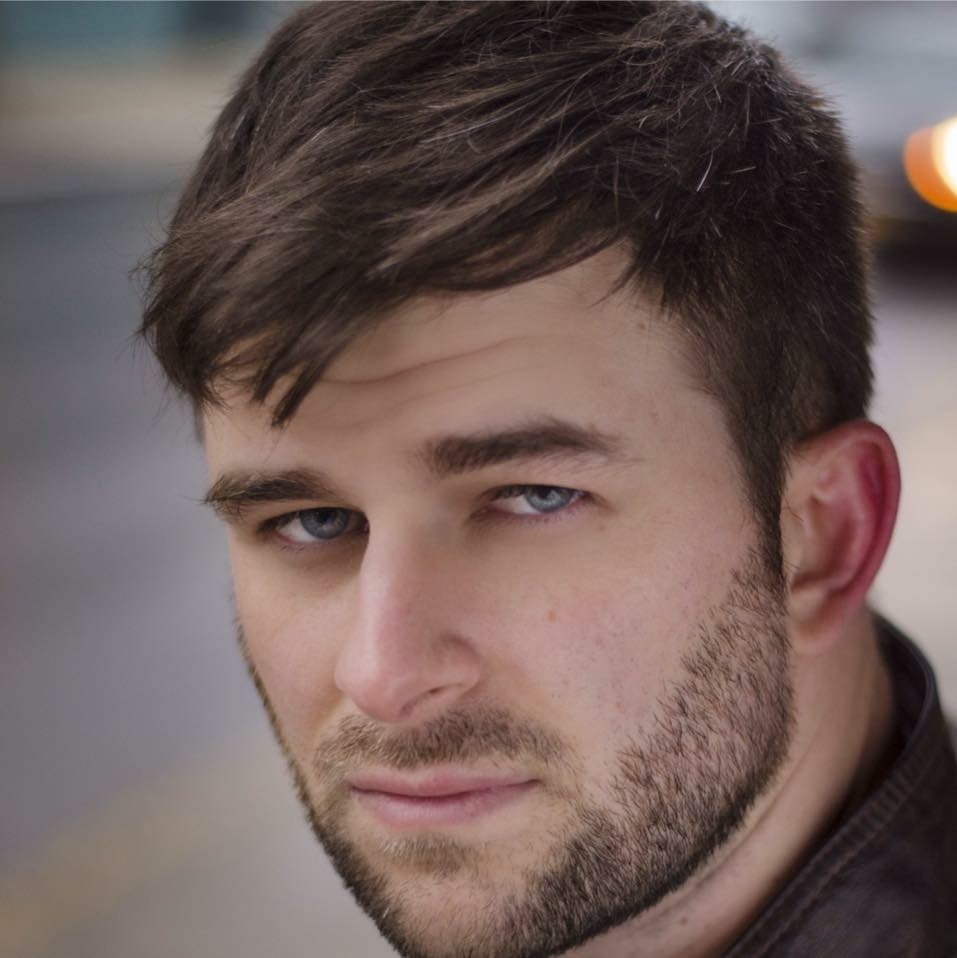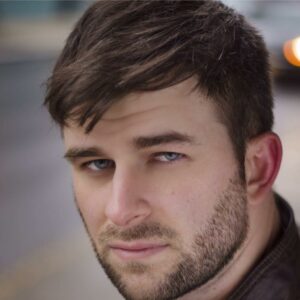 Latest posts by Adam Braunstein
(see all)
VR is still technically in its Nintendo phase when you think about where it's going to be in the grand scheme of not only the gaming world but the world of social interactivity as we know it.
With that knowledge in mind, now is as good of a time as any to dive in. Indie platforms are developing VR games at a higher rate than ever before.
However, we've also got triple-A companies coming to the frontlines with titles like Half-Life: Alyx and Resident Evil 4 VR, which are two of the best VR titles out there. Getting started with a brand new platform is always intimidating, though, as there is a lot to get a grasp of. Here is all the VR gaming gear you will need to get started.
My Bottom Line Upfront
Meta Quest 2- Best budget and wireless option 
Samsung Odyssey Plus- Best mid-range option
HP Reverb G2- Best Visual Option
PSVR- Best Entry Level Option
Valve Index- Best overall option
Sweat-resistant masks are a must; make sure you're using rechargeable batteries, get controller covers if your headset supports them, and use Virtual Desktop and ALVR to play Meta Quest 2 through your PC. 
VR Headsets
Pretty obvious, right? You can't play any games without the correct console, and in the VR world, the headset is your console.
It gets a bit more complex, though, when it comes to VR, as there are several different headsets you can get, and some of them have games that are exclusive to only a particular headset. To help you differentiate, we will break down the headsets into categories and let you decide from there. Let's dive in.
Best Budget Option: Meta Quest 2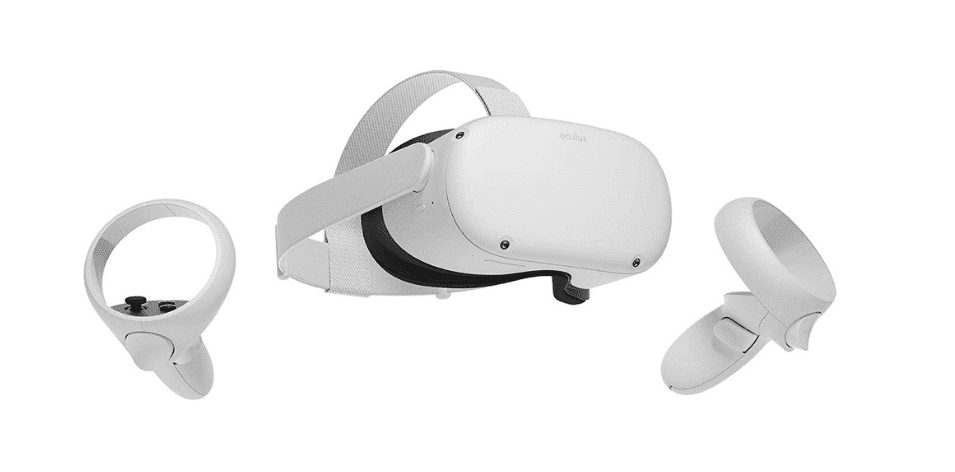 Formerly the Oculus Quest 2, the Meta Quest 2 is a simply incredible VR headset because of one reason, it is wireless. That's right, you can take this VR headset anywhere you please, and the only thing you have to worry about is the battery life.
No PC is necessary when it comes to this standalone headset. That is a huge benefit to people just starting their VR gaming journey as VR-ready PCs and Laptops can easily cost into the $1000's, and that's before factoring in the cost of the headset and games.
Not only is it the most cost-efficient, but you will also have to best controllers in the VR gaming world.  Although they're smaller than most headsets provide, they fit comfortably in your hand and boast some of the best haptic feedback (vibration) out there, making the VR gaming experience all the more immersive.
In addition to the controllers, you also get the feature of hand tracking. This makes it so that your actual hands are tracked in the VR world.
Although only a few games currently support it, it's one step closer to the complete VR immersion we will one day find, and it's a fantastic experience to see your actual hands in real life interact with things in the virtual realm.
The battery life on the Meta Quest 2 will last 2-3 hours which might not sound like much, but where VR gaming heavily differs is in the time of your play sessions.
While some games will be pretty relaxed when it comes to your physical output, others will have you sweating and begging for a break, so the battery lifespan here generally won't be an issue for most.
If it is, though, there are battery packs you can strap on to the back of the headset to extend the battery life, and we'll go over those below. Graphics-wise, you will get a crystal clear image here, though the quality of the graphics will be a bit lesser than games you play through PCVR headsets.
The bonus is that if you already have a gaming PC, you can either buy a link cable and hook your Meta Quest 2 up to your PC or play wirelessly through your PC with a slight downgrade in performance.
The graphics will look significantly better if you decide to play this way, and you can still have the wireless freedom that only the Meta Quest 2 provides, so it's a win-win scenario here. One negative is that you don't have built-in headphones here, but any pair you've got will likely work with the plugin it has provided.
Price-wise, the Meta Quest 2 will cost you around $300 or more depending on whether you get the 64 GB version or the bigger sizes and at that price, having the power of the future in your hands without wires is an absolute steal my book.
Pros
Wireless
Standalone headset
Best controllers
Take anywhere
Great resolution
Best accessories
Can hook up to PC for expanded game selection and graphic quality
Supports Hand Tracking
Most Popular headset in the world
Cons
Battery Life is short
Without a PC, your game library is limited to Meta Quest 2 exclusives
Field of View is smaller than most headsets
Graphic quality inferior to PCVR headsets without a link to PC
Small controllers break immersion
Best Mid-Range Option: Samsung Odyssey Plus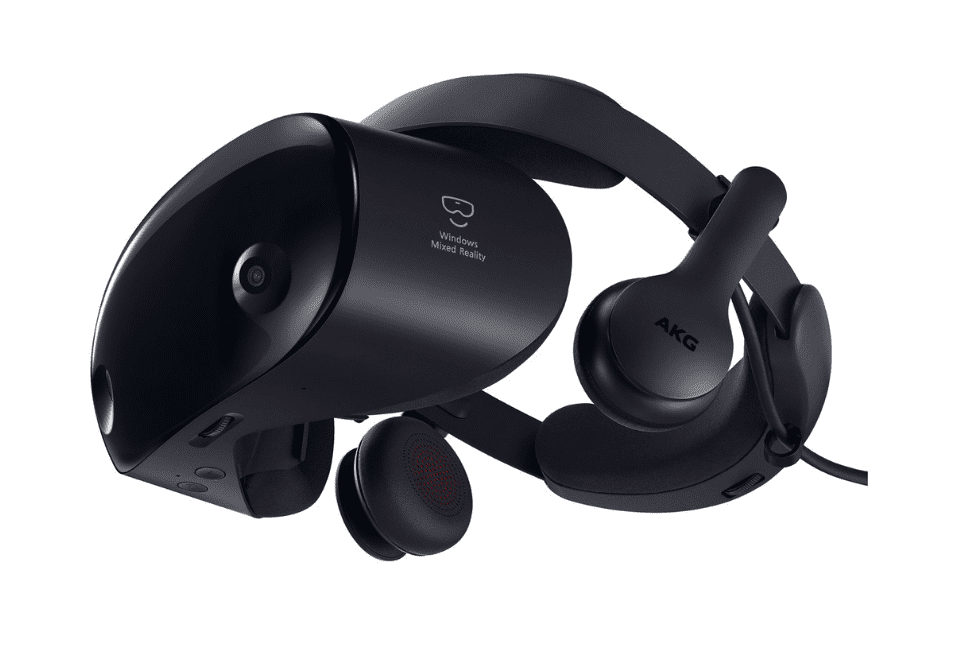 If you've already got your VR-ready gaming PC, then you might want to forgo the wireless option that the Meta Quest 2 provides and instead go for something that will just blow you away visually.
While there are many options out there, price-wise and performance-wise, the best balance you can find for your VR headsets lies within the Samsung Odyssey Plus. Produced as a Windows Mixed Reality product, the visual experience is as good as it gets for mid-range priced VR headsets.
It's equipped with an OLED screen, and the colors and pureness of black levels you get while playing games in it are breathtaking.
Black levels are essential with VR headsets as quite a few games take place in space or have nighttime locations, and some headsets have an odd, grayish tint to them that take you right out of the immersion.
The Samsung Odyssey Plus does not have that issue and delivers some of the most accurate colors and clear visuals out there.
The controllers are quite a bit bigger than the Meta Quest 2 controllers, but I've found that this makes for a more immersive experience as it feels like you're holding that gun or sword in your hand rather than just pretending you are.
All games are playable from this headset as well, and it comes equipped with its own launching program, the Windows Mixed Reality Home. The headset is a little heftier than the Meta Quest 2, but it's also more comfortable due to the excessive padding.
In terms of negatives, you might have to customize some controls of specific games that don't have Windows Mixed Reality inputs just yet, but that's really it. This headset won't break the bank, and I think it's the hidden gem of the VR world that quietly overshadows the bigger names in the business.
I've tried the competitors, and they just don't hit the same way. In terms of price, the Samsung Odyssey Plus is truly all over the place. I acquired mine for $300 two years when it was first released, but the pricing has gone haywire since then.
It's well worth the current $500 price tag you can find in most places, though if it goes higher than, say, the high price that Amazon currently is selling it at, either wait for a sale or buy it used.
It's easy as can be to set up, too, as you don't have to worry about setting up motion tracking towers or anything like that as the tracking is all done from the headset to the controllers, and it's incredibly accurate as is. If you don't mind thinking outside the box a bit with your VR purchase, my all-time favorite, the Samsung Odyssey Plus is the move to make.
Pros
Amazing color quality
Sharp Visuals
Great controllers that offer some heft
Comfortable fit
Wide field of view
Great headphones
Can play all games
Cons
Harder to find
Wired
Short battery life for controllers
Heavier headset
Some games need to have customized controls to work properly
Lesser visual clarity than competitors
Best Visual Option: HP Reverb G2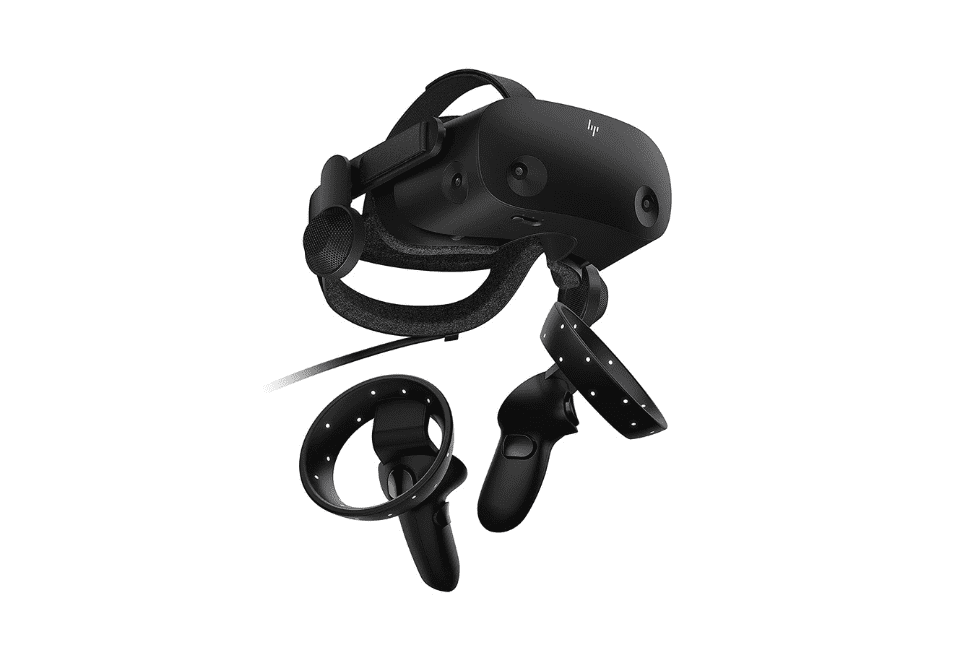 As you have seen above, Windows Mixed Reality has slowly but surely made its presence known in the VR world, and if the Samsung Odyssey Plus is the appetizer for your VR needs, then the HP Reverb G2 is the main course.
The HP Reverb G2 is the most cost-effective way to get your VR gaming up and running for those out there who have the mega-powered PCs ready to go. The reason is that you won't find better visuals on a headset outside of the crazier-priced ones in the $1500+ range that pretty much nobody needs or wants.
The HP Reverb G2 has a sleek design that is lighter than the Samsung Odyssey Plus while delivering a clearer graphical fidelity. The resolution is top-notch, and it comes with built-in headphones for an excellent audio experience that other headsets don't have.
The tracking in the HP Reverb is done from the inside the headset, so that means there's no need to worry about setting up tracking stations, and you'll be good to go out of the box.
One issue is that the facial interface puts a little too much sinus pressure on you, which feels pretty rough after a while, but the good news is that it can be replaced, and luckily, VR Cover has you covered here.
While the resolution is among the best VR has to offer, the colors do suffer a bit here compared to the Samsung Odyssey Plus, and you won't be seeing the same lush greens and bright reds as you would with that headset, although your black levels will remain crisp here and more clear than ever.
This headset is built for the heavy-duty PC's rocking the 30 series RTX graphics cards because it will put a considerable amount of heft on your system compared to other headsets.
With more work needing to be done by your PC, that means you're likely going to lose FPS (frames per second) during your play sessions, and while on flat screens, that's not a huge deal, in VR it can cause some pretty nasty side effects like motion sickness.
That means you'll have to do some adjusting to your in-game graphics settings here. All in all, this is an awesome product that won't break the bank for you coming in at $500 right now, and it will give you the best look at VR yet.
Pros
Amazing visual clarity
Tracking done from the headset
Top-notch resolution per eye
Easy setup
Lightweight
Cons
Requires incredible graphics card to get the most out of the headset
Tracking is not the most accurate
Tracking is affected by bright light, making daytime play not ideal
Controllers eat up battery life quickly
Field of view similar to Meta Quest 2
Requires powerful PC
Best Entry Level Option: PSVR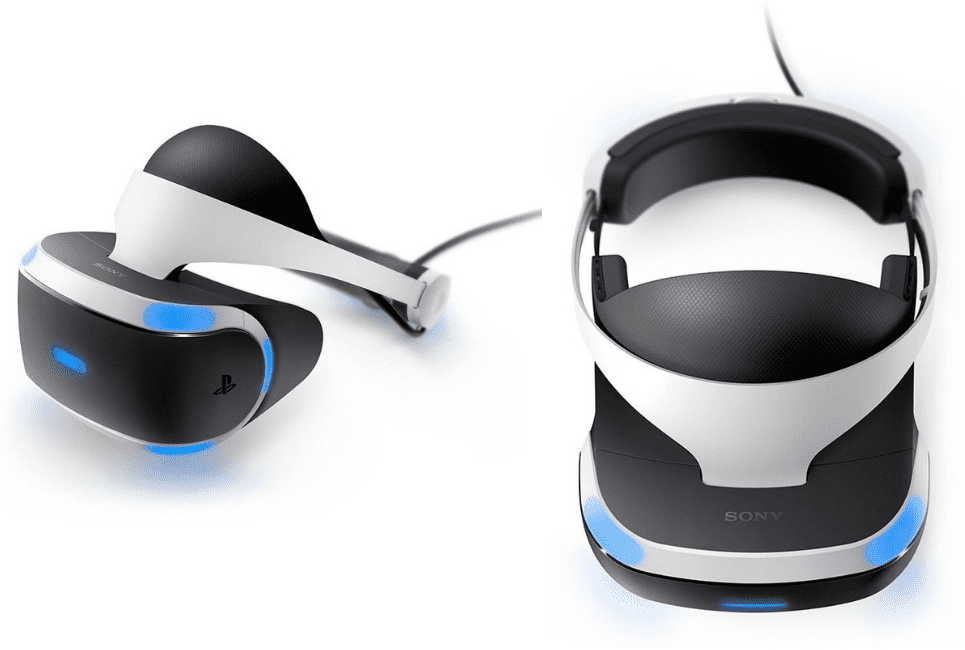 You didn't think that the VR revolution would come swooping in without Sony getting their name in the mix, did you? Honestly, the PSVR was my first VR headset, and it remains near and dear to me because of that.
While you won't be getting the incredible visuals that the PCVR headsets provide, instead, you'll be getting several exclusive games to PSVR as well as a massive library to choose from as well.
The clarity is pretty solid for the hardware it's running on, so unless you're coming from another higher quality headset to start, you'll never realize the difference.
Controller wise, it's a mixed bag as you're limited to the ancient PS Move controllers from a decade ago, however for me, I thought these were great as they are huge and have a solid weight to them, so when it came to slashing my sword in Skyrim, I felt like I had a weapon in my hand.
There is an issue with the controller that can't be ignored, though, with the lack of a joystick. Not being able to control yourself with a joystick is a huge misstep here and takes a little time getting used to the trackpad instead.
Tracking-wise is another downfall here as you're limited to the view of a single camera that you can either mount on a wall or on top of your TV if you prefer. This means that your play space will be pretty limited compared to PCVR headsets.
This is a great option for people unsure about VR that already have a PS4 ready to go. I wouldn't try to buy it new as it's tough to find, considering it was once the most popular headset by a mile.
The used versions are generally fine (I got my Samsung Odyssey Plus used, and it's my favorite headset) and won't cost that much to buy.
Where the value in PSVR really comes into play is with the games. Iron Man VR, Resident Evil 7 VR, Astrobot, Blood and Truth, and tons more are PSVR only, and those are some of the best VR titles, period, regardless of the headset you're using.
Another great thing about PSVR is that you can see all your actions go down only your TV, making it an excellent party game experience. In contrast, PCVR games are generally limited to the likely smaller monitors they're plugged into.
If you're going to purchase PSVR, you're going to be doing it for the exclusive games, and that's far from a bad thing. It's pretty tough to find new, but generally, Amazon is your best bet to get it.
Pros
Easier setup
Awesome exclusive games
Hefty controllers
Great for showing friends
Solid visuals
Comes with headphones
Cons
Inferior visuals to PCVR headsets
Small play area due to camera
Lots of wires
Some might not like big controllers, lack of joystick though to get used to
Smaller game library than PSVR
Games are expensive
Tough to change your IPD distance to get good clarity
Best Overall Option: Valve Index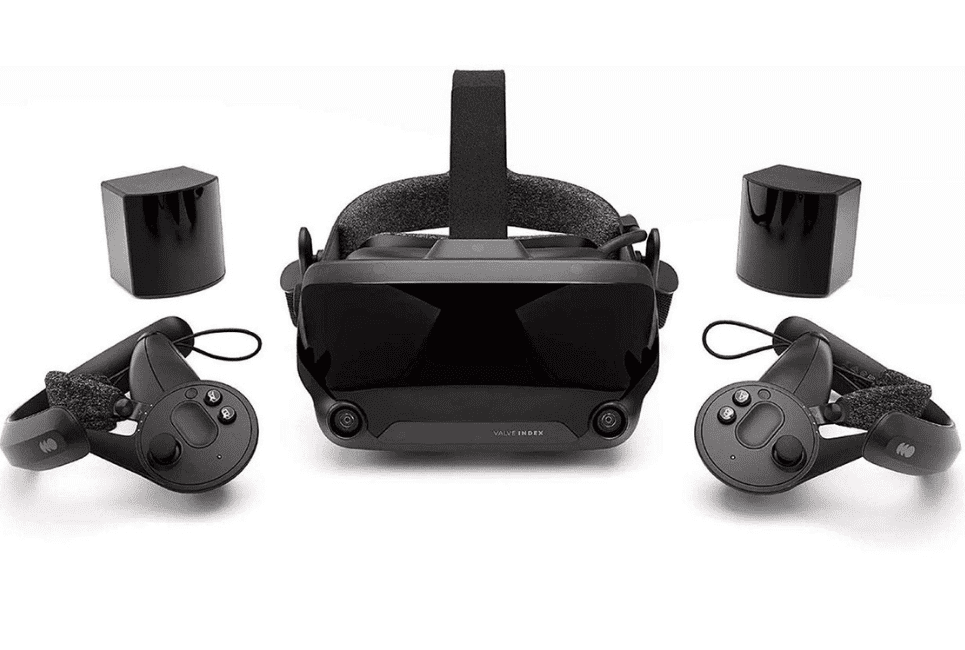 If money is no object to you, then the absolute best VR headset out there is the Valve Index. There are pricier options if you want just to burn money, but really, once you get to the Valve Index's level, you're not going to find much better than this.
The Valve Index will cost you around $1000, and with a price tag such as that, you will be expecting some otherworldly quality, and luckily, it delivers that in spades. With a 144 Hz refresh rate and a 130-degree field of view, you will be getting the most immersive headset on the market.
While it requires a little more setup than the Samsung Odyssey Plus, it makes up for it with incredibly clear visuals and perhaps the most innovative VR controllers available today in the Valve Index Knuckles controllers.
As the name indicates, these are the first VR controllers that wrap around your entire hand; this makes all the difference in the world.
The burden of constantly holding a controller in each hand is now gone as the straps on the knuckles controllers make it so that you can leave an open palm for as long as you want and not worry about the controller dropping.
In addition to this, you've also got some incredible finger tracking that works in games like Half-Life: Alyx as well. Speaking of that game, you get Half-Life: Alyx for free when you purchase a Valve Index.
That's right, one of VR's best games is yours for free as soon you're done setting up your Valve Index, and there's honestly no better introduction to VR gaming out there.
Comfort-wise, the Valve Index fits perfectly, and after experiencing the insane field of view it offers, going back to other headsets will be pretty difficult indeed.
Now, you will have wires here just like the Samsung Odyssey Plus, but you will get over that quickly after you see the insane clarity you're going to be getting from its two LCD screens.
If you want to get really creative, you can purchase additional motion towers to give you full-body tracking, which means games will track your entire body's movements, a level of immersion that is rarely achievable in VR to this point.
If you're looking for a bang for your buck and don't mind shelling out the dough to achieve it, the Valve Index is the standard right now when it comes to quality, performance, and in all likelihood, longevity as well.
Pros
Amazing clarity via LCD screens
Best controllers in VR bar none
Half-Life: Alyx is free
Full body and finger tracking enabled
Most comfortable VR headset
Incredible field of view
Cons
Very expensive
Lengthier setup than most VR headsets
Weaker colors
Requires additional purchases to get full-body tracking working
Additional Items
VR isn't just about the headsets, as there are plenty of other things to consider as well. For example, what batteries are powering those controllers? What do I do when my headset gets soaked in sweat? How do I protect my controllers from flinging through the window? How do I play Meta Quest 2 through my PC? What about if I wear glasses? If you're willing to spend a little more money you ensure the best overall experience, then I've got your solutions right here.
Sweat Resistant Face Mask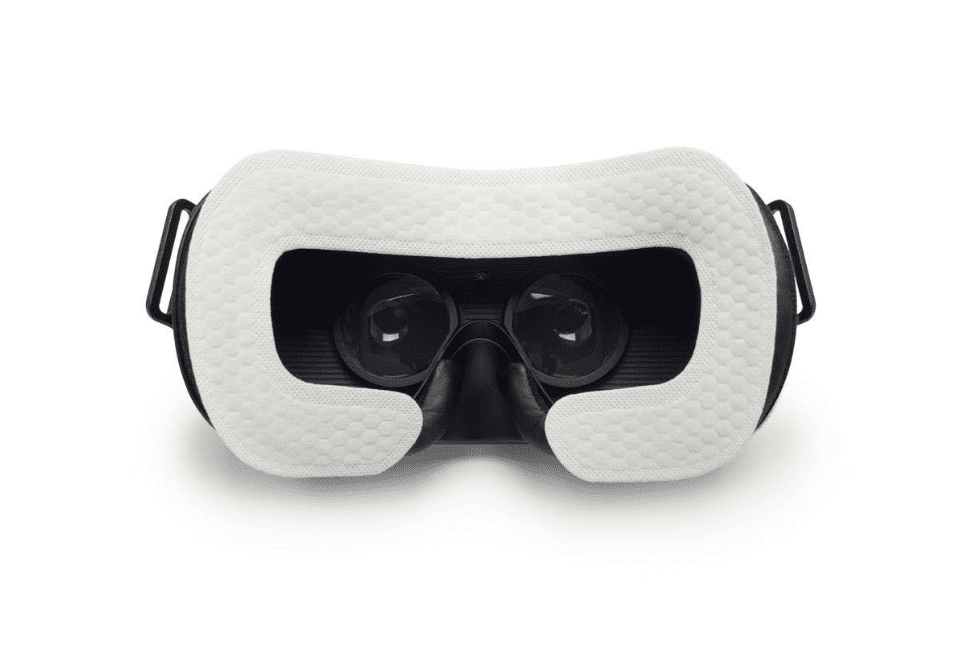 While they make you look like a bargain bin superhero, sweat-resistant face masks are a near necessity when it comes to VR as it can get pretty hot inside that headset, and depending on the game you're playing, that foam padding might start to get sweaty really fast.
If you neglect to clean that foam padding regularly, you could end up with either a pretty foul-smelling headset or, even more annoying, an itchy rash in the shape of your headset's facial area.
Luckily the rash is rare, and the solution to stop both of these is easy as can be. VR Cover is an excellent place for all kinds of VR accessories, and face masks are one of their products. There are specific masks for each headset, but you should be able to find what you're looking for regardless of the headset you have.
Batteries
Unless you want to go through endless amounts of batteries for your VR controllers, you will need ones that can be interchanged with ease and don't need to be replaced. The answer for you here is with rechargeable batteries.
There are a few brands you can find in this area, and no matter what your brand is, just make sure you can recharge them. Battery life differs from VR controller to VR controller, but usually, you'll find yourself needing a replacement every couple of days, depending on how much you play.
With rechargeable batteries, you throw them into the charge port and pop the new ones in, and you're good to go in seconds and don't have to worry about constantly having batteries on hand.
Virtual Desktop/ALVR
The Meta Quest 2 is an incredible headset because it can provide you with VR anywhere you want, or it can hook up to your PC to give you access to the massive library of PCVR gaming as well. To do that, though, you need to purchase either Virtual Desktop for $20 or ALVR for free.
I'm sure you can already guess which one is the more effective one there, and that's the truth as Virtual Desktop is an incredibly easy setup that you simply download onto your Meta Quest 2 via a link cable and from there, wired or wireless PCVR gaming is at your grasp.
If you don't want to spend another $20, ALVR is a good option, too, although I found it far more challenging to set up and maneuver properly. If you're on the fence, bite the bullet and spend the extra $20 because you need quality when it comes to VR and Virtual Desktop is a great product.
Controller Covers
Controllers in games never really needed protection before VR came along but now? Good luck going more than a few days without accidentally flinging your controller across the room or just dropping it while reaching for water during your play sessions. Many controllers have covers that can protect them from getting kicked up or just plain breaking completely to combat that. Some are very creative, too, making the physical look of the controllers more attractive than before. Keep in mind; some headsets don't yet have controller covers, so you'll have to check and see if your controllers have any options available as most of these are third-party creations and not sponsored by the headsets.
Bonus Extras for Meta Quest 2
If you want to amplify your experience, there are several accessories that make the experience that much more fun, and those are controller attachments. Here are a few I've found to make your VR experience even better.
Blade- 2 Handed Hilt Adapter for Meta Quest 2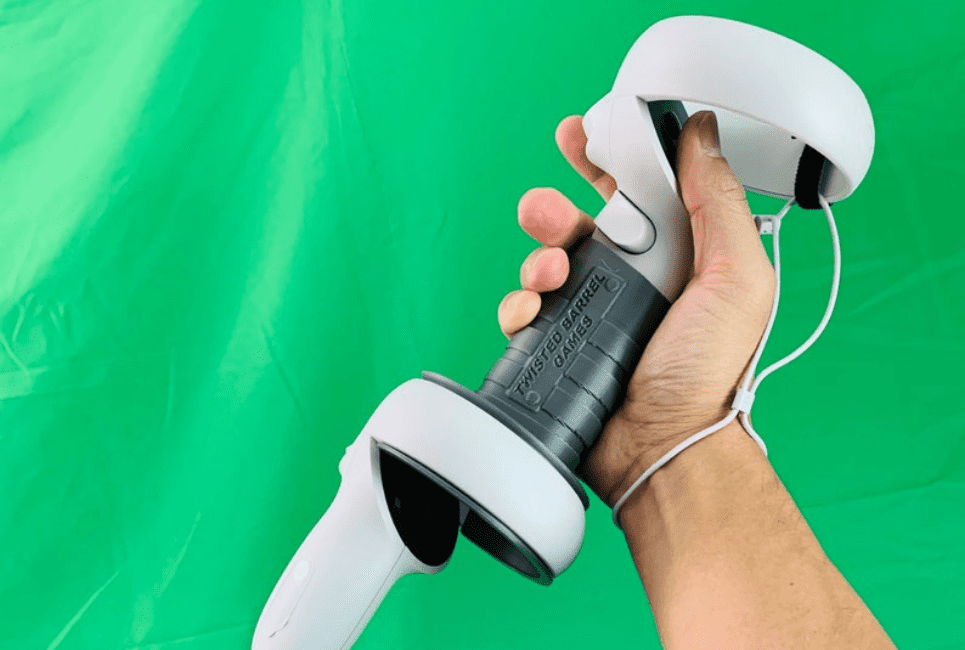 Sometimes when you're playing a VR game, you will find yourself equipped with a two-handed weapon in the game, but in real life, you'll be awkwardly holding the controllers haphazardly together and feel awkward doing it.
Well, if you've got $15 to spare and a Meta Quest 2, you have to have the Blade- 2 Handed Hilt Adapter for Meta Quest 2. It connects your controllers whenever you're using a two-handed weapon.
It is easy to separate back into two controllers, making the switching of weapons during gameplay seamless and so much more fun in games that emphasize melee weapon combat like Blade and Sorcery.
Masiken VR Gun Stock for Meta Quest 2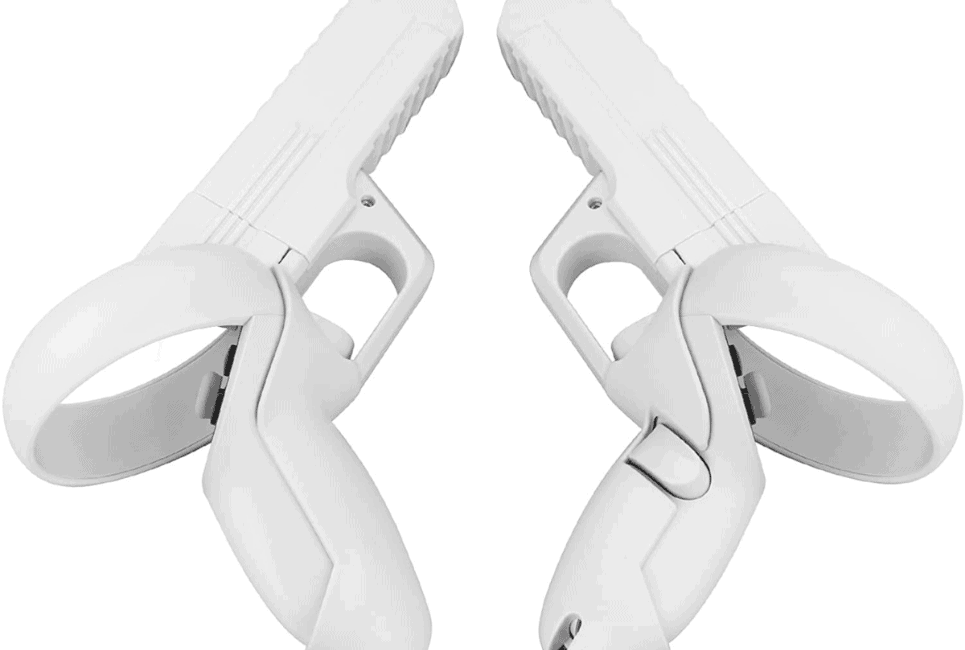 If you're playing shooting games in VR, such as Pavlov VR or even Half-Life: Alyx, sometimes you might find it a little tough to aim because a controller is usually so light that it's tough to keep a steady hand.
With the Masiken VR Gun Stock for Meta Quest 2, you get an additional pistol attachment that your controllers slide into very easily. They provide a bit of heft to your controller and make them feel more like the guns you're holding in the game.
FAQs
Question: What Headset is Easiest to Start With?
Answer: The Meta Quest 2 because it has virtually no setup, and you take it anywhere. For the VR ready PC havers, it's able to play any PC game as well with great visual quality, and the wireless nature gives it an edge over just about any other headset
Question: Which Headset is Your Favorite?
Answer: The Samsung Odyssey Plus. It combines great colors, tracking, and controllers to create a more immersive experience than most headsets and the built-in headphones also add a ton to the experience. The price is also manageable, and it's on sale all the time.
Question: Which Headset is the Best?
Answer: The Valve Index, despite its price, is the best all-around experience for the VR gamer that wants the elite experience right off the bat.
The controllers are just miles above any other headset, and the tracking is pretty much perfect due to the motion towers. The price might hold some people back, but Valve Index is the class of this VR generation.
Question: What is the Best Place to Find VR Accessories?
Answer: Etsy.com or Amazon.com. Both sites sell 3rd party accessories, so make sure you wade through them to find the one that suits you best. Reviews are crucial here, and the popular items are generally the best ones
Question: What Qualifies as a VR Gaming PC
Answer: These are the best gaming PCs around today, but generally, any PC that houses something about a 1070 GTX graphics card will be ready to handle VR gaming.
Ideally, you want your graphics card to be in the 2060-2080 RTX range for excellent quality VR gaming and into the 30 series graphics cards for the out-of-this-world product.
Bottomline
That's everything you need to get started with VR. For those who have never tried VR gaming before, it's like entering a whole new world. For me, it was genuinely a life-changing experience. It's an entryway into a limitless amount of other worlds, and it's also a great way to get a good workout while having a ton of fun.
My favorite headset of the bunch is, without a doubt, the Samsung Odyssey Plus because of its great comfort, excellent controllers, and simply unmatched color palette compared to the others. Hopefully, you've found what you're looking for on here, and I'll see you in the virtual world.
Continue reading more about VR gaming: