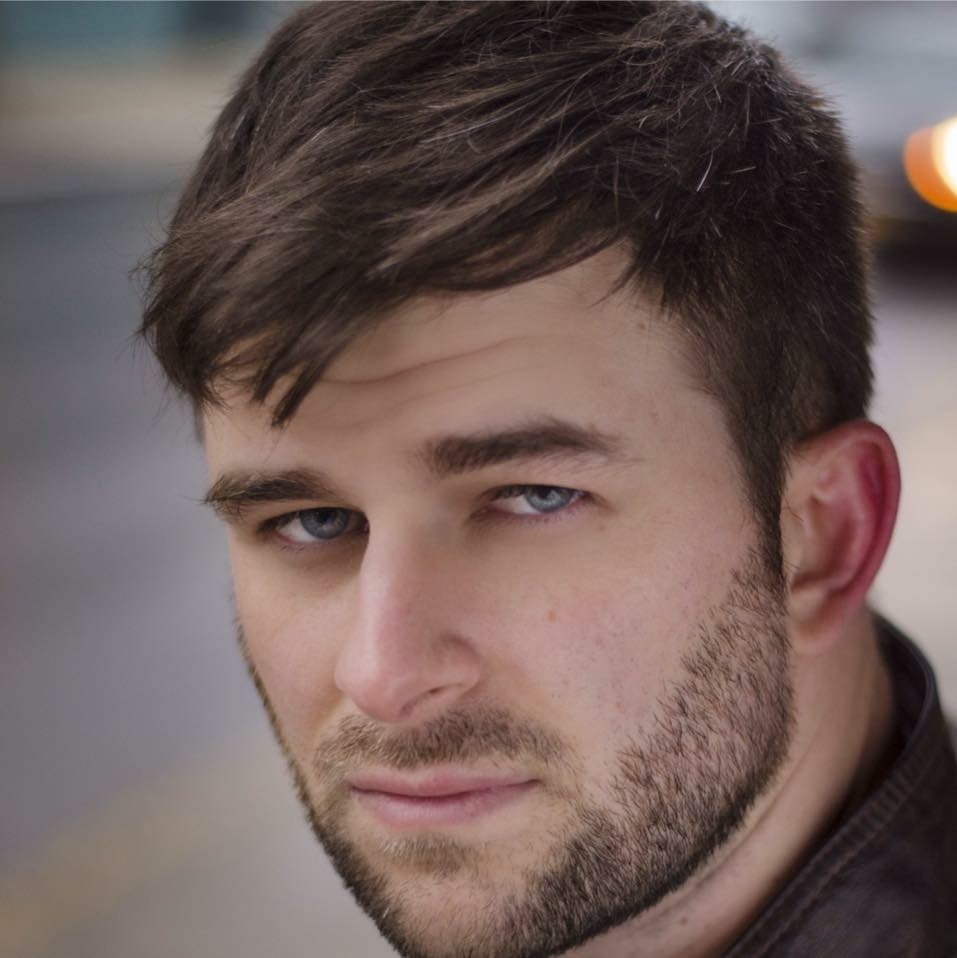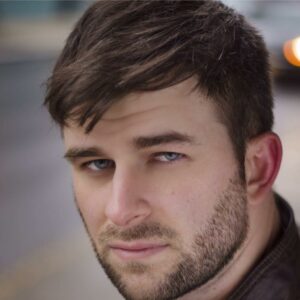 Latest posts by Adam Braunstein
(see all)
The Oculus Quest is one of the most amazing achievements in recent video game history. One would think it would've taken many years to figure out how to make VR wireless while also maintaining the standards of modern VR games. The Oculus Quest 1 and 2 have done just that in such a short period of time that it's just astonishing. Not only have they managed to make an amazing standalone headset that can be used anywhere you'd like, but it can also hook up to your gaming PC and become just as viable as your PCVR headsets which makes it a dual-threat that's simply unmatched in the industry right now.
I first delved into the Oculus Quest last year and quickly understood what the craze was all about. The freedom is incredible, and the tracking you're given with the inside-out tracking of the headset is about as good as I've experienced. The graphics are also pretty solid as well as a standalone headset, and when you plug it into a PC to get the PCVR experience, it's every bit as good as the best Oculus PCVR headset out there, and its resolution rivals even the Valve Index with a little bit of tweaking. It's high praise for sure, but trust me, it's very much deserved.
One of the best parts about the Oculus Quest is the number of tweaks you can make to it. Particularly, the gun stocks you can find for it are incredibly numerous, and each one offers something different, whether it be elite craftsmanship or a special feature that another one doesn't quite nail. We're going to go through the different gun stocks available for the Oculus Quest and find out which one is going to be right for you.
Selection Criteria
Well Made

Effective

Affordable

Easy to use 
Bottom Line Upfront
The best gunstock you can get is the ProVolver. It gives you lifelike gun weight mixed with an insanely powerful haptic feedback that makes you feel like you're actually firing a weapon. The lofty price will scare some away, but hardcore VR shooter enthusiasts will want to check this one out.
Best Oculus Quest Gun Stock
When it comes to shooting games, there is a problem when it comes to realizing the two-handed guns in various games. While some games allow you to use the off-hand as support for your aim, it just feels plain weird having your hand there holding onto nothing when you're supposed to be holding a massive machine gun. Luckily for us, the VR players of the world have spoken with their creativity and given us this incredible gun stock.
It's quite the large and intimidating apparatus for sure, but man, does this thing kick ass when utilized properly. How it works is that each of your controllers fits into the opposing ends of the gunstock. The controller closest to you acts as the reloading part of the equipment, and it cocks back accordingly. For the times in a game where you might have to take out a single-handed weapon, you can easily remove the controller and use it as normal. It's a little on the expensive end, but for those looking for the answer to the two-handed gun dilemma that pervades so many VR shooting games, you can't go wrong here.
Pros
Incredible design
Game changer
Makes gunplay better in just about every VR game that has it
Cons
Expensive
Tricky to get used to
Weighty, which is great for some, tiring for others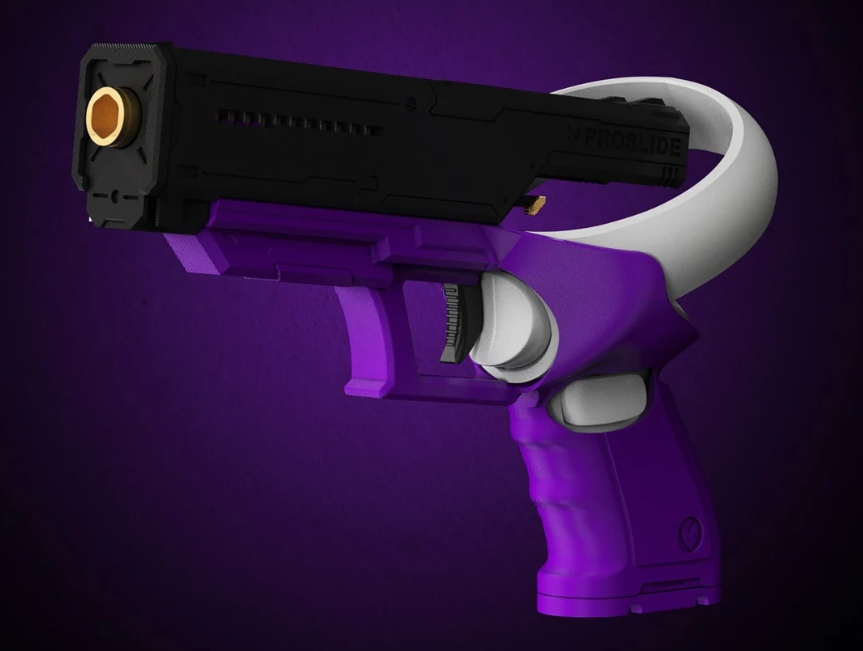 So many games on the Oculus Quest 2 use guns, and while a bunch are two-handed, plenty of games emphasize the pistols, such as Fallout 4 VR or Half-Life: Alyx.
There are few things more frustrating in VR than attempting to aim but missing your shot because you're expecting more resistance than the lightweight controllers can give. While there are plenty of ways to add weight to the controller itself, only a masterfully crafted gun stock like this one can put the weight in the proper place when it comes to gun emulation.
The Snowfox Pro is a fascinating variation on the typical gun stock in VR, as this one comes with the option to add as much weight as you want while you're playing. How does it do this? You simply add quarters into the front of the gun barrel, and the more you add, the more weight you'll get. It's a genius method, and the quarters stay perfectly in place while you're playing, so you don't have to worry about them flying all over the room. It all combines to make for an excellent experience that's incredibly customizable.
Pros
Well made
Game changer
Customizable weight
Looks great
Cons
You need quarters to change the weight
Difficult to snap onto your controller
Handle could be more comfortable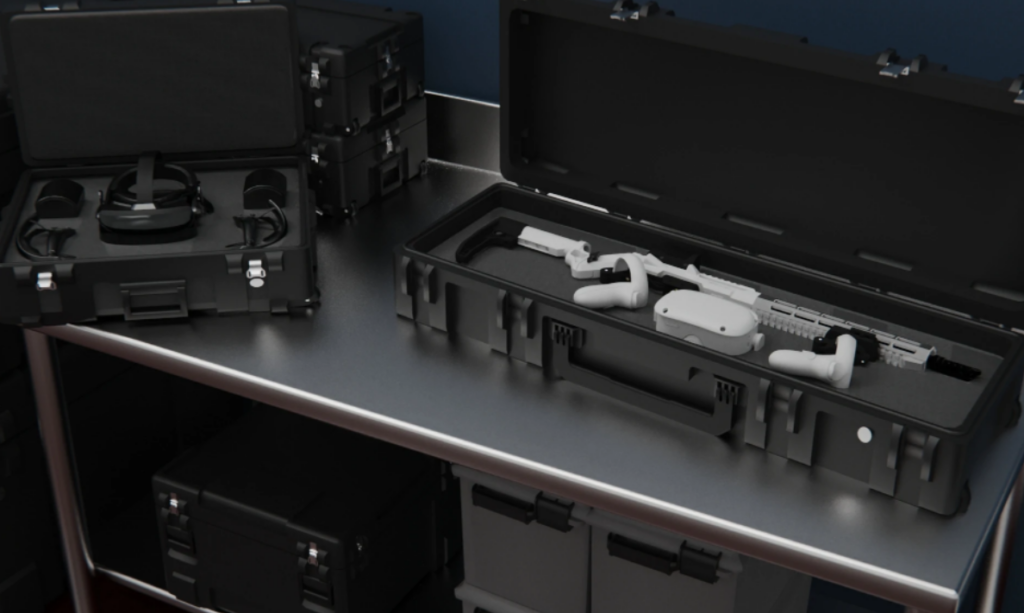 Some games do a lot to completely recreate the feeling of shooting a gun and also reloading it. They also go to great lengths to try and recreate the gun's weight, but unfortunately, when you're playing with an Oculus Quest headset or any headset for that matter, you're going to be stuck with some lightweight controllers, and the only thing that will be able to simulate the weight of the guns you're holding is your imagination.
Now, it's not going to be for everyone as the price here gets a little crazy with the customizations, but for those who want a VR rifle completely customized to their liking in both look and feel, Virtual Rifles Systems is absurdly realistic in both the weight of the gun stock and the things you can add on.
This gunstock connects your two controllers via a large stock, but then you can customize it with optics, muzzles, shoulder stock for improved aiming, barrels, slings, and even swivels and bases for those who want a mounted experience. The customization is wild, and while most players probably don't need the option to mount a VR game, for those who love military simulation in games, you can't get more sim than this product.
Pros
Incredible military simulation
Weighty
Highly customizable
Game changer
Cons 
Can be upwards of $250 depending on customization
Not everyone will want this much involved on a VR gun stock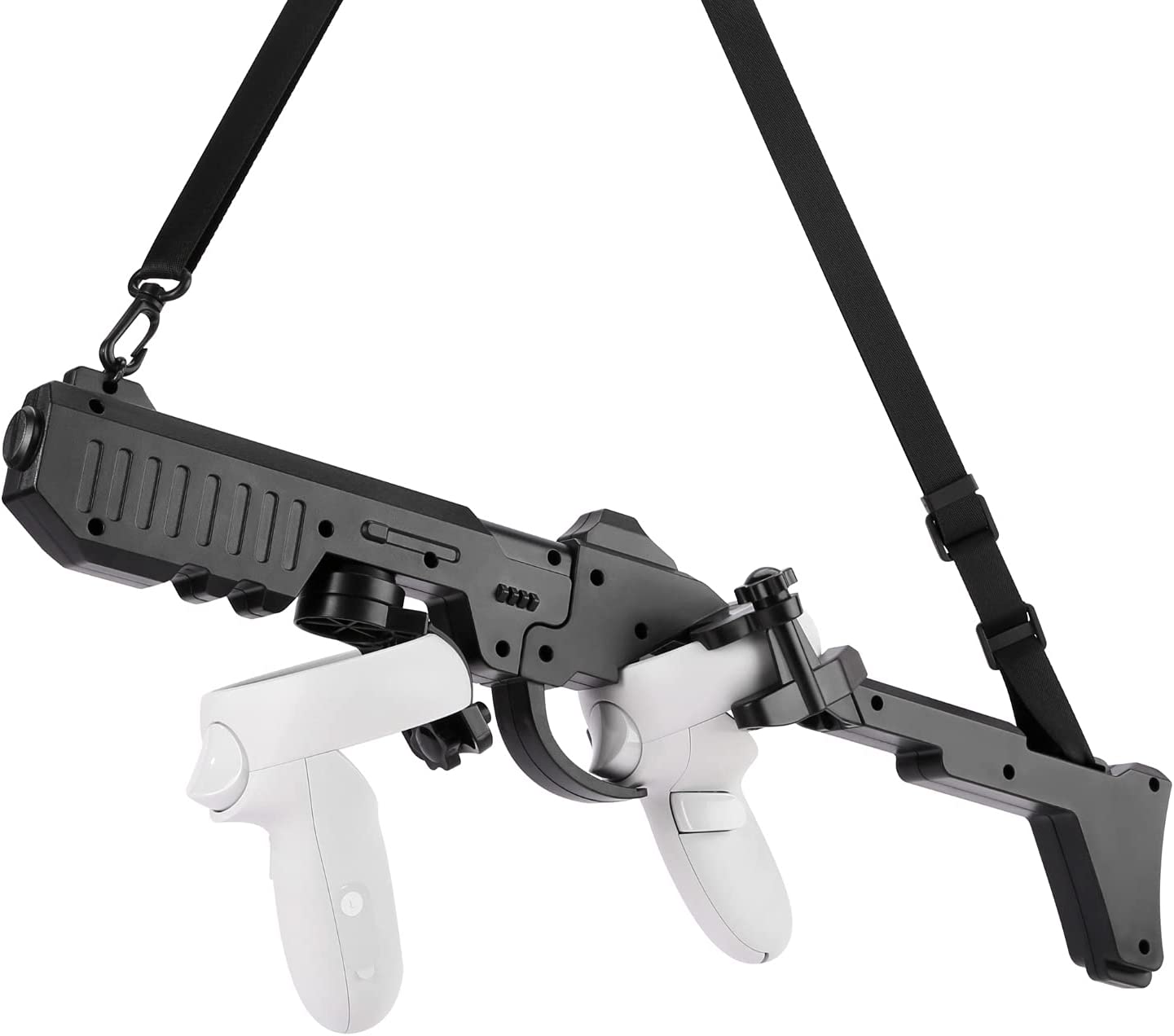 When you're playing intense games like Pavlov or especially Onward, you're going to want to make every shot count, and after a while, that's going to make your arms particularly tired. That goes double if you're using a gun stock to amplify your experience. They can be pretty heavy, and holding it up with both arms can definitely wear on you if you're playing games like Fallout 4, for example, where you will likely be playing for hours rather than short 30 minute sessions that you can get in via other VR shooters.
The solution comes with the VR Rifle For Oculus Quest 2. This is a somewhat basic VR stock at its core, but the huge feature here that doesn't show up on many others is the nylon strap that comes with it. This fully adjustable strap sits comfortably over your neck and shoulder and allows you to have far more support while holding up your weapon in-game or even just letting it hang while you move around with your other controller detached from the weapon. This gunstock is also expertly crafted, giving you a shoulder stock that slides in comfortably over your aiming shoulder to give you even more control when lining up your shots.
Pros
Comfortable relieves tired arms
Easy to dismount controllers from
Well made
Game changer
Shoulder stock allows for precision aiming
Cons
Pricey
Tricky to attach initially
Dismounts a little too easily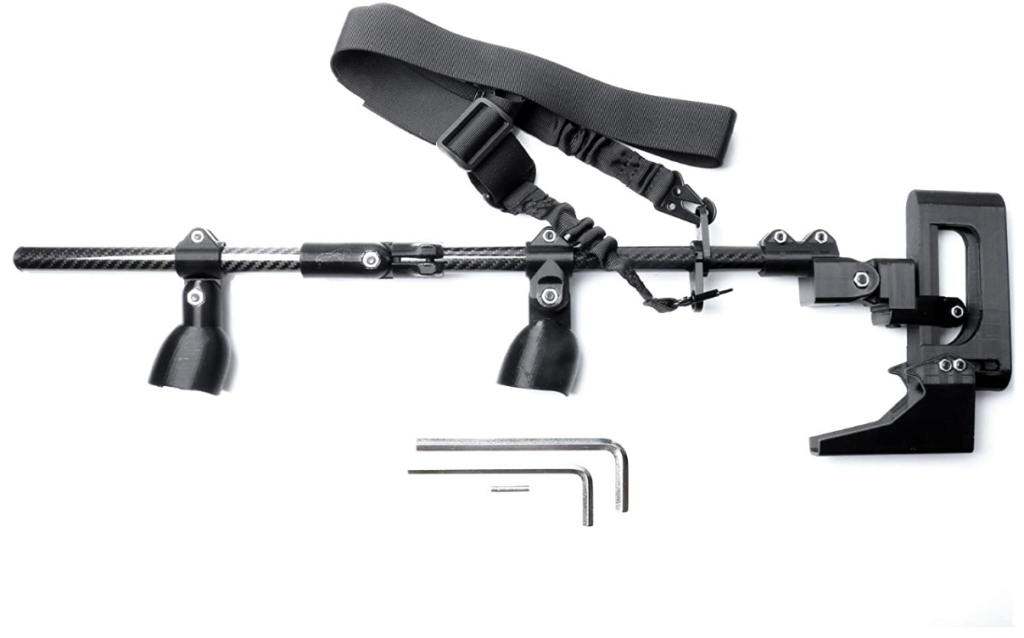 VR gun stocks come in a lot of different sizes and shapes, and unfortunately, many of them tend to come in the size that would be most comparable to that of a submachine gun. For the larger guns you control in the games, there is still a bit of a disconnect as you can feel your hands being misplaced. This gunstock definitely doesn't come with the bells and whistles of other ones, but what it does more effectively is provide a lengthy gun stock that will go a long way towards the emulation of large machine guns and sniper rifles in games.
This gunstock attaches to your controllers easily and can be detached without much effort when you need to reload or switch to a one-handed weapon. It also comes with a shoulder stock that is adjustable in its length, so you can steady your aim easier. There is also a strap that can be adjusted as well, allowing you to let the gun stock hang when you tire out while playing. It also looks pretty cool, too, opting for a more subtle appearance than the more over-the-top-looking gun stocks out there.
Pros 
Well made
Effective
Customizable
Shoulder stock helps aim
Cons
Not as securely made as other VR gun stocks
Pricey
Not as weighty as other gun stocks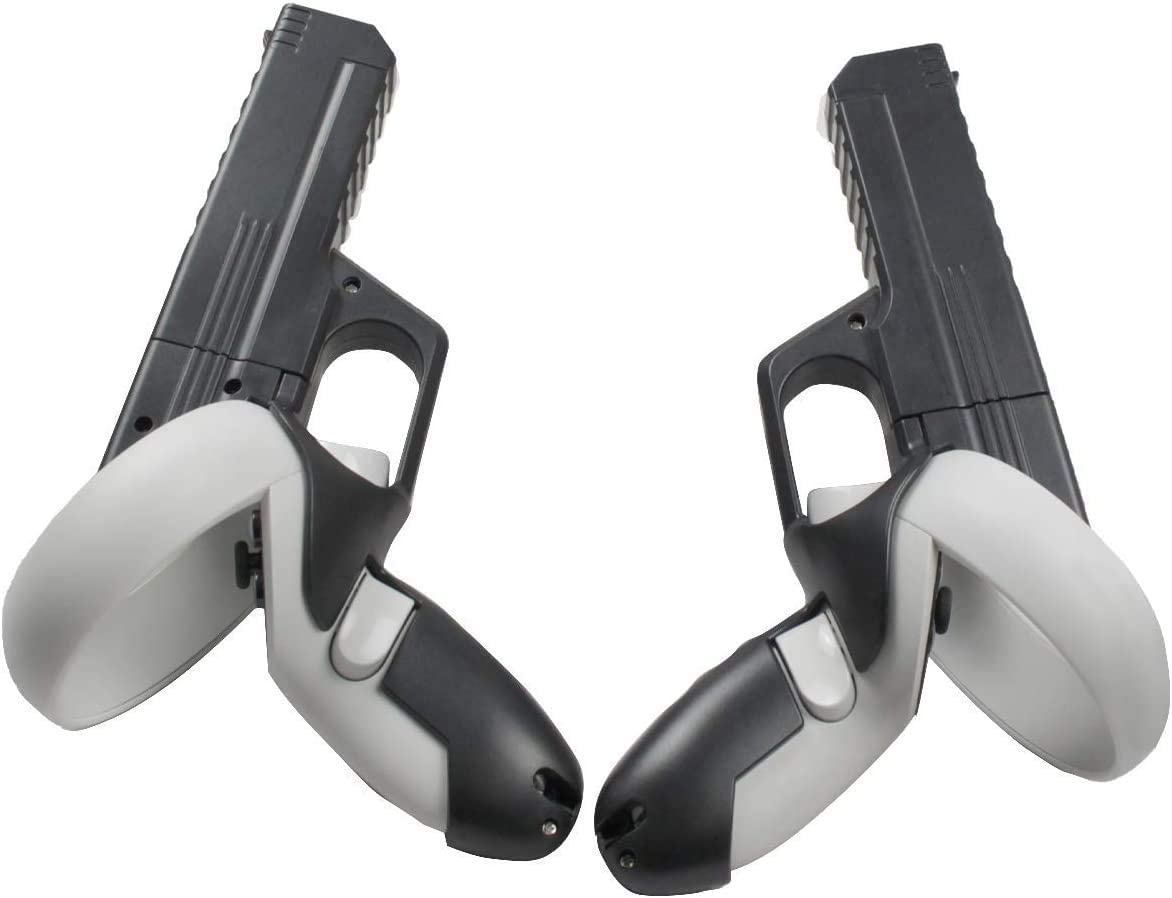 Not every VR game requires you to focus on pistol usage, but for some out there, such as the ever-popular Pistol Whip. In that game, you can dual wield pistols, and you also need to be incredibly quick on the trigger; and occasionally, the almost weightless Oculus Quest controllers might feel too light to hit your shots. That's where NIUVR VR Game Gun comes to the rescue.
You get one gun stock for each controller here, and each one has a solid bit of weight to it that makes it feel like you're actually holding a weapon. These aren't as weighty as some controllers, but they are great for casual games like Pavlov and Pistol Whip. They're also very affordable compared to most of the VR stocks available. They don't have a two-handed option, but you're not going to find anything close to this cheap when it comes to two separate controllers.
Pros
Two guns stocks for a very affordable price
Easy to slip onto your Oculus Quest controllers
Awesome design that fits in aesthetically
Comes in multiple colors
Cons
Not as sturdy as other gun stocks
Cheap material
The gun grip isn't designed well, making it still feels like a controller rather than a gun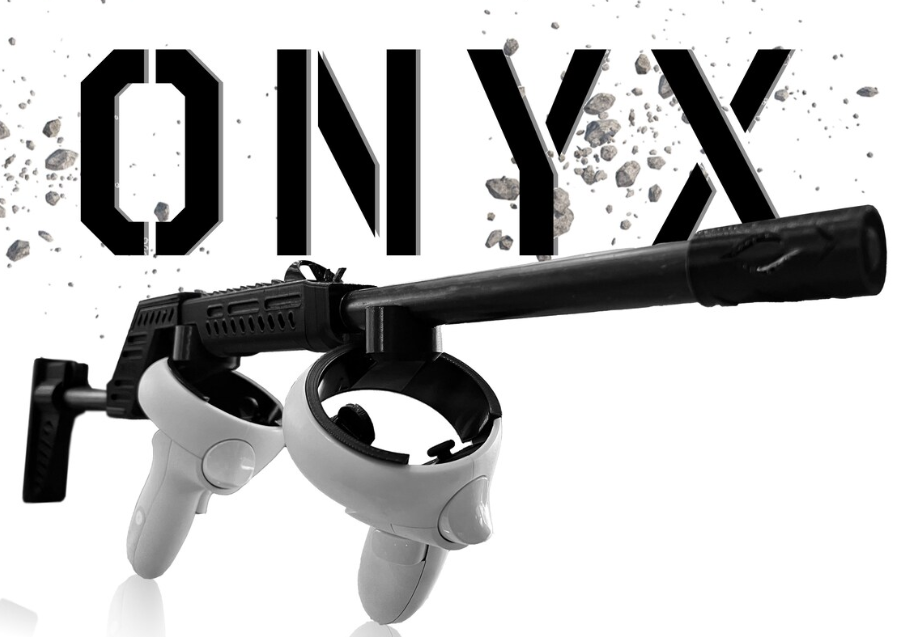 For those out there who want to look cool and feel cool while playing a VR shooting game, there is no more sleekly designed and powerful feeling accessory than the Olen VR Gun. You get a decently weighted piece of equipment here that comes complete with a shoulder stock to stabilize your aim regardless of the game you're playing.
The controllers are easily slotted on here and can be removed at any time if the need to use a single-handed weapon like a pistol or melee weapon arises. It's not as heavy as some of the other available stocks, but what it lacks in weight, it makes up for in the perfection of its design. It's very structurally sound and offers one of the more detailed designs. The only caveat comes with a slightly costly ask compared to some of the other stocks available.
Pros 
Well made
Shoulder stock
Easy to detach controllers to reload
Easy to assemble
Cons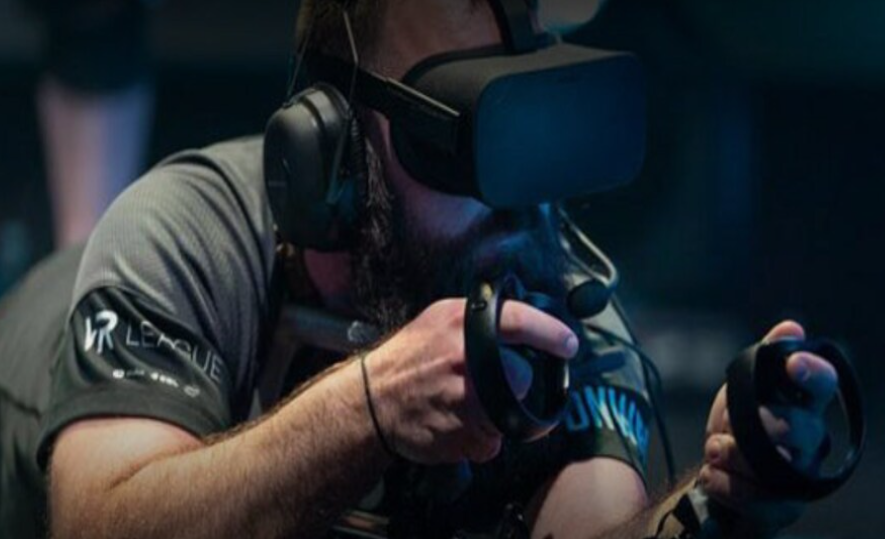 With so many companies doing the same type of thing when it comes to VR gun stocks, it makes sense that someone would come along that would try to jump out of the box. This gunstock tries to do just that by giving us a unique design that isn't seen with other VR gun stocks. Instead of having the controllers fit on the bottom of the stock like most VR gun stocks, this one has the controller slotted on the top of the stock.
According to the makers of this VR gun stock, this is how professional VR gamers play in tournaments. You also get a strap and a display stand with this set if you so choose. The interesting part of this VR gun stock is that you can remove the two controllers in their mounts at any time, and they become pistol grips, making this a lot of bang for your buck. You will be spending quite a bit more on this one than others, but with what's provided, it's understandable and worth it.
Pros
Great design
Unique
Effective
Tournament approved
Option to remove controllers
Cons
Expensive
Not everyone will love the controllers being on top of the gun for immersion purposes.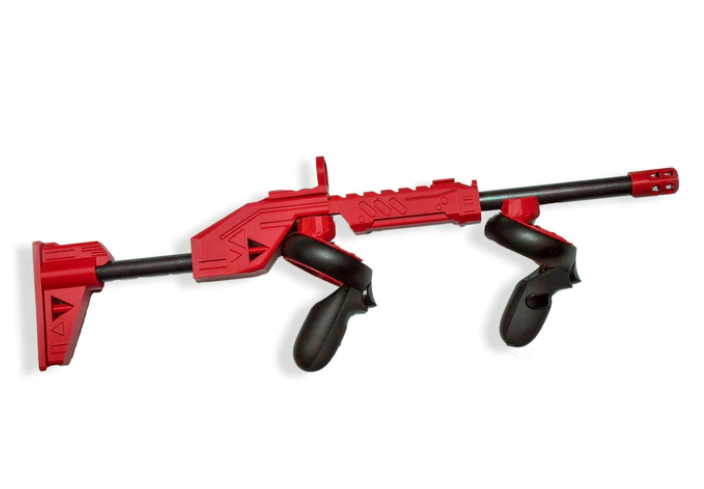 KnoxLabs is an expert in the VR accessory industry, and that expertise stretches to gun stocks. This gunstock is about as heavy as they can get, so for those wanting the experience of actually holding a weapon, this VR gun stock gives you about 3 pounds combined with the controllers to create a very realistic feeling experienced in a VR shooter.
This VR gun stock will cost you quite a bit more than most will, but with that, you're getting a well-designed product that has intricate detail, shoulder stock, and magnetic attachments that lock your controllers into place while you're aiming and easily detaches when you need to reload or switch weapons. It's a bit of an investment, but if VR shooters are your thing, this is definitely a route to consider.
Pros
Well made
Weighty
Sleek design
Comfortable to use
Easily detachable controllers
Cons
Expensive
Might be tiring after a while
Tough to reattach controllers to the stock after removing them while in-game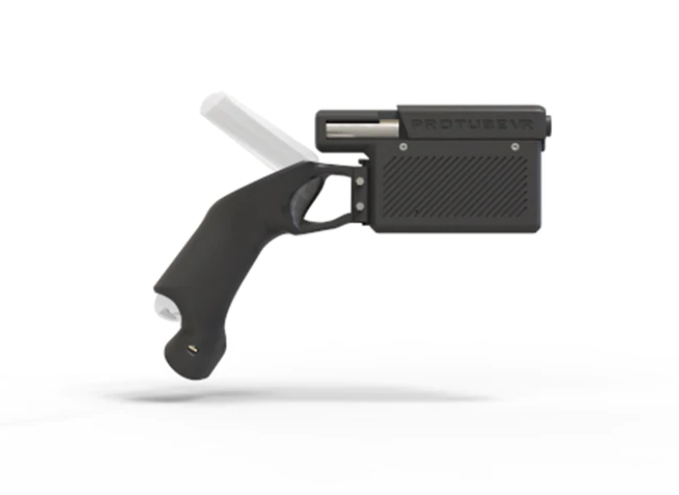 This is only going to be for those who value simulation over everything else, but those types of players are out there, and I'm one of them, and I can tell you this. Unlike any other VR gun stock out there, the ProVolver VR Haptic Gun is the biggest must-have when it comes to an Oculus Quest VR gun stock. It may appear as just a pistol add-on, but the magic is what happens on the inside of this incredible device.
The ProVolver is the weight of an actual pistol, so it immediately adds an insane amount of immersion into your game. That would be impressive on its own or sure, but that's not even the main event. The haptics involved in gunstock makes it so that each time you pull the trigger in-game, you get an explosive kickback that changes based on the type of gun you're firing. It's a jarring effect the first time, and it will cause a bit of kickback as well when you pull the trigger.
The result is the most immersive way to play any VR game involving guns. The initial version comes with just the pistol support, but you can be an extension for a small price that turns it into a full two-handed gun stock, adding the insane haptic feedback into rifle weapons as well. This one will break the bank a bit, but it's worth every penny.
Pros
Incredible haptic feedback
Real-life pistol weight
Able to use with almost any VR game
Has an app
Easily usable
Cons
Costs $400+
Very heavy
Support for all games is not yet there; no description of what games are supported.
My Top Picks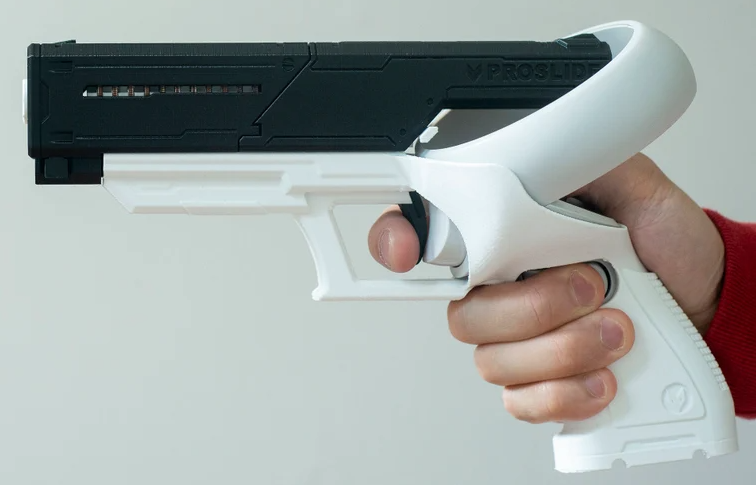 The Snowfox pro is an awesomely designed pistol gun stock that lets you customize the weight of the pistol attachment through the use of coins. This flexibility is enormous and can change how your shooting works in VR games. It's also very affordable, making it a great entry into VR gun stocks.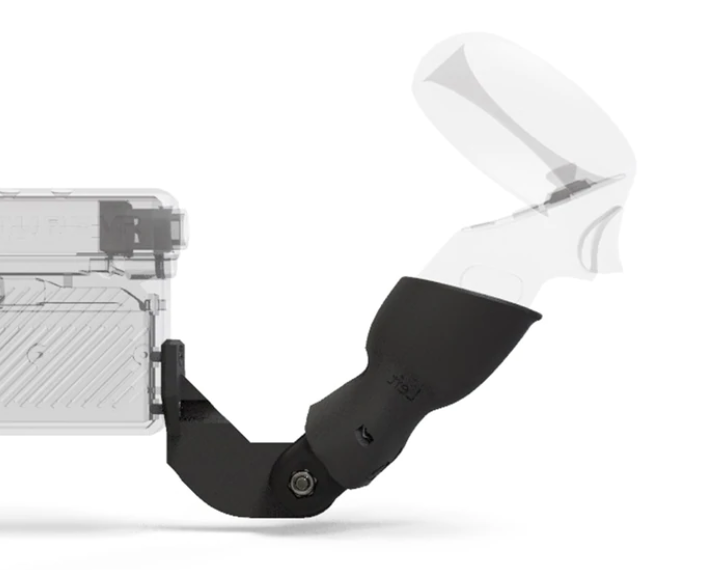 The Provolver is an incredible product that makes your VR controller feel like an actual gun. The real-life weight mixed with the awesome haptic feedback completely changes VR shooting games forever, and the ability to turn it into a two-handed gun that utilizes both controllers makes even the pretty lofty price of $400 feel worth it.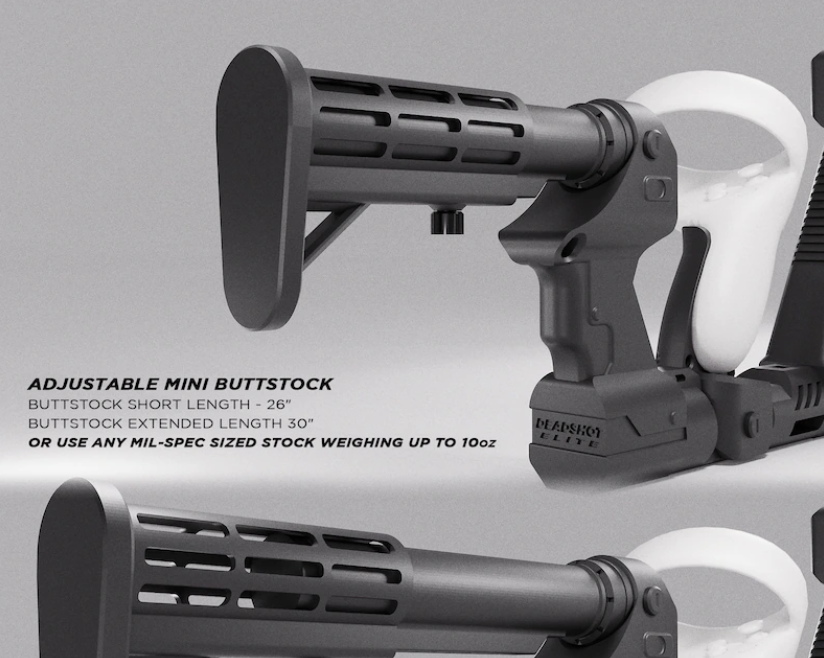 As far as affordable VR gun stocks go, you can't go wrong with what Deadshot Elite has to offer. This gunstock is weighty, is expertly crafted, and easy to separate when it comes to reloading and switching to one-handed weapons.
FAQ
Question: Can I Play PCVR Games on my Oculus Quest?
Answer: Yes, you can play PCVR games on the Oculus Quest, but only via the link cable, Air Link, or third-party software such as Virtual Desktop. This turns your Oculus Quest into a PCVR headset capable of playing all the games you can find there.
Question: What's the Big Difference Between Oculus Quest 1 and 2?
Answer: The biggest difference between the two is that the Oculus Quest 2 has upgraded resolution. The Oculus Quest 1 does have slightly better color quality, so the difference between the two isn't that massive. The Oculus Quest 2 is also cheaper.
Question: Do all Games Support VR Gun Stocks?
Answer: No game actually supports the VR gun stock as an official tool, but that doesn't mean it won't work with any game. Even games like Fallout 4 VR that don't let you grip a weapon with two hands will be benefitted from a VR gun stock.
Conclusion
There are tons to choose from when it comes to VR gun stocks, but for me, the ProVolver stands alone. I know the price is a bit nuts, but this is taking VR to the next level in a hurry, and it's so well made that it's hard to say no. Whether you grab that one or some of the above, I hope this guide helped you find a new gunstock for your Oculus Quest.
 Continue reading:
Best VR Games Without Controller