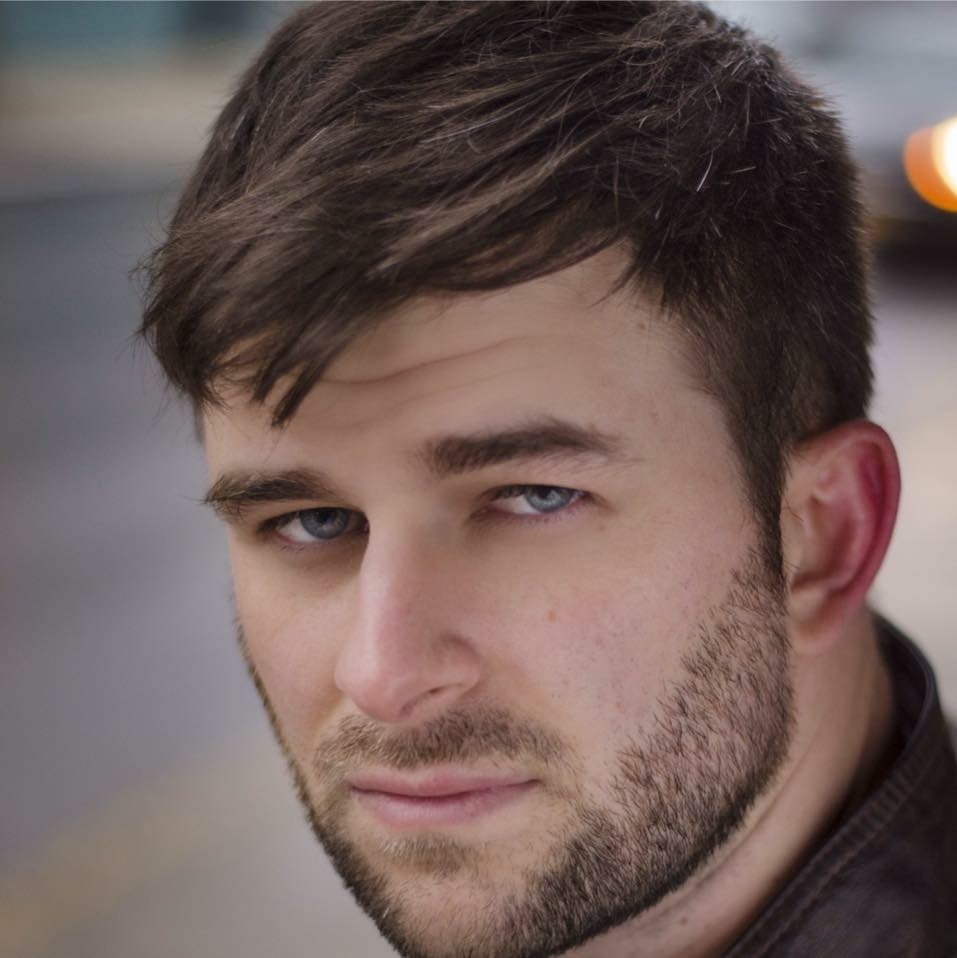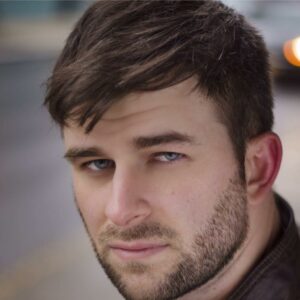 Latest posts by Adam Braunstein
(see all)
VR is probably the most innovative piece of gaming technology we've ever seen. While it's tough to explain to someone who hasn't really experienced it, being able to literally exist in these various worlds and have your hands and body become the controllers is simply an experience that I've yet to find elsewhere. Unfortunately, sometimes your headset isn't exactly the way you want it right out of the box. Thanks to the amazing creativity of people, though, tons of accessories have been created to help your VR experience be just as you'd like it to be.
My experience with VR is vast, and I've tried every genre of game out and generally work VR into my daily routine, be it as a game to play for enjoyment or a fitness-based game. I've found it to easily be the most entertaining form of gaming I've ever experienced. I'm consistently blown away by the things you get to see and do in VR, and I try to spread the word about how amazing it really is whenever I can.
I've come across tons of accessories for my VR equipment throughout the past few years, and some of the best available happen to be for the Oculus Rift. We're going to explore all the kinds of add ons and accessories there are for one of the most popular VR headsets out there.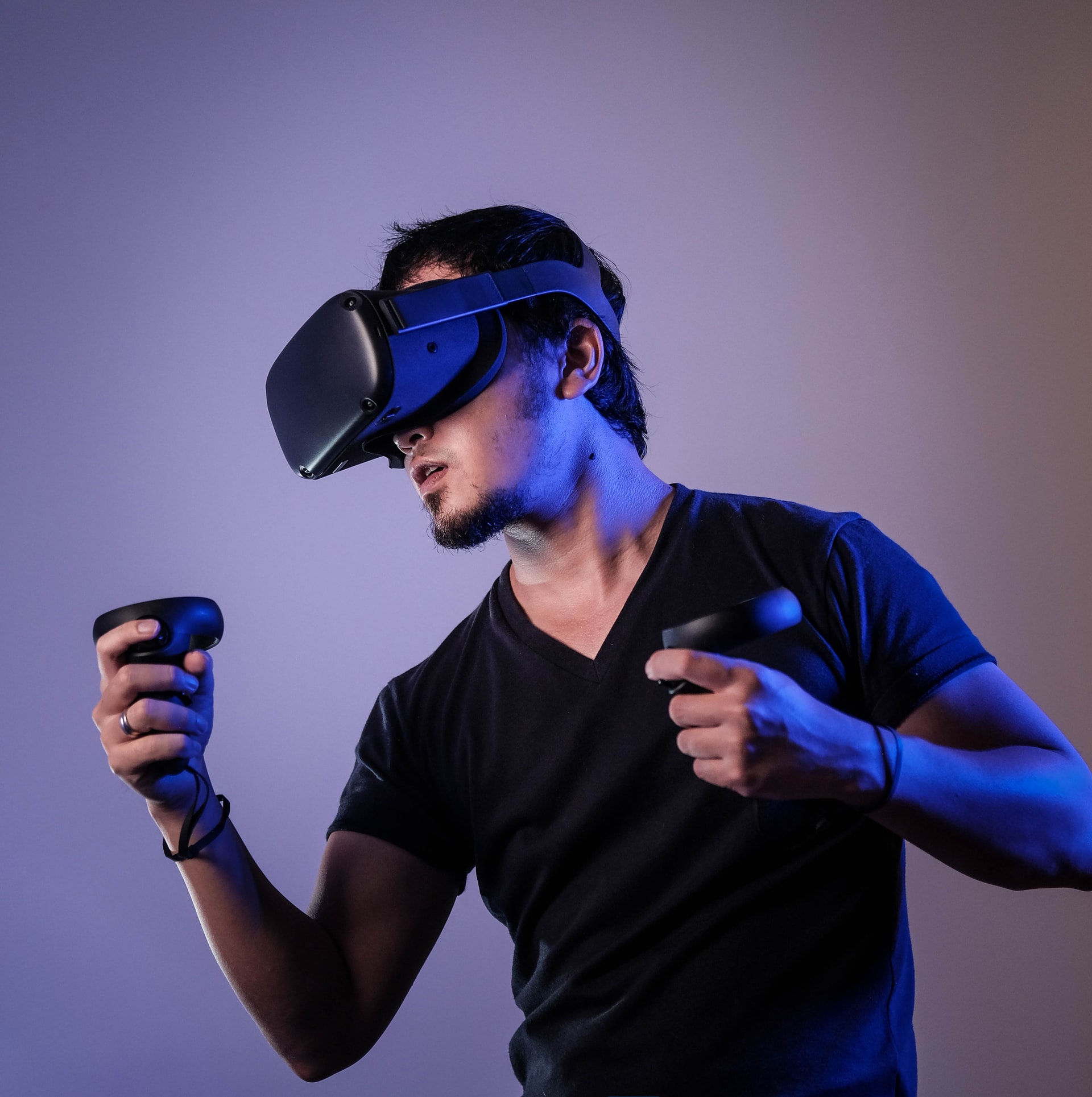 Selection Criteria
Affordable
Creative
Effective
Enhances the experience
Bottom Line Up Front
The best Oculus Rift accessory out there is SwitchBlades Magnetic Melee Attachments. Being able to two hand weapons in games and immediately switch right back to single-handed in the blink of an eye completely changes how you play melee combat in VR. It's also well made, so you won't accidentally break it while playing.
Best Oculus Rift Accessories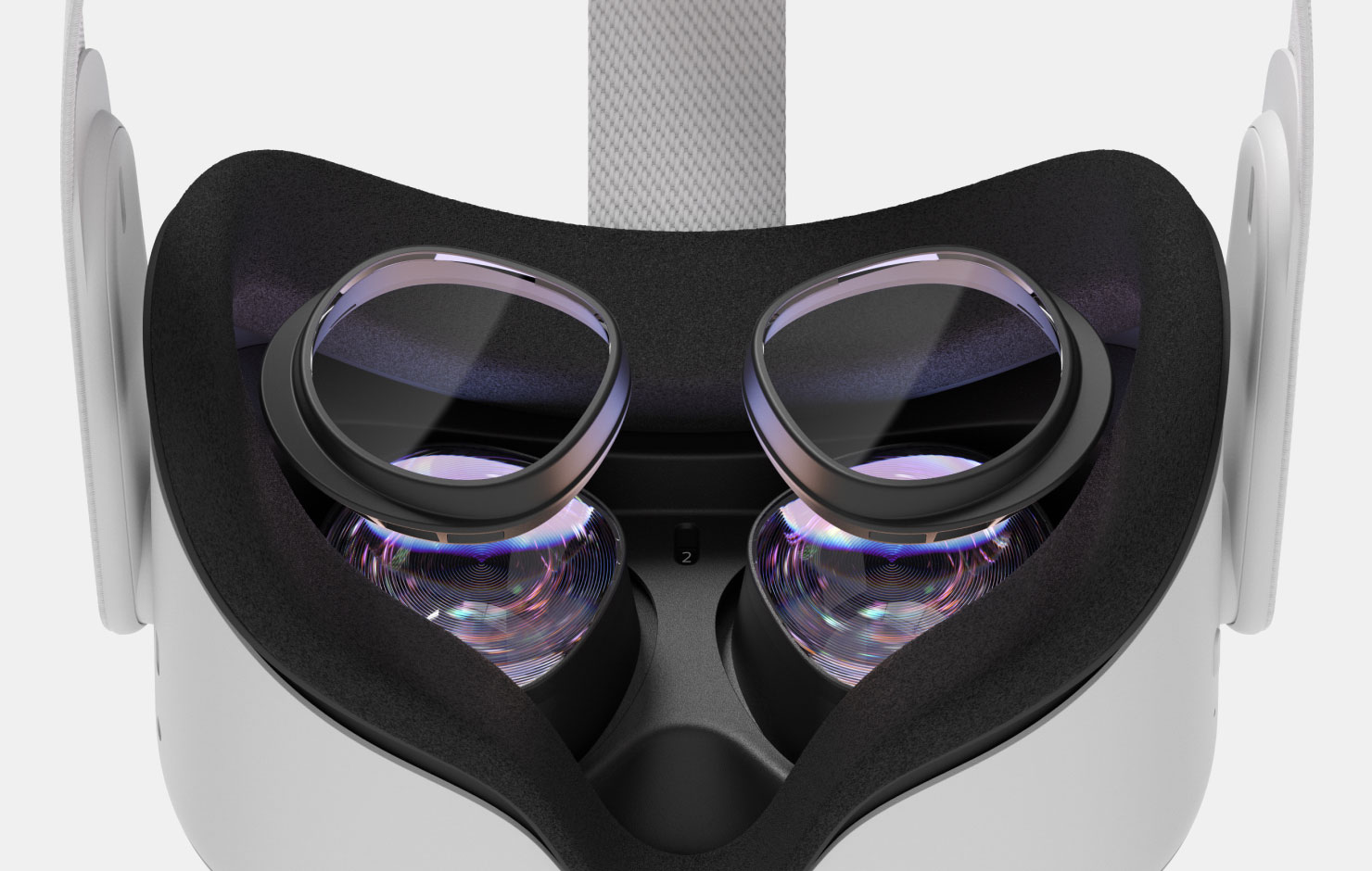 One of the most frustrating things in VR is trying to find the sweet spot visually. You'll be tinkering around constantly to try and find the right spot on your head or messing with the eye distance modifiers to try and find that perfectly clear image, and all of that is doubled when you're wearing glasses while playing VR.
This product gives you prescription lenses that you can easily slide over your headset lenses to give you your exact prescription so that glasses are never needed again while in VR. You simply set your lenses to default, snap these on, and you'll be good to go. It's a necessity for me when using my Oculus Rift S headset, and I have a pair for e every headset I own.
Pros
Amazing Clarity
Easy to snap on
Lightweight
Cons
It's $79.99, which might be too much for some
Lenses can still scratch
Image appears a bit different due to the extra layer of lenses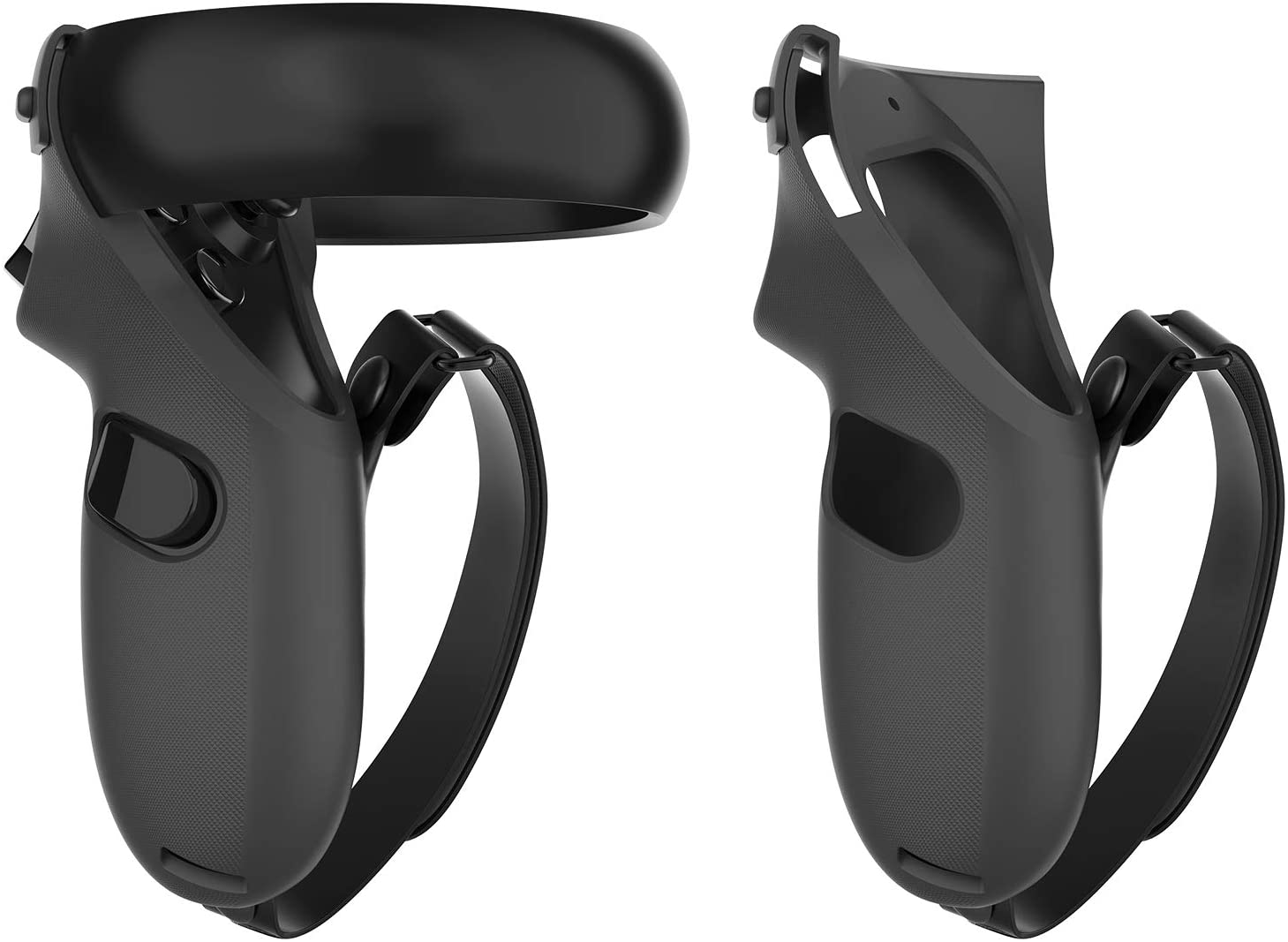 The Oculus Rift controllers are fine, but for a big guy like myself, I've found them to be a bit small for my tastes. Because of that, I'm always finding that my grip isn't as good as it should be, and that's because the holdable part of the controllers is too narrow and also lacks any kind of grip to keep your fingers in place.
This handy grip accessory simply slides onto your controllers and gives the area you hold a much more secure feel to it, adding a bit of thickness to the controller while also giving you a solid grip to hold onto. It also comes with a strap that wraps around the outside of your hand, making it nearly impossible to drop your controller by accident anymore.
I can't use normal controllers anymore after trying out this grip, it's that much a game-changer, and it's super cheap.
Pros
Easy to use
Cheap
Well made
Makes playing VR more enjoyable
Cons
Might feel too thick depending on hand size
Material is a bit hard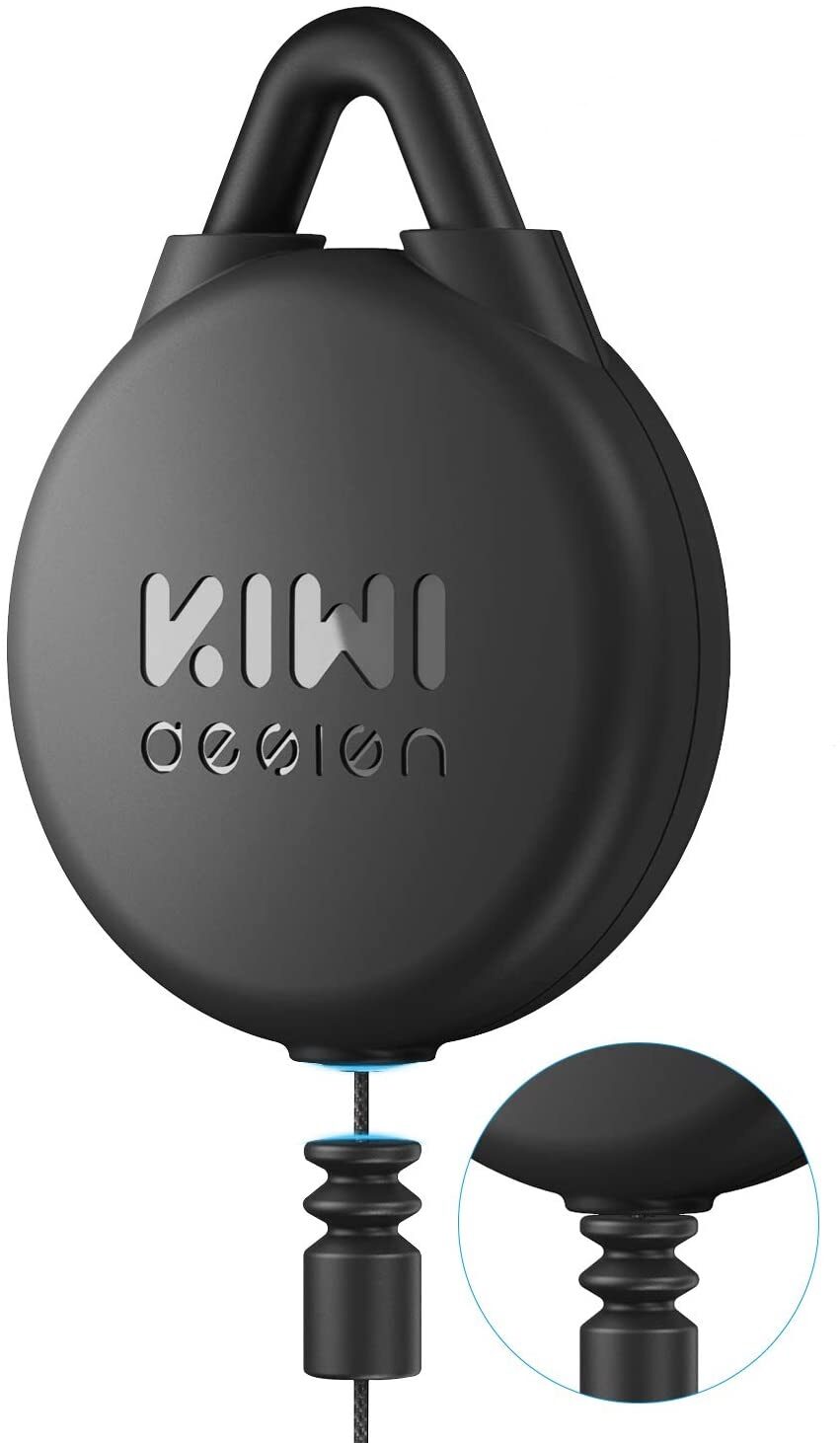 Unless you're using an Oculus Quest, you're going to be dealing with the never-ending annoyance that is cable management with VR headsets. Even if you have cable extensions and an elaborate setup where you are no longer tripping over it, you're still going to have that pulling feeling coming slightly from the back of your headset at all times. This handy device introduces a pulley system that will string along your headset cable from your ceiling into your headset.
It's an elaborate setup, but once you figure out where you're going to be playing and get everything in place, you'll wonder how you ever managed to play VR without it. It makes every VR experience feel wireless, and you're suddenly free to spin around in circles and move pretty much anywhere you'd like, as long as you have the proper cable size. It's a necessity for those with big play spaces available to them.
Pros
Amazing to use
Changes the way you play VR
Works on any headset
Cons
Difficult to setup
Could damage ceiling if used improperly
Large space recommended
One thing that is pretty consistently annoying to me while playing VR is the face pad that these headsets come with. They're all very stiff, and after you've put a good amount of time in, they become pretty gross and, on the worst occasions, can even cause skin rashes if you're not washing them properly.
That's where this face pad replacement comes in. You simply take off the old pad and replace it with this much more comfortable face pad that is both sweatproof and waterproof, meaning you won't have to worry about your face pad getting gross during your next intense session of BeatSaber, and you can say goodbye to any unsightly face rashes that might've popped up using the face pad you get right out of the box.
Pros
Cheap
Comfortable
Long-Lasting
Cons
Silicone cover might not agree with everyone's skin
Changes eye distance from the screen slightly
Might require multiple purchases over time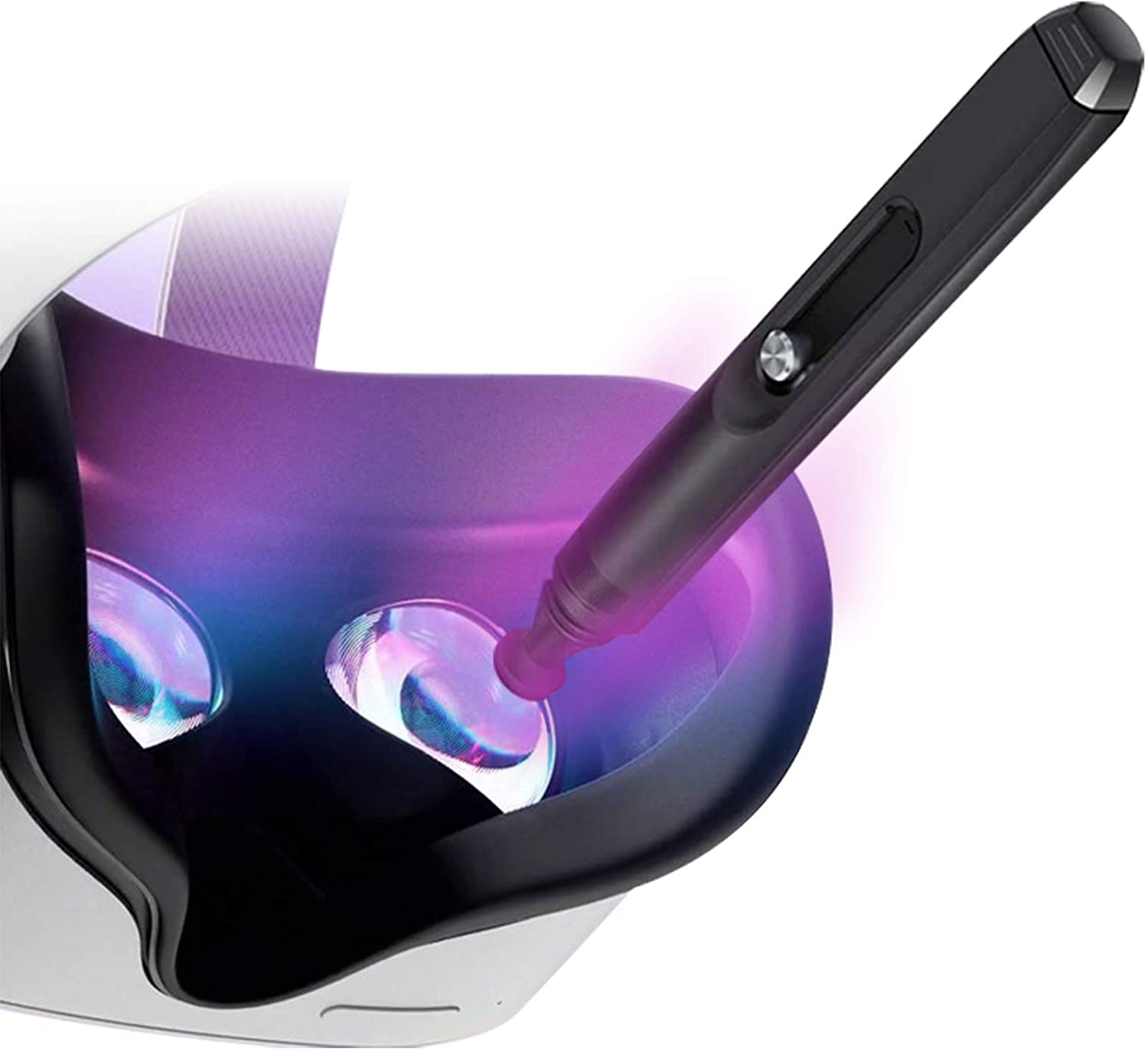 One of the toughest things about owning an Oculus Rift headset or any VR headset is the maintaining part of the equation. It's not clear at all out of the box how you're supposed to clean these things, and that can lead to some neglecting the cleaning entirely or worse, causing permanent damage to your headset.
This Lens Cleaning Pen is a godsend because instead of risking damage with water or other cleaning products, you simply hold this as you would a pen and brush back and forth across your lenses until you're clean of all dust or fingerprints. It's a device that is a necessity for anyone who owns a VR headset and can help lead to substantial longevity with it.
Pros
Effectively cleans all VR headset lenses
Easy to use
Cheap
Cons
Must use gently
Difficult to tell when the lens is clean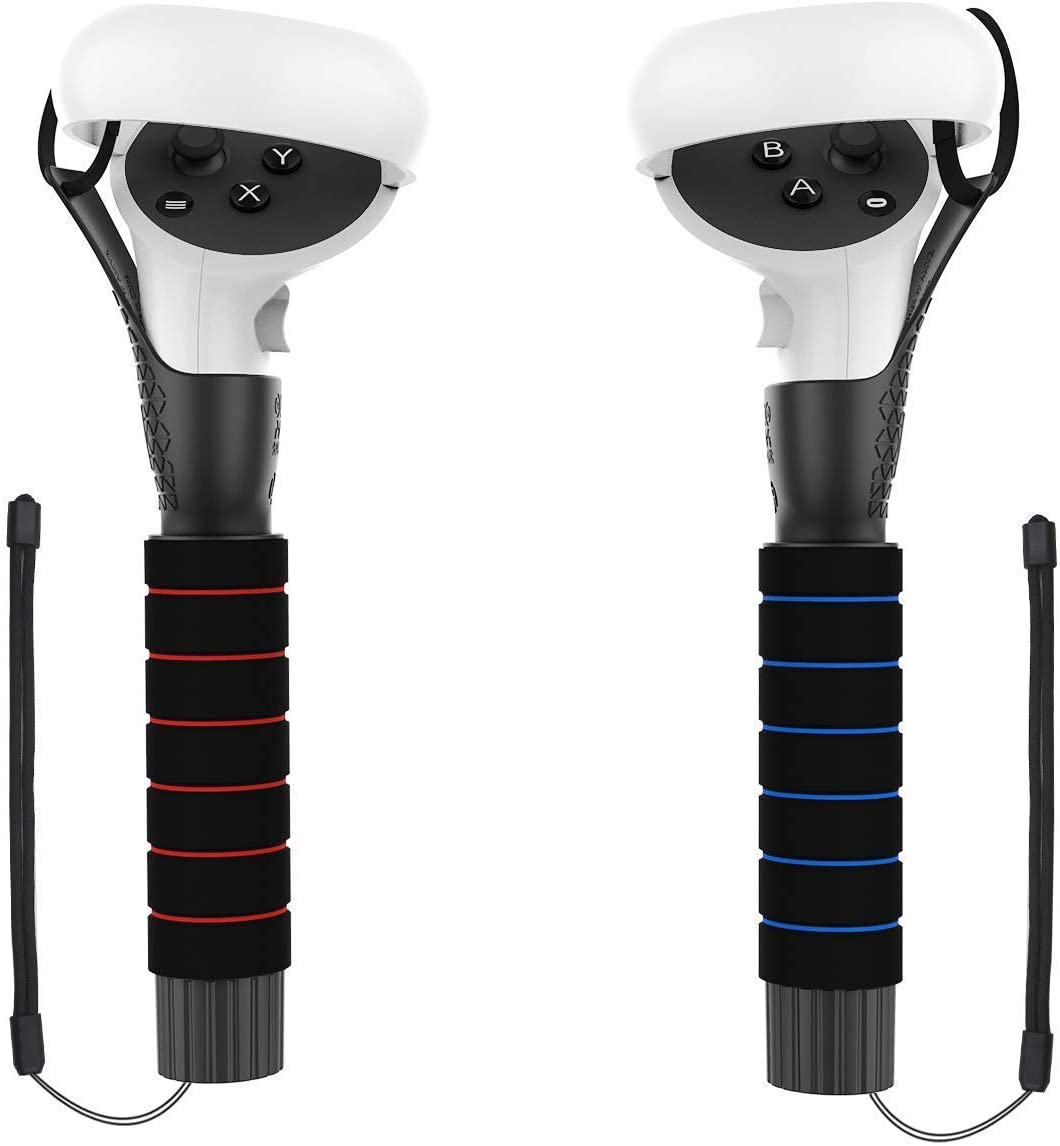 For games like BeatSaber, you're being told by your VR headset that you're holding two massive lightsabers, but the problem there is that the Oculus Rift controllers don't really reflect that. They're simply too small, and that can create a disconnect between what the game is telling you you're doing and what you feel like you're doing.
These handles extend your controllers considerably so that it feels like you're actually holding the sabers the game is telling you you are. The handle is held onto the controller by a strap at the top, and the result is a much more realistic feeling when playing any game in VR that requires swordplay.
If you're playing Skyrim VR, you can just attach one to your sword hand, and it'll instantly feel like you're actually wielding a weapon instead of the puny handle that the Oculus Rift comes with.
Pros
Fun to use
Helps immersion
Usable with a variety of games
Cons
Tough to reach controls when held properly
Risk of damaging controller and other household items if the straps aren't secure
Handle could be more comfortable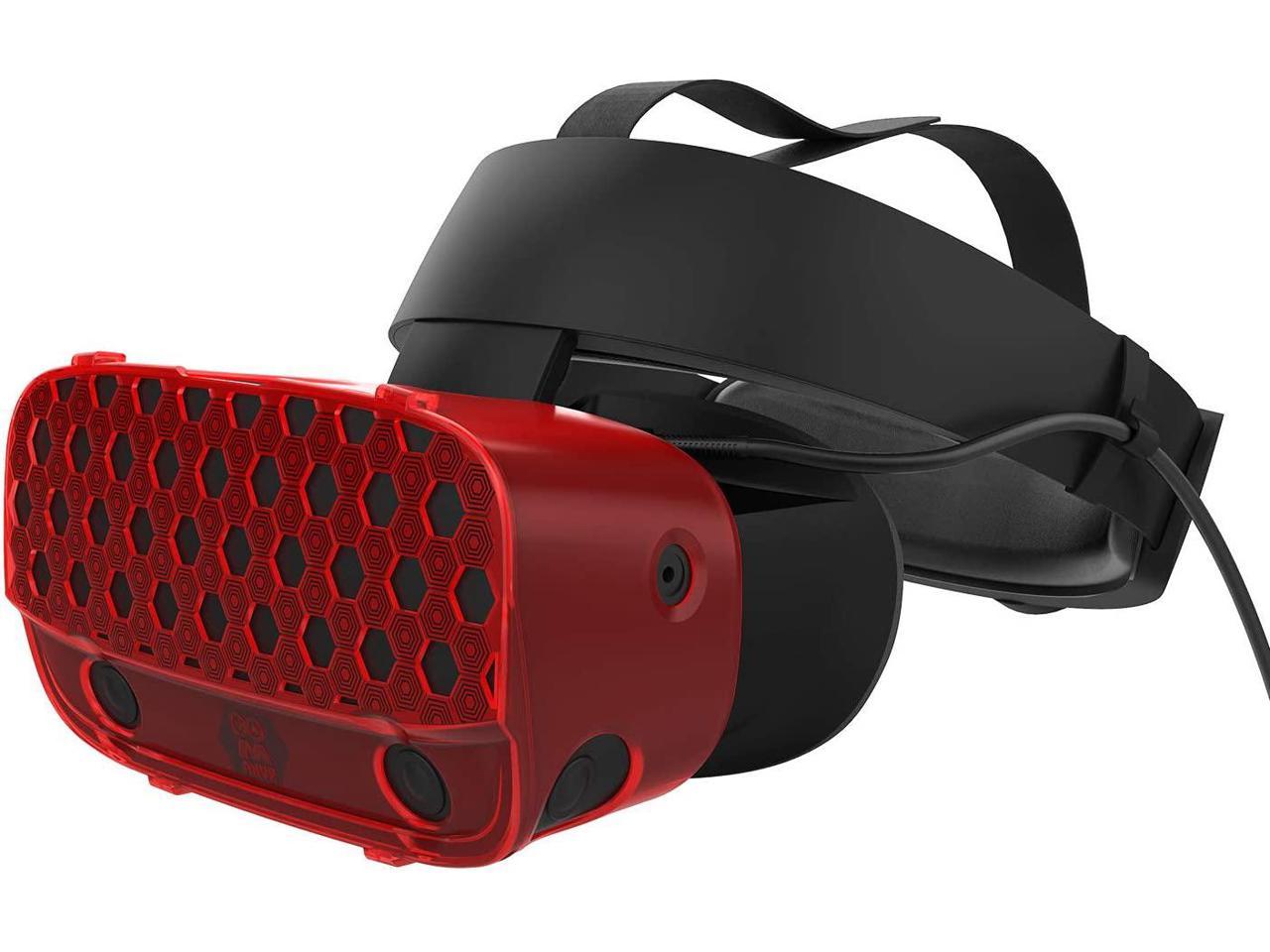 Once you buy a VR headset, unlike a computer or console for your gaming, you're going to be picking it up and moving it around a lot. That can be a scary thing for a piece of equipment that costs a hefty amount of money, and regardless of how careful you think you are with the device, you will accumulate little nicks and scratches over time; just do the nature of VR itself.
In order to defend against that, this protective cover slides over the front of the headset, where the most valuable parts are, such as the camera, and becomes a shell that will protect it whether you drop it or smash into it with your controllers by accident. It's a cheap way to make sure your expensive piece of equipment lasts you for a good long while.
Pros
Well made
Effective
Affordable
Cons
Will not withstand substantial impact
Looks a bit odd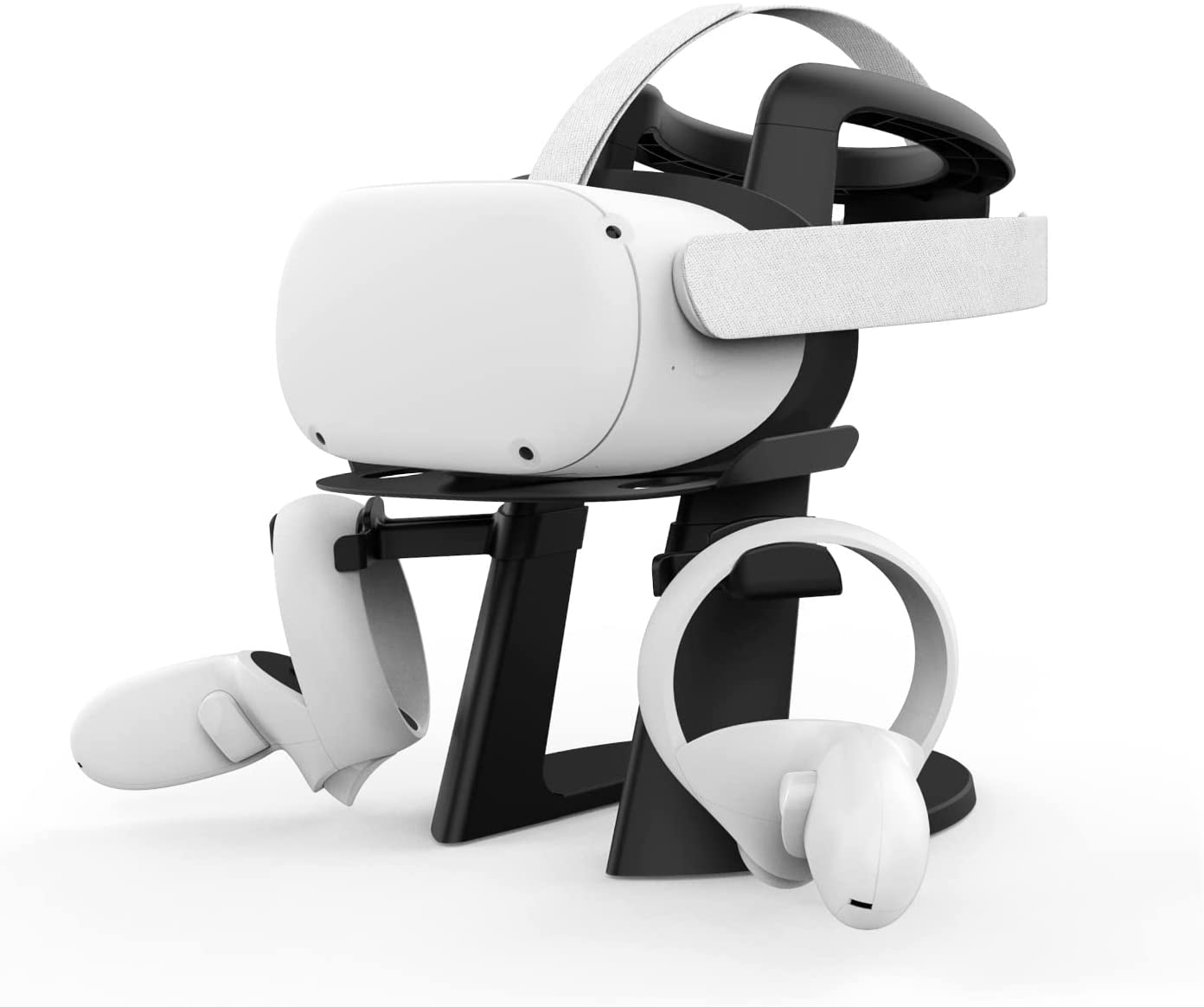 Trying to figure out where you're going to place your VR headset is one of life's great mysteries. The headset itself isn't the biggest thing in the world, but with the controllers next to it, it kind of becomes a bit of a special annoyance, and sometimes, it seems like there is no perfect place to put them.
Luckily, this headset stand comes to the rescue, giving you a perfectly made stand that houses your Oculus Rift VR headset as well as the controllers it comes with. You'll no longer have to worry about things like your controller rolling off your desk and hitting the floor or tripping over wires trying to reach for the tricky place you put your headset. Instead, it'll all be in one place.
Pros
Incredibly useful
Well made
Affordable
Cons
Headset display takes up some room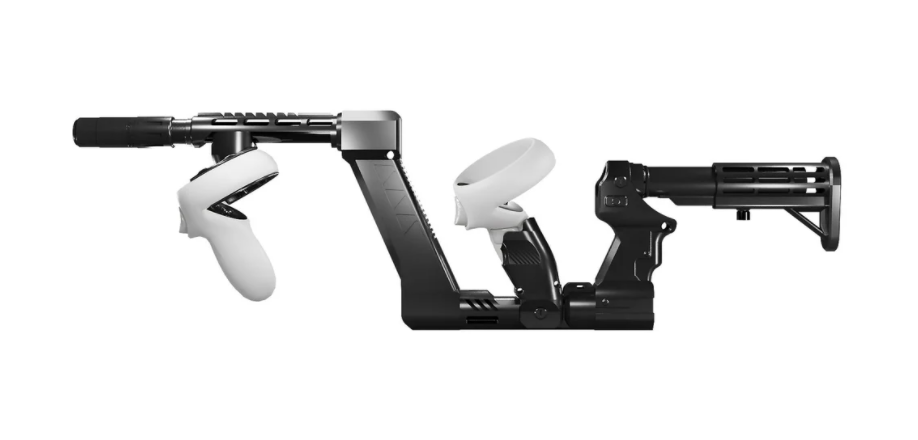 One of the trickiest things in VR is to get the feeling that you're actually holding or using the items and weapons you're being told you're using with your eyes. Among the toughest to translate are the two-handed guns you'll be handed in many different games.
Using them with two hands floating separately is certainly an option and, in most games, a necessity, but the result feels incredibly awkward. With the Deadshot Elite VR Gun Stock, you get a device that your controllers slide into seamlessly to create what feels like a fully functioning gun controller in VR.
Your controllers slide in and out of this device with ease, so if you need to switch to a one-handed weapon or maybe throw a grenade with your other hand, you can do so effortlessly. For those who play games like Pavlov or Onward, this is an absolute necessity to make those experiences that much more fun.
Pros
Amazingly well made
Stylish
Effective
Game changer
Usable with a variety of games
Cons
A bit expensive
Takes some time getting used to
Heavy, which is good to some but possibly frustrating to others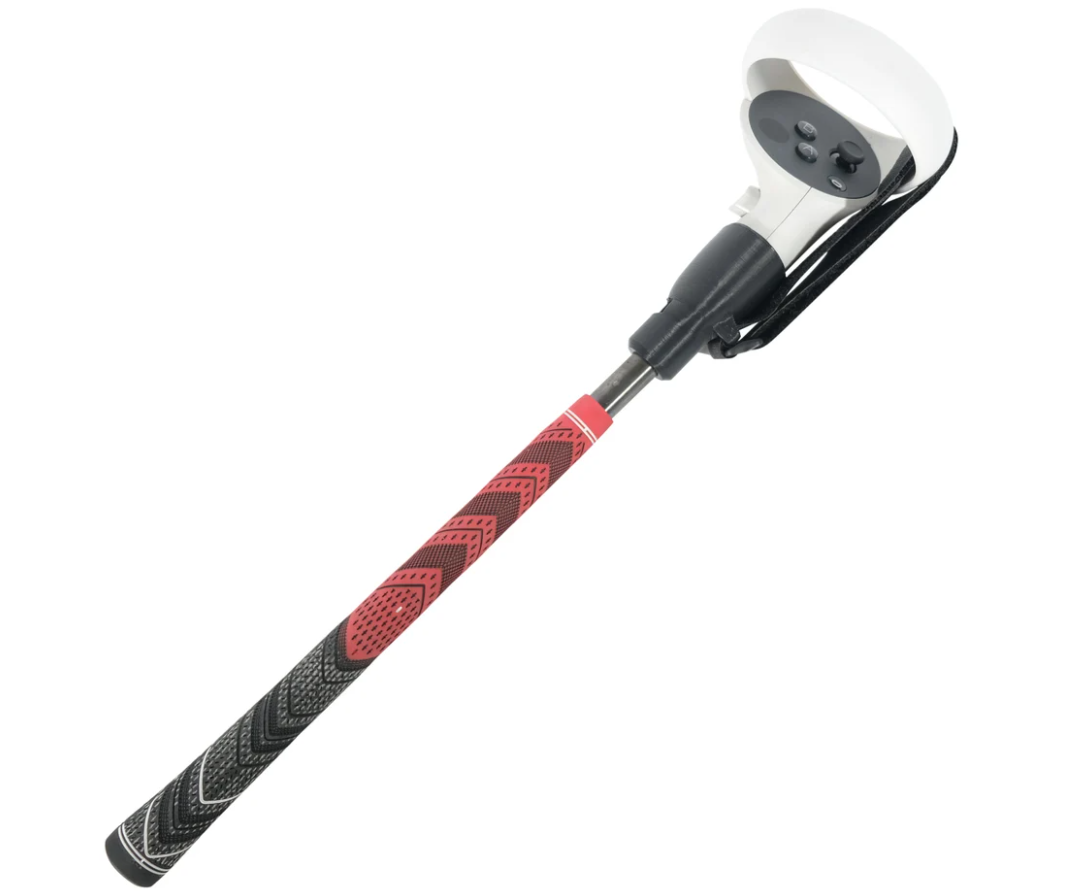 Sports and VR tend to go together very nicely these days, and among the most fun sporting experiences out there in VR happen to be golfing. The experience of being in your living room and playing on realistic golf courses is just an awesome thrill, and some of the games available are incredibly realistic.
The problem is that your controller lacks the weight of an actual golf club, and that can lead to not only a lack of immersion but also overswinging and potentially causing injury.
This attachment adds a real-life golf handle to your Oculus Rift S controller that feels both weighty and well made. It works seamlessly with any golf game that I've tried, and it straps securely to the end of your Oculus Rift S controller so that the weight sits at the bottom, much like a real golf club would. The result is far smoother swings, less risk of injury, and overall, much more fun.
Pros
Well made
Makes VR golf way more fun
Easy to attach
increased immersion
Cons
Expensive
Slight risk for damage if the strap isn't secured properly
Still doesn't feel long enough for an actual club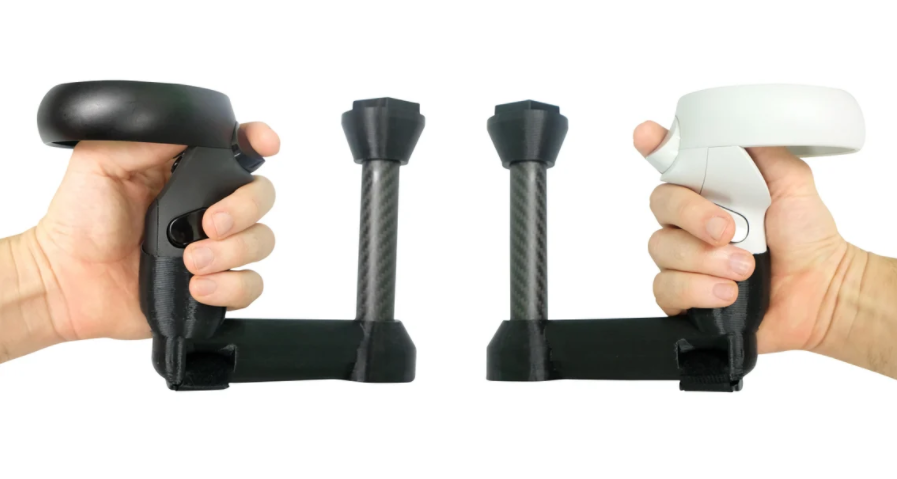 Melee combat is abundant in tons of different VR games, from Skyrim VR to Blade and Sorcery and so many others in between. While the one-handed weapons feel solid, the massive two-handed ones are somewhat lost in translation. Even if the games offer you the rare ability to grip the weapon you have with two hands, you're still going to be held back by the awkward floating of your two hands together without a central grip to use them.
This awesome accessory for the Oculus Rift S allows you to magnetically connect your controllers on the fly and release that connection whenever you need to switch to a shield or a one-handed weapon. It's incredibly intuitive and makes wielding greatswords and axes in VR feel appropriately epic. It also adds a nice bit of weight to your controllers, so it actually feels like you're wielding the massive weapons you see in your VR games.
Pros
Amazing design
Changes every melee combat VR game
Works as intended
Cons
Expensive
Will detach with little effort
Adds weight to front of the controller, which might not be comfortable for some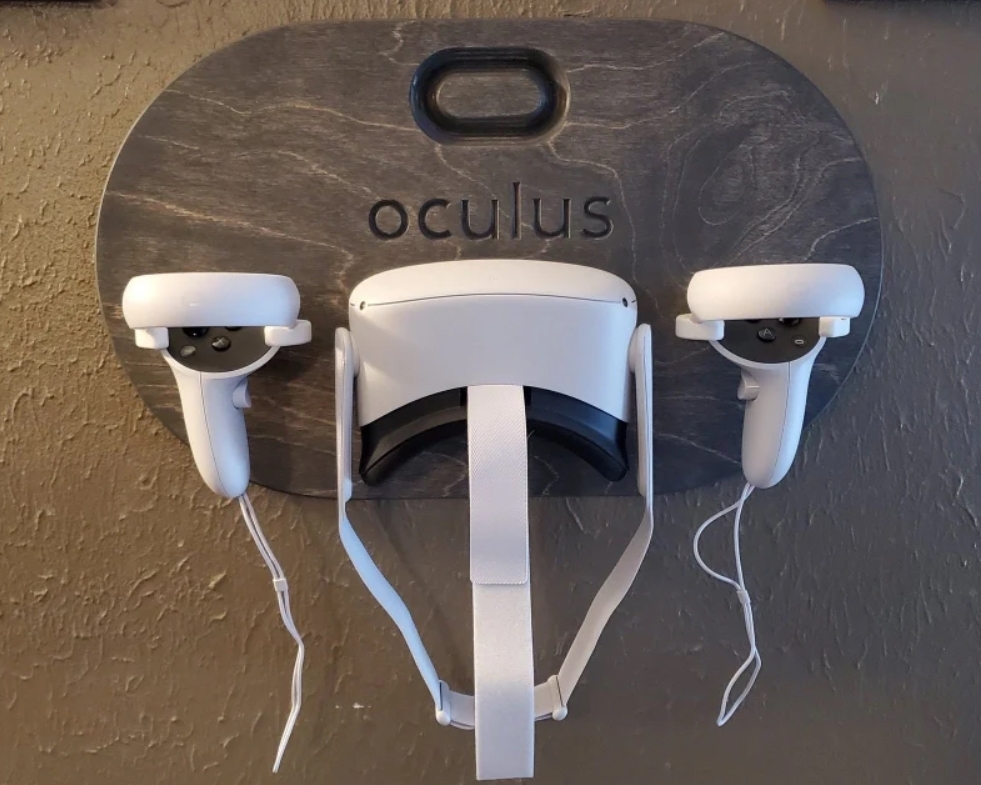 While the above stand might give you a place to put your VR headset when you're not using it, it will still take up space somewhere, and not everyone has a ton of space to spare. When that issue arises, you can instead get the awesome Oculus Rift S Wall Mount which takes the concept of the stand and puts it on your wall instead.
This is a stylish mount that has the Oculus name written on it and is connected securely to your wall through a variety of nails and stick pads. The result is a secure way to display your VR headset while keeping your floor and desk tidy and free of extra clutter.
Pros
Well made
Stylish
Works as intended
Cons
May need additional reinforcement to stay on the wall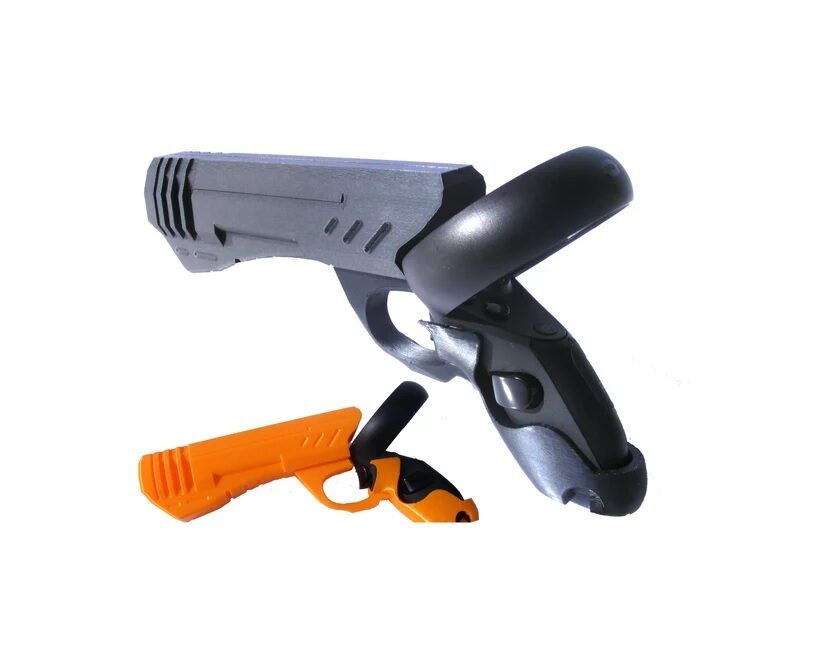 Plenty of VR games are gun centric, and while singular controllers feel decently enough, there is a disconnect while aiming them that can often lead to your aim being off or just feeling strange a lot of the time.
The reason for this is that there is no weight on the front end of your controller to simulate the weight of a gun. This awesome attachment adds a ton to gun-based VR games by giving your a weighty extension to the front of your controller in the shape of a pistol.
This extension works great for games like Pavlov, Pistol Whip, Half-Life: Alyx, Fallout 4 VR, and pretty much any game you can think of that gives you a gun. It's an awesome accessory that is very affordable as well, and it's a necessity for me any time I play a VR game with guns now.
Pros
Weighty
Well made
Game changer
Comes in multiple colors
Cons
Tricky to get to fit properly
Weight might be too much for some
Grip isn't that comfortable to hold.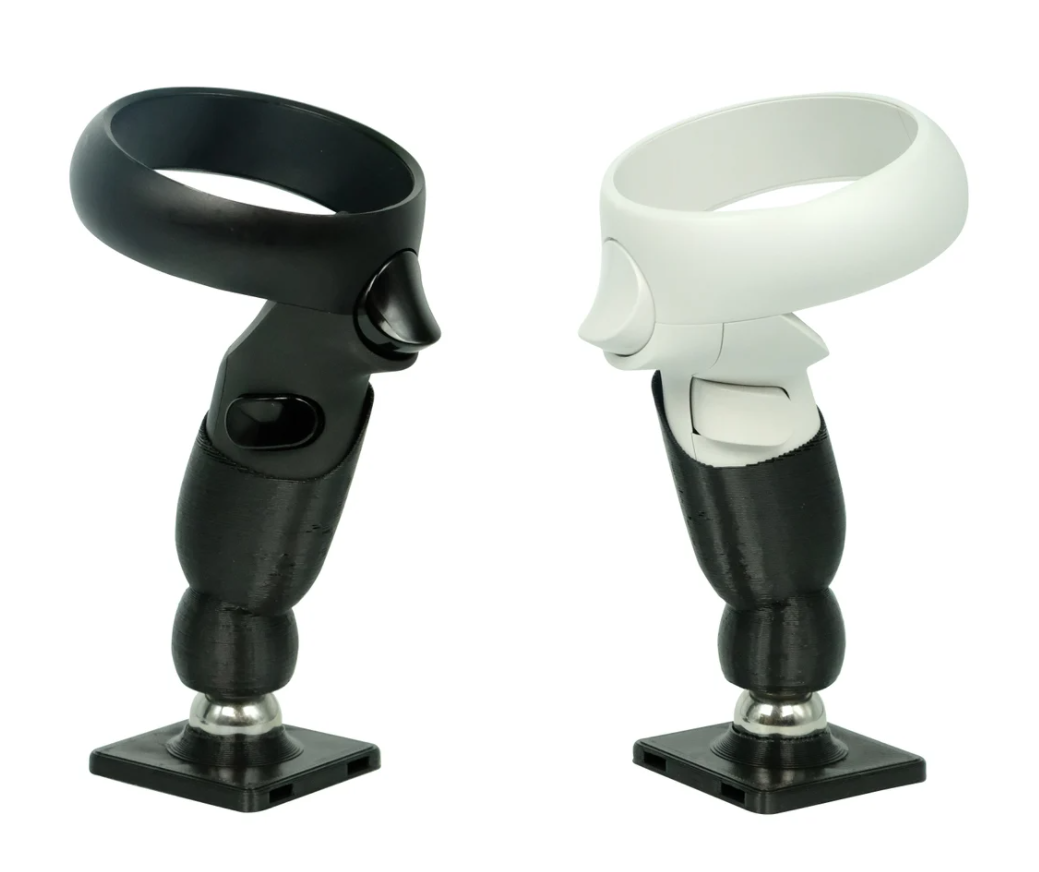 Flying games in VR are some of the most incredibly exhilarating experiences you can find on the platform. A lot of the experiences are unfortunately grounded to the mouse and keyboard, but there are certain games that give you a full-body in VR, and with that comes motion controller support.
The issue is that controlling throttles and whatnot when there is no base to push and pull from. It makes it way too easy to accidentally go too fast, which is not only an issue in games but can make you really nauseous if you screw up at the wrong moment.
This device makes it so that you have a platform to move your controllers on like they were attached to an actual throttle. It has a ball-like stand that the controller grip that it comes with connects to, and it allows for steady movement in any direction, which makes flying in games like No Man's Sky or VTOL VR a joy to do.
Pros
Amazing design
Changes how flying feels in VR
Affordable
Cons
For games where there is flying and ground movement, you will have to remove the controller from the grip each time you land
Not as thorough as some other flight controllers
The Oculus Rift S is an awesome VR headset, but one thing it lacks is great looks. It's just a purely black color, and although the design of it looks fine, nothing really screams that this is a device that is completely futuristic by its very nature. To fix that, this is a skin that both look like we once imagined VR headsets to look. It's got a very Iron Man-like quality to it and has some outstanding color as well. If you're tired of your Oculus Rift S looking the same as so many other headsets on the market, you can get this skin for a very affordable price, and it will make your headset look like the main attraction it's meant to be.
Pros
Looks cool
Easy to put on
Intricate design
Cons
Tough to get to stick; it might require a hairdryer
Easily damaged, this is not a protective cover
My Top Picks
FAQ
Question: How do I Choose Which Oculus Headset to Get?
Answer: Oculus is the biggest name in VR, and there are a variety of options to choose from when it comes to figuring out which headset is right for you. Personally, the Oculus Rift S is the best of the PCVR bunch, but for those that have a gaming PC and want to try out wireless VR, the Oculus Quest 2 is also outstanding.
Question: How Powerful Should my PC be to Play Oculus Rift S Games?
Answer: This can definitely vary. I've played VR games on a 1060 GTX graphics card as well as a 2070 Super and have found that most games work fine on both, the problem comes when you decide to dabble in supersampling and increasing graphics settings. For today's VR games, I would recommend you have at least a 2060 RTX graphics card to get the best possible experience.
Question: What is the Best VR Game to Try?
Answer: The loud majority will say Half-Life: Alyx. My personal favorite is Skyrim VR, but that's with a considerable amount of mods attached. It's an unending game that is the only truly realized VR open-world game we've got at the moment.
Conclusion
There will be plenty you wish you had added to your Oculus Rift headset when you first get it, and luckily, there are tons of things to add to it that will completely change your overall VR experience. The above consists of items from official sources as well as ones from independent designers and each of them offer something very unique to make your VR experience the best it can possibly be.
For me, the best accessory is the Switchblade Melee Attachment. It completely revolutionizes how melee combat games are played and finally gives you the chance to properly two hand weapons in any game that has the option.
Continue reading:
Best VR Games Without Controller