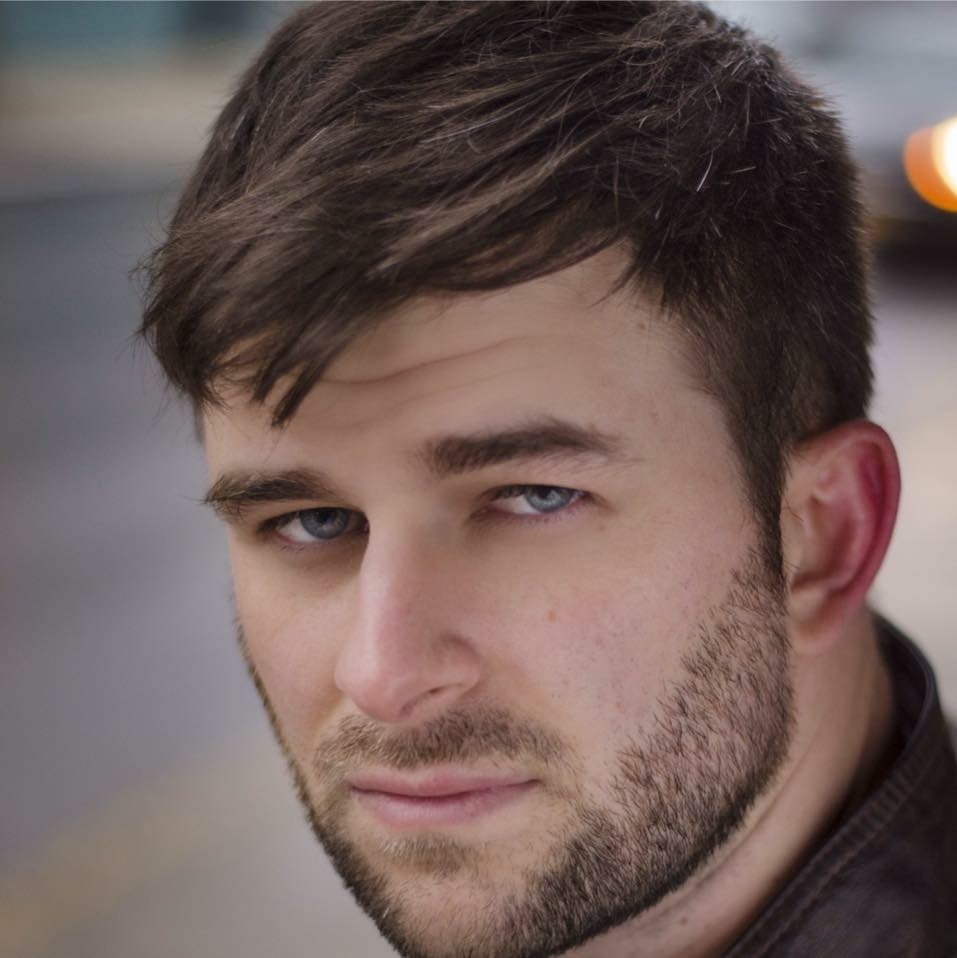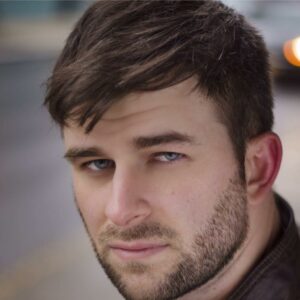 Latest posts by Adam Braunstein
(see all)
The Oculus Quest is one of the best inventions in videogame history. That might sound like hyperbole, but I assure you, it is the farthest thing from it. We weren't even supposed to have a functioning VR like this for years and years. Then out of nowhere, Oculus not only gives us a great headset but one that ultimately gets rid of the wires that have limited the experience since its inception? Yeah, that's one hell of an achievement and not one that should go overlooked.
I started my Oculus Quest journey with the Oculus Quest 2, but my VR days started long before that. I've always looked at it as something that's close to the final evolution of gaming. I make it a point to incorporate VR into my daily routine, whether it be playing games or doing different VR workouts.
The best part of the Oculus Quest is its flexibility in that you can turn it into a fully functioning PCVR headset by connecting it to your computer. Still, not everyone realizes the other huge benefit that comes with that feat. You can also connect to Sidequest. What is Sidequest, you say? We're going to explore that question and show you just how to get the most out of it with your Oculus Quest you can.
Bottom Line Up Front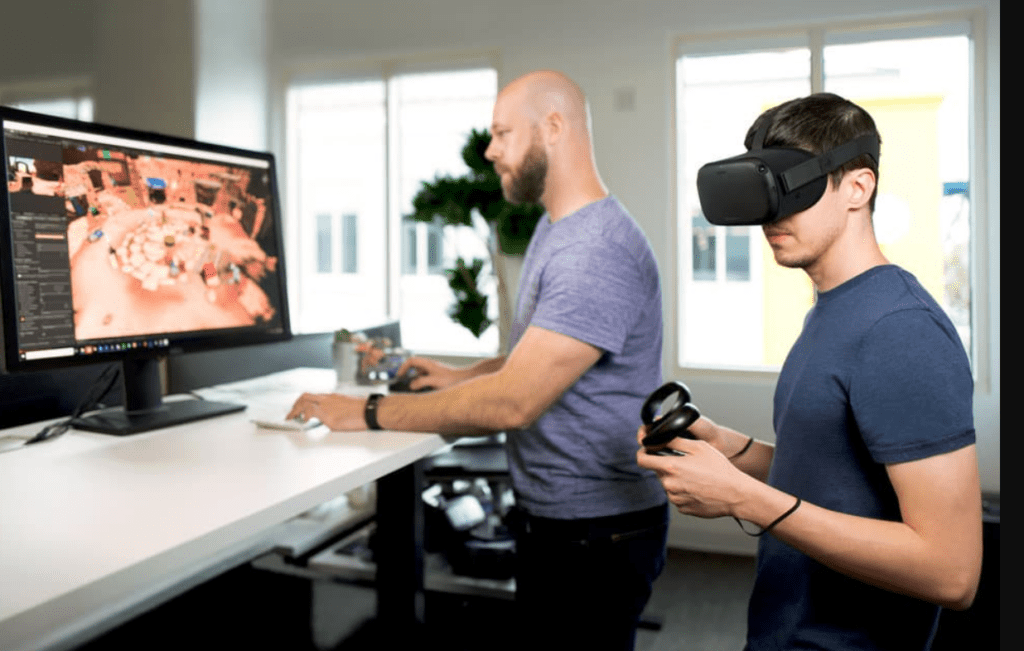 You can hook up your Oculus Quest to the PC with a link cable of any kind. Once attached, download the Sidequest software and download any game you'd like into your headset. The game will then be on your headset until you decide to delete it, so unplug from your PC and get to playing.
How To Use Sidequest Guide
How Do I Sideload?
Sideloading is a new age term that refers to content you've added to your mobile devices of all kinds through third-party programs. This usually can refer to things like malicious sites that have access to your PCs and phones. Still, for our purposes, we're going to be using the virus-proof Sidequest to get our sideloading done. While this is not an approved thing via Oculus, it works completely fine. As far as we're concerned, the Oculus Quest will work perfectly with Sidequest, so there is no need to worry about anything malicious getting into your headset.
Why Should I Use Sidequest if I Already Have Steam?
Sidequest gives you access to so many games that you'll never find on Steam, and most of the time, these games are entirely free. You'll also gain access to experimental gams or betas of games that are months away from being released. Getting to help form the final result of a game is an awesome thrill. You can also gain access this way to alternate builds of the Oculus Store, which can provide a ton of additional features. You can also find ways to download games that would cost money off Steam for free if you find their APK files lying around the internet.
In addition to this, you will find special apps that don't appear anywhere else. These might consist of games, workout apps, or even some unique music apps to use in VR. You'll also get access to different kinds of VR tools that might not be ready for release but might be fantastic to use, such as hand recognition in VR, which debuted in Sidequest before it made its way to the Oculus Quest.
There are also games available on Sidequest that transform your play space and your entire apartment or house into a playable area. These are experimental games, so your mileage may vary, but it's still incredible to experience.
Is There a Difference Between App Lab and Sidequest?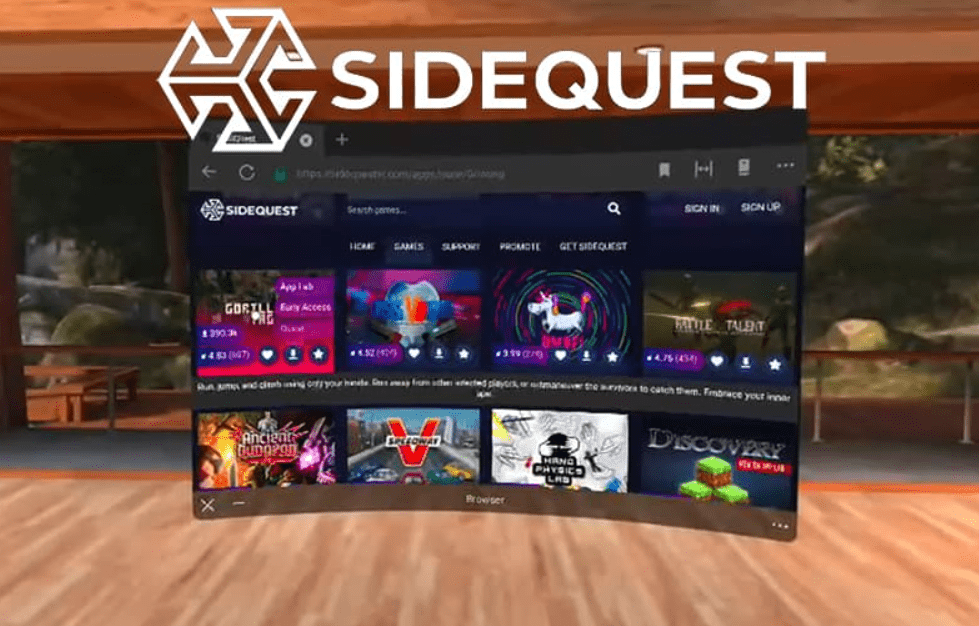 You may have heard of App Lab if you're an Oculus Quest user, and it's also a third-party app that allows you to install games and apps onto your Oculus Quest. In order to clear up the picture between the two, think of Sidequest as the Alpha in terms of game development. The games here are often pretty rough and early in their presentation. Although full-fledged titles will appear here, they are often just proof of concept or smaller scale games that haven't been fully developed.
On the other hand, App Lab generally charges you for most of its games, and that's because they are in a more finished state than the ones on Sidequest.
What is Sidequest?
SIdequest is a third-party app that you download online that gives you access to hundreds of games, both finished and unfinished. It's here that the indie developers first try out their VR games with a crowd to see what the response is, and a lot of the time, the popular games on it go right to Steam.
While some of the games are free, many of them do cost money to play, but the good part is that they are generally a fraction of what they would cost on the Steam or Oculus stores.
How do I Use Sidequest?
Sidequest works very similarly to Steam or the Oculus store. Once you have downloaded the program, you will be taken to the app's home page, which shows you all the hot games being played, demos, and all kinds of different options to choose from. Once you're here, you'll need to connect your Oculus Quest.
Connecting the Oculus Quest is a simple process as you only need the link cable to plug it in. The Oculus Quest comes with this table, so there should be no confusion about which cable to use. You plug the USB end into the back of your desktop tower or laptop and the other end into your headset, and you'll be good to go.
Once connected to Sidequest, your headset will ask if you would like to give permission to the computer to use your files. Select yes, and you'll be officially connected to Sidequest.
What Can I Do In Sidequest?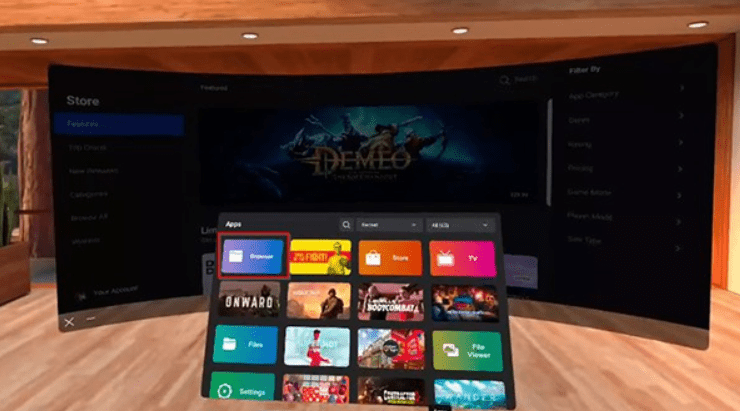 Sidequest gives you an absurd amount of games to choose from. Once you have decided on the game you want to download, click the download button. At the same time, your Oculus Quest or Quest 2 is connected, and you will start loading the game onto your headset. YOu can track the progress of your download in the manage files in the headset folder located at the top right of your app page. The games in Sidequest will take up space in your Oculus Quest headset, so make sure you have enough allocated before downloading, or else you'll be unable to load the game.
How Do I Play Games In Sidequest?
Once you've downloaded the game, you can disconnect your Oculus link and fire up your headset. This is tricky as you won't necessarily see your new game in the library at first. What you'll need to do to enable the ability to play it is enable Developer Mode on your Oculus Quest.
In order to do this, you will have to first download the Oculus Quest app on your phone. Once you've done this and signed in, go to your settings in the bottom right of the main page and click on your headset, which should say connected at this point. Go to the more options tab, and the more settings option will appear. From there, press developer mode on, and once you've restarted your Oculus Quest, you will be good to go.
Once you're rebooted, find your games library, and on the side, you'll see a tab that says installed games, click that tab with your controller, and you will see a category called unknown. That is where you'll find all of the games you've loaded from Sidequest. They should all be installed by the time they appear there, but if you need to install them for whatever reason, you will still find them here to reinstall them.
Do I Need a PC To Download Sidequest?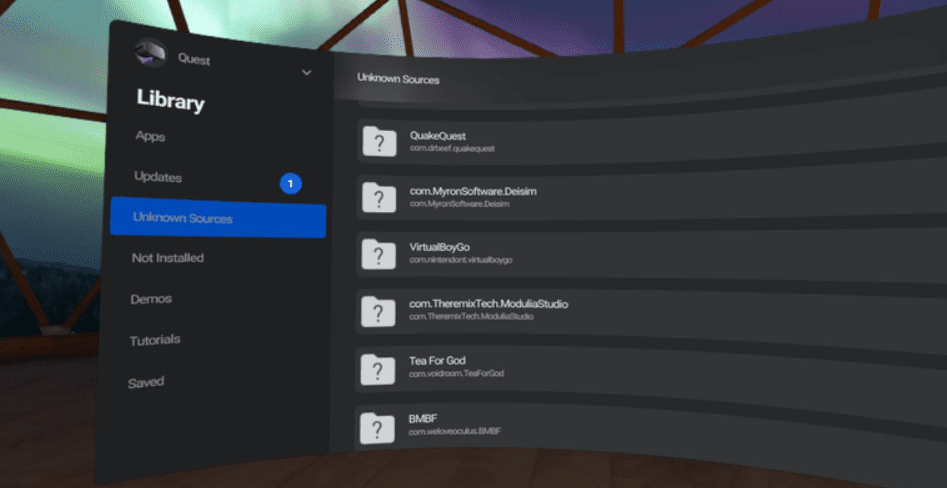 When Sidequest was first released, you were required to have a PC in order to get the games onto your Oculus Quest. Now, you actually have the ability to sideload games and apps right off of your phone. You can download an app for Sidequest from the app store on Android phones only. Iphones are not supported at this time.
Once you download the app, you need to unlock USB debugging between your computer and your phone. This takes a one-time setup to perform and is done as follows.
Unlock your phone and go to the app

Turn on your Oculus Quest and set up your guardian area.

Then, take the USB and plug one end into your Quest and the other from your phone.

Your phone will ask if you want Sidquest Installer to interact with your Oculus Quest. Select yes.

Now, in your Oculus Quest, the option for "Allow USB debugging" will appear, select yes and select "Always allow from this computer."

Press okay, and then when the option appears in your Oculus Quest asking if you want to have your phone access its data, hit yes, and you'll be ready to go.
You can download games and apps to your phone this way, much like you would on the computer. You will find the exact same library here as you would on your PC, so you don't need to worry about missing out on any games because you're on the phone.
Sideloading Wirelessly
You can sideload content into your Oculus Quest wirelessly by using wireless ADB. This will not work for every phone out there as some just plain don't support the technology yet, but some definitely will.
In order to start this process, you need to connect your Oculus Quest to your phone as you did before and then open the Sidequest app. Click on the wireless toolbar on the far left of the screen and press the option that says "Enable wireless."
After you do this, disconnect the Quest and press connect in the wireless menu in the Sidequest app. This connects you wirelessly to the Oculus Quest.
What's great about this is you won't have to do this process every time now, as the phone now has the Oculus Quest's IP as part of its memory. Each time you want to download a game, just turn on your headset and just press the connect button in the Sidequest app every time you want to sideload.
You'll have to repeat these steps only if the battery dies or if you perform a complete reboot of your Oculus Quest.
Tips About Sidequest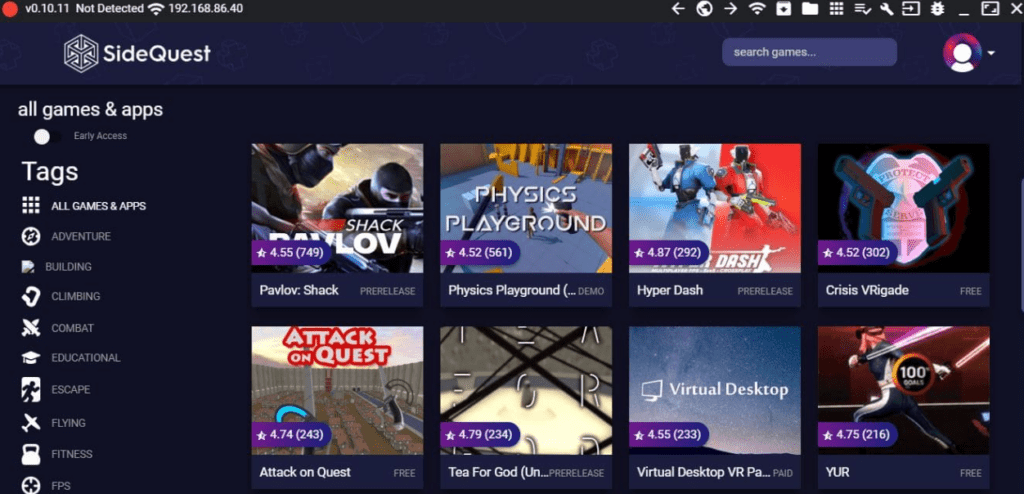 This is pretty much the wild west when it comes to VR games, and while you're bound to find plenty of gems here, you're also going to find games that are a complete waste of your time. That's not to say the developers aren't putting in the effort. Still, a lot of these games are barely finished demos that are in some seriously rough shape. Even worse, they can charge you money for some of these, and unlike in Steam, these games are nonrefundable.
In order to avoid that, there are reviews that not only show if people liked the game but also show how many people reviewed it as well. Sticking to games that are a 4 or above generally leads to the best results, and in terms of the number of reviews, you should pay attention to the ones that have 30 or more. Newer games will obviously have less, and you can definitely find some great games that way too. Still, unless you've got unlimited space on your Oculus Quest, you'll want to be pretty particular here with what you choose to download.
Games To Try
Sidequest has so many games to try, but a few stand out in a big way, and those are Pavlov Shack, Lamda1VR, and Return to Castle Wolfenstein VR. Pavlov Shack is revolutionary because it takes the incredibly popular game of Pavlov VR and puts the whole game onto the Oculus Quest for the first time. This isn't just some ragtag version either, as all of the downloadable maps and game types come with this, so you're essentially getting the full game with multiplayer. The freedom to play that game without a wire attached is fantastic, and having it be portable is a game-changer.
Return to Castle Wolfenstein, on the other hand, is a blast from the past, taking a game that's almost 20 years old and putting the VR spin on it. Shockingly, it works amazingly well. Although you don't have any of the bells and whistles like a VR body or VR-based interactions, getting to play through the entire game in VR is an absolute treat. It's also incredibly cheap and takes up barely any space on your headset, so for those looking to try a great first-person shooter and one of the few full VR shooter games out there.
The last game you need to try is Lamda1VR which is the entire Half-Life game in VR. If you've played through Half-Life: Alyx and are wondering where that story first began, you need to check this one out. The game is over 20 years old now but remains one of the most iconic first-person shooters ever created, and you get to play the entirety of it with enhanced graphics in VR. Few games are as exciting and creepy as Half-Life, and you're likely to get a ton of mileage out of this one.
FAQ
Question: Is Sidequest Better Than Steam?
Answer: No, it's definitely not better than Steam, but it is much cheaper and more user-friendly in the VR world. It's also the only app that Oculus Quest can natively attach to since, in order to get Steam on your Oculus Quest, you will need to attach it to your PC via another app. The library of Steam is far superior, though, and the best titles you can play on VR are generally located on Steam. Sidequest has a lot of great games, too, though, and they usually come in the free variety, so that will appeal to many players just the same.
Question: What is the Best Oculus Quest Game?
Answer: The Walking Dead: Saints and Sinners is probably the best game you can get on the Oculus Quest. It's got a chilling atmosphere, tons of customization and combat options, and an intriguing story to go along with a variety of locales to explore. It's one of the best uses of VR physics that I've seen, and it rewards quick thinking and smart planning and gives you a pretty great workout while playing.
Question: Will Sidequest Work With Any Computer?
Answer: The best part about Sidequest is that you don't need a gaming computer to run it. Since the games all run strictly through your headset, you will be strictly running on your Oculus Quest hardware and nothing else. You can get Sidequest on pretty much any computer, including Macs.
Conclusion
Sidequest is one of the most useful VR tools an Oculus Quest user could ever hope to have. You will get hundreds of options for free games to try and while some will be worse than others, you're bound to find a ton worth investing your gaming time into. Hopefully, this guide has helped you figure out what's needed to get Sidequest up and running and some great games to try out while using it.
Continue reading: