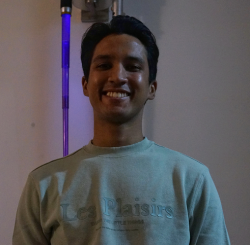 Latest posts by Sanidhya Rao
(see all)
The Oculus Quest 2 is a great standalone headset and provides a number of VR audio specializations. This includes Spatial Audio and in-built stereo speakers that change their balance depending on player positioning. However, sometimes users just want to connect their own hardware for superior audio.
In most cases, you can do this easily with a 3.5mm Jack pair of wired headphones. If you're an avid gamer like me, chances are you have a good pair already. In the event that you don't want to opt for a wired pair, you can always connect Bluetooth headphones or earphones to your Oculus Quest 2. In this article, I'll explore a near definitive list of the best Oculus Quest 2 Bluetooth headphones and some of the caveats and alternatives to keep in mind when connecting to your own audio hardware.
Let's dive right in!
Bottom Line Up Front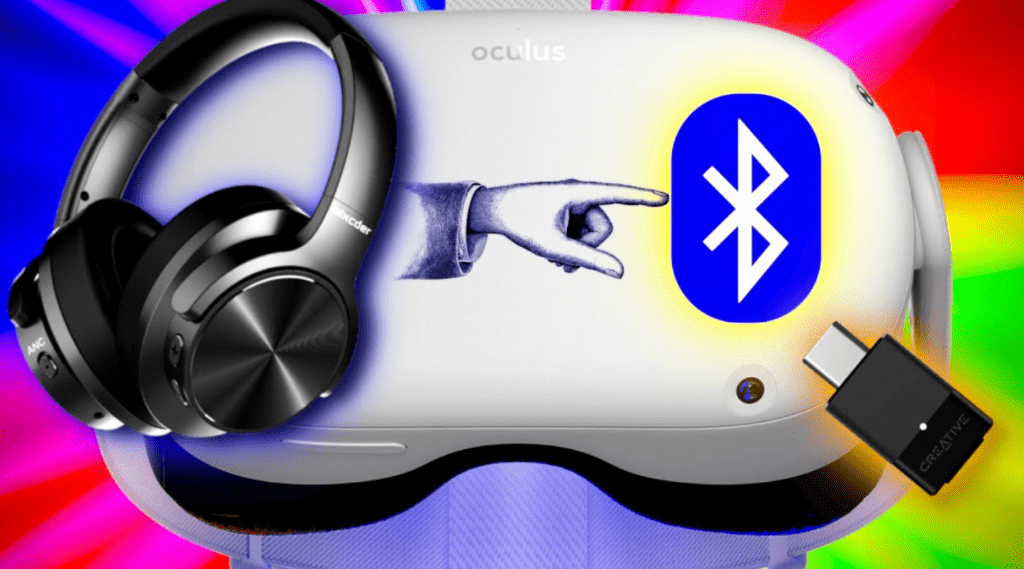 The Oculus Quest 2 page on the website doesn't say anything about Bluetooth headphones and accessories being supported by the headsets. Even Oculus has not made any specific statements about the Bluetooth connectivity of the headsets. They have a 3.5mm Audio Jack built into the headset, but there's no mention of any wireless support capabilities.
This is not to say that it isn't possible to connect your Bluetooth headphones to the headset by any means. As I firmly believe and do like to repeat constantly, with tech and connectivity, more often than not, there's a workaround to things you can't directly do.
The connection needs to come through a bit of settings tweaking, and you can learn about how to connect your Bluetooth headphones in the subsequent sections. The list will vary across categories such as features, sound quality, build quality, price, and ease of use.
After we establish that you can indeed successfully connect your Bluetooth headphones to the Oculus Quest 2, you can then proceed to peruse the list of best Bluetooth Headphones for the Oculus Quest 2 and decide which one suits your purpose the best.
How to Connect Bluetooth Headphones to the Oculus Quest 2
To get started, you'll need to boot up your Oculus Quest 2 and head to Settings> Experimental Features.
From here, you can select the Pair option and select Bluetooth Pairing.
Now, make sure your headphones are detectable, and you can select them from the list of available devices and pair them.
It is pertinent to mention here that the headphones you connect will not always get through smoothly to having audio compatibility since Oculus doesn't mention that this is an official or stipulated way to connect your headphones to the headset. However, if you do face issues, don't get disheartened. Try a soft reset or give it another go and see if you have some luck.
Some issues may occur even after you connect to the headphones. Since it is an experimental feature, things such as consistent connectivity may be issues that you notice frequently. Along with this, you may also notice latency and lag while using the headphones, as well as issues with stuttering audio occasionally.
These issues are most persistent when gaming due to the increased strain on the audio-visual components in the headset. In my use, I've found little to no lag when using multimedia applications. So at least you'll not have a lag with spoken dialogue when watching media.
In games, there's about a half-second lag at worst, so it's not terrible, but it does get frustrating after a point. It's honestly subjective and depends on how much you are willing to cope with the wireless experience.
Best Oculus Quest 2 Bluetooth Headphones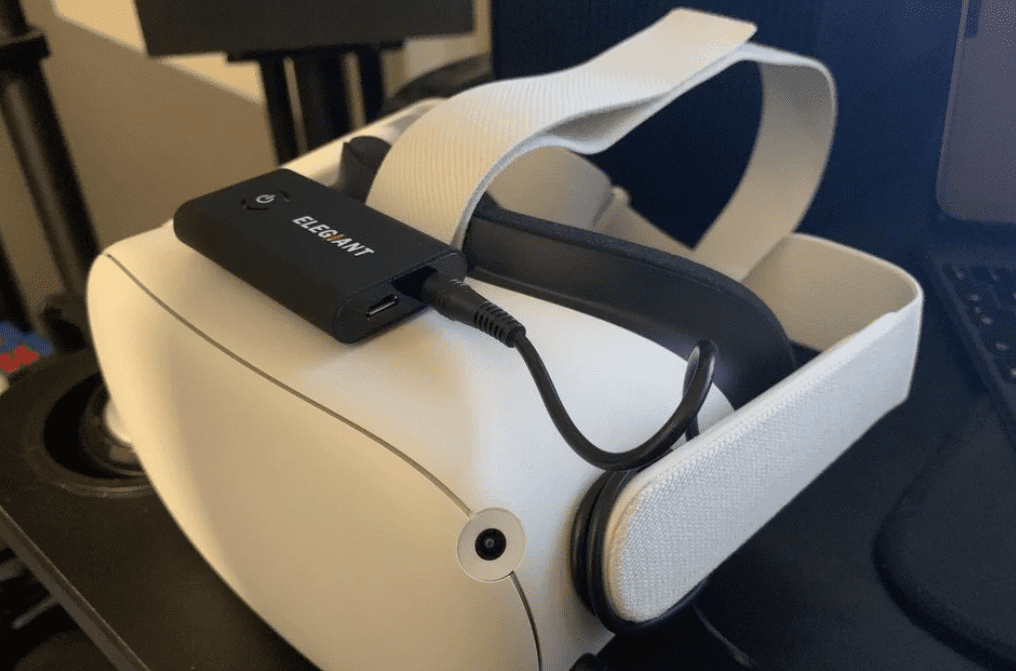 The above caveat should be known by you going into a Bluetooth headphone purchase specifically for the Oculus Quest 2. If you've decided that you do want to stick with headphones and are adamant about tackling the issues with the pairing and audio, then the below list will guide your headphone purchase.
Like most lists about Bluetooth headphone options, it covers headphones for a number of price ranges and is similar to headphones I'd recommend for your mobile devices. There's no particular company or brand that I've found to have worse connectivity with the Oculus Quest 2 as compared to others. It's fair to say that all are equally good – or equally bad, depending on how you look at it.
With that in mind, and without further ado, let's get into the list.
Bose QC 35ii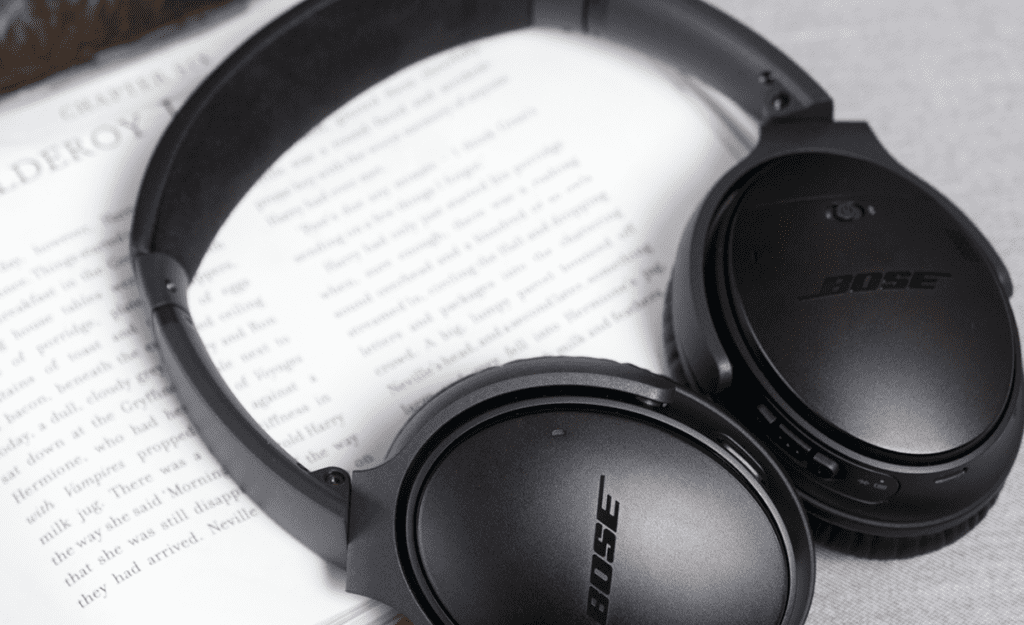 Yeah, I'm going to be boring and suggest my personal daily driver as the first one on this list. It's not the latest headset from Bose. It's about two generations old. The headset has excellent build quality and some of the absolute best Noise Cancellation in the industry. It was released at a price of about $350, but you can find it well below that on BestBuy or eBay. The headphones are very light at about 250g, which really helps since you'll have to wear them over a headset that will already be straining your neck and head muscles.
The headphones are a great option for you if you want excellent sound, build and noise cancellation. The comfort of the headphones is unmatched as well, with the foam-cushioned faux leather earcup. You won't notice they've been on till about 3-4 hours of uninterrupted use, which is about the battery life of an extended Oculus Quest 2 headset. It's not the longest battery on the list since it's probably the oldest headset here, but it lasts for a good 20 hours.
Pros
Weight, Comfort, Design, Sound, Noise Cancellation
Cons
Features, Battery, Price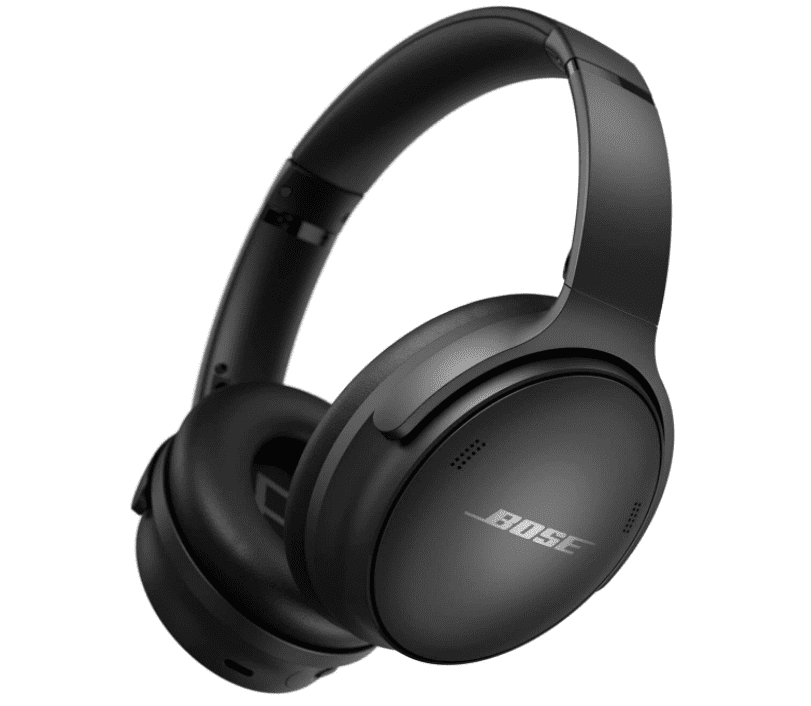 No, this isn't a Bose advertisement. The company is honestly fairly clear of the competition in terms of comfort and noise cancellation. The sound quality levels at this price range of headphones are fairly homogenous, and you likely cannot tell the difference between this one and its predecessor.
However, if you want the most premium option, then this is the one to get. There are new features like Hi-Fidelity audio support, as well as the much-awaited option to isolate voice in calls. The headphones also have an incredibly full-day battery life with noise cancellation. If you choose to keep noise cancellation off, you can extend the battery to well over this mark.
While they're a successor of the 35ii, Bose has chosen to go the same route like Apple and not increase the price of the succeeding generation with this headphone. It comes in at $350. They're also marginally lighter than the predecessor, but I highly doubt it's enough to be noticed by you when you're using it on top of an Oculus Quest 2 system.
Pros
Weight, Comfort, Design, Sound, Noise Cancellation
Cons
Features, Battery, Price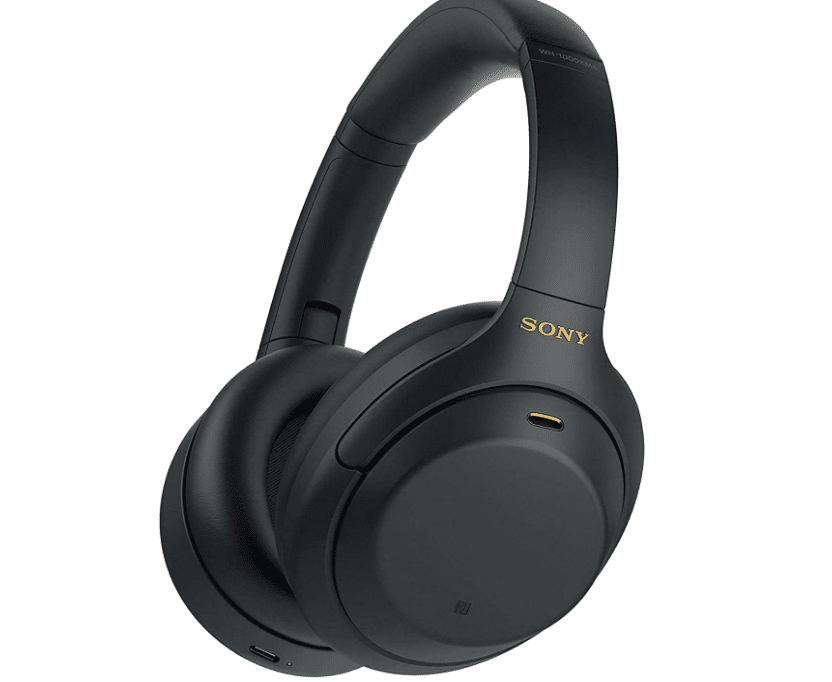 The Sony WH – 1000XM4 is the flagship headphone from Sony in the premium noise-canceling headphone range. The build quality on these is definitely better than the Bose ones. That matte brushed metal feel gives a premium look to these headphones. They're packed full of features and are very far ahead of the competition when it comes to feature implementation. Features like Open Mic let the users head what's around them by simply placing their hand over the right earcup.
This is very useful because if you think you've heard something while playing in VR and you want to check, you can do this instead of taking the whole headphone off or peeking through your headset. The firmer earcups and better build make them slightly heavy, in my opinion, for VR experiences. I'd be the first to recommend them as normal Bluetooth headphones, but considering the fact that users want lighter feeling headphones, this may be an issue, depending on your preferences.
The noise cancellation on these is better than the Bose headphones, and so is the Bass response as well as the audio quality in the high tones. They come in at the same price as the Bose QC45, so the decision is really up to you. That being said, I don't think you can go wrong with either of the three headphones I've mentioned so far. They also boast a better battery life than the 35ii at 30 hours of playback time and fast charging that gets you 5 hours of additional time on a 10-minute charge.
Pros:
Battery, Comfort, Design, Sound, Noise Cancellation, Features
Cons:
Weight, Price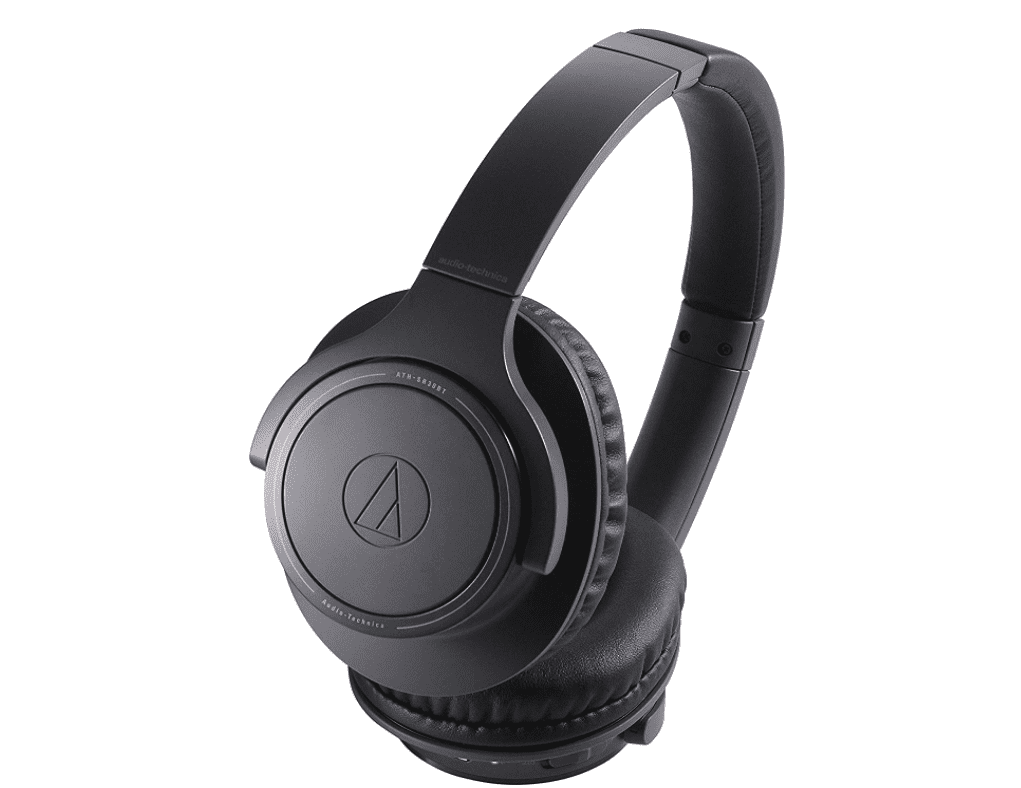 This Audio-Technica is aimed at a more budget-friendly option. Chances are you already have a great pair of Bluetooth headphones, and all you need is another lighter, less feature-packed, and sometimes simpler pair to work with your VR headset. These offer an adequate build quality, good sound quality, and battery life that is tough to beat. The company claims that they can last up to 70 hours.
That's in lab conditions, but that should still mean well over two days of continuous use on the headphones. The design may be a bit dull, and unfortunately, you will give up on noise cancellation with these. However, at $100, this is an excellent pick and a great budget option to opt for if you're looking closer to that price range.
The design may be a bit dull, but I highly doubt you will pay attention to how your headphones look when you're wearing them over a whole VR headset setup. They're not too heavy and weigh in much lighter than the Bose. They come in at just 193g, making them the lightest headphone on this list.
Pros
Price, Battery, Weight
Cons
Design, (Lack of)Noise Cancellation, Features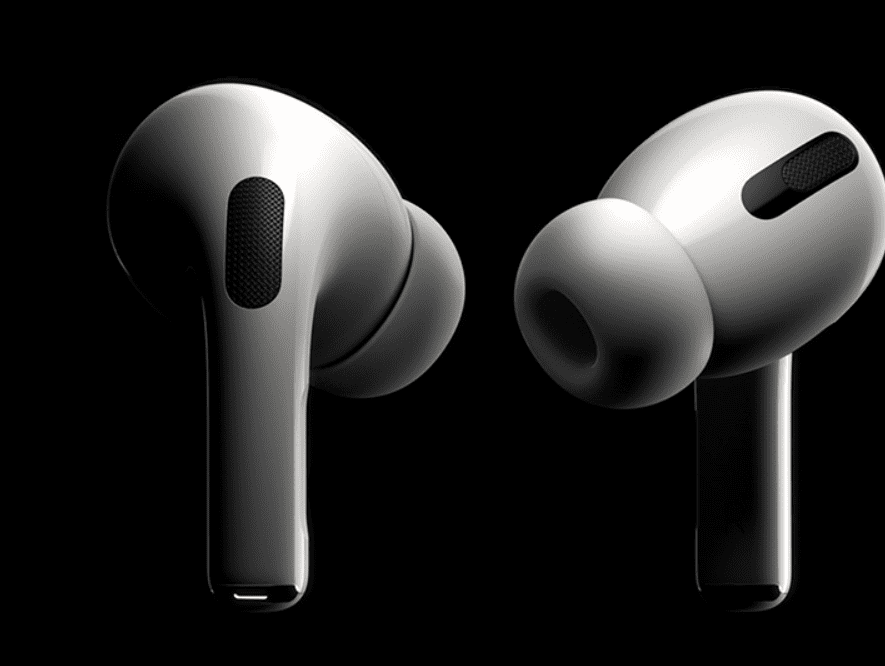 I know this isn't strictly a headphone. If you really think about practicality, it's an excellent pair of earphones, and that's probably reason enough for it to be put on this list if you account for weight and portability. The Air Pods pro has an exceptional battery life of 4.5 hours per full charge. The latency isn't terrible, and you'll notice that a 5-minute charging time in their case will give them an extra hour of listening time.
Accounting for the case on the Air Pods Pro, you can get up to a full day of listening time. You don't need an iPhone to use these. There's a pairing button at the back of the case that you can hold down to put them into pairing mode as just another pair of earphones. The compatibility isn't nearly as good as it would be with Apple devices, but the sound quality and experience don't waver. Each of the earphones weighs in at a meager 5.4g, while the case itself is on 45.6. They're much easier to carry than any of the over-the-ear options I've listed above.
The Noise cancellation is exceptional for a pair of this size, and they make sure your environmental sounds don't get in the way of your listening experience. The only downside to these is they may get annoying on the cartilage of your ear after extended periods of use, depending on how comfortable you are with in-ear earphones. They're also cheaper than most of the options above, coming in at $250.
Pros
Battery, Weight, Noise Cancellation, Convenience, Portability
Cons
Price, In-ear fit, Compatibility
Apple Air Pods 3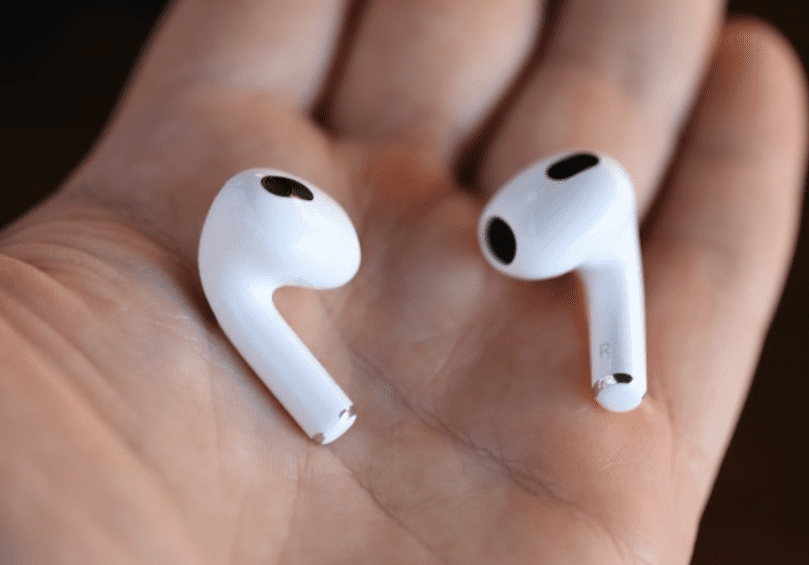 The Apple Air Pods 3 is a pair of earphones that I prefer over their flagship variant mentioned above. I personally do not like in-ear fits as they're not universally comfortable or universally stable as earphones that stay in the ear securely. I'm in the unfortunate minority that can't get these to stick in my ear for some reason (F). If you're like me, then you can get these Air Pods. They're much cheaper at $150 and much lighter.
They fit better in my case, and they're marginally lighter at 4.3g per earphone and 37.9g for the case. They offer a longer listening time of 5 hours on a single charge and 30 hours with the case times accounted for. A 5-minute charge gets them the same amount of juice as the Pros. They're cheaper, serve the same purpose, and fit better for some people. If you're a VR owner who doesn't have a pair of Air Pods but has an apple device like an iPhone, you could get two birds with one stone by getting either of the Air Pods on this list.
Pros
Battery, Weight, Noise Cancellation, Convenience, Portability
Cons
Price, In-ear fit, Compatibility
Alternatives
This section is going to state one very obvious answer to Bluetooth alternatives and one that is a much smarter workaround that could let you use Bluetooth headphones on the Oculus Quest 2 without the issues from lag and latency, as well as the issues from connectivity and compatibility.
The first alternative is to, naturally, use a good pair of wired headphones. This is the audio accessory that Oculus wants you to use with your headset. There's a dedicated 3.5mm Audio Jack as well to make it less subtle. Moreover, you'll have no issues with latency once you're tethered with a wired connection. The sound quality is arguably better, though I entirely doubt any user can tell it apart. But compatibility and connectivity will never be an issue on a wired connection.
I'll try to keep this brief. A few of the wired options you could opt for are: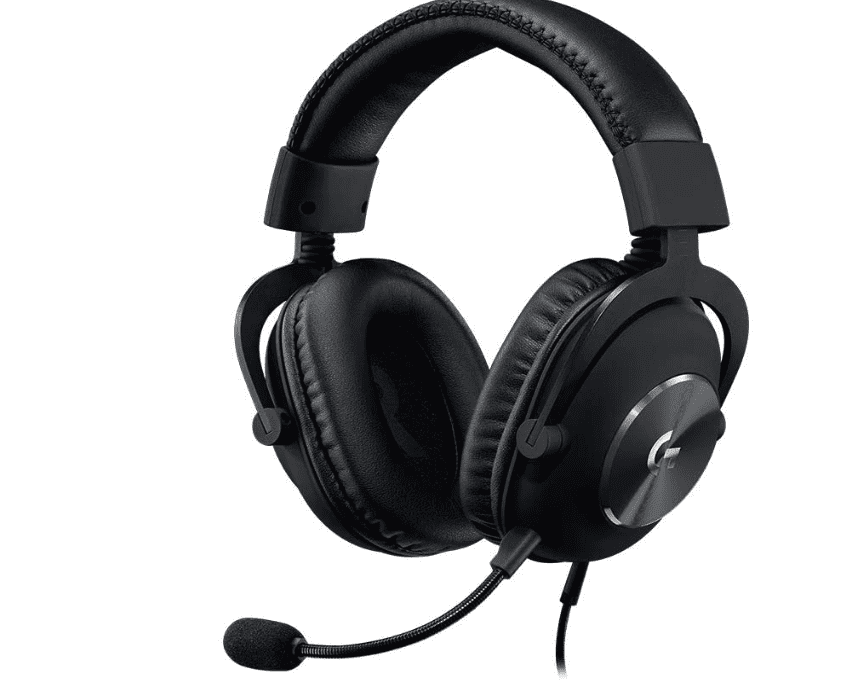 A solid pair of gaming headphones. Nothing over the top. Nothing out of the extraordinary. They're comfortable, responsive, sound crisp and good, and offer a convenient experience to gamers across platforms. There is, however, no noise cancellation on these headphones. One of the great things about them is that the mic is detachable. The only downside here is the weight at 320g. Not a good weight to have, considering you'll have the wire dangling as well. However, they come in at merely $80, making them a convincing option.
Pros
Durability, Longevity, Price, Microphone, Connectivity
Cons
Weight, Design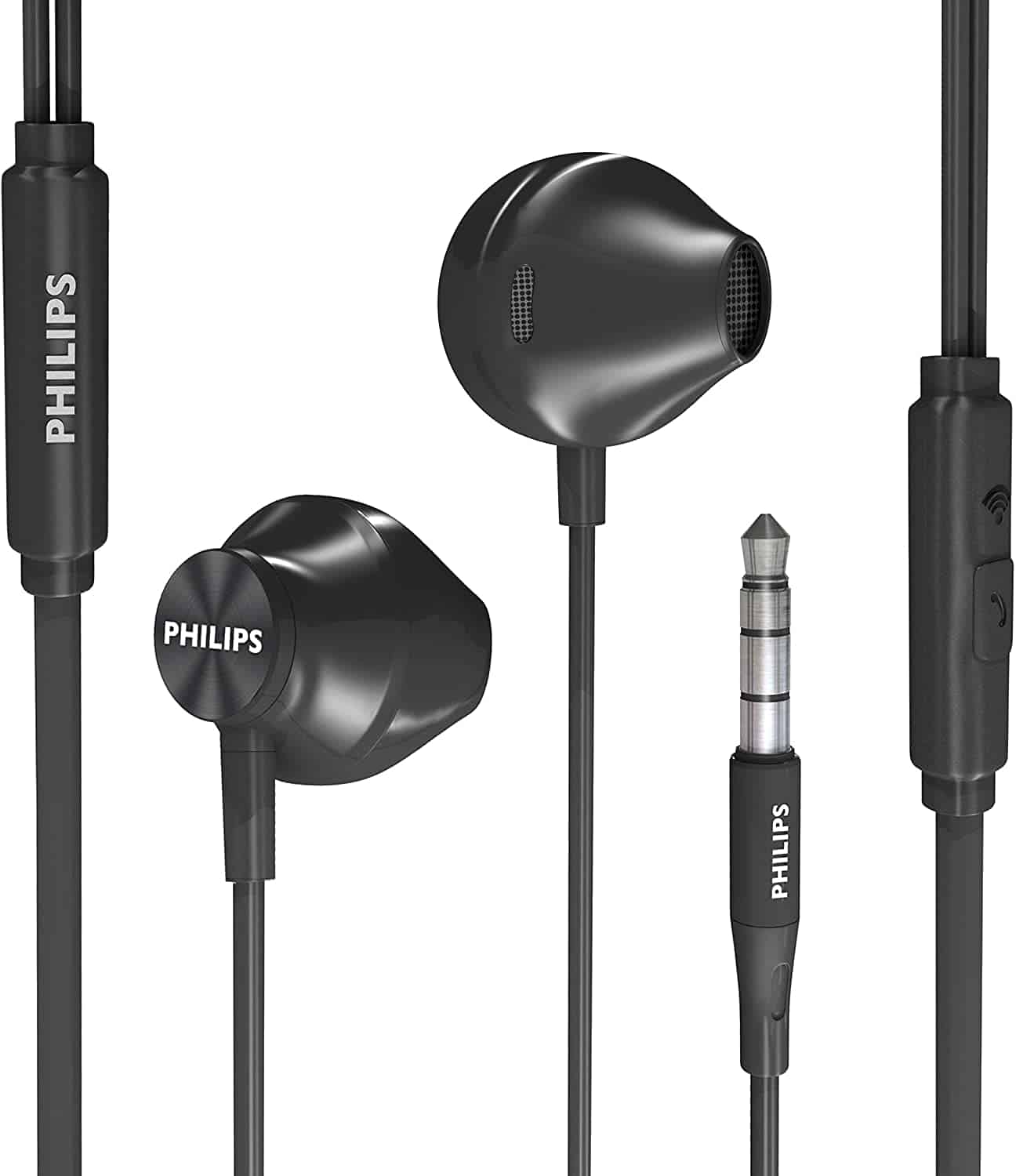 This is the least exciting option and probably one of the smartest you can buy. It comes in at just $8 dollars. If you're a user that isn't too focused on how things sound and just want a convenient, light Oculus Quest 2 audio experience, I'd suggest getting this. They don't do anything apart from providing a mic and offering good crisp sound. For $8, it's the best value for the price piece that I've listed in the article.
The only downside in these could be the life of the earphones, but at that price point, I don't think any of us will earn a right to complain about something like that. The company is a long-standing electronics manufacturer, and the build and sound quality is more than adequate.
Pros: Price, Weight, Connectivity, Convenience, Fit
Cons: Wired, Build, Sound, (Lack of) Noise Cancelling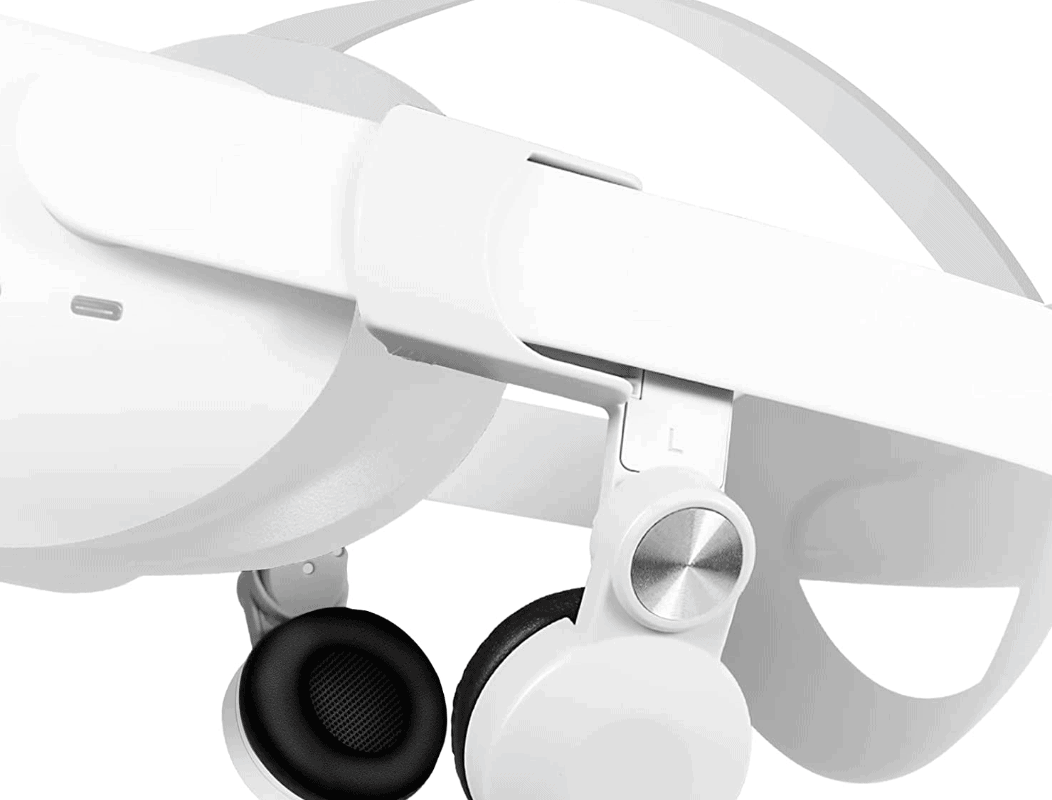 This isn't a separate audio device for the Oculus Quest 2. It works in a very cool and interesting way, though. They're a pair of earmuffs that attach to your Oculus Quest 2 and then amplify and redirect the sound to your ears. It's super cool, in my opinion, with adding no extra accessories and staying on your headset at all times. I think the only possible downside of this that you could think of is that it adds bulk to an already bulbous headset. There is also an issue with sound leaking since the sound these earmuffs amplify has to come from the onboard Oculus Quest 2 speakers themselves.
Pros
Different (in a cool way), Physical Attachment, Removable
Cons
Not Ear/Headphones, On-the-Ear fit, Weight
My last alternative is an accessory that isn't exactly an alternative to Bluetooth headphones. It's centered more around the creation of a smoother experience while using Bluetooth headphones on the Oculus Quest 2. I think this will be ideal for anyone looking specifically for a convenient, connected, and consistent experience on the Oculus Quest 2 while using your headphones.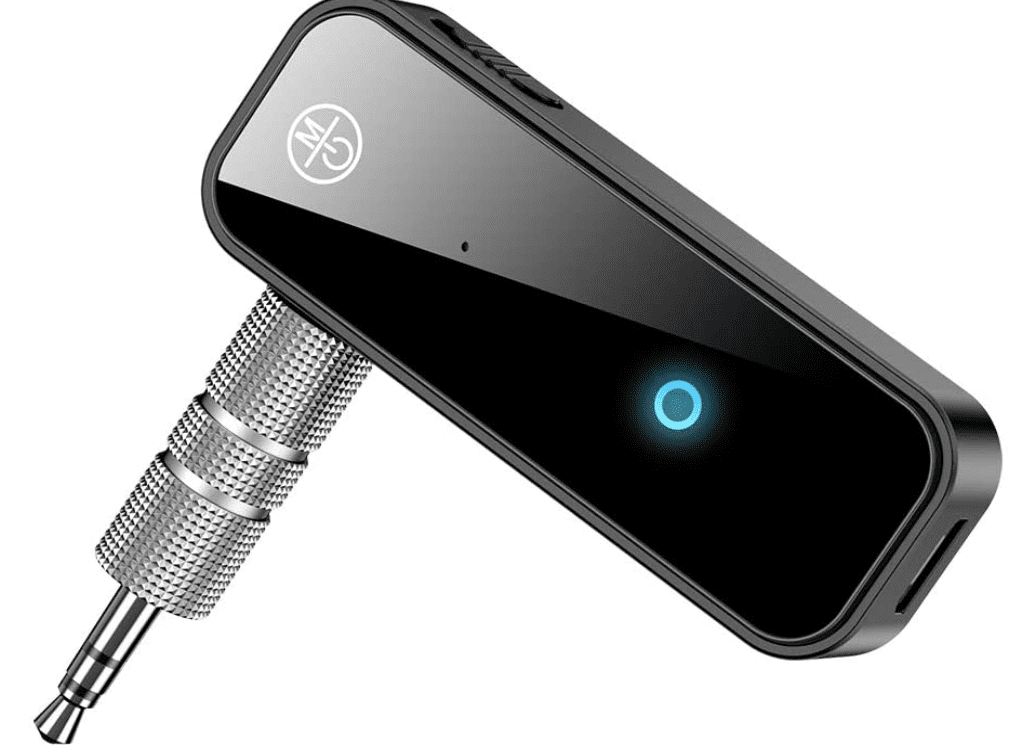 There's a chance you already have Bluetooth headphones with you, and the only reason you're looking at an Oculus Quest 2 specific article is that you can't seem to fix the lag and connectivity issues on the headphones when you pair them directly to your headset. This will solve those issues. It's an adapter that can pair directly to your headphones, and it then plugs right into that 3.5mm port on the Oculus Quest 2.
This ensures that the software of the Oculus Quest 2 has no Bluetooth devices to deal with and hence cannot hinder the experience. Moreover, lag and compatibility are entirely negated since it is a wired device for the audio jack on the Oculus Quest 2. The only lag you may have will be entirely negligible at about a couple of milliseconds when the transmitter transmits to your headphones. Trust me, you will not notice this and cannot tell the difference. It's a cheap device at about $17, and it completely works around the issues of the Oculus Quest 2 when pairing directly with Bluetooth headphones.
Pros
Price, Weight, Connectivity, Wireless, Convenient, User-friendly
Cons
Only works for Bluetooth accessories
Frequently Asked Questions
Question: Does the Oculus Quest 2 Allow for Pairing Bluetooth Headphones?
Answer: Yes and No. There's no official statement or advertisement from Oculus about Bluetooth audio compatibility, but you are free to pair Bluetooth devices through the experimental settings in the headset, and this allows you to use your headphones for audio with the Oculus Quest 2.
Question: Are the Stereo Speakers on the Oculus Quest 2 Good?
Answer: In my opinion, yes. It's a satisfactory audio experience, and the special audio is very cool. But if you want privacy or better, more focused audio, you should opt for headphones or earphones.
Question: Can I Wear Headphones Over the Headset Without Issues?
Answer: Yes! Oculus was very mindful of gamer preferences with headband design and headset design. You can wear your headphones comfortably without the headband or headset getting in the way. They're designed to provide the best possible compatibility with headphones worn, at least physically. For reduced bulk, though, I would suggest also looking at earphone options.
Conclusion
There are a number of headphones that I've listed above that will serve as great Bluetooth audio for the Oculus Quest 2. They vary across the battery, build and sound as well as price, but they offer a good enough experience, minus all the hassle of lag and compatibility that seems to be erratic enough to be unpredictable on the Oculus Quest 2.
Of these headphones, I personally suggest something light and user-friendly like the Audio-Technica ATH-SR30BTBK, which are light, cheap enough, have great sound, and offer excellent battery life.
There are also earphones on the list for variety and preference.
Alternatives to the Bluetooth headphones are wired options due to the reduced lag and lack of issues.
I've also included physical ear muffs, which relay sound from the onboard stereo speakers on the Oculus Quest 2 to your ears.
Lastly, you can opt for a Bluetooth adapter such as the GMCELL one I've listed. This will plug directly into the 3.5mm Audio Jack on the Oculus Quest 2, and then it pairs with your headphones.
I hope this article clears some of the doubts you may have had on connectivity with the Oculus Quest 2 and Bluetooth headphones. I also hope the options I've listed out give you enough to think about regarding how you want to design your VR audio experience.
Happy Listening!
Continue reading:
Best VR Games Without Controller