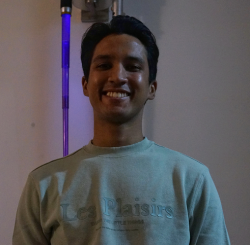 Latest posts by Sanidhya Rao
(see all)
The Oculus Link Cable is an official cable from Oculus that allows you to link their Oculus Quest or Quest 2 headset to your PC for PC VR games. This essentially allows it to function as an Oculus Rift system, as well as gives it access to a selection of Rift games. It's great for you if you want to play for extended periods or to play more graphics and performance-intensive VR game titles.
I've found its best use to be a virtually endless playtime, as it powers your headset while you play, which means you don't need to worry about battery life.
Introduction
If you're a VR user using an Oculus Quest or Quest 2 headset, you're free to take on the battery-powered features and use it as a standalone headset. It has sufficient range and sturdiness to allow for standalone VR gameplay, without the worries of cables and wires. It's portable and has a more than the adequate battery life of 2 to 3 hours. However, you can still use an Oculus Link Cable to tether your Quest headset to a PC to play higher-end VR games, through the extra power in the PC.
To get the most out of your VR headset, to get access to a wider library of games, and to make use of more power-based features, an Oculus Link is advisable to get you the best possible VR gaming experience. If your PC is VR-ready, you can then use the Quest series headsets to play games originally designed for the Rift, which is a tether-based headset.
This ability to link the standalone headsets to your PC, as an optional gaming experience puts them up there with the tethered systems like the Rift, allowing users to experience both standalone and tethered PC gaming. It gives you an experience the Oculus themselves dub "the best of both worlds" of VR gaming. However, if you want to use your PC with your headset, the Virtual Desktop is the direct wireless option at your disposal. However, your broadband speed or performance may see your VR experience become hard to keep up with.
Of course, the Oculus Link Cable is the suggested tether from the company. However, much like Apple Lightning Cables or other such data transfer accessories, you don't need to use the Cable sold by Oculus itself. The reasons you'd want to look at an alternative is firstly the price. At $80, the Oculus Official Link Cable is at a very hefty price point for a mere tethering cable.
This is a list of the best alternatives to the Oculus Link Cable, including some of the ones with better connectivity, ease of use, and mostly a cheaper price point.
Bottom Line Up Front
The Oculus Link Cable is what Oculus sells as a separate accessory to link your Oculus Quest or Quest 2 headset to your PC for PC VR games and access to the Rift library.
At the hefty price point of $80, the official Oculus Link Cable is expensive, to say the least. It's not in everyone's budget and doesn't have to be.
I've explored several cables in this article and my use of Oculus Quest series VR headsets, as alternatives to the Oculus link Cable. My suggestion is that users opt for the Anker Powerline Cable. Oculus lists it as a tried-and-tested alternative that meets the USB 3.0 requirement for running the 5Gbps transfer speeds needed for a smooth tethering experience.
However, this one type of cable, its length or capabilities may not suit all users, and there are several great alternatives that I will discuss in the sections below, so read on!
About the Official Oculus Link Cable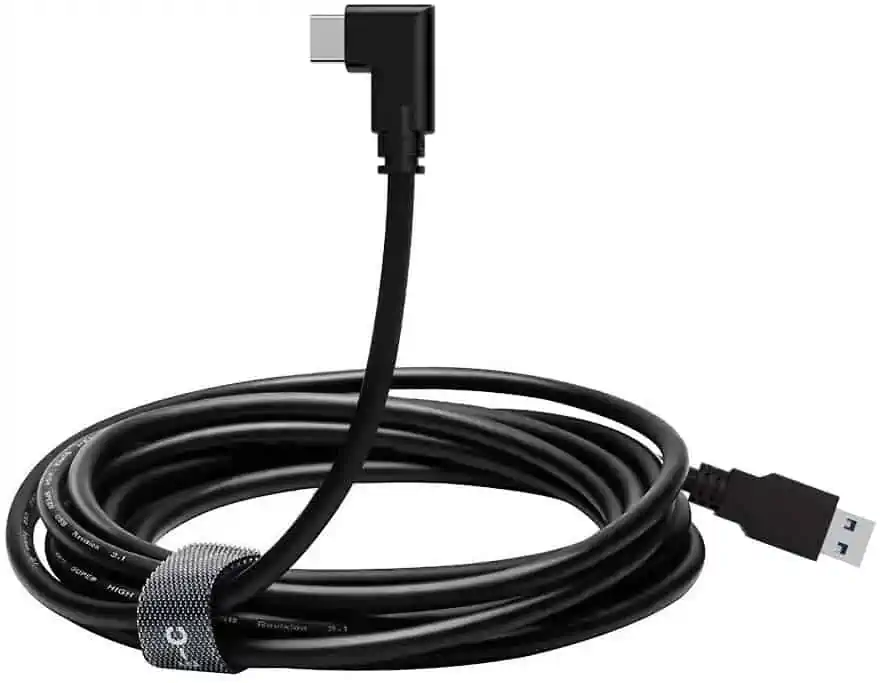 The cable you choose to use in place of the Official Oculus Link Cable has to be long enough to ensure you have freedom of movement during VR gameplay. It also needs to support the high-speed data transfers that will occur between your PC and your headset as you attempt to run the more intensive and high-requirement PC-based games on the headset.
The cable needs to have at least one USB-C type head so that it connects to the Quest. If this head is vertically aligned, like in the Oculus Link Cable, it allows for better space management and connection and ensures it won't snap off during VR gaming, when moving about.
Since the headset's official cable provides a speed of transfer at up to 5 Gbps, it's important to choose a cable that matches this specification. You won't have to sift through the tech specs on every cable you come by, and cables that offer connectivity of USB 3.0 and above should suffice to meet this standard.
The length of the cable should be suited to your needs. In my experience, I've found that the 10 to a 15-foot range of cables is suited to most users' needs, including my own, in a fairly spacious bedroom. If your VR gaming space is very spacious and the games you play are based on very free movement, then you'd want to consider a longer cable. I'd suggest getting a longer cable just to be safe and to have some freedom to move your entire VR setup to a different space later on, if you want to, without having to worry about cable issues. You can always use a cable tie to keep the extra space tied up in case you need it later.
Since this article will cover the alternatives to the Oculus Link Cable, it's best to list out details about the product which you'll be missing out on, should you choose to opt for one of the alternatives mentioned in the following sections.
The Oculus Link is a roughly 16-foot-long USB-C to USB-C cable with connectivity supporting USB 3.2 generation 1, which covers up to 5 Gbps transfer speeds. It comes in at a price point of $80. You need to simply plug the cable in to start playing the PC-ready VR games on your Quest headset, to essentially turn it into a headset with the capabilities of the Rift series. Naturally, this capability then gives you access to a library of games playable previously only on Rift series devices.
The Oculus Link Cable also ensures that your headset stays powered the entire time that you are tethered to your PC. This means a virtually unlimited run time for all of your VR experiences.
However, Oculus themselves has stated that users don't need to use the Oculus Link Cable. It is highly recommended and, naturally, the best possible cable you can buy for your device since it comes directly from the source. You can, however, opt for any of the numbers of options available, for a cheaper price point, some of which even Oculus officially categorizes as safe to use and Quest headset friendly for tethered gaming.
Alternatives
The Oculus Air Link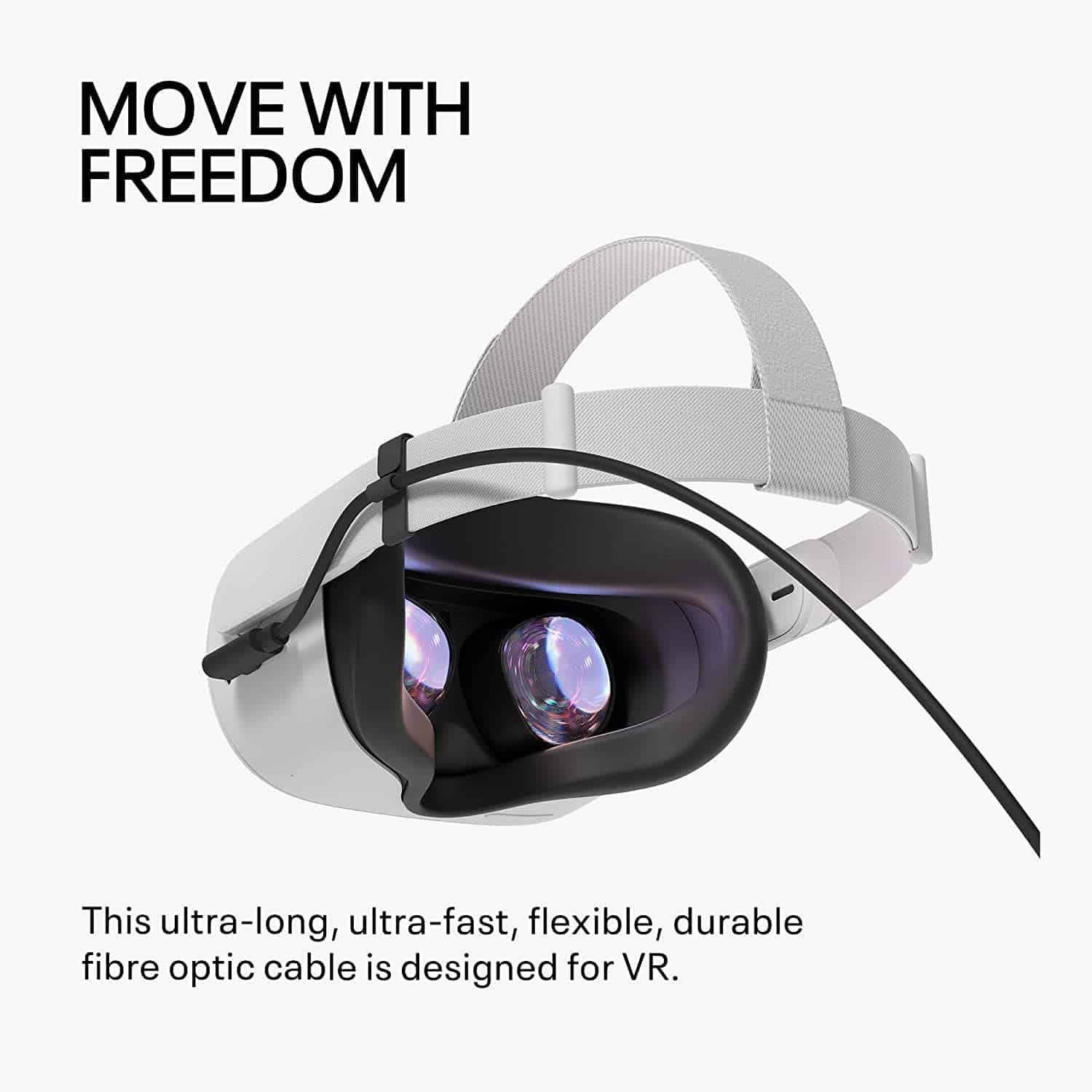 This option does classify as an alternative to the Oculus Link Cable. It isn't a cable itself, per se, but the newly introduced feature to connect your Oculus Quest headset wirelessly to your PC for VR gaming. Currently, Air Link is limited to work only on Windows 10 PCs and is not supported by PCs that are running the Windows 11 software. You can keep this in mind if you wish to opt for this alternative.
You need to first install the Oculus PC app on your Windows 10 PC. You can get it here.
After this step, you can turn on the headset and press the Oculus button on your Touch Controller and navigate to
Quick Settings > Settings > Experimental and turn on the Air Link toggle. You'll then be greeted with some requirements for the Air Link connection. Acknowledge these and click on Continue. Then, head back to Quick Settings, where you will see an option for the Air Link, upon selecting which, you can begin pairing with your PC. You'll see a list of Available PCs, where you can select yours and click on Pair. Subsequently, you'll be asked to confirm a pairing code that is shown on both devices. Now, you can Launch the Link. Once you have established the link initially, you can access it directly form the Quick Settings and will not need to go through the whole setup hassle every time.
Now, the Air Link is convenient, but the bandwidth requirements are nothing short of extreme and it will take up a massive chunk of broadband space form you, along with drawing a lot of power from the headset as well as the PC. It's a good option on the go, or as an experimental setting, but it's not a long-term solution for you if you're a user that's looking to get into essentially Rift gameplay seriously.
I suggest using this option only when you are extremely confident in your internet's abilities and when you don't plan on playing games for a long time, since it will use a lot of power from both devices.
Now, we can move to the first cable. This one tops my list of suggestions for a multiplicity of reasons, as listed below.
Anker is a popular company for accessories in the tech space and they've shelled out countless similar products, offering cheaper alternatives to more expensive accessories. These products have maintained a high quality and have seldom failed to serve as a long-term solution to buyers that didn't want to go with a more expensive first-party option for accessories such as cables, power banks, adapters, and even cases. The company promises quality and in the case of this particular cable, delivers more than sufficiently.
The build quality on the cable is high, with the thick rubber covering the wire and connectors that have a separate housing. The wire does not fray and will not cause issues with exposed wires. What's more, even Oculus writes on its Support Page for Link Cable Alternatives and their requirements that the Anker cable was tested by them and came back with good results.
It comes in at a fraction of the price of the Oculus Link Cable, at about $25. You can find many variants of the Powerline series on Amazon. It's important to keep an eye out for a few things. Firstly, it should be USB 3.0 and above. Secondly, you want to make sure that you get at least a 10 ft. length cable. The only issue I found with this cable is that the USB-C connector is horizontally oriented, meaning it would stick out a little bit when connected to the Quest headset. It's not too much of an issue, but it does not create great optics or mean good things for the integrity of the connector end in the extended long-term.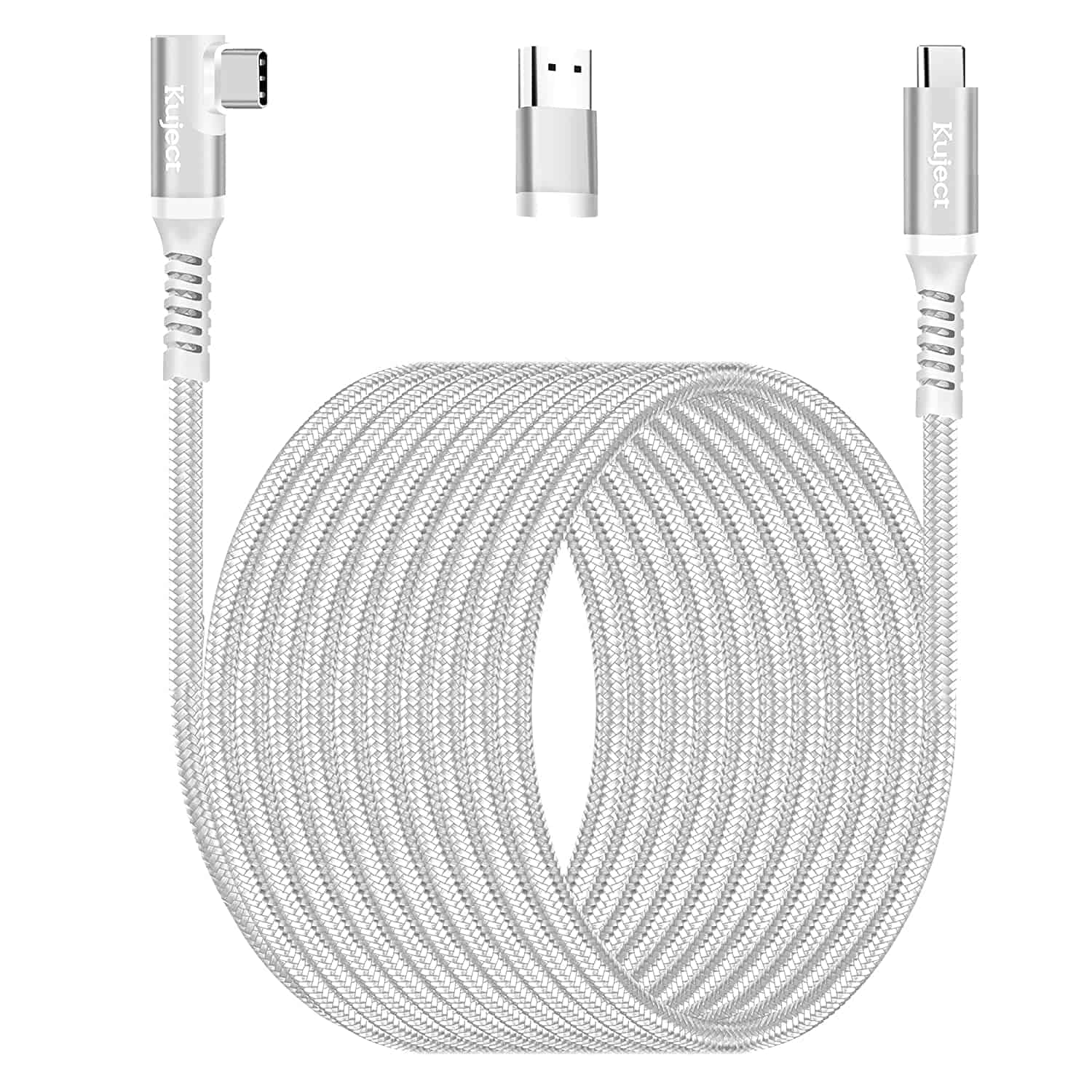 This cable is almost identical to the Oculus Link Cable. However, it comes with the protected ends that house the connectors as well as nylon braiding for the length of the cable itself. It even goes up to a length of 20ft, which I can assure you will be more than enough for the majority of VR gamers in whatever environments they choose to set up their PC VR gaming experience. The connector on one end is angled at a right angle, vertically, meaning it fits a lot more snugly with your headset.
Another great feature of this cable is that it ships with a USB-C to USB-A converter in the box. This is particularly useful for setting up PCs where there is no USB-C port or the access to the port is restricted. It offers true freedom in connectivity and it's one of my favorite things about this particular cable.
The cable offers a great value in length, cable quality, and longevity at a price point that is similar to the Anker cable. You can find it on Amazon for about $25, but it's generally on sale at $20.

Lastly, we move to this absolute beast of a cable. This cable doesn't check all the boxes that the above two check. But it emphatically puts its claim in one category. You guessed it. It's definitely the best long cable out there to use as an alternative to the Oculus Link Cable.
This cable comes in at 16ft. and has a right-angled USB-C end and a USB-A end. How does it get to 32ft. you ask? It ships with a USB-A male to a female extension of a further 16ft.
Some days, the recommended 10 to 16-foot size cables just aren't enough to suit some gamers' needs. If you're in that category and require VR to be immersive enough to span a 32ft. playing radius, this is definitely the cable for you.
While the build quality and looks of the cable don't match up to the aforementioned two, the ability to have twice as much room to play while tethered makes this variant as good as a wireless experience, in terms of restriction of movement. The only thing that may bother you is the added weight of the wire as well as the inevitable tripping hazard. But if you can manage those two cons, the pros of this cable easily outweigh them.
It's listed at a $20 price on amazon and covers all the requirements that Oculus specifies for alternatives that you may opt for in place of their Link Cable.
Frequently Asked Questions
Question: Can I Use Any USB-A to USB-C Cable to Tether my Quest Headset?
Answer: No, you need to make sure that the cable you use qualifies as a USB 3.0 type cable and above. This will make sure that it meets the 5 Gbps data transfer requirement that is needed to play the PC VR gaming titles and Rift store titles while tethered.
Question: Oculus Says that Charging and Playing at the Same Time is not Advisable. Does this Apply to Tethering?
Answer: Absolutely not! You are free to tether and play. The 3A power supply of these cables is safe enough to not affect the health of your Quest headset and to ensure that you have constant power for your PC VR gaming experience.
Question: Is it Necessary to buy the Oculus Link Cable?
Answer: No. While Oculus does advise that you buy their more expensive and in-house produced Link Cable, it is not the only cable that can tether your Quest headset to your PC. The company themselves make it clear that alternatives such as the Anker Powerline are just as good. However, the caveat here is that there will certainly be no issues, no hiccups, and a promised, smooth experience if you use the Link Cable from Oculus.
Conclusion
The Oculus Quest headsets can now be tethered to PCs to convert them essentially into headsets of the Rift series, along with giving them access to PC VR game titles that include titles that were available previously only on the Rift store.
To do this, you can use a data cable that has at least one USB-C end, to connect the Quest headset to the PC and plug-and-play. However, the Oculus Link Cable comes in at an expensive $80 and this might not be the best purchase option or affordable for all users. Personally, my suggestion would be to play it safe and opt for the Anker cable as an alternative. It's backed by Oculus testing and they go out of their way to specify it as an alternative to the Oculus Link Cable. that's the best alternative out there in my opinion. That being said, there's always another cable out there that may meet your specific needs, and some of the types and alternatives above can help you make that purchase decision.
Continue reading:
Oculus Link Cable Alternatives