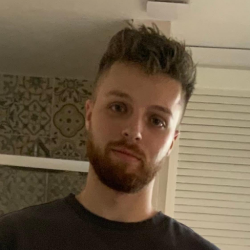 Latest posts by Linden Garcia
(see all)
Other than Half-Life: Alyx — and arguably, even more so than that game — BONEWORKS exists as the most advanced virtual reality title to date; its masterful use of physics and full locomotion movement made for an incredibly immersive experience and, naturally, Oculus Quest users want in on the action.
While their route to playing isn't as straight forward as using the native platform, they will be pleased to know that it is perfectly possible.
Bottom Line Up Front
BONEWORKS is a PC VR exclusive, but considering the advancements in portable VR technology, playing on Quest is a breeze.
As a Quest user, you can use either Oculus Link, Air Link, or Virtual Desktop to play the game. Oculus Link is the most reliable option: all you'll need is either the official Oculus Link Cable or a quality third part alternative.
Air Link and Virtual Desktop are great options too, but due to the necessity for a strong internet connection, they won't be the best choice for everyone.
Another key requirement is having a PC capable of running bone works: The system requirements can be found here.
How to Play BONEWORKS on Oculus Quest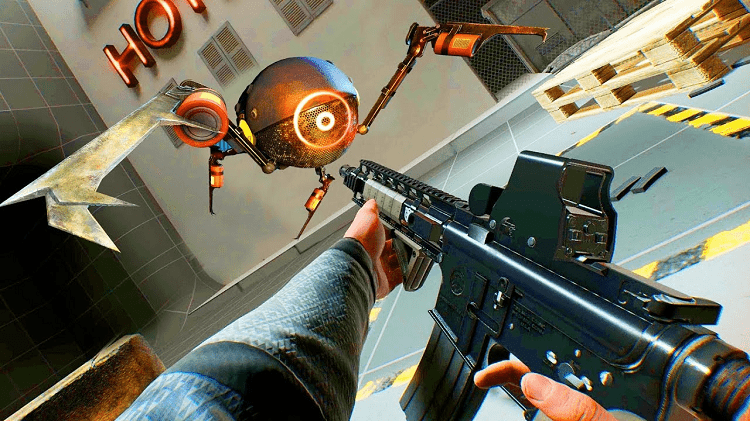 Is BONEWORKS available for Oculus Quest? Officially, no: this is a PC VR exclusive title, meaning that users won't find it when browsing the Oculus store.
Yet, that doesn't mean you can't play it on Quest. In fact, there are actually several ways to do so. Below, I will detail the three methods you can use to get BONEWORKS running on your Quest today.
It's also important that your PC will need to meet the minimum requirements for this particular game, and that you have Steam and Steam VR installed.
Using the Oculus Link Cable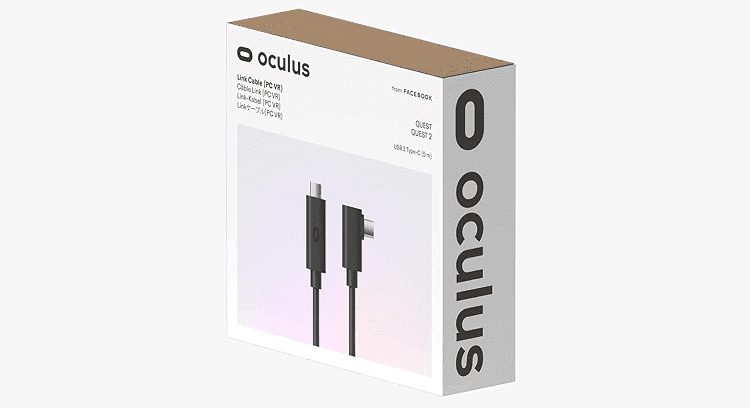 This is the easiest, most straightforward way to play BONEWORKS, and I've already written an in-depth guide covering everything you need to know about using the Oculus Link.
In a nutshell, the Oculus Link cable is a high-speed USB cable developed by Meta themselves. It enables anyone with both a high-end gaming PC and a Quest 1 or 2 physically link or 'tether' their headset to the PC.
Through doing so, players can reap the benefits of the extra PC horsepower for higher fidelity VR gaming, and they're also able to play ordinarily inaccessible titles from Steam.
Connecting your Quest via the Link Cable is as simple as plugging it in and launching the official Oculus software, and if you don't want to shell out on the official cable, Meta have confirmed that the cheaper, third-party Anker cable is a great alternative.
It's worth mentioning, that any quality USB cable should work — just make sure it's long enough!
Using Air Link
Using Air Link follows more or less the same process as using the cable, but because you're connecting wirelessly this time, you'll need to take some precautionary broadband measures to get the best experience.
Firstly, it's important to ensure your PC is up to spec hardware-wise: the requirements are the same as for using the Link Cable, so again, check out our article above for more info on that.
Regarding networking requirements, you'll want to make sure your PC is connected to your internet router via an Ethernet cable if possible.
Your PC's connection to the router is crucial to secondarily connecting your Quest to your PC, so this is a good first step. It's not essential to do this, but it'll give you the best shot at a smooth experience.
You're also going to need a router that allows for a higher bandwidth of 5Ghz. Many routers today offer an option of either 2.4Ghz and 5Ghz, but not all do, so check out this article to find out what your set up supports.
Broadly speaking, 2.4Ghz allows for connections at longer distances, whereas 5Ghz enables more data to be moved at once — the latter being an important factor when wirelessly streaming something as intensive as VR gaming. If you don't have 5Ghz enabled router, definitely go for the Link Cable option.
If your internet is up to scratch for Air Link, however, simply enable Air Link in the settings of both your Quest and the Oculus app, select your PC when it appears, and launch BONEWORKS from Steam accordingly.
Using Virtual Desktop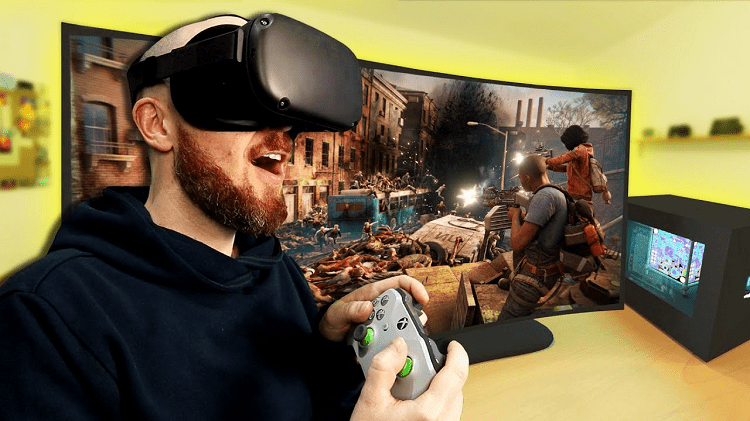 The last method you can use is Virtual Desktop. This is an app you can by from the Oculus Store that enables you to mirror your desktop PC to your Quest. It wasn't originally intended for playing PC games on your Quest, but thankfully, this feature is now supported.
As well as purchasing the main app from the store, you'll also need to download the desktop streaming app from the Virtual Desktop website.
Upon launching both apps, you'll then need to enter your Oculus login information. From here, Virtual Desktop will behave exactly how your PC would. Launching Steam and then BONEWORKS will boot you into the game.
As is the case with Air Link, you'll need to adhere to the aforementioned networking stardards if you want to use this method wirelessly.
You can use Virtual Desktop on Quest by tethering your headset, but so far as playing games is concerned, doing so would be a bit redundant; if you already have the means to connect your Quest via USB, using the official Link Cable method would be a simpler, more reliable option.
Some Tips to Enjoy BONEWORKS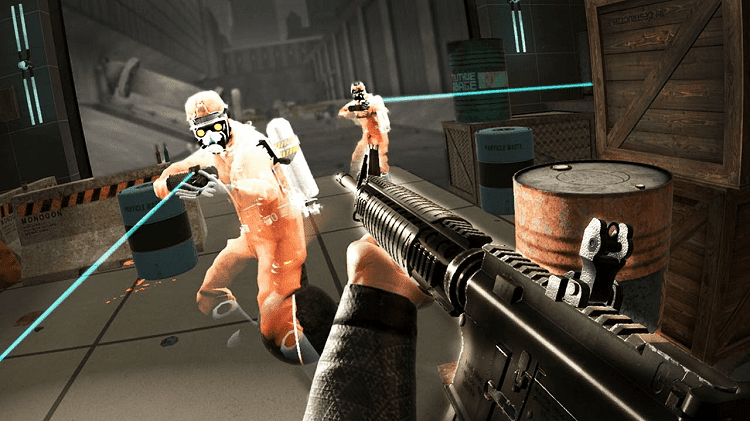 I'd argue that BONEWORKS is the most intense VR game you can play right now. Half-Life: Alyx set the precedence for realism, true, but with its full-body implementation and parkour elements, there's certainly a steep learning curve with this game.
Naturally, the biggest, grandest, and most initially jarring titles come with the territory of the PC VR market. Quest users may not be used to this type of game, so here are some tips to get you started.
Spend Time in the Virtual Menu
Upon launching the game, you'll be thrust into a virtual menu: a 3D space you can move around in, climb, use objects, and open cabinets and draws.
This is also where you'll select a new game, load a previous one, or tinker with the games settings. You'll cover the basics in the tutorial that follows with the launching of a new game, but I think it pays to spend time in this introductory space.
Take the time to get your bearings with full-locomotion movement and to familiarise yourself with your VR body.
Experiment with how walking, climbing, and item physics work. Because this is a relatively small space compared to the vast environments you'll encounter in the main game, it's a great opportunity to get used to things.
Take Regular Breaks
When this game first launched, I learned the hard way. I spent multiple hours a time with my headset on, and with a game so physical as this, coming back to reality was jarring — not to mention often headache inducing. Take a break every half an hour or so or whenever you feel your eyes fatiguing.
Role-Play
BONEWORKS is 90% meticulously dialled in physics simulations, 10% role-play. The game does an excellent job at simulating the real world weights of objects you can interact with, and wielding something with with the same action as you would in real life makes the whole thing a lot more immersive.
If you're swinging a sledge hammer, for example, do so with the heavy slowness you would do in real life.
What the Future Holds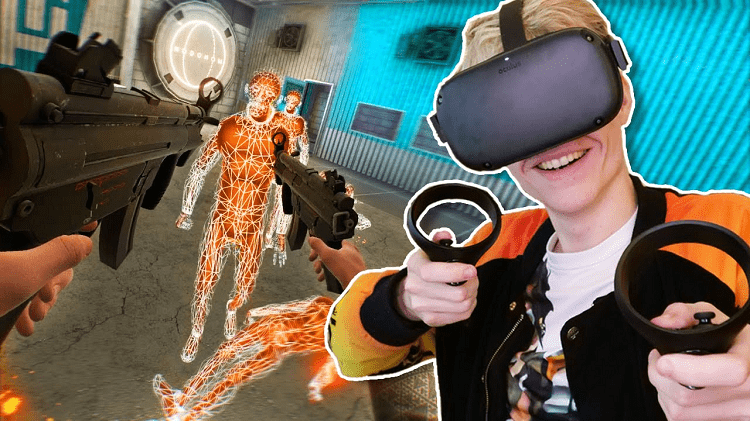 When BONEWORKS was released, the concept of the Oculus Quest was very much in its infancy; portable VR was finally a thing in 2019, but at the drawback of lower hardware specs and, most importantly, a restriction to playing games from the Oculus store only.
Most know of Oculus Link by now, which revolutionised the VR market as denoted above, but the user base of Virtual Desktop and Air Link is also growing. Then there's Side Quest: another fantastic platform which allows Quest users to experience a huge amount new content.
The tables are turning, and within the space of a few years, we're far closer to the futuristic virtual reality experiences we dreamed of.
Perhaps most indicative of this shift towards greater accessibility was the announcment of Bone Lab — BONEWORKS developer Stress Level Zero's hottly anticipated new game, which has been confirmed to be avalable officially for Oculus Quest 2.
As you may have heard, Meta have now discontinued the Oculus Rift line — their PC based headset. The future is most certainly in improving the ability to produce headsets that can be used both tethered and portably, and excitingly, the software is starting to reflect that.
FAQs
Question: Does BONEWORKS Work for Oculus Quest 1 as well as 2?
Answer: Thankfully, playing BONEWORKS via any of the methods above does not require a Quest 2: you'll be able to achieve exactly the same with a Quest 1.
Question: If I'm Going the Wireless Route, Should I use Air Link or Virtual Desktop?
Answer: The jury is out on this one, making it far more a question of personal preference. There doesn't seem to be a 'better' choice, with users only reporting minute differences in latency and visual fidelity.
It is clear, however, that either option will do a great job. Don't overthink it, though it is worth mentioning that Air Link is free.
Question: I Haven't Played any full-locomotion VR Games Before. Can I still Cope with BONEWORKS?
Answer: It's true that it helps to have some locomotive experience before going into BONEWORKS — but that doesn't mean you can't play if you don't. Just take some time to get used to your environment, and take more regular breaks than you usually would to acclimatise yourself.
Conclusion
In this guide, I've provided you with everything you need to know for running BONEWORKS on the Oculus Quest platform. Of course, the same steps can also be used to play any PC game on your Quest. All the best on your BONEWORKS journey!
Continue reading:
Half Life Alyx Character Guide: The Only Character Guide You'll Need