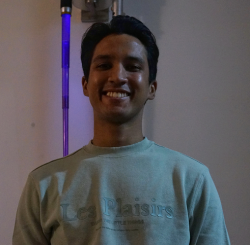 Latest posts by Sanidhya Rao
(see all)
I love a good theatrical experience while sitting in the comfort of my own home and having the freedom to pause, play and select movies. If you're like me and want the most immersive experience while viewing movies or other media on your VR headset, you've come to the right article where I'll explore and try to find the best VR headset for movies and other visual media, apart from games.
All VR headsets in the market support viewing movies in a VR space with the screen adjusted to give the feel of an immersive theatre or large projection. All different companies try to put their spin and some unique features on their devices to make sure you get the best possible experience when watching movies on your VR headset.
Let's not waste a moment's time and jump right into the list of the best, where I'll explore the pros and cons of each headset and give you some of my thoughts on what you should keep in mind when making a purchase of a VR headset specifically for movies.
Bottom Line Up Front
VR headsets were never meant to be solely for visual media and cinema consumption. There will always be primacy and priority given to the gaming experience by manufacturers and developers alike. This makes it hard to find a headset that suits your specific needs for pure media consumption.
For me, the Oculus Quest 2 wins. It's lightweight, versatile ad has great displays for one of the best movie viewing experiences on VR headsets, along with excellent gaming capabilities.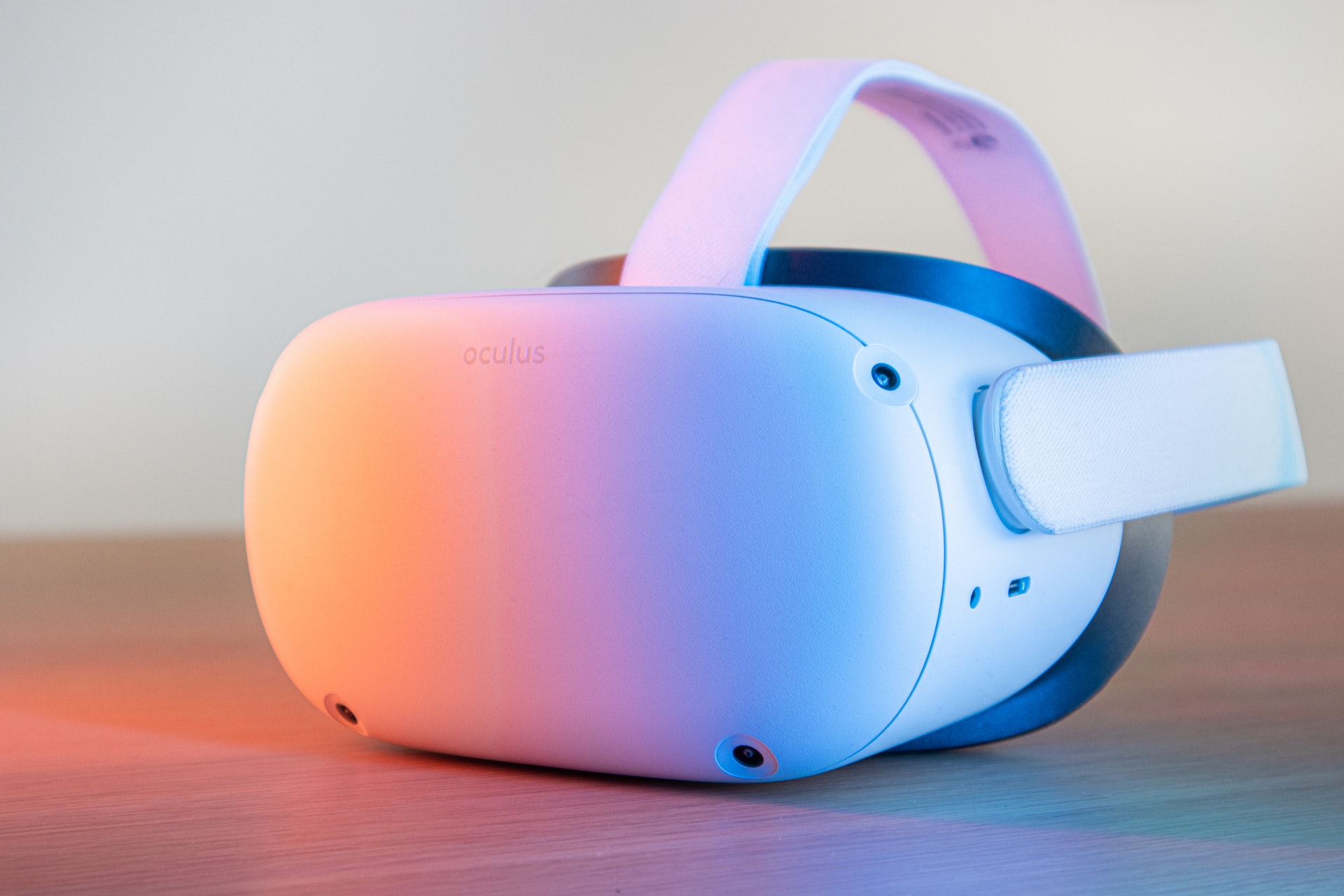 My Top Picks
The Oculus Quest 2 is an excellent option for users looking to watch movies and explore the wider possibilities of the VR experience such as standalone as well as tethered gaming.
The Oculus Go is a great headset for media viewing and is focused on the light user. A great tool for watching movies in VR.
The HTC Vive Pro is a rather over-the-top headset if considered solely as a movie watching device but it makes for an excellent headset overall. Best in class in almost everything. Unfortunately also in price.
The Google Cardboard is great for watching movies if your phone supports VR movie viewing applications. It's dirt cheap and very east to set up. The DIY bit is an added bit of fun.
Selection Criteria
VR Movie viewing is almost always fun, but some things need to be kept in mind when you're buying a headset specifically for this purpose.
My selection criteria are varied for this article, but I've tried to stay constricted to the weight of the headset, its battery life, the build quality, the lenses, and the glare they may cause as well as the comfort level provided by the headset. I've also tried to pay due attention to the audiovisual quality. Lastly, the price of the headset and the ease of use have also been criteria I used to list out the headsets in the following section.
I hope these cover everything you'd need to consider when making a headset purchase for watching movies and they help you make an informed purchase.
Overall, VR headsets are excellent for movie viewing, and I hope this list below gives you enough to think about and hopefully clears some doubts you may have going into this purchase.
Best VR Headsets for Movies
HTC Vive Pro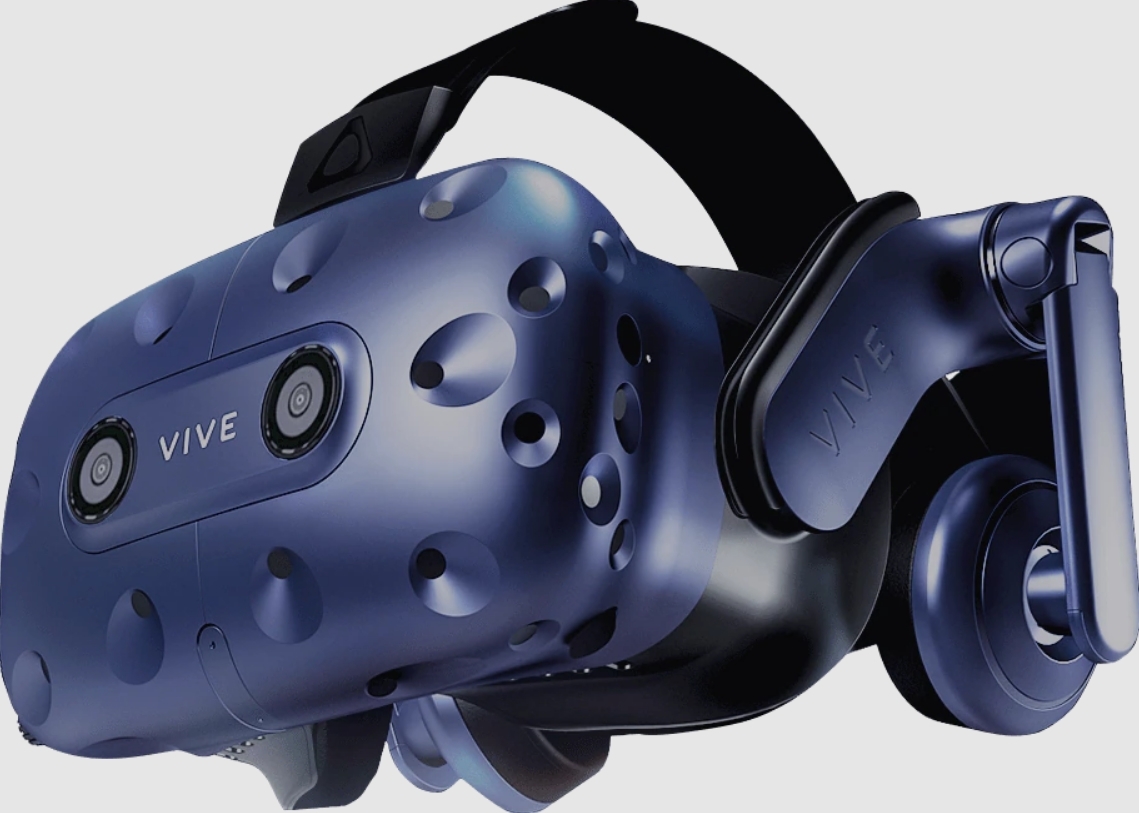 The HTC Vive Pro is the successor to the already successful and capable HTC Vive headset and improves on the capabilities of its predecessor.
The Vive Pro comes in with dual AMOLED displays that offer 1440 x 1600p per eye and operate at a refresh rate of 90Hz. I personally am not a fan of smooth motion in movies and do like my content in the original frame rate, so you can always turn that down in options to view it at 30 FPS. It weighs a considerable amount as well to house all that power, at about 555g.
The deep blacks and rich color offer an excellent viewing experience on the Vive Pro. The onboard speakers/headphones are Hi-Res and removable, so you can always connect your own audio or enjoy with the built-in features of the Vive Pro.
The headset sets itself apart from the competition in terms of performance, display, audio, and pure power. Unfortunately, it also sets itself apart in terms of pricing, which is one of the biggest drawbacks of the headset (and, in my opinion, the only one which is considerably worrisome).
There's also onboard IPD adjustment, so if you're not wearing glasses and want your headset adjusted, the hardware adjustments offer proper changes to the IPD so you have the perfect viewing experience.
The HTC Vive Pro will also accommodate glasses that are about 15.2cm wide and 6cm tall. That's going to cover most glasses that users wear and shouldn't be too much of an issue to use with spectacles. However, I suggest that the best way to view is without glasses or with some form of protection for the glasses, so they don't collide with the displays to cause discomfort, or worse, result in damage.
Unfortunately, for all the greatness of the HTC Vive Pro, there is no way that the price justifies it as a media consumption headset. If you're looking for something for very serious gaming, you may consider it for media consumption additionally. To buy the headset purely for watching movies would be overkill that would be akin to buying a PlayStation 5 as a Blu-ray Disc player. Not impossible, but not very prudent either.
Alternatively, if you're in the camp of persons who can buy devices for a much smaller feature and you can afford to shell out the $600 price for the headset, I can comfortably say that the VR movie viewing experience on this headset will not disappoint.
Pros
Excellent audio, Display, Comfort, Processing, Best in class for VR gaming
Cons
Oculus Quest 2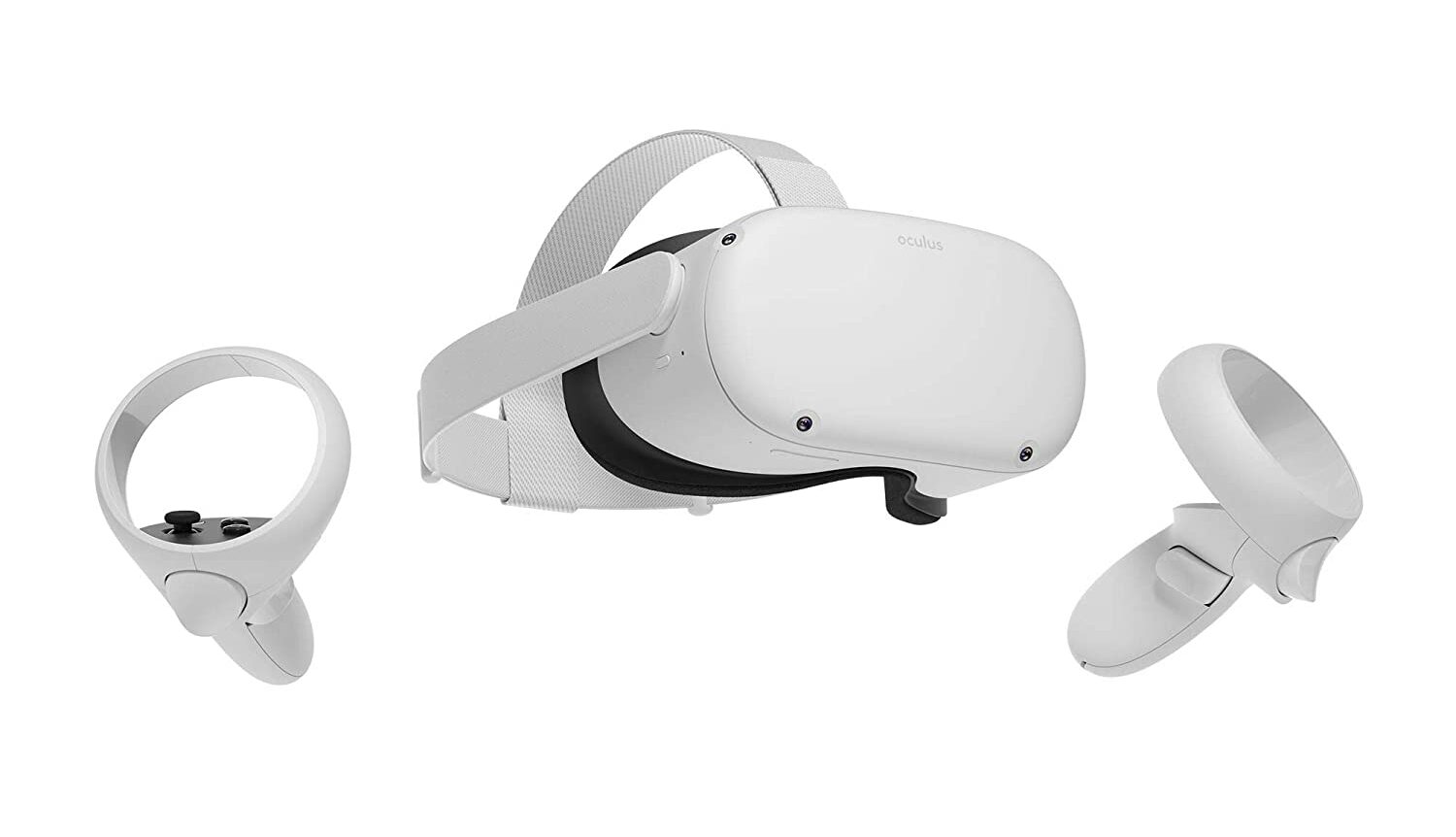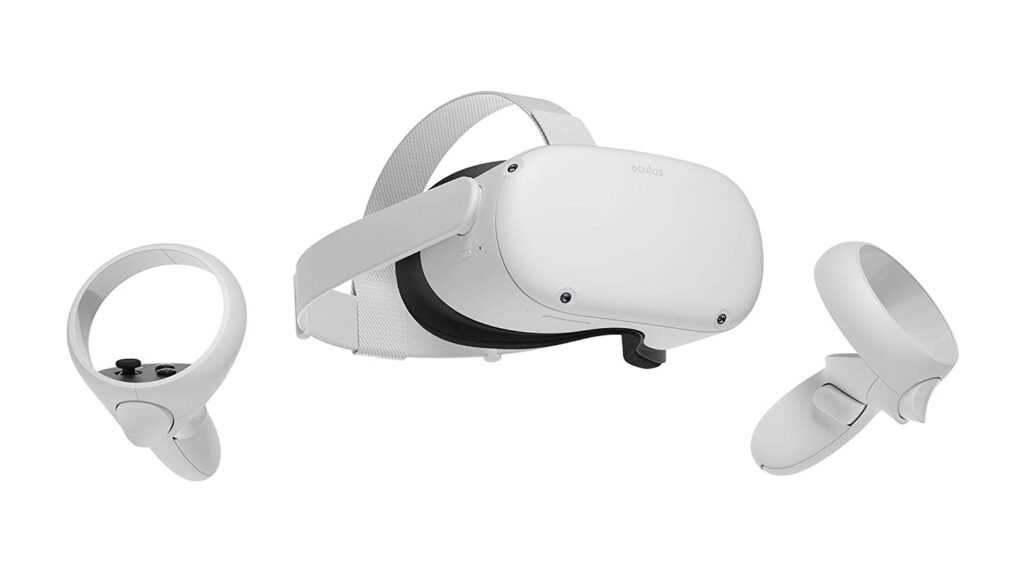 This headset probably features right on top of every list for every imaginable criterion you could consider headsets for. There's nothing this headset can't do very well.
The Oculus Quest 2 is a lightweight headset that offers a good pair of displays coming in at 1832 x 1920 on each eye. While this display is made up of a pair of LCD panels, unlike the above-mentioned Vive Pro, there's the price point to consider at the end of the Oculus Quest 2, which comes in only at a starting cost of $299 for the 128GB version.
What really sets the Oculus Quest 2 apart is the portability of the headset.  The standalone nature of the headset and the redundancy of a cable or a PC to view any media is a clear winner and makes this option unique. It's slightly lighter than the Vive Pro as well, at about 516g.
The battery life on the Oculus Quest 2 is about 2-3 hours for gaming. So the video viewing experience is slightly longer, which means you can watch movies at your leisure, in the place of your comfort, if you manage the battery correctly.
The headset comes with spatial audio speakers onboard, but it's best to connect this one to some headphones for the best possible viewing experience.
Apart from this, the Oculus does have the capability to connect to PCs as well with the use of a Link Cable. This lack of standalone power is probably one of the only downsides of the headset, and if you don't particularly need it and can live without it, then it's an excellent purchase to make.
I think, unlike the Vive Pro, this is a great option of balance between a good viewing experience and a more than adequate gaming experience as well, with the Link Cable essentially giving it the capabilities of an Oculus Rift. I'd make this my top suggestion for any users that want to balance out the two things and aim for the best overall package at the price point.
Pros
Price, Weight, Portability, Connectivity
Cons
Lack of standalone processing power
Oculus Go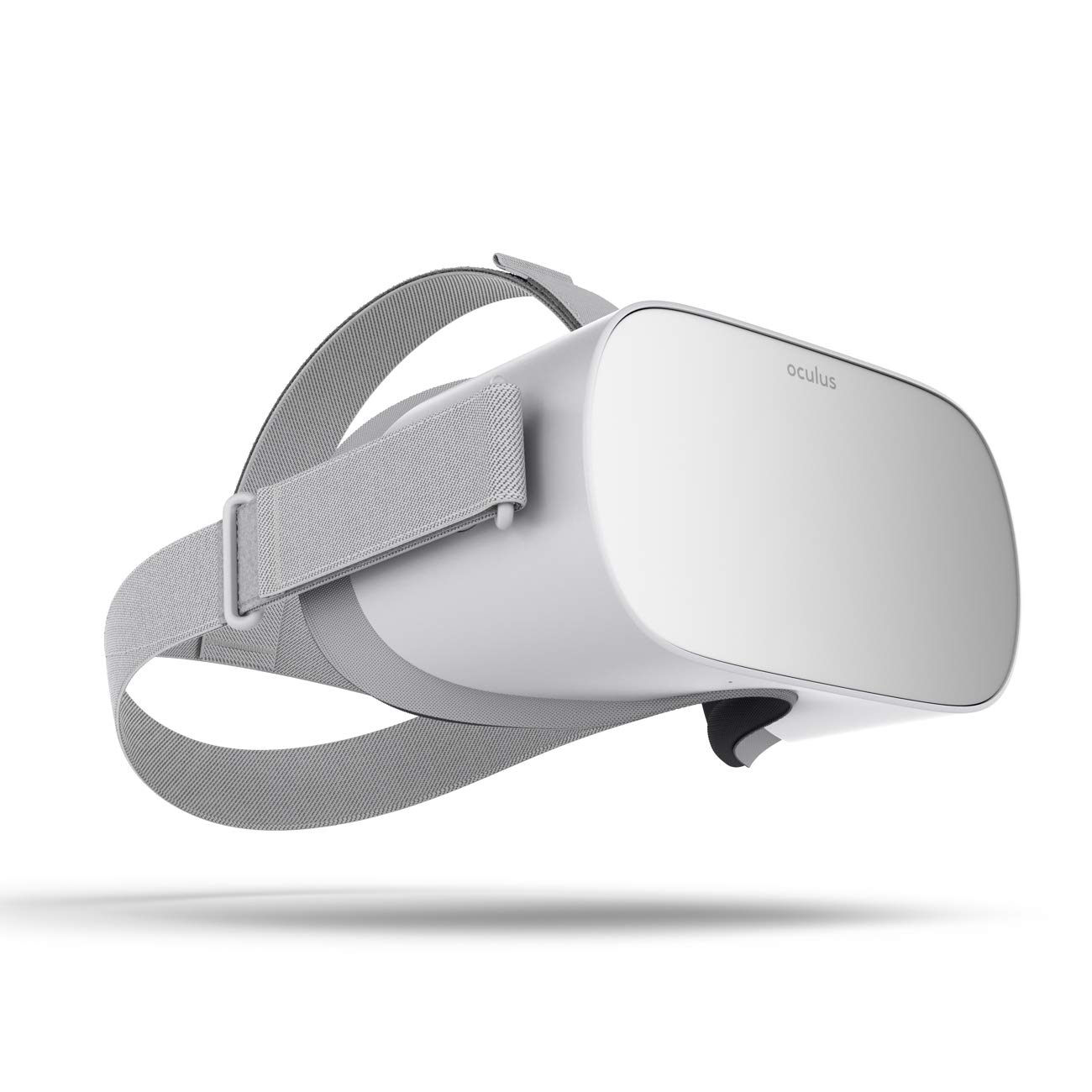 This list of headsets for viewing movies would be beyond incomplete if I didn't mention this one from Oculus. Oculus specifically made this headset for the light VR user.
While the headset has its own library of games meant specifically for its lighter build and performance capabilities, it's been made pretty clear by users and the features on the headset that Oculus always intended it to serve as something for the new entrant into the VR space to explore the possibilities before moving to a better, more advanced headset.
The Oculus Go offers a resolution of a 1280 x 1440p LCD over each eye. It's not the best display in the class, but it's comfortable to view and doesn't strain the eyes more than any other headset.
The headset comes in at a pretty price point as well. While it is released at a higher price, you can find it at resellers as well as at some retailers for about $200-250.
This headset was Oculus' entry into the standalone headset space and was essentially a test run for them to see whether the experience was worth exploring further. Thank god they found in its favor and gave us the Quest series. Because of the fact that this was the first headset they released for the space, it offers a battery life of about 1.5-2.5 hours, depending on how heavy the use is and the settings as well.
One of the biggest advantages of the headset for me is its lightweight build. While I'm not too fond of the design, the build racks up a total weight of only 468g, which is almost 100g lighter than the Vive Pro.
This headset is what I would recommend to you if you want your headset to view movies only and not explore too much of the gaming sphere. It's an excellent headset for multimedia and viewing, but the library of games is limited, to say the least, and it will not grow, considering the performance capabilities. Another downside of this, coupled with the release of the Quest series, is that Oculus has officially discontinued this headset, so firmware and software updates are not promised on the headset.
That being said, if this fits your price point and you wish to have a fun, lively, interactive, and immersive movie viewing experience without too much focus on the games, you'd do well to opt for the Oculus Go as your headset of choice for media consumption.
Pros
Weight, Price, Portability
Cons
Lack of processing power, Battery, Not great for VR gaming
Samsung HMD Odyssey+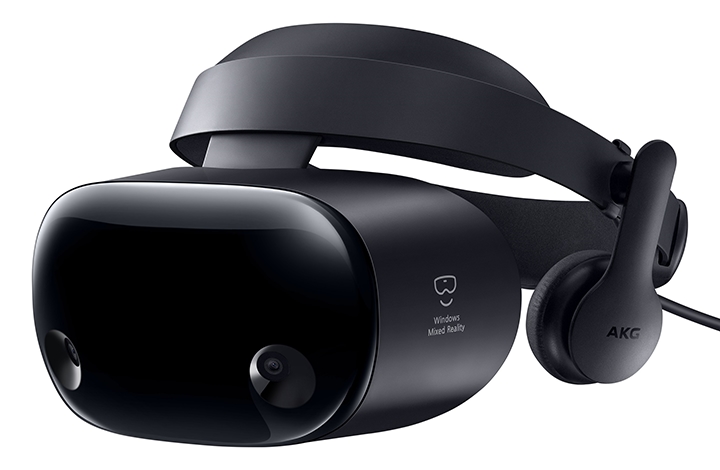 The Samsung HMD Odyssey+ is a VR headset specializing in mixed reality from Samsung. The headset plugs into your PC to be active and then runs a customized Windows 10-based experience to provide you with a VR mixed space.
The displays are probably the best part of this display. You'd want to watch any and all possible content on these displays. The headset comes with two AMOLED panels running 16 million colors at a resolution of 1440 x 1600p per eye. That's sensational, to say the least.
While the headset launched at a heft price point of $500, which is to be expected from Samsung, you can probably find it discounted down to about $300 at resellers since it's aged a decent amount. It's not obsolete by any measure and is, without a doubt, an excellent option for at least media viewing.
The headset, unfortunately, has a massive downside, and that is its weight. The Samsung HMD Odyssey+ weighs in at a hefty 644g, and that's without the cable required to tether it to the PC.
I'd suggest this as a winner in the display category. It outperforms every other headset that offers displays at a similar price point as the Odyssey+. However, the controllers don't offer the smoothest experience when using the headset, and the compatibility for gaming and the performance in VR games is not up to the mark due to the age of the headset since its release.
Therefore, if your only goal is movie viewing on an excellent set of displays, then this is the way to go. You could make this purchase and definitely would be satisfied with the audiovisual quality of the headset. The audio on the headset is fantastic as well and outperforms other media-focused headsets, surprisingly.
Pros
Excellent display, Windows interface, Excellent audio
Cons
Availability, Gaming performance, Portability, Weight
Google Cardboard
Okay, before you crucify me for this one, I think it's a legitimate option. Not everyone who wants to watch movies wants to run their expenditure on VR headsets into hundreds of dollars just to get a media viewing experience.
While the Cardboard is difficult to set up for some, it's not really that complicated if you think about it in isolation. It's a cardboard cutout that you need to connect and build. You're probably making it seem harder than it is.
A massive upside of the headset is that it is extremely lightweight because it's made of, well, cardboard. Unfortunately, one of the downsides for persons who love technicalities is that it's not really a headset. It's genuinely a piece of cardboard that accommodates your phone to use as a VR screen.
Now, the image quality and the sharpness are great since it's based on the screen of your phone, which likely trumps most VR headsets. However, it does require your phone as the screen and will not work without it. It is also not plugged into any type of PC or battery power and is an analog device that only boosts your phone's capabilities.
One of the downsides of this is that it gets uncomfortable to wear due to its boxy design and weight imbalance. Apart from this, it also does not do anything to lessen the strain on your eyes, and while it runs for extended periods of time (subject to your phone's battery), it is not advisable to use it for very long since it causes stress on your eyes.
Now we come to the outright advantage of the Google Cardboard. I can bet a good amount it wins in this category. The Cardboard comes in at a price point of just $15. This is what makes it a win for me as the purchase option for new VR enthusiasts who want to enter and explore the space to see what the experience is like and to decide if this is sufficient or if they need an upgrade. Call it a $15 investment into a foray into VR for yourself and friends and family.
It's fun and a very cheeky purchase option from Google that I absolutely love. It was my first headset growing up, and I still love it to this day due to the simplicity of the form factor and the absence of cables or clunky setups. You'd love it if you bought it. It's so cheap you could add one to a purchase of a serious headset just to experience the simplicity.
Pros
Weight, DIY fun, Price, Analog, Runs through your phone
Cons
No digital components, Uncomfortable at times, Delicate, Stressful on eyes
Frequently Asked Questions
Question: Which VR Headset is the Best for Watching Movies
Answer: While the answer to this question varies from person to person, the safest bet is to purchase the Oculus Quest 2 since it's the latest headset from Oculus and offers a lot of features apart from an immersive viewing experience. If you decide to stay in the VR universe and explore more, there are no better options than this one. Needless to say, there's ample technology to provide an excellent movie viewing experience.
Question: Are There VR Headsets Specifically for Movie Viewing?
Answer: Sort of. There are headsets that focus more on comfort and immersive media consumption rather than gaming-focused technology. A great example of this is the Oculus Go which has its own dedicated store of light VR games along with features focused on immersion in applications, movies, media, and similar audiovisual experiences.
Question: Are Tethered PC VR Headsets Good for Movie Viewing?
Answer: Yes. I think the honest and true answer to that is correct, in the literal sense. They're all extremely well-constructed headsets that are equipped with excellent displays. However,r my personal opinion is that something untethered, that is lightweight, portable and that you can take to the leisure of your bedroom is a more comfortable movie viewing experience on a VR headset. In my case, I'd select standalone headsets for media consumption for sure.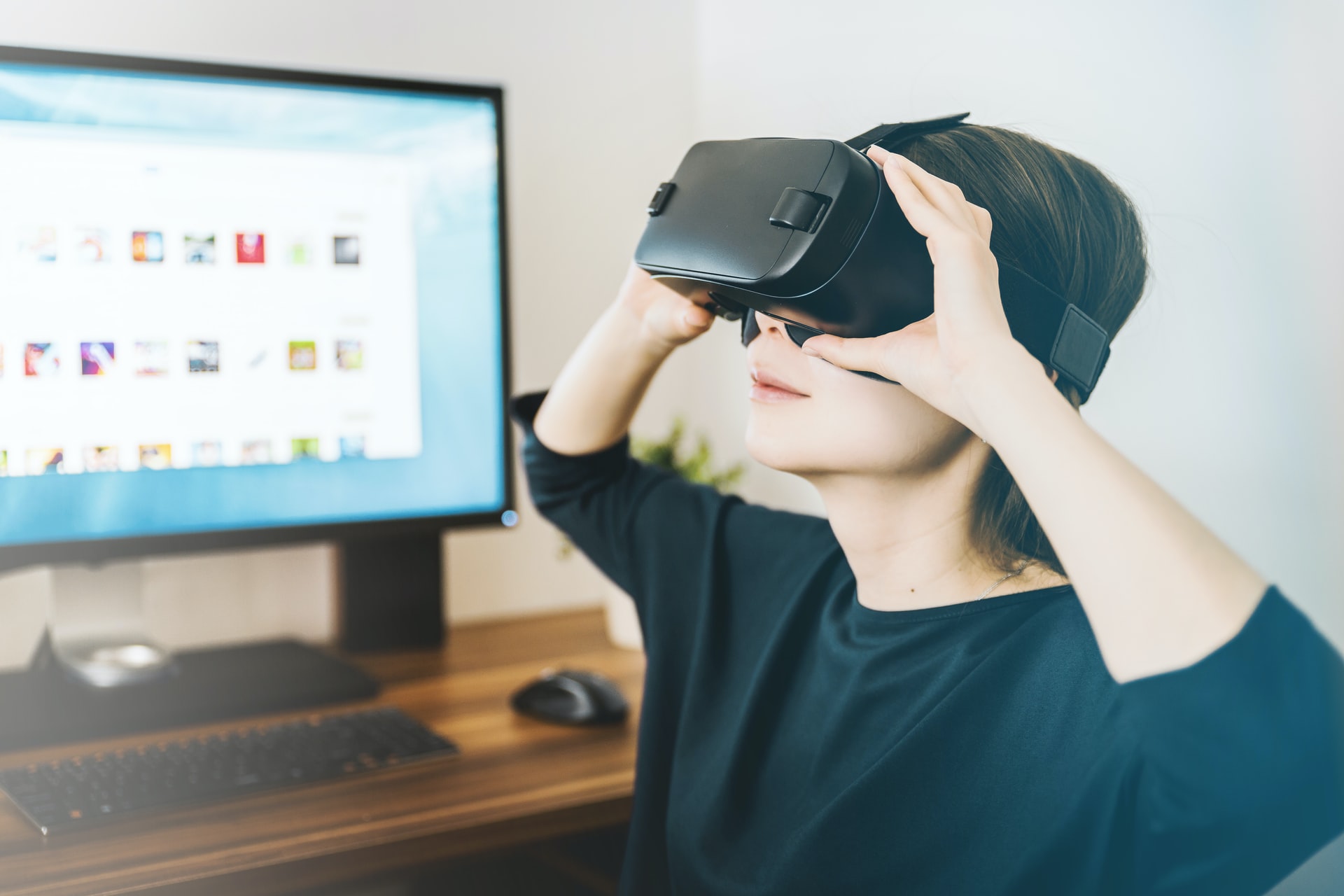 Conclusion
From the article covering a wide range and type of headsets, my personal favorite is the Oculus Quest 2, and I think it should be the entry-level suggestion to all VR users, even if they're not planning on gaming. It's an excellent investment that promises great longevity and has a ton of features to keep you excited throughout.
However, if this isn't what you're looking for, then you could choose something lighter like the Oculus Go, which is centered specifically around multimedia features and light VR gaming.
I hope the options I've listed out, specifically in my Top Picks section help you make the right type of purchase for the best VR headset for movies.