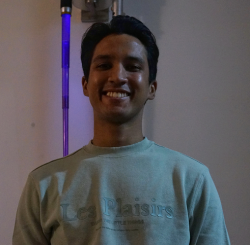 Latest posts by Sanidhya Rao
(see all)
All VR headsets are great pieces of future tech that rest on your head to immerse you in a world that's interactive and distinct from our 'normal' reality. However, when they're not resting on your head, they need to be set down somewhere, and if (like me) you've placed your headset on your gaming desk, you've probably found yourself wondering about the best VR headset stand and how to go about efficiently managing the space on your VR room to avoid clunky wires, litter, and untidy space management.
This article will explore some of the best VR headset stands that work universally with all headsets. I'll be listing some of the pros and cons of each stand, as well as caveats and pointers to keep in mind when you make a purchase for a VR stand and the criteria you should consider.
Let's not keep you standing and jump right in.
Bottom Line Up Front
I personally recommend that you consider all storage options available, including cases, wall mounts as well as hanging hooks, since they may suit your needs more than the traditional stands meant for VR headsets.
My personal favorite on the following list is the AMVR Wall Mount because I believe that's the space you should be exploiting, even though it may not strictly qualify as a VR headset stand. You may come to find that it serves you better than a stand would.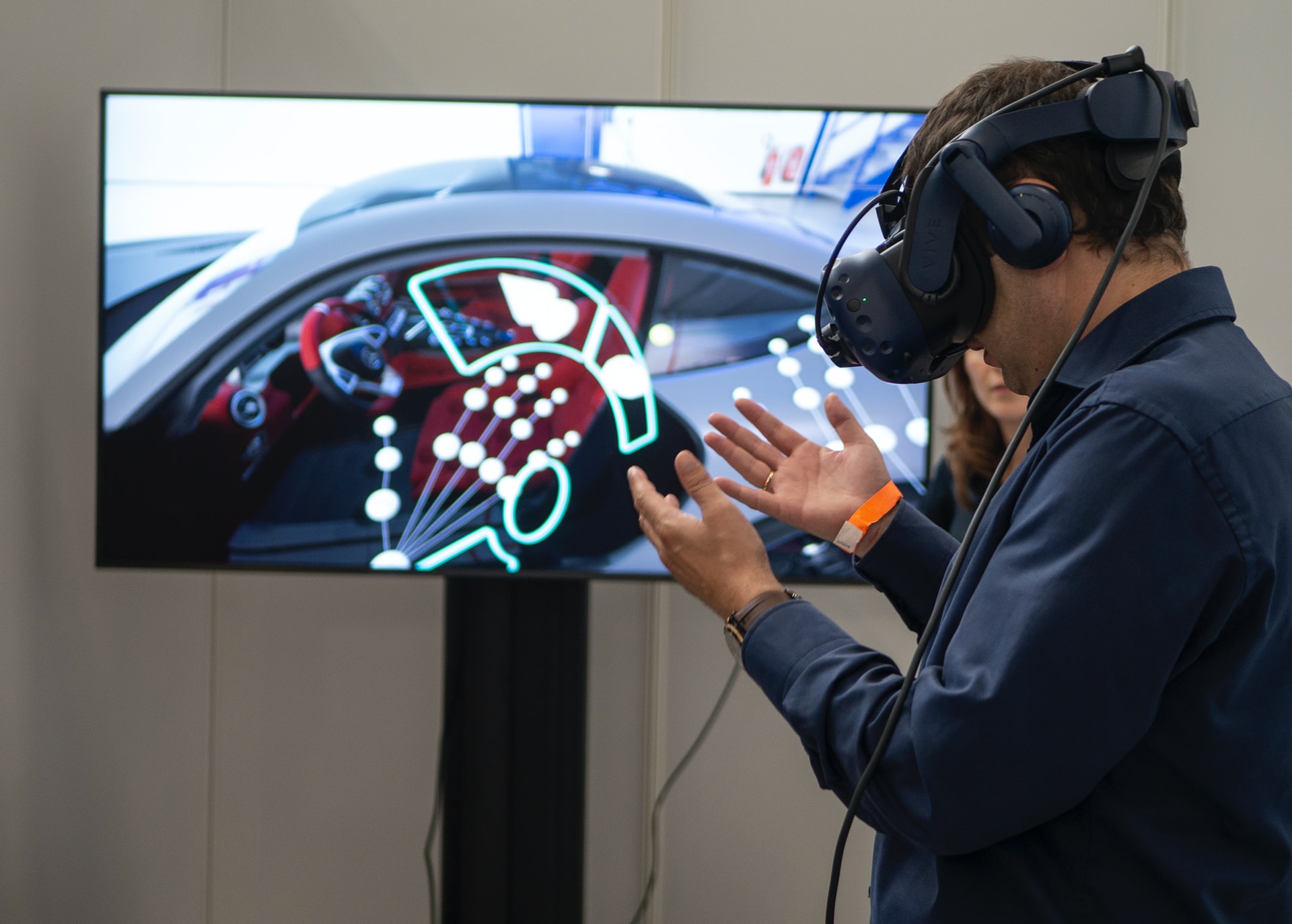 My Top Picks
The AMVR Wall Mount is very convenient and doesn't disturb your desk space while ensuring that your headset and controllers are at arm's reach and conveniently accessible at all times.
The Glorious Trident Under Desk Mount is an excellent option if you still technically want your headset connected to your desk. It mounts under the desk and uses hooks so that your headset is in an accessible space that doesn't disturb your desk surface.
The BQ SAER is a great stand if you can place it somewhere it won't get knocked over. It has excellent customizable hooks and bars for placing your controllers, cables and other headphone accessories, apart from the dedicated tray meant to hold your VR headset.
The Snakebyte Stand is a great option if you want to focus on aesthetics. This one looks like a minimally designed human head bust and stores your headset as well as headphones. However, it offers no storage for controllers.
Selection Criteria
A VR headset stand is a space management tool that physically rests near or on your gaming desk in the space where you experience VR most frequently. The reason I've reiterated my introduction with an italicization is that I need you to make sure that you're looking for the right thing and that you subsequently find what you're looking for, rather than buying into reviews for something you probably don't want or don't really need.
For this article, I've paid attention to some specific selection criteria that I think every buyer should have in mind before purchasing a VR headset stand or an alternative to the stand. These criteria include the weight of the stand itself, the accommodation it makes for the actual VR headset, whether it accommodates cables, accessories, and other accompanying VR material, and whether it has space to store or hang controllers. I've also considered the weight and robustness of the mounts since they'll need to be solid in order to support the headset. Additionally, I've considered the ease of installing them and how universal they are to different surfaces and different gaming environments.
Lastly, the dimensions of the stand and the price were also considered as relevant criteria, since these could be crucial to your purchase.
You want to have the best possible experience storing and accessing your VR headset. With this in mind, let's jump into the list of the best VR headset stands that I've looked at, used, and come to find otherwise.
The Best VR Headset Stands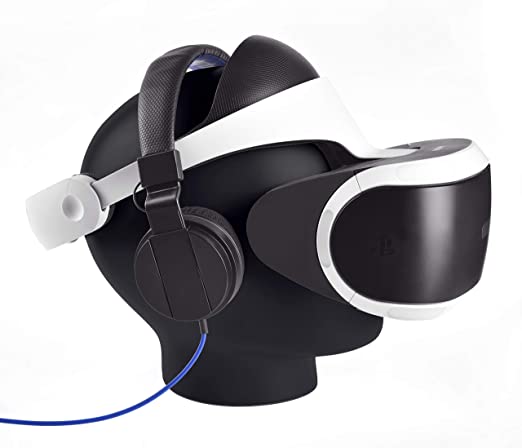 The Snakebyte stand is a bust in the shape of a head and is modeled to fit most if not all VR headsets along with the strap. It's not light by any means and weighs a hefty 2.31 lbs. This then ensures that the bust has enough balance to keep your headset upright and to stay upright itself.
While the stand is a rather good-looking addition to any room that it is added to (particularly because of its minimal design), you'd want to consider some of the caveats that come with the stand. The most obvious downside is that for all its good looks, the stand does not compensate for any space to keep your controllers. At about 10 inches tall and as wide, you'd expect some space or slots built in to accommodate your controllers, but unfortunately, that's not the case. It's one of the only downsides of the bust.
Another caveat to keep in mind is that the space management tool here needs some space to be managed to make way for itself. It's a rather large bust since it's modeled after an average human head. This means that if you have a small desk or smaller storage around your gaming area, it will cause some issues with being installed comfortably in a place where you'd like to keep it.
Since it is modeled after the human head, you can double it up to serve as a stand for your headphones as well. No more dumping the headphones on the corner of your monitor. Think of it as an actual head and just place your headphones on top. Simple!
If you need only to rest your headset and have already accommodated your controllers, and if you have the space to accommodate the stand itself, this is an excellent option. It comes in at a moderate $35 on Amazon, but it's a worthy investment if you can fit it in. It gives a particularly cool feel to your VR storage, in my opinion.
Pros
Looks, Design, Build Quality, Universal, Weight, Doubles up for headphone storage.
Cons
Size, Shape, Limited places to keep it, No space for controllers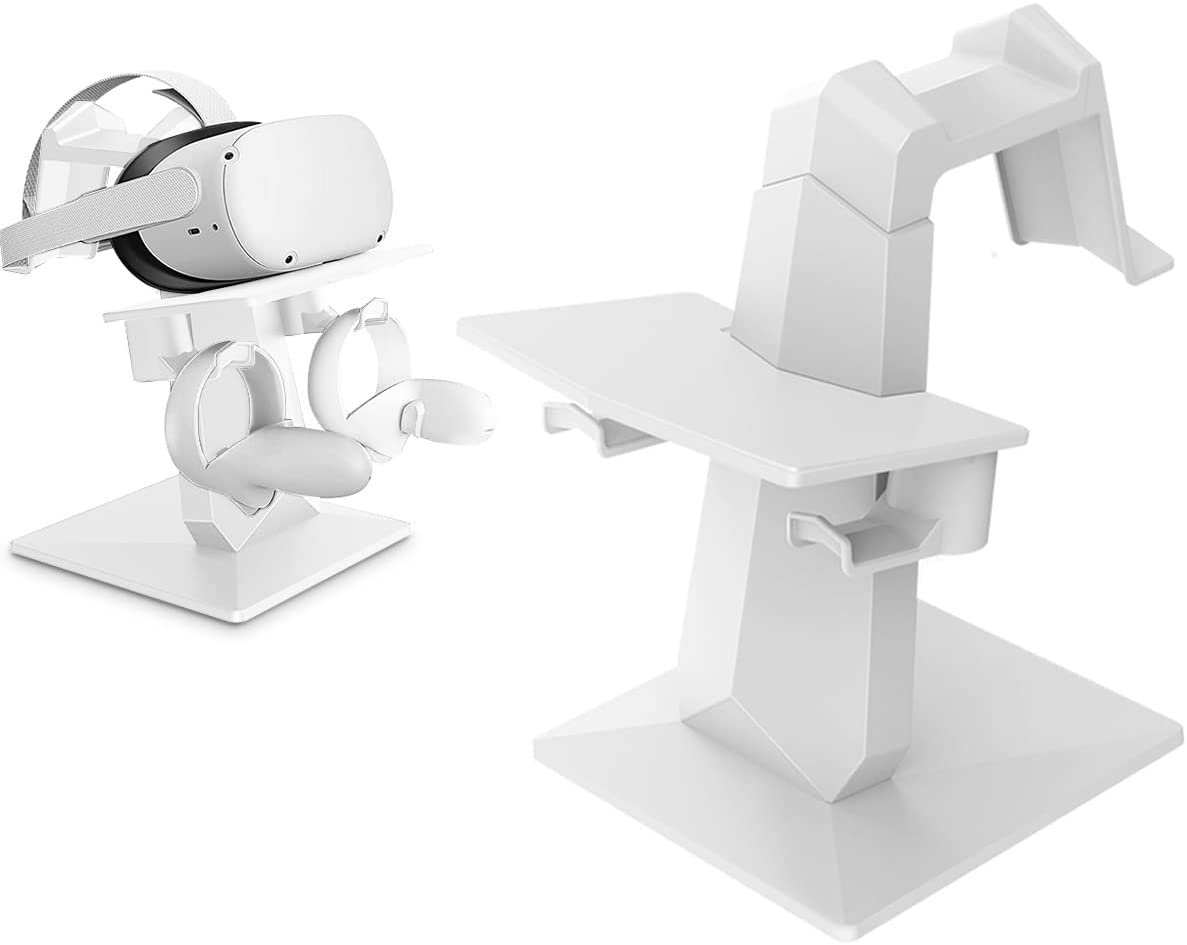 This is a simple headset stand that has an incline backward that balances your headset on it. Behind the platform that your VR headset rests on, there's an additional bar for other things such as cables, headphones, and accessories such as the headset strap, if you should find the need to store these things on the stand itself.
Under the platform where the headset rests are two hook-shaped handles that are meant to be used to hand your controllers. Unlike the bust model, this one accommodates space for the headset as well as the controllers. The added benefit of the bar on the rear of the stand makes it super convenient to store your cables, headphones, and other related VR accessories that you'd otherwise have had to shove into some drawers rather uncomfortably.
The controller hooks on the stand are rotatable and don't need to rest necessarily under the headset tray. This means that you could use them to hang additional things (probably more cables) as well as to hang more controllers or chargers. The construction of the tray is also designed particularly smartly to make sure that the lenses of your headsets are always protected and don't clash with the construction of the stand.
While the stand claims nonslip design and counterbalancing, I'm forever going to remain skeptical about this type of design, where a flat base is made to hold such heavyweights while supported only by one beam. It doesn't mean the most comforting center of gravity for the device, and the weight can tip it the wrong way if too many things are stored, which means it could result in your headset falling, or worse.
Further, no matter how good anti-slip and other technology on the headset tray is, if you knock it over, it's going to mean back things. The fact that the headset merely rests on the tray and is not attached to or mounted on anything makes the whole contraption feel rather precarious. Plus, at only 1.34 lbs, it's not the heftiest item, and if you knock it over, it's going to fling itself here and there.
That being said, the stand features a smaller, more compact design for the storage of your VR headset than the bust model. It's only about 11 inches tall and 8.5 inches wide, and 7. This means it's a lot more easily accommodated into your gaming setup.
If this size profile, build quality, and design fit the needs you want from your headset stand, it's an excellent option. It comes in at only $30, so it's cheaper than the bust and offers arguably more storage. The headset sacrifices some weight, but then it makes up for it with its light and compact design and the ability to customize storage options. It's a great option if you're looking for something easy to store and made in a more traditional design.
Pros
Design, Lightweight, Controller hooks, Bar for cables, headphones, and other accessories, Price
Cons
Lightweight, Precarious, Disbalanced relatively easily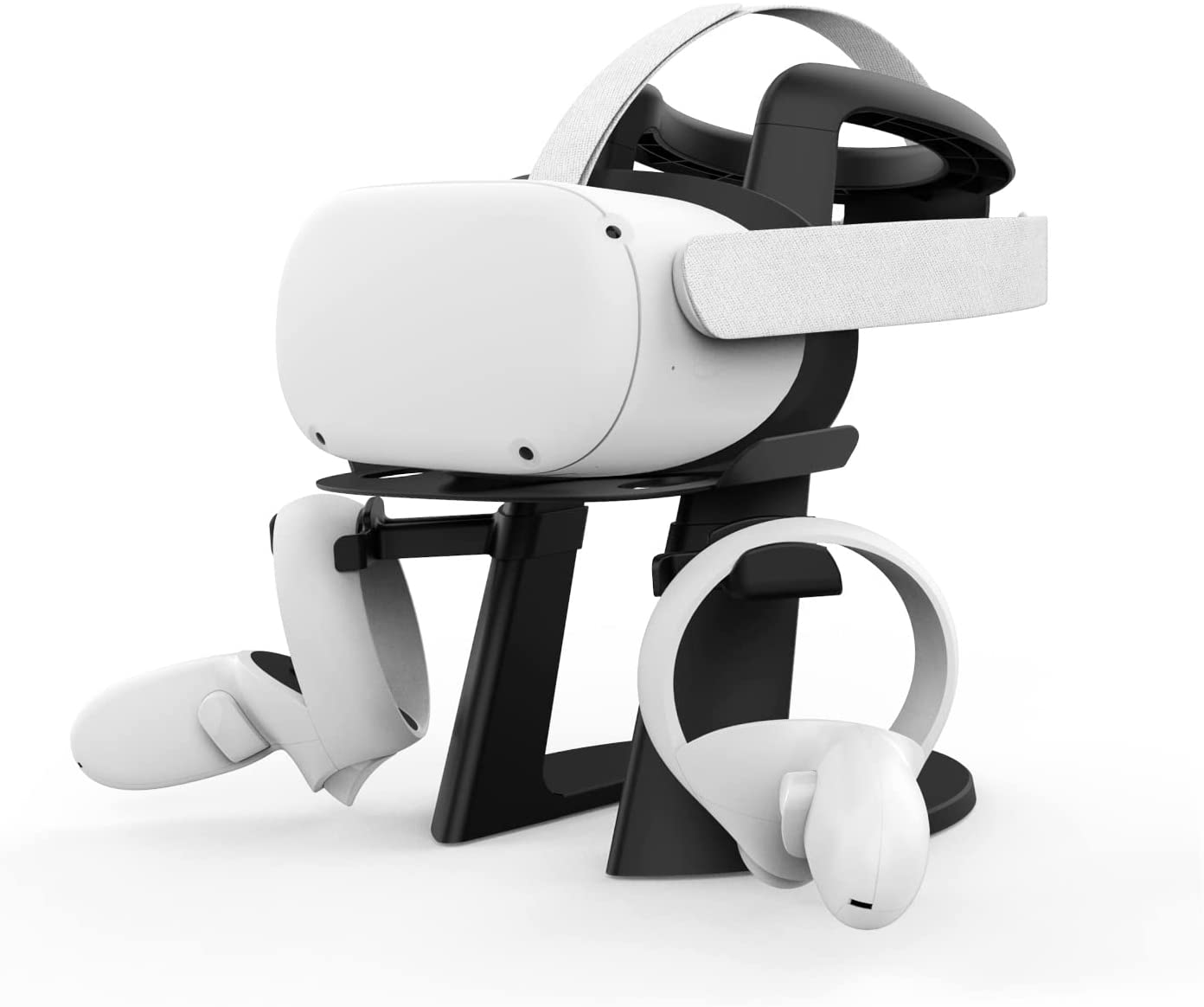 This stand is similar to the BQ SAER but comes in relatively heavier at 1.76 pounds. AMVR is an established company in the VR headset accessory space, and they've not disappointed with this one here.
There's a similar bar and hook design to the BQ SAER, with the exception that the bar at the back of the headset tray is meant to store your headset straps. You could always use this in a similar fashion to the BQ SAER, but it's better balanced if the headset rests fully on the stand. This then removes the option of storing cables, headphones, and other accessories for the headsets on the stand.
However, the hook contraption for the controllers is wider, which is good in some ways, such as the center of gravity for the controller. However, this means it's less adjustable and movable than the BQ.
All in all, it's a good headset stand with many of the same features as the above-mentioned BQ SAER. It includes a lens-friendly tray for the headset itself. The stand itself features two legs heading down towards a rounder base that gives it a better balance than the BQ SAER. It's slightly larger and harder to place, but it wins out where sturdiness and balance are concerned.
It also retails at slightly higher than the BQ SAER at a $36 price, but it generally stays discounted on Amazon, so you could find it for as low as $23. If you're looking for something similar to the BQ SAER and want a sturdier build from a more reputed brand, then this is an easy option to suggest. It's rugged, well designed, and heavier to make sure your headset stays protected and stays accessible in a neat way, along with the accompanying controller.
Pros
Weight, Price, Build quality, Balance
Cons
No storage for accessories or headphones, Controller mounts are not very rotatable.
Alternatives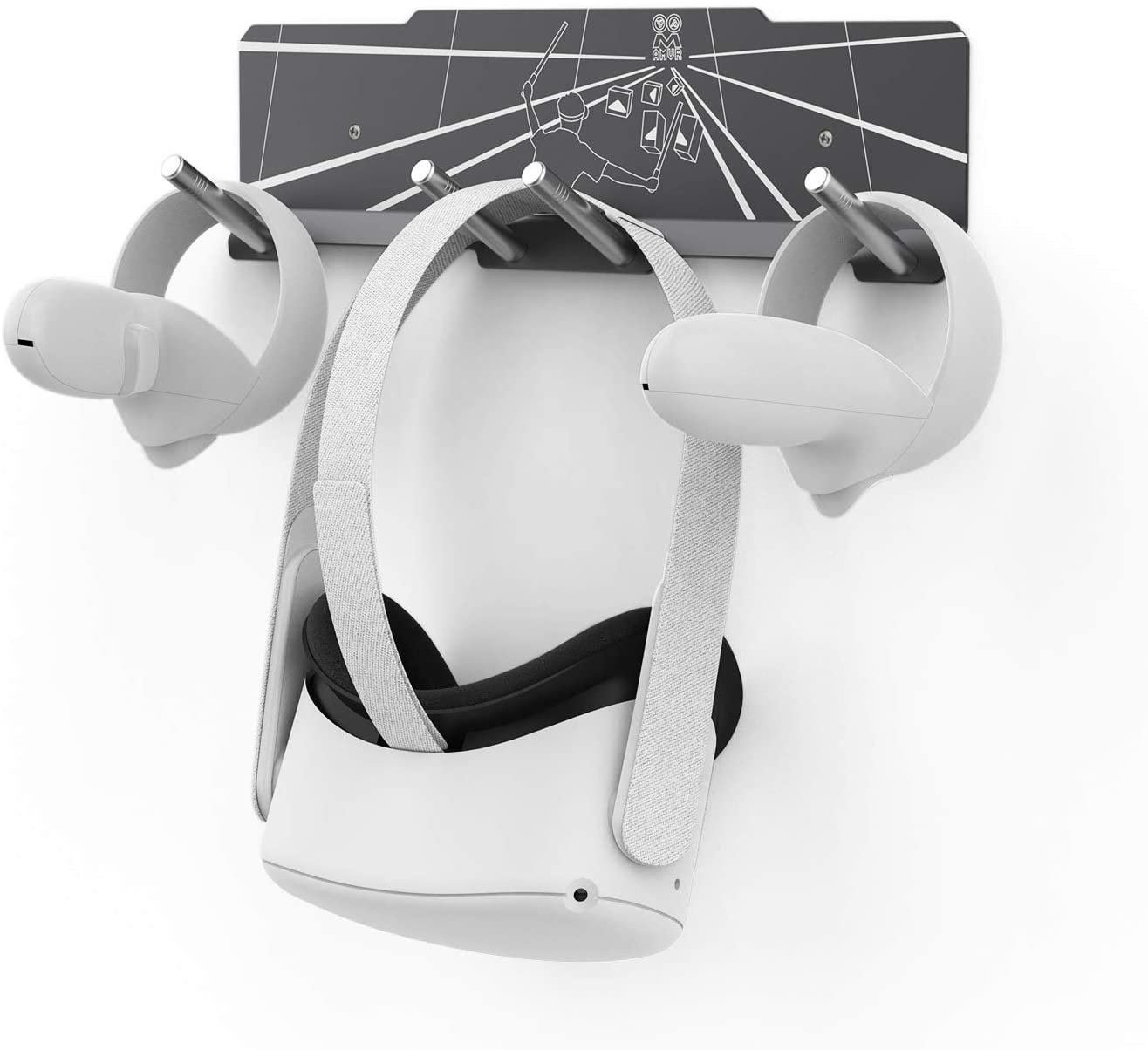 The AMVR Wall Mount Stand is something that I like a little more than the previously mentioned options.
It's a stand comprising of three hooks that are placed on a flat surface that is then vertically mounted on your wall. Two hooks in the center accommodate your headset along with the head strap, while one hook on each side of the stand is meant for each of your controllers.
Since it is made from an aluminum alloy, the stand is extremely light, weighing just under 10 ounces. However, the weight of the stand will not be a concern at all for you since it will be mounted on the wall.
There are two ways to mount the headset on the wall. There are 3M stickers that are double sided come in the box that you can use to stick the headset to your wall if it's flat and you're confident the wall will not chip or break away due to the weight of the headsets.
Because of this last issue, I would personally suggest using the screws and sleeves that are provided in the box to install the mount properly in a permanent place. This will negate any risk of your mount falling over if the wall is damaged since the screws will stay firmly in place and will not budge.
The advantage of the mount option is very appealing. It takes up no space on any surface you keep things on. There's enough space on your wall (probably close to your desk as well) that will be able to accommodate the stand. It takes up about 13×4 inches, so it's very compact and takes up virtually none of your aesthetic space. You can pick stuff up at a glance and put it back conveniently.
The disadvantage is that if you want to have things organized on your desk, this isn't the way to go. You're going to need one of the above-mentioned options in that case. However, if you're looking for something that doesn't take up space on the surfaces that you use or need to place things on, and you want a convenient 'pick up point' for your headset, I'd say this is a very sound purchase to make, especially since it's only at $20 on Amazon.
Pros
Wall Mounted, Doesn't take up space on the desk, Lightweight, Convenient pick-up, Price.
Cons
Not desk-based, 3M Stickers are precarious, Not a Stand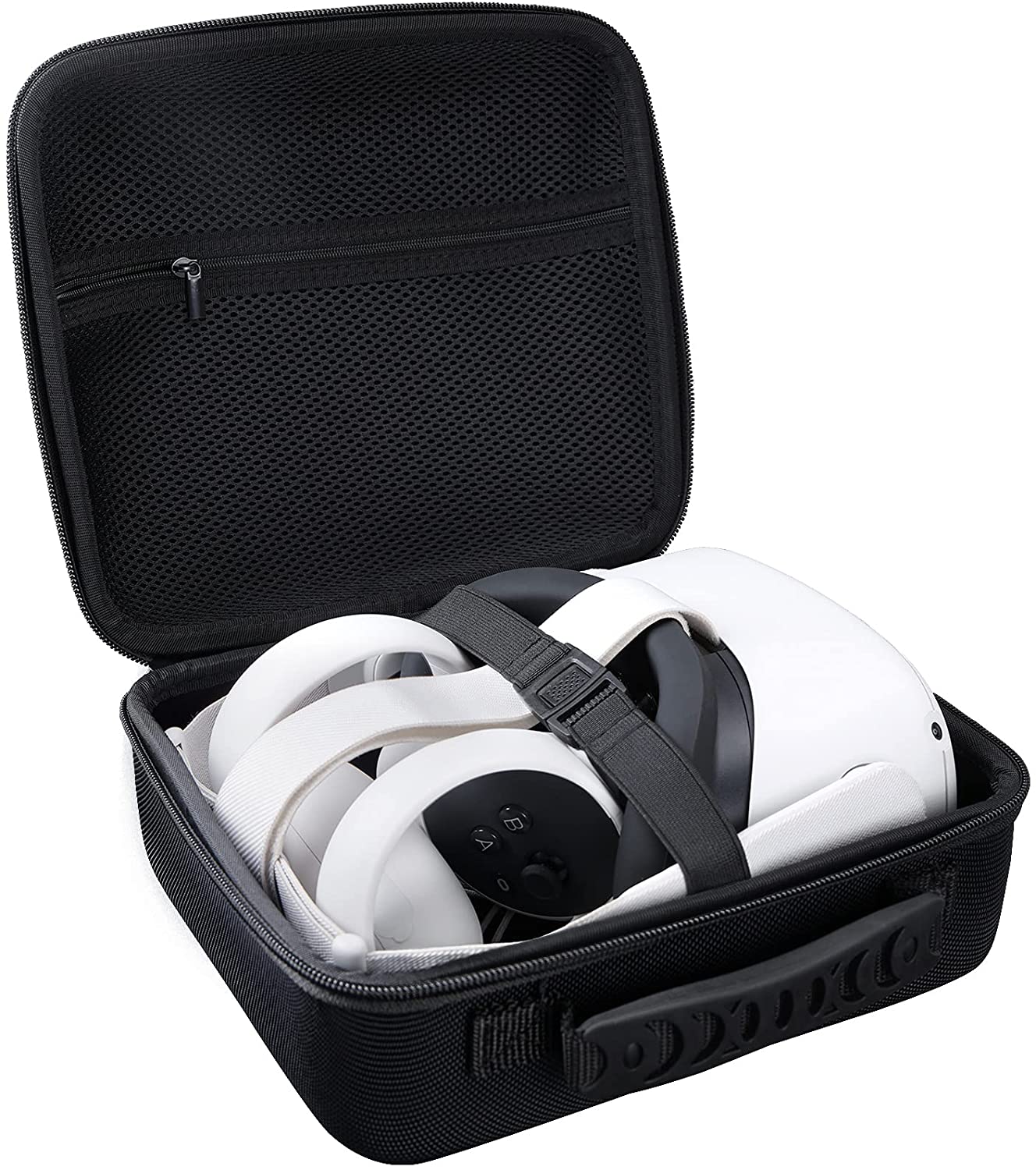 This one isn't precisely a mount for your headset. It's strictly a carry case, meant to serve as a portability enhancer for your headset. While this will not help you particularly keep the headset accessible on your desk, it's an excellent alternative to traditional VR headset stands.
The advantages here compared to traditional mounts are actually surprisingly great. Firstly, since there is a lid to cover the headset at all times, there's more protection for the headset from dust and other elements.
Further, there is the obvious advantage of being able to carry your headset to a different environment to set up your VR space. You could use this to carry a standalone headset or to go play over at a friend's house on their PC if your headset is of the tethered variety.
There are elastic bands inside the case to hold down your controllers and your headset, and there is also an additional zip pocket on the inside of the lid for storing all of your cables and additional lightweight VR accessories.
However, if you're not looking for this type of storage and want your headset more visibly accessible in your space, then you'd be better off with some of the aforementioned options. In the event that you want something that offers this type of protection, cushioning, and convenient portability, then this is a great purchase option for you.
At $30, it's a little expensive for something that doesn't strictly constitute a stand. However, if you consider the possibilities such as storage under a desk, bed, or around other furniture such as on a rack or on a closet, the possibilities are expansive, to say the least, and it does offer a lot of value for the price.
The case is slightly hefty at 1.21 lbs. It sizes in at about 12 x 8.5 x 6 inches. If you consider the drop protection and the storage expansions, plus the portability offered, I think both of these specifications are justified, in my opinion.
So, if you're looking for something that falls in between portability and a storage option for your headset, I think this is a great product that is a little out of the box as a stand but is by no means lacking.
Pros
Protection, Portability, Compact, Convenient
Cons
Price, Not a Stand, Clunky on a desk, Weight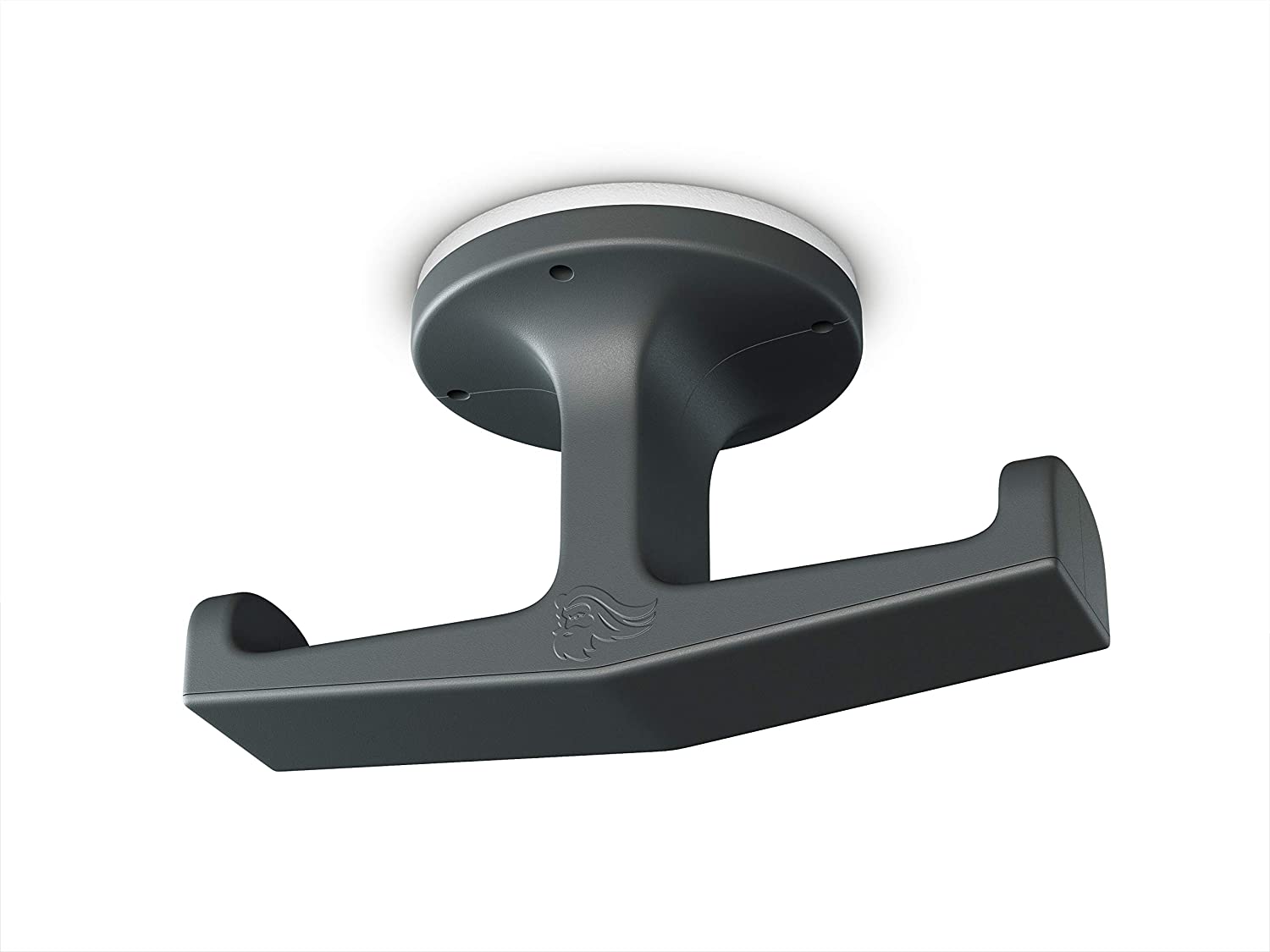 This option from Glorious Trident is extremely good-looking and serves multiple purposes. I personally love the minimal thought behind this, in spite of which it ends up serving multiple functions that you may not even realize you needed to be served.
The Under Desk Holder is meant for headphones, accessories, cables, controllers, and (yes, you guessed it) headsets as well. It's a two-pronged mount that is installed inverted into the underside of your gaming desk. This means on either side, you can store things of your choice.
The arms on either side are fairly long and can easily accommodate a headset strap, a pair of controllers, and a set of headphones. If you're feeling particularly brave, you can try to put some cables on there as well. There's nothing to worry about with the weight load, as the company claims it can support up to 20 lbs on the adhesive.
The adhesive, however, is not particularly universal. If you're using something similar to Ikea desk materials or polished wood or TPC, then you'll face absolutely no issues. The surface just needs to be slick and have a few grooves as possible, however, if there are gaps and grooves in the texture of your desk (or, more aptly, the texture on its underside), then you're probably not the ideal customer for this product.
The clear advantage of this one is that it takes up no space on your desk and makes sure you have space to keep the stuff you need on the top side of your desk at all times. If your desk is high up enough, then this shouldn't be an issue to keep. It's best for standing desk users or users that want to install it somewhere other than their desk.
However, if your desk is particularly small, or the leg space is cramped, it's likely that sitting use will make this clash with your knees and legs since the arms take a little bit of space by themselves and can get a little clunky with all the accessories and tech that you'll choose to hang from it. The weight of this particular contraption is irrelevant since it will be resting on the underside of your desk and does not need to be particularly weighed down.
That being said, there's a minimal price point of about $15 on Amazon. For the functionality it offers, it's an excellent purchase, and if, like me, you'd rather leave the top of your desk as it is, it could make an excellent storage option if you're looking to strictly add items to your desk.
Pros
Support for heavyweights, Versatile, Universal, Doesn't clutter desks, Easy to install with adhesive, Price.
Cons
Not strictly a stand, Not universally installable on all desks, Potential clashes with legs and knees
Frequently Asked Questions
Question: How do I Store my VR Headset?
Answer: The best way to store your VR headset, in my opinion, is to hang it on your wall or to keep it on your desk, placed comfortably on a stand or a mount such as the ones I've mentioned in the article.
Question: Do all VR Headset Stands Need to be Installed with Screws and Drills?
Answer: No. All stands and mounts do not need such serious installations. They're made with users in mind, and you'll easily be able to find something with stickers that are 3M adhesive and can stick to surfaces such as your desk or your wall.
Question: Can VR Headset Stand Charge Headsets and Controllers?
Answer: No. Unfortunately, most stands will not accommodate this feature since there aren't universal charging points and universal sizes for all headsets on the market. However, there are some cradles and charging docks meant specifically for your headset and your controllers that can keep them charged and ready. They're about as bulky as most stands and need to be plugged in to function, but they work pretty well. I've discussed one such dock for the Oculus Quest series in my article here.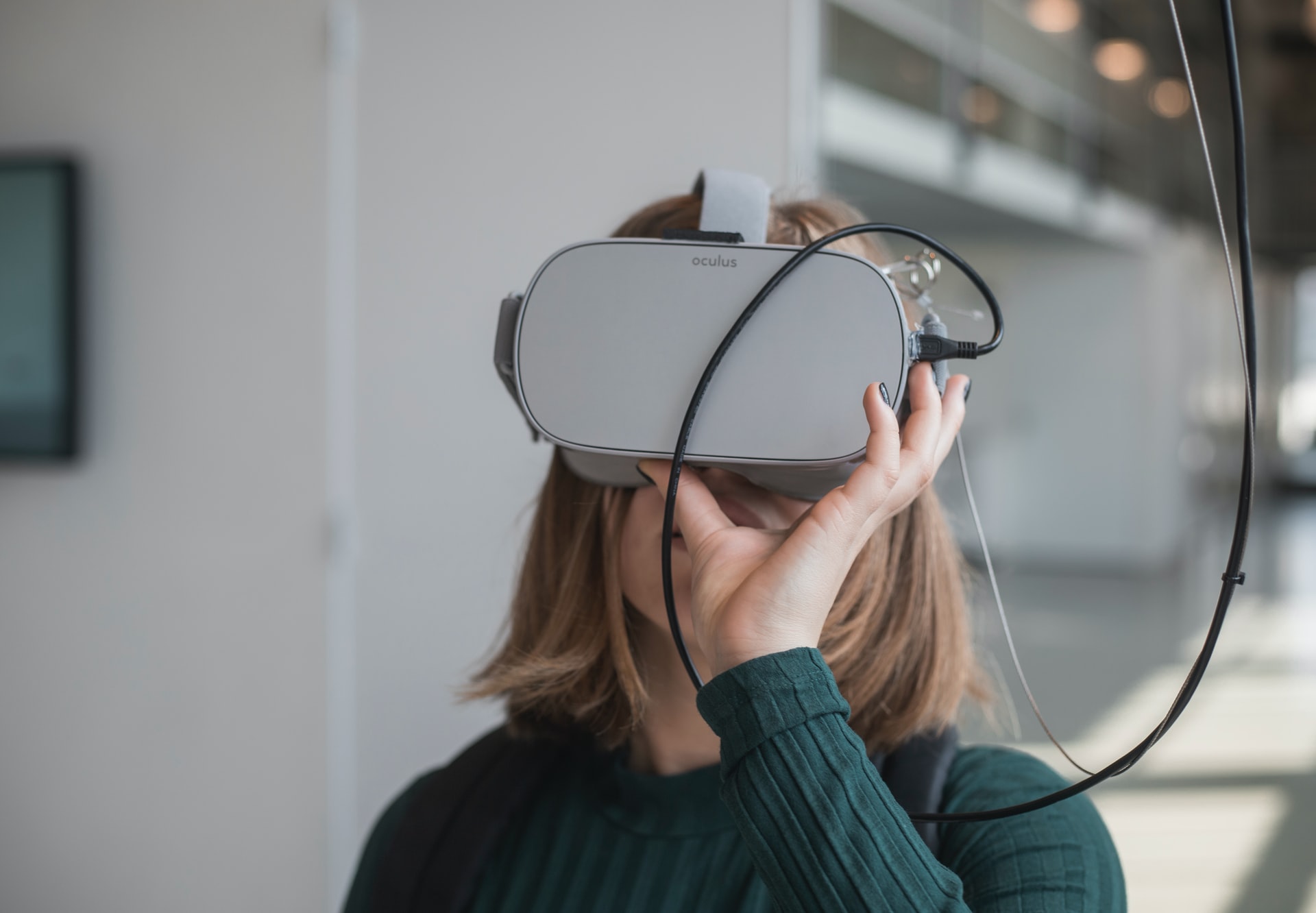 Conclusion
There are a number of headset stands available in the market that can accommodate things such as your VR headset, your controllers, headphones, cables, and other accompanying VR accessories.
This article starts with the Snakebyte Stand which is a bust stand in the shape of a human head that looks very cool and can house your headphones and headset.
On the other hand, stands that have a more traditional design with hooks and bars, such as the AMVR and BQ SAER ones discussed in the article, are great options as pieces to rest on your desk.
I personally suggest an alternative such as a wall mount since it doesn't have to clutter any frequently used surfaces.
You can also opt for a carrying case as a storage option if you need more versatility from your headset's place of storage.
Lastly, there is the option of a mount under a desk that acts as a hook for all your cables and accessories and supports your headset as well.
I hope this article has helped you figure out the best possible VR headset stand and the right purchase decision you should be making.
Continue reading:
The Best VR Headset for Xbox One