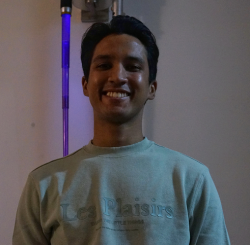 Latest posts by Sanidhya Rao
(see all)
As a sim-racer, you will need a setup that simulates the experience of driving a car. This means that you should ideally have a VR headset for an immersive experience. However, the most essential thing to have is a good steering wheel. If you're looking to buy a racing wheel for your sim racing experience, this article will offer you the best VR steering wheels guide. This is essential to your setup since your immersion in the racing experience will depend on how your wheel and headset setup feel in the game.
Let's jump right in.
Bottom Line Up Front
My favorite wheel to recommend is the Thrustmaster T3000RS/TX. This wheel is easy to use. Offers two pedals and some of the best feedback and haptics at this price range. The wheel is a complete package, with some of the easiest to use controls and a relatively easy setup to put the wheel in place.
However, there are several excellent options in the market, available at different prices. In the next section, I'll discuss some of my top picks as the best VR steering wheels.
My Top Picks
1. The Thrustmaster T300RS/TX is the premium option with the best force feedback on this list. It's premium, easy to set up, and offers great feedback.
2. The Logitech G29/G920 is a better option for anyone with a console. The variants are meant for Xbox and PlayStation. However, both are compatible with PC. It's also a solid construction of metal and leather, making it feel premium.
3. The Thrustmaster T150/TMX is the budget option on my list. Its price point is the reason it makes it to the list. It's one of the best entry-level wheels for light gamers.
Selection Criteria
The selection criteria for this article include, firstly, the build quality of the steering wheel. The size and dimensions are very important for making a racing wheel feel real in VR sim racing.
Secondly, the wheel's grip is very important since it's going to be what you're holding on to most frequently. This needs to be comfortable and easy to clean and manage.
Next, the force feedback in the wheel is extremely important. This is what makes it immersive, in my opinion. A good haptic or vibration motor in the steering wheel can set it apart from the competition. This will make or break an immersive sim-racing experience, in my opinion.
Lastly, the price of the controller will be an important factor in my selection. I'll try my best to cover steering wheels spanning a wide range of prices.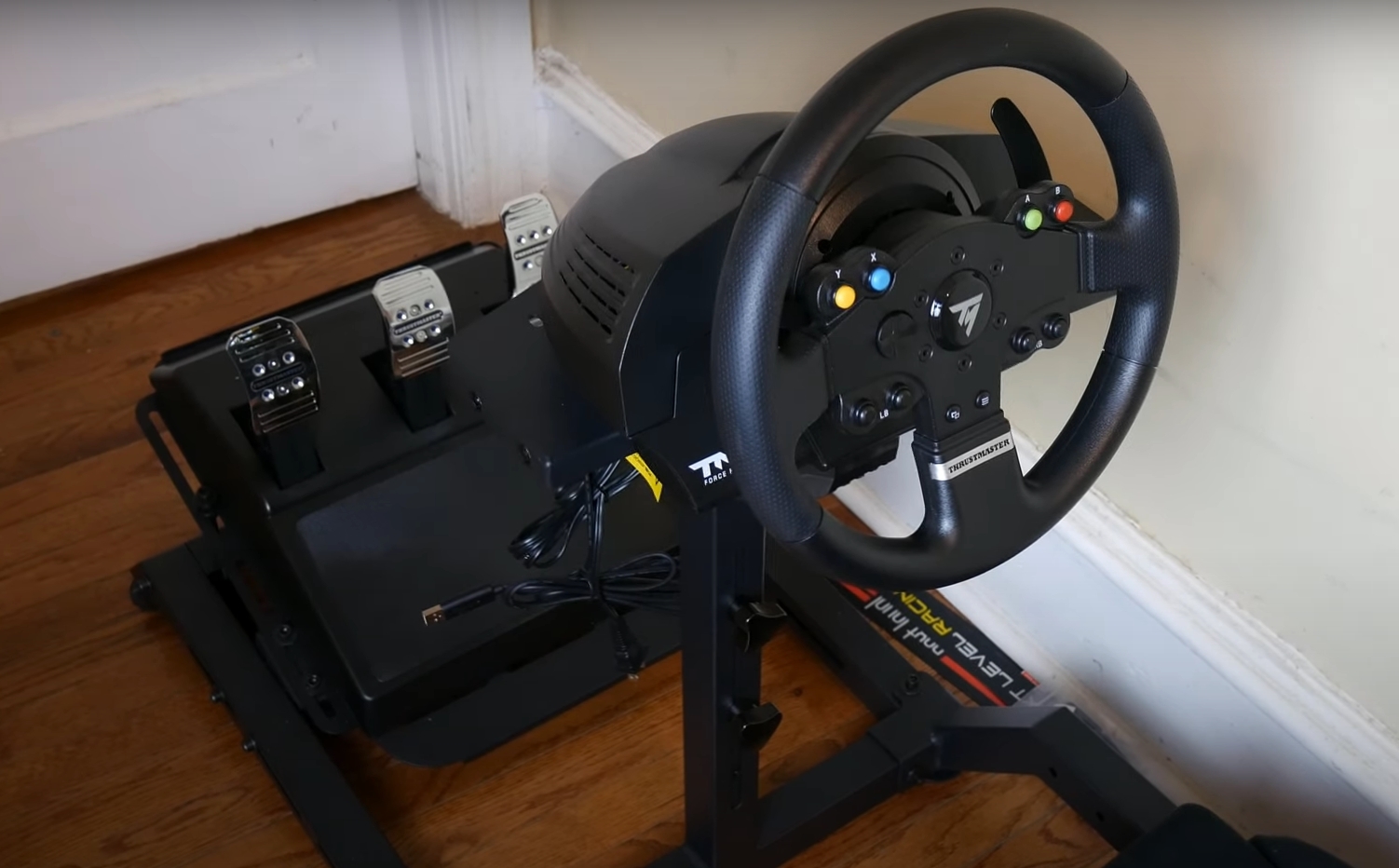 How to Set Up Your VR Steering Wheel
You want to have a solid racing experience, and the last thing you need to be worrying about is your wheel not being secure or your pedal slipping away. It's important to keep it in place at a good height and ensure that the wheel and pedals are well spaced.
It's also infinitely more annoying if your steering wheel moves and you have to take your VR headset off to readjust it.
Most of the wheels on my list will have bolts to screw and hold the wheels in place on something like a desk. You'll have to keep that firmly in place and be wary of the material of your desk and how much friction it offers.
Moreover, you want the placement to be in a place with enough room for movement and ensure that you can get in and out of the setup quickly.
This means that your primary option will likely be a desk setup. If you opt for this, you may need to figure out how to place a screen on the desk. Further, if you don't play too frequently, you'll also have to figure out an efficient way to remove and reattach the steering wheel to the desk.
However, if you're comfortable with your desk and don't want to add all the components of racing set up to it, you can buy a wheel stand gadget and set it up elsewhere. These will accommodate your wheel and pedals and can be adjusted for size. It also represents the driving position more accurately than a desk would.
It's important to find a comfortable setup that you can easily access. If it's difficult for you to access the setup, playing your favorite racing game in VR can feel like a chore. It shouldn't so keep that in mind when you set your wheel up for sim racing.
Best VR Steering Wheels Guide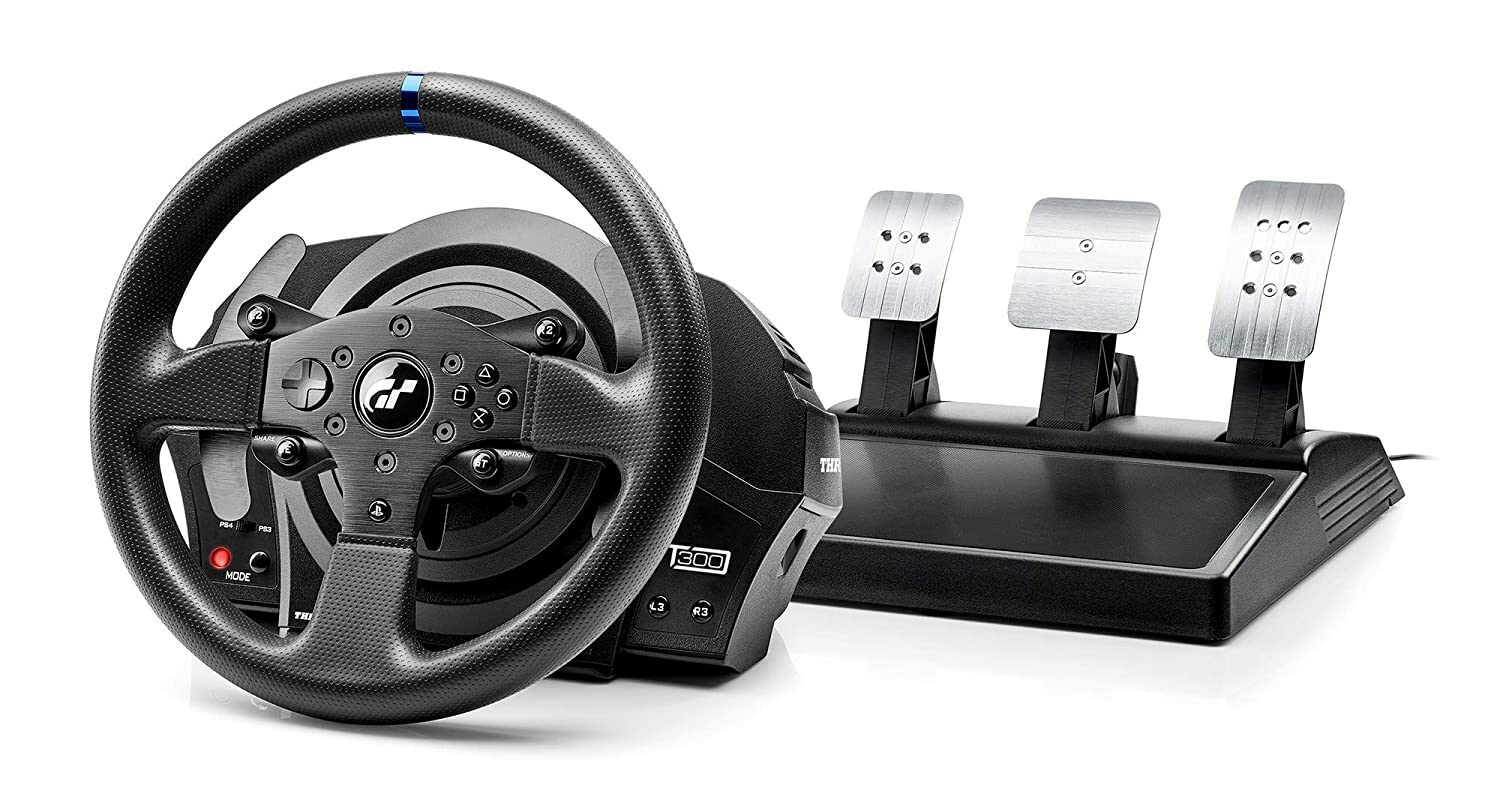 The Thrustmaster T300RS/TX is a great entry-level steering wheel.
The wheel has a rubber finish, with no dedicated grips for the holding areas. This isn't an issue, though, since the rubber finish itself is high quality, and it doesn't catch a lot of dirt and grime. It's a fairly heavy wheel. However, since you'll likely have it attached to a permanent location, that shouldn't be too much of an issue. You can, however, replace the default rim with something in a more premium finish.
There isn't a dedicated grip so much as an all-around rubber construction. It isn't the most premium build. However, it serves the purpose and does a good job of staying clean. It's finished well enough and is not an issue. The steering mechanism is also very realistic, and the motor does not feel like it's impeding your experience at all. The base is very well constructed, and it feels like the real thing.
The TX is a variant of the exact same wheel. However, it's slightly lighter and has a Ferrari edition. What the lightweight construction means is that the same haptic motor gives stronger feedback since the heavy wheel is harder to move. However, the force feedback on this series of wheels is excellent.
It really rattles, and you get a very realistic feel for how the car is feeling. It's not as intricate as something like a DualSense controller. However, as far as steering wheels go, this is one of the most premium feedback experiences.
The wheel retails at around $300, depending on which version and which bundle you pick up. It's a great deal for the price. It doesn't feel under-priced or overpriced, and it pretty much nails the pricing for the package that the wheel seeks to deliver.
Pros
Force feedback, Build Quality
Cons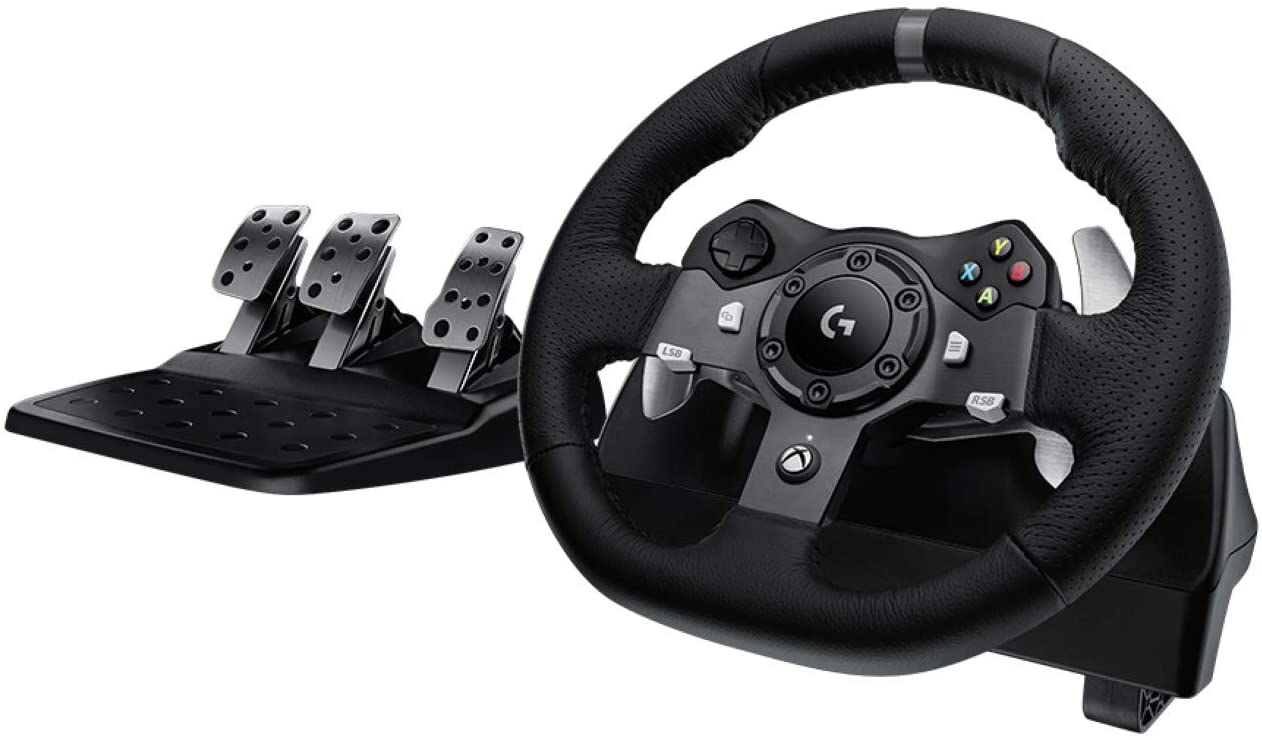 The Logitech G29 is the variant of this wheel for the PlayStation, while the G920 is meant for the Xbox. There are also a few more buttons on the PlayStation variant of the wheel. However, the other features and specifications of the wheel are identical.
The wheel has a metal construction and is wrapped in leather. It's a premium feel and is very easy to clean. Moreover, the leather doesn't wear out very fast. This means that you can comfortably use it without needing a cover.
It's a premium build for sure. The metal surrounded by the leather really makes the whole construction feel solid.
The wheel offers great feedback as well. It's built to support up to 900 degrees of rotation. This means that the freedom of movement in the wheel is very high. The feedback motor is strong. It's not as great as the Thrustmaster T300RS. However, it does a great job of depicting force feedback from a car.
The wheel is priced slightly high at $300. It's a good wheel. However, putting it at the same price point as the Thrustmaster T300RS is unfair. The wheel is not as good as the Thrustmaster, in my opinion, and that makes this price feel a little high. Apart from this factor, it's an excellent wheel to get started with sim racing in VR.
Pros
Force feedback, Build quality, Materials
Cons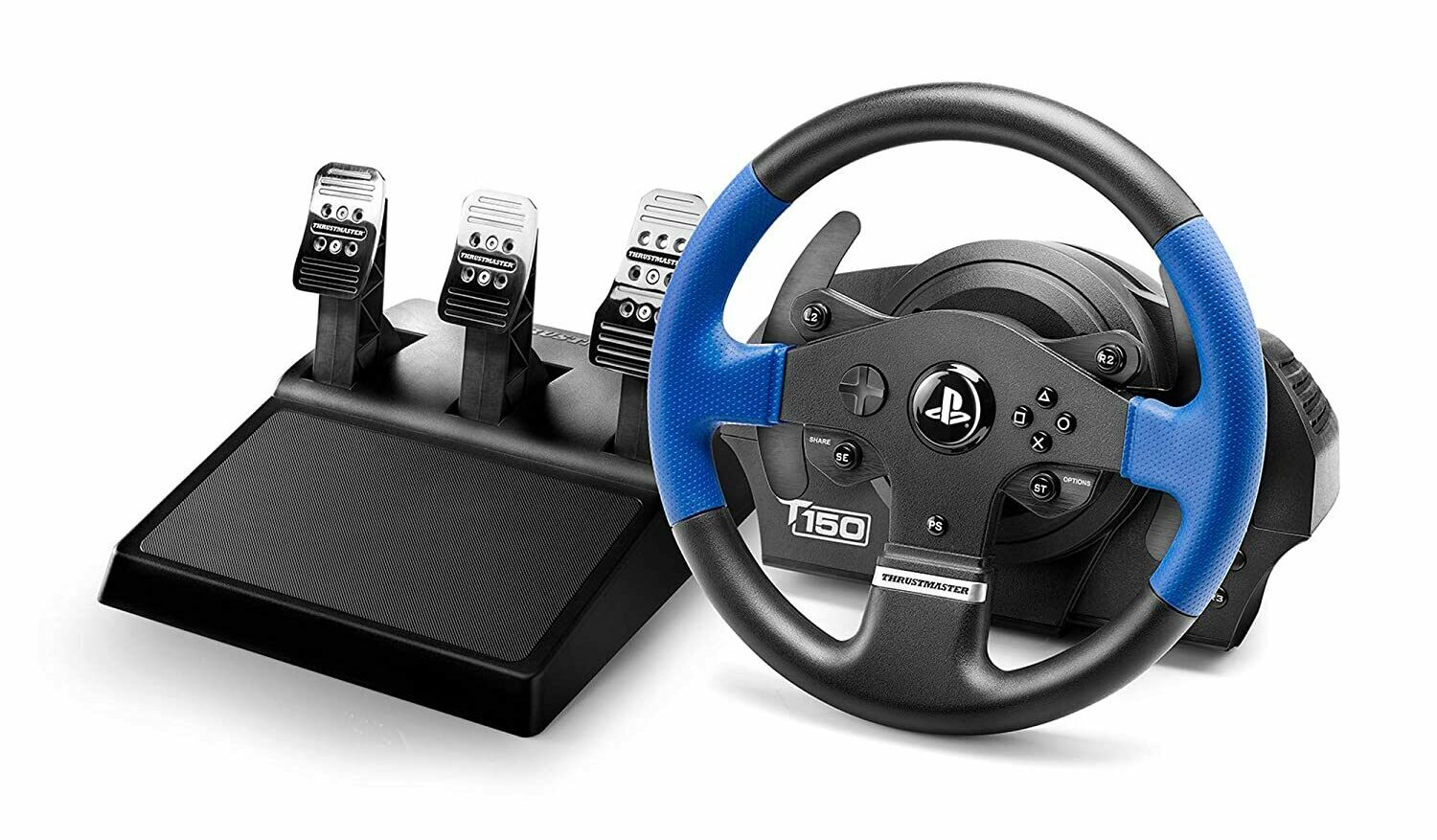 The Thrustmaster T150 is the budget option on my list. It's a solid option if you're an entry-level or intermediate player. If you're not playing racing in VR too seriously or are on a tight budget, this is the one to opt for.
The wheel is coated in rubber, which is understandable for something this price. It's only 11 inches in diameter. However, it supports up to 1080 degrees of rotation, making it very versatile for different types of racing games.
The construction isn't very premium, but that's understandable at this price. It only does its best to meet the bare minimum requirements for being an entry-level steering wheel. This means that it isn't poorly constructed by any means, but it isn't anything special.
The force feedback is very basic without high-quality intricate haptics. It's a decent vibration motor that does the job and lets you know how the car is feeling. It's immersive enough, but it obviously doesn't hold a candle to the two wheels mentioned above.
The wheel is priced at $150. This is what really makes it an interesting option, in my opinion. This budget pricing makes it a very promising purchase for anyone who is not too serious about the wheel or is not a very heavy sim racing gamer. This is one of the cheapest options on the list, and that's one of the reasons it's on the list in the first place. All in all, it's a solid option at a price.
Pros
Price, Weight, Availability, Ease of setup
Cons
Build quality, Lack of features, Force feedback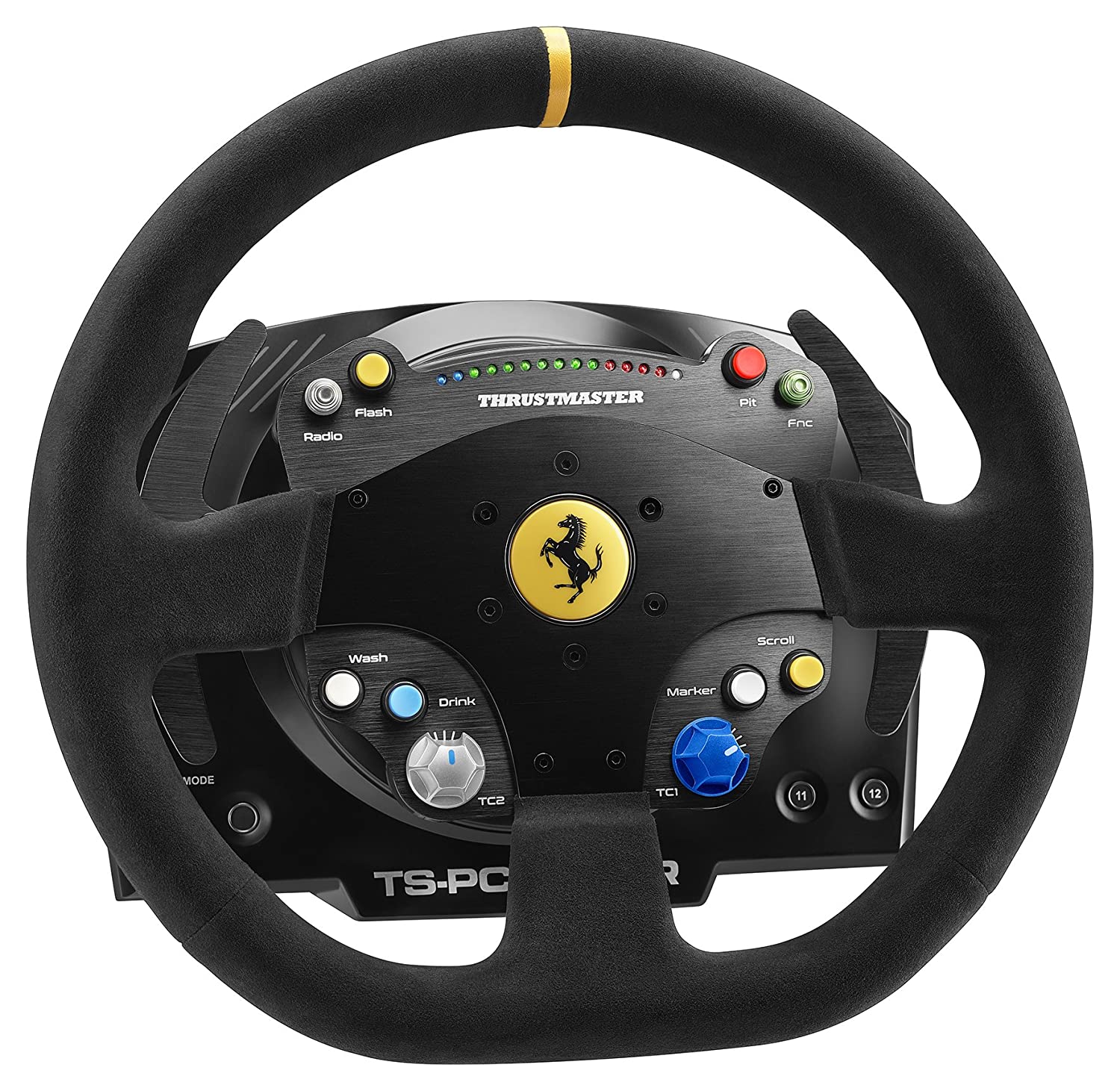 I'm going to include this more premium wheel on this list. It's a PC exclusive that won't work on consoles, but the construction and design are unmatched, in my opinion. It looks incredibly similar to some Formula 1 car wheels, and it does a great job of replicating the design elements.
The knobs on the steering are also very representative of the actual thing. It's also built very heftily and is fairly heavy steering to set up, so you might want to find it a more permanent spot in your gaming room. The grips on the steering are suede, so you'll have to be careful to keep your hands clean, literally, as you play with this wheel. The paddle shifters are also very tactile.
The force feedback on this one is incredible. The hefty motor at the back of the wheel does not make any attempts at being subtle, and you can clearly see the weight it packs. It's amazing for games like Assetto Corsa or iRacing. Particularly, it's great when you're playing anything involving an F1 car since it's almost like the wheel you'll be seeing in front of you.
The wheel is a more premium model than the aforementioned ones. It's priced at roughly $500, and you'll need to spend a little extra to get pedals to accompany it. Overall, if your budget can stretch this much, you should opt for this wheel as a premium option that is made of high build quality and great materials.
Pros
Force feedback, Build Quality, Design, Materials
Cons

The Fanatec GT is a hefty wheel that l has a number of controls on its face. It looks like something close to an X-fighter from Star Wars. There are trigger buttons in the center that add functionality to the wheel.
The wheel itself is built very well with metal construction. The upper half, that you will hold for gaming activities, is covered by a rubberized grip. This is hard rubber and will withstand the tirades of time and grime. The bottom half is exposed brushed steel. This makes it feel very premium. The grip itself is also very well made, and long hours of holding it will not make the nubs dig into your skin. It's soft but also feels very solid at the same time.
The force feedback on the wheel is fantastic. It's a solid base, so the feedback is consistent, to say the least. If you go over the wrong end of the curb, you'll feel is very evidently. Even when you're oversteering or understeering, you can tell the feedback getting stronger as your tyres give out.
The wheel comes in at a hefty price point of $600. It's already priced on the higher end, however for pedals and a complete set up, you'll have to dish out more money. Pedals, stands and the ancillary technology for this wheel is particularly pricey and you'll need to be on the higher end of what you're willing to spend.
However, it's an excellent wheel. What really sets it apart is the build quality and the numerous controls that the keyboard provides. The triggers, knobs, analogs and buttons are enough to make it feel like you're driving the new MCL36. It's a great option for anyone who can afford to buy it.
Pros
Build quality, Materials, Grip, Force feedback
Cons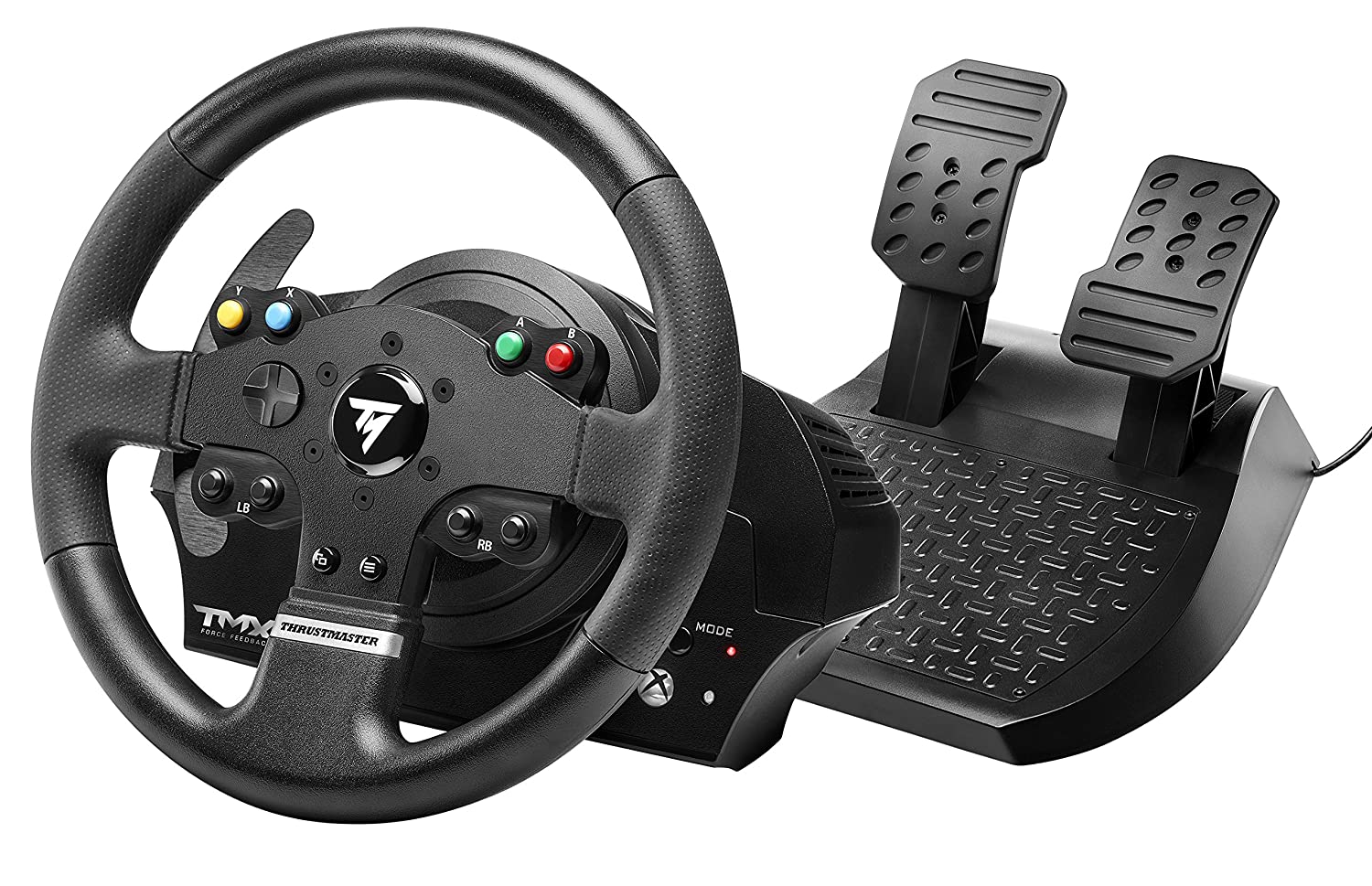 You can gander a guess as to which category this particular wheel focuses on. That's right. It's a wheel that puts the entirety of its specialisation on the force feedback.
The wheel isn't a premium build by any means. It's built on a plastic base, with a hard plastic construction for the wheel itself. The wheel is rubberised on the sides, where the grip is. It's not a very premium grip, but the advantage of that is that it doesn't get dirty very quickly.
The force feedback is the same as the T150. However, it feels slightly less powerful than it, since the base is a little less solid. However, it's not poor by any means. It's excellent feedback, and certainly the only premium aspect of this wheel.
The wheel retails at around $300 with the pedals, but it can be found for cheaper at resellers such as GameStop. It's a great entry-level wheel that feels a little more premium than the T150 at times. It's excellent if you're a light or new gamer in VR racing.
Pros
Force feedback, Weight, Price
Cons
Driving Stands
It's likely that you don't want to make your desk your primary gaming area for racing games. In that case, you'll want to purchase a driving stand that let's you sit in a different dedicated space in front of your desk to enjoy your VR racing.
I'm not going to go into detail and compare the stands I list out or go into details about their pros and cons. However, I'll try to keep the list diverse, so you can decide for yourself what construction and build you want for your stand.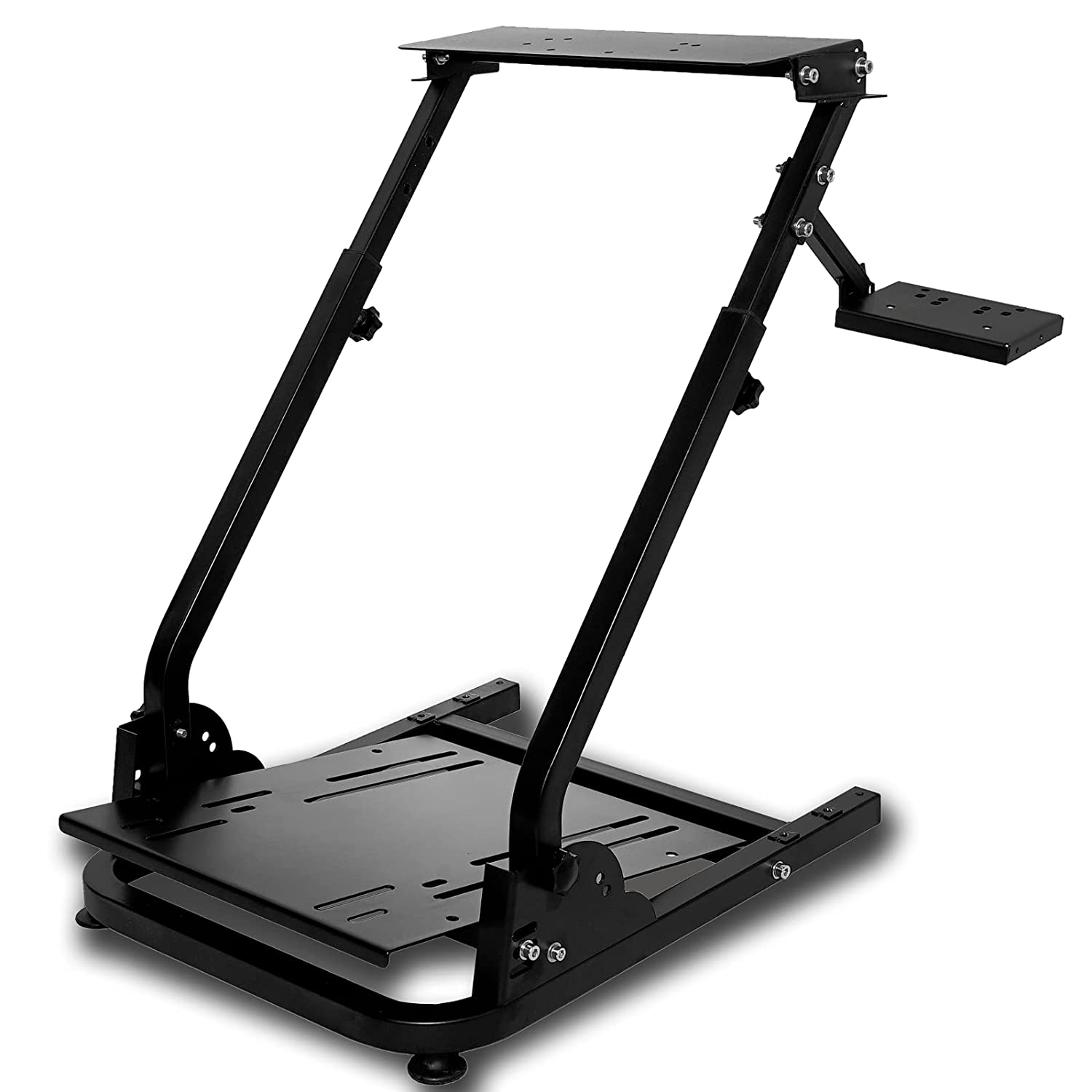 The Cingo Racing Wheel Stand is a basic construction that points perpendicular. It's best if you have a straight backed gaming chair for this one. It's easy enough to set the wheel up on the middle part as it will accommodate all wheelbases, since they're very standard. The bottom part is meant to house the pedals, naturally.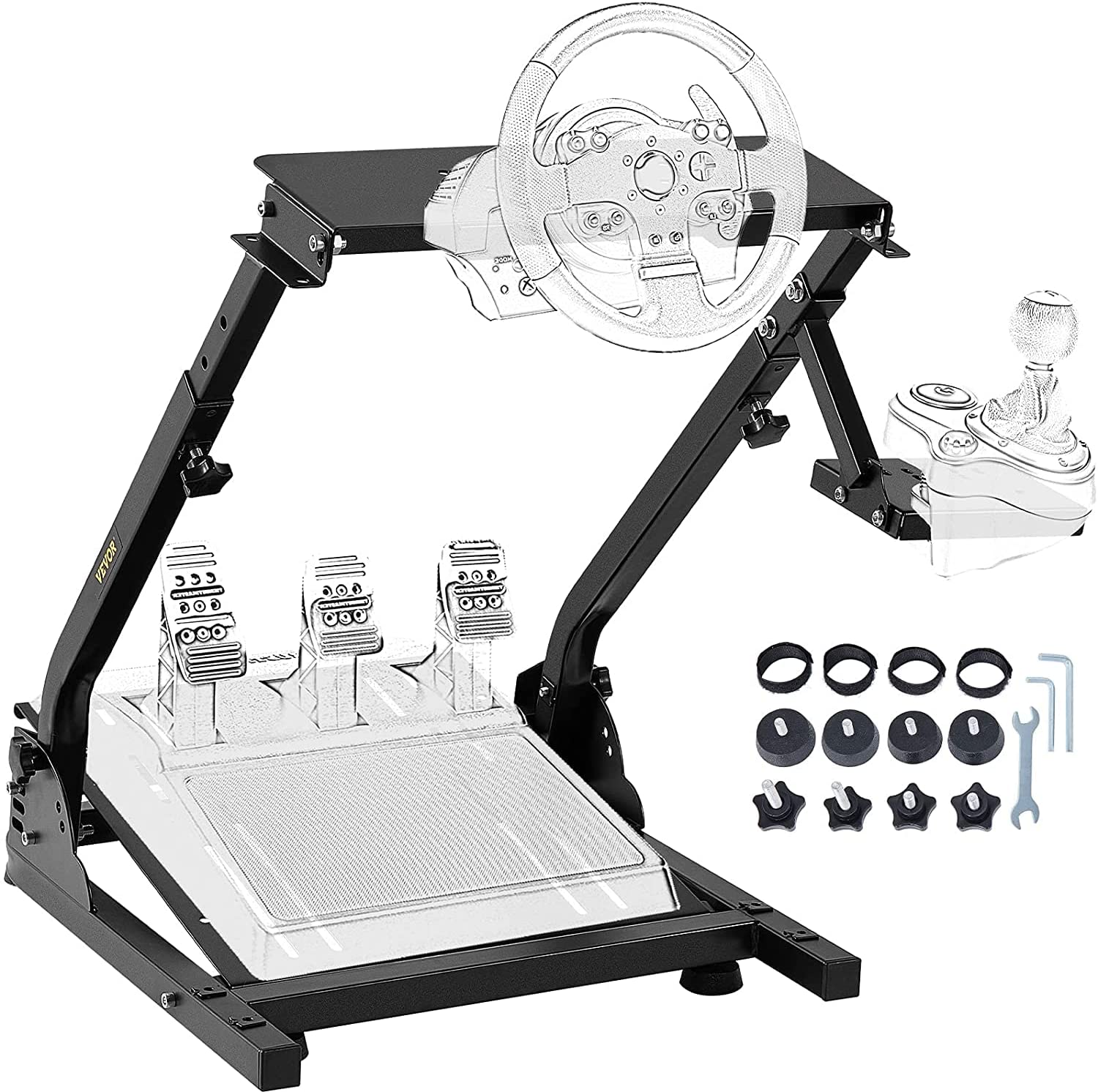 This stand is meant to specifically house the above-mentioned Logitech wheels. It perfectly fits the wheel and its accompanying pedals, making it a perfect stand for you if you buy the Logitech wheel. However, if you're a user of some other wheel, such as thrustmaster, then you may have issues with placing your wheel on this stand and may need a workaround.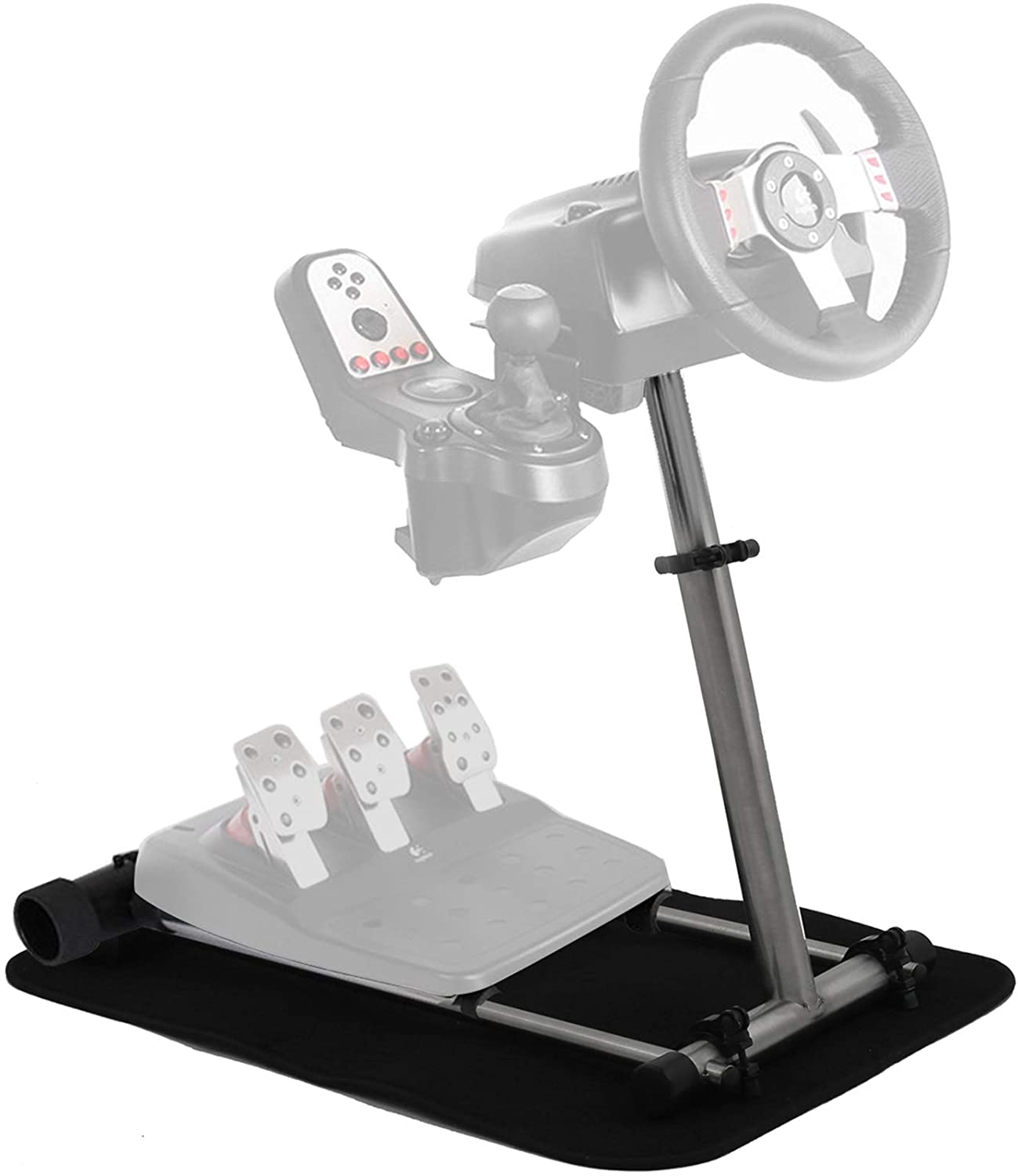 The Mophorn Racing Wheel Stand is a more sleek design than the above mentioned two. It's just one rod that houses the wheel on top  which is on a base that the pedals are placed on. This one is also easier to sit at with a racing chair, since the pedals aren't restricted to being right under the wheel.
How to Set Up Your Racing Wheel
In order to actually play the games you want to play in VR while sim racing, you'll need to set up the racing wheel you buy. While this isn't a complicated task by any means, you should have some prior knowledge and go through a how to, just to figure out if it's going to be a job you're up for.
The first thing you'll want to do is connect the pedals to the wheel. If you have a gear knob as well, then this will also need to be plugged into the wheel.
Next, you'll need to connect the wheel to its power source. Mkae sure you read the voltage warnings, just in case,
You'll then connect this wheel to your PC through whatever wired contraption the wheel uses. Usually, racing wheels will require nothing more than a USB port to run.
After this, you can go about the more physical aspects of setting up. You can place the wheels and pedals on a stand, or on your desk, and then place your racing seat as you like. If your set up is more vertical, then instead of the racing seat, it is advisable to use a straight backed chair like a gaming chair.
Make sure your wheel is turned on and then proceed to install and software on your PC that may be needed to connect to and use the wheel. You should also install the latest drivers for every piece fo hardware you've connected.
You can then go into the software and set the controls for the wheel. This includes setting up rotation, the turning sensitivity, the mechanics and other such things on the wheel. You can even fine tune controls for different games. So, you may have different controls for  Assetto Corsa and different ones for iRacing.
That's it! FIre up the game and get started! Let's get racing!
If you're on a console, you can connect the wheel via the USB cable to the console. Then, you'll have to head into the game you want to play with the wheel and select (with your controller) the option to enable wheel play and enable the wheel as a controller. You can then set up the wheel and make fine tuning tweaks. After this, you'll be able to use it for that game on your console as well.
Best VR Racing Games
This list is going to list out some of my favourite VR racing games. It's not an exhaustive list, but it contains the best games on the market, though users may disagree on the order.
Assetto Corsa
iRacing
RaceRoom Racing Experience
Dash Dash World
Project Cars
Dirt Rally 2.0
Void Racer Extreme
Death Lap
Gran Tourismo Sport
NFS – No Limits VR

Frequently Asked Questions (FAQs)
Question: Do Steering Wheels come with Pedals, or do Pedals Need to be Purchased Separately?
Answer: The answer is that in most cases, you'll be able to find a bundle where the same company will sell you a steering wheel as well as pedals. However, there will also be options to buy the wheel or the pedals separately. This means that you're at freedom to decide if you want the same set of pedals that come in a bundle or if you want to opt for a different set. This gives you a lot more freedom to play around with combinations.
Question: Are Steering Wheel Bolts Removable from Desks?
Answer: Yes. Steering wheel bolts are very large and blunt-ended. If you place them correctly, they shouldn't cause any issues to your desk. However, if you screw them on too tightly, they may leave a light dent when taken off.
Question: What VR Racing Games are Compatible with Steering Wheels?
Answer: Most VR games that support racing will be intended to be immersive. Therefore, all of them will likely have support for steering wheels to be installed for controlling the vehicles. Some of the games with this support are iRacing, Assetto Corsa, Project Cars 3, and Dirt Rally.
Conclusion
There are a number of different steering wheels available in the market for VR racing. They span a wide variety of materials, designs, and feedback motors.
For me, the best steering wheel to buy is the Thrustmaster T300RS/TX. This wheel is excellent at force feedback. It has great rotational freedom and is easy to set up. The only downside you may face is that the construction is rubber. However, that shouldn't deter you from slipping a sleeve or grip on it on your own.
There are other great wheels from Logitech and Thrustmaster that I've listed out in my top picks. These vary in size and pricing, but they are all great entry-level or intermediate-level wheels to use for sim racing.
I hope this article gives you some of the best options for steering wheels.
Happy Racing!
Continue reading:
The Best VR Headset for Xbox One