Latest posts by Ali Mustafa
(see all)
I've always been a fan of watching movies and playing games in virtual reality. The thought of switching from your 2D computer/mobile screens to 3D in VR has been a mind-boggling concept that I have always been fascinated by. Since I've been diving into this world of VR, I decided I would make the best Bluetooth VR headset guide.
Before PS VR and Oculus made the highlights in the VR world, we had mobile VRs such as Google Cardboard, Galaxy Gear VR, etc. You'll be surprised to know that these types of mobile VR headset are still relevant to this day!
If you check out the market for VR, you will find Bluetooth VR headsets to be a popular choice for buyers as it's a great alternative for people who want to experience virtual reality but lack the resources and/or love for gaming to buy gaming VR gear like Oculus Quest 2, HTC Vive, Valve Index, etc.
Bluetooth VR headsets are still enjoyed by many VR gaming users around the world, which is why I am writing this best Bluetooth VR headset Guide.
Bottom Line Up-Front
The VR market is booming, thanks to the Oculus Quest 2, but what if someone only wants to watch movies in VR and doesn't wish to spend $300 on a headset for VR gaming equipment? The answer is to buy a simple Bluetooth VR headset to get the VR experience at a fraction of the cost of a gaming VR.
When you start looking for a Bluetooth VR headset on the market, you will be confused by a plethora of choices; which is why I've created this list of the best Bluetooth VR headsets, keeping in consideration numerous factors such as budget, comfort, battery life, and features to single out 5 of the best Bluetooth VR headsets you can find on the market. Read on and single out the best one for you!
Selection Criteria
The list of best Bluetooth VR headsets that I've jotted down hasn't been made by random selection. I kept numerous factors in mind before creating this list, so here are the selection criteria I abided by when I made this list.
Budget
First and foremost is your budget. While more expensive Bluetooth VR headsets do provide enhanced comfort, more features, improved battery life, and ease of use, they come at a cost… which is… um… the cost. At the same time, Bluetooth VR headsets that are cheaper might have questionable durability and reduced features.
Comfort
The second factor to consider is the level of comfort of the headset. Since you will be wearing it on your face and for hours on end at that, you'll need a headset that has proper cushioning and doesn't weigh much. The comfort of a VR headset also includes good-quality lenses, as choppy graphics can be a headache (literally). The design of the head strap and the shape of the headphones (if present) are also important in the overall comfort of your VR headset. Buying a VR that isn't comfortable for use can be a real 'pain' (ok, I'll stop with the puns now)
Battery Life
The third thing which I had in mind was the battery life of the VR headset. VR headsets, on average, provide 4 -5 hours of battery life on a full charge. Battery deterioration is a common problem with Lithium-ion batteries, and no one appreciates a low battery notification when you're invested in a movie. When buying a VR headset, make sure the battery capacity is ample so that your battery doesn't give up on you in the near future.
Features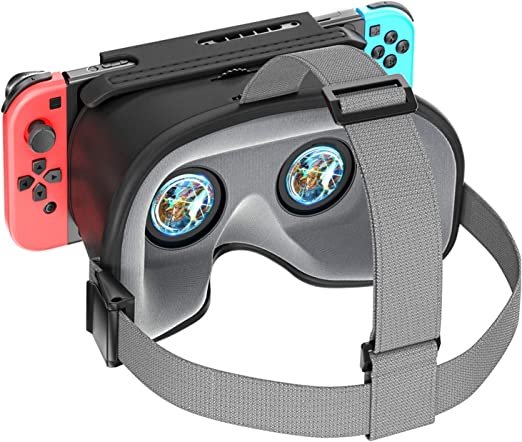 The last factor which I thought was important to consider when jotting down this list is the number of additional features in the VR headset. Since all Bluetooth VR headsets provide a display and audio output, there are additional features in some VR headsets that set them apart from the rest. While additional features like extra padding, comfortable design, noise-canceling headphones, Bluetooth remote etc., aren't necessary for a VR, they do enhance the VR experience.
Best Bluetooth VR Headsets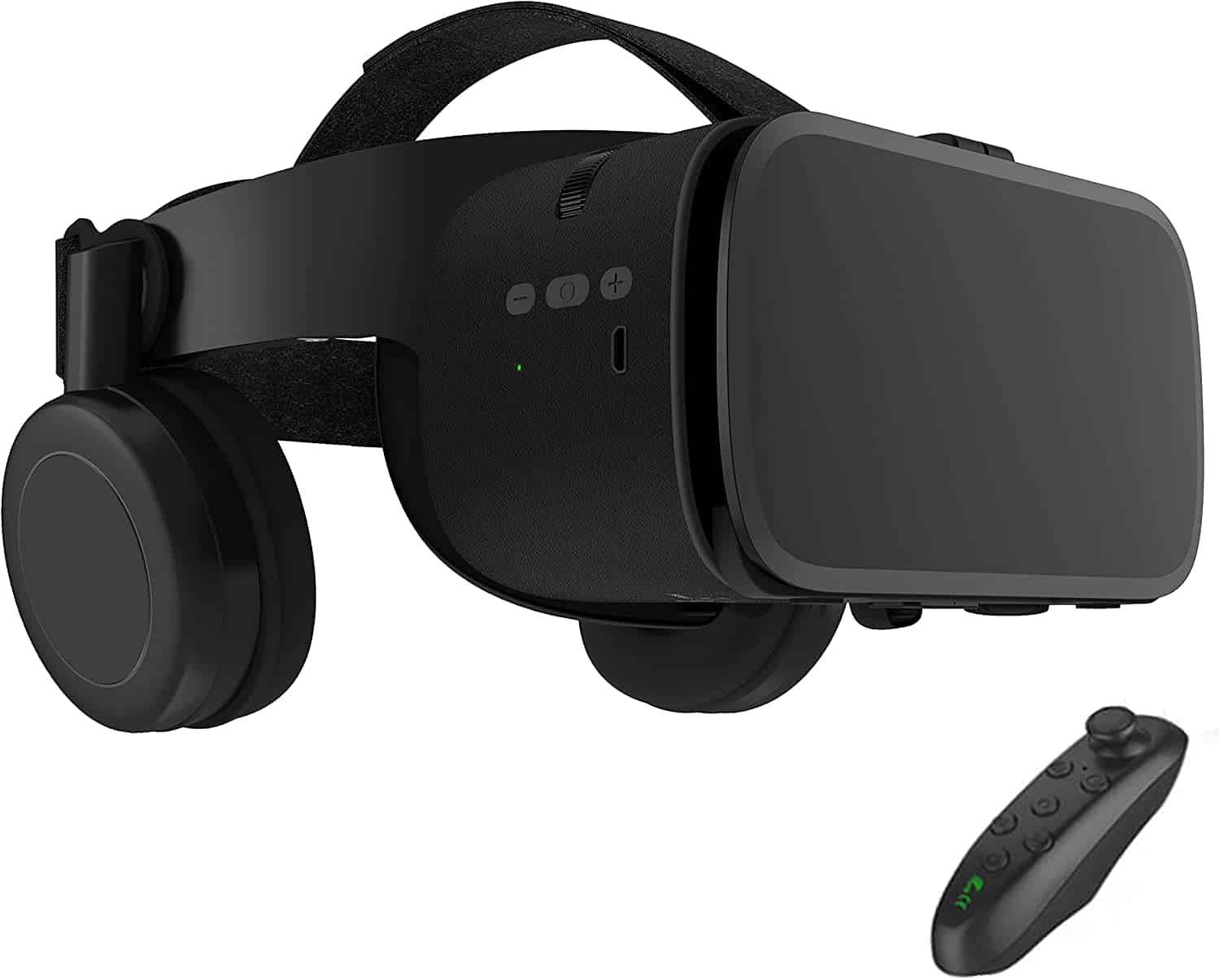 Bobovr is a big name in the mobile VR industry. They have created numerous spectacular VR headsets with unmatchable comfort and accessibility over the years, and the Bobovr Z6 is no exception to that. It is an amazing helmet VR headset with a compact size, making it very lightweight and comfortable to wear for hours on end. Speaking of wearing it for hours on end, did I mention it has a 25-hour battery life? It is a great device for use without needing to charge for a long time. It provides a FOV of 110°, which is more than any other VR on this list.
The built-in 50mm sound card provides a panoramic sound field to provide the immersion you need for watching IMAX movies. The speakers completely cover the user's ears and provide amazing noise cancellation of the outside world. The padding on the speakers is breathable, so there is ample ventilation. The lenses are highly aspherical, which provides extremely high-resolution and crispy images. Moreover, it is made up of high-quality material, making it very durable.
There are two controls for volume adjustment and a play/pause button with a little LED beside them on Bobovr Z6. The VR headset has scroll wheels to adjust each lens individually for the perfect focal distance. There is also an option for vision adjustment for farsighted and nearsighted people (from 200 – 400 degrees). Plus, it has a touch button/connector on the top that lets you play VR-compatible games on this headset. In the front panel of the VR, you can fit a smartphone ranging from 4.7-6.2 inch screen size comfortably. There is enough headspace in the VR for the user to easily wear their glasses while using VR, and the face pad is made up of skin-friendly, breathable foam that keeps the lenses from fogging. While the VR is jam-packed with amazing features, extreme comfort, and a long-lasting battery, the only downside is that this VR is quite expensive compared to other Bluetooth VR headsets.
Pros
Unmatched comfort.
High-quality speakers with outside noise cancellation.
Aspherical lenses with pinpoint accurate lens adjustment.
Ample headspace to wear glasses while using the VR.
Compact and lightweight.
25-hour battery life.
Cons
Expensive.
Bluetooth controller not included.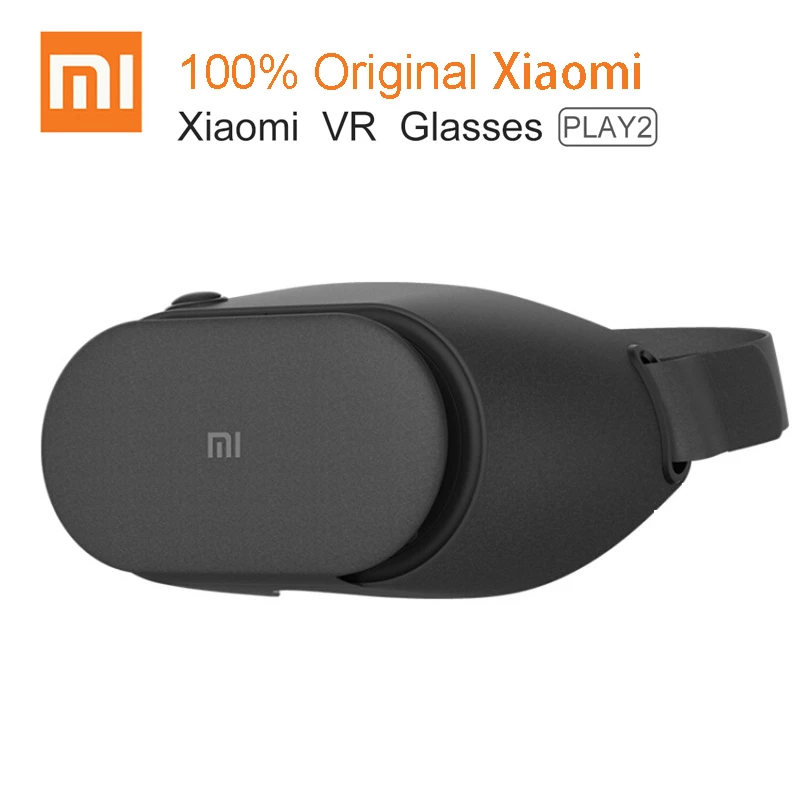 Although in design, the Xiaomi Mi VR Play 2 resembles the Google Daydream View VR. It has a fabric-covered casing and a horizontal strap on the back to keep your head steady. The Xiaomi headset is a basic Google Cardboard-compliant virtual reality headset that doesn't come with a Bluetooth controller in the box. While it's a very comfortable, durable, and amazingly designer VR, the fact that it doesn't come with a Bluetooth controller is a great disadvantage (More so as it's a costly VR).
There's a flap on the front of the VR headset to keep your phone in place, which is much more efficient than a standard zipper. A small groove on the headset's side will help you orient your phone according to your liking. The headset weighs only 0.4 lbs which means that you can use it for hours on end without feeling heaviness in your head or feeling fatigued.
It resembles Google Cardboard VR in many aspects, and you can expect a similar experience but with a more durable and comfortable design than the Xiaomi Mi VR Play 2. Due to its high-resolution support, you can see sharp and crisp 3D images and videos in VR. The VR experience and watching a movie feel amazing, but the functionality feels a bit restricted due to the lack of a Bluetooth controller. The Mi VR Play 2 has top-mounted play, pause, and volume up and down buttons. You must purchase a Bluetooth controller separately if you want to play games on this headset. It's a huge disappointment that Xiaomi didn't include a Bluetooth controller with the VR headset since it is pretty costly as compared to competitor VR headsets.
You can fit a 4.7 – 5.7-inch screen-size phone in the front socket of the VR, which will provide the best visual results. The VR provides an immersive 93-degree Field Of View (FOV), which is slightly less than other VR headsets but feels quite optimum. The headset is designed with comfort as the priority. It lacks a top strap which helps to balance the VR evenly on the user's head and doesn't strain the nose and the forehead, which is a common complaint with VR headsets. The design of the VR is stylish and comfortable, so the user can enjoy long hours of VR entertainment without any strain or fatigue. Overall, I think it's an amazing VR with great aesthetics, but including a Bluetooth controller will make the Xiaomi Mi VR Play 2 a complete package.
Pros
Aesthetic design.
Comfortable padding.
Durable.
Balanced VR headset; doesn't strain the forehead or nose.
High-resolution support.
Cons
Expensive.
Doesn't come with a Bluetooth controller.
FOV is less than competitors.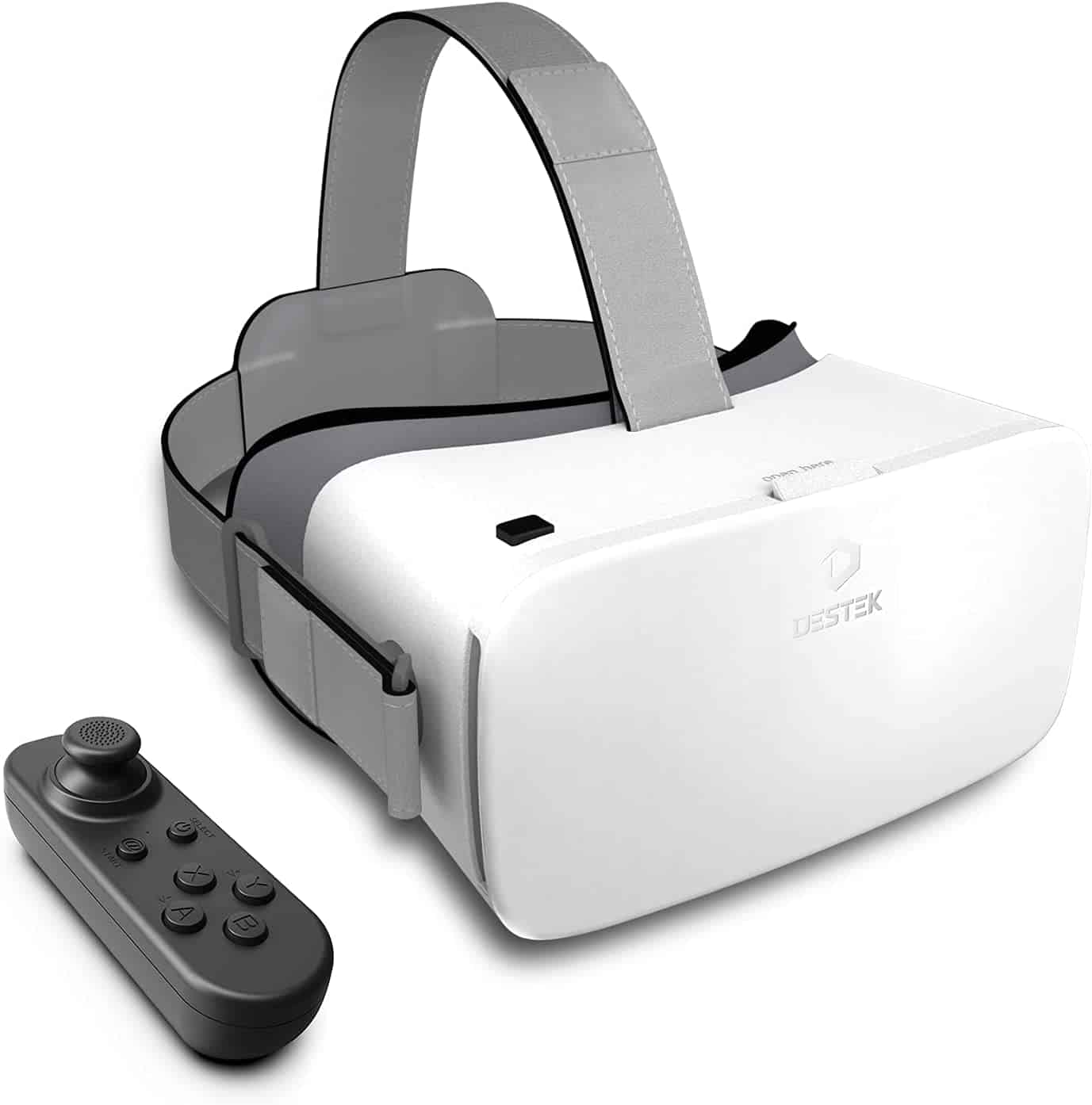 The Destek V5 is a virtual reality headset that also runs augmented reality (AR) applications! It comes with an application; ViewR, a headset-based augmented reality (AR) app that overlays useful information about your surroundings, which provides an immersive augmented reality experience. AR is the future of immersion media, and the destek Bluetooth VR headset is the only headset on this list that provides this feature. This headset is identical to the basic VR headset design, but the width of the straps is noticeably different, which enhances comfort.
It is a lightweight VR headset weighing only 0.8 lbs. It is very well balanced because of its wide straps, and the headset's base is sturdy to avoid the front-heavy pull, a common issue in low-budget VR headsets. The Destek VR has a two-part head strap, a polycarbonate body, and a foam-padded back. It has a few features to make it stand out from the rest. Adjusting the focus and pupil distance according to your preference is as simple as pressing a button on the headset's top or the temple region.
The front panel is held into place with magnetic hinges that are easy to attach and detach. This magnetic window comes in handy when the VR needs to use your smartphone's camera to record the room. The headset's top portion is not properly sealed, and there is light leaking. At the same time, another issue with this headset is that the phone grips are extremely fitting and tend to turn the phone off by pressing the power button.
Pros
Inexpensive.
Supports AR.
Adjusting IPD and the focal distance is very easy.
Well-balanced headset.
Very lightweight.
Cons
Leaking light issue.
Wrongly placed phone grips that keep the power button pressed in some smartphones.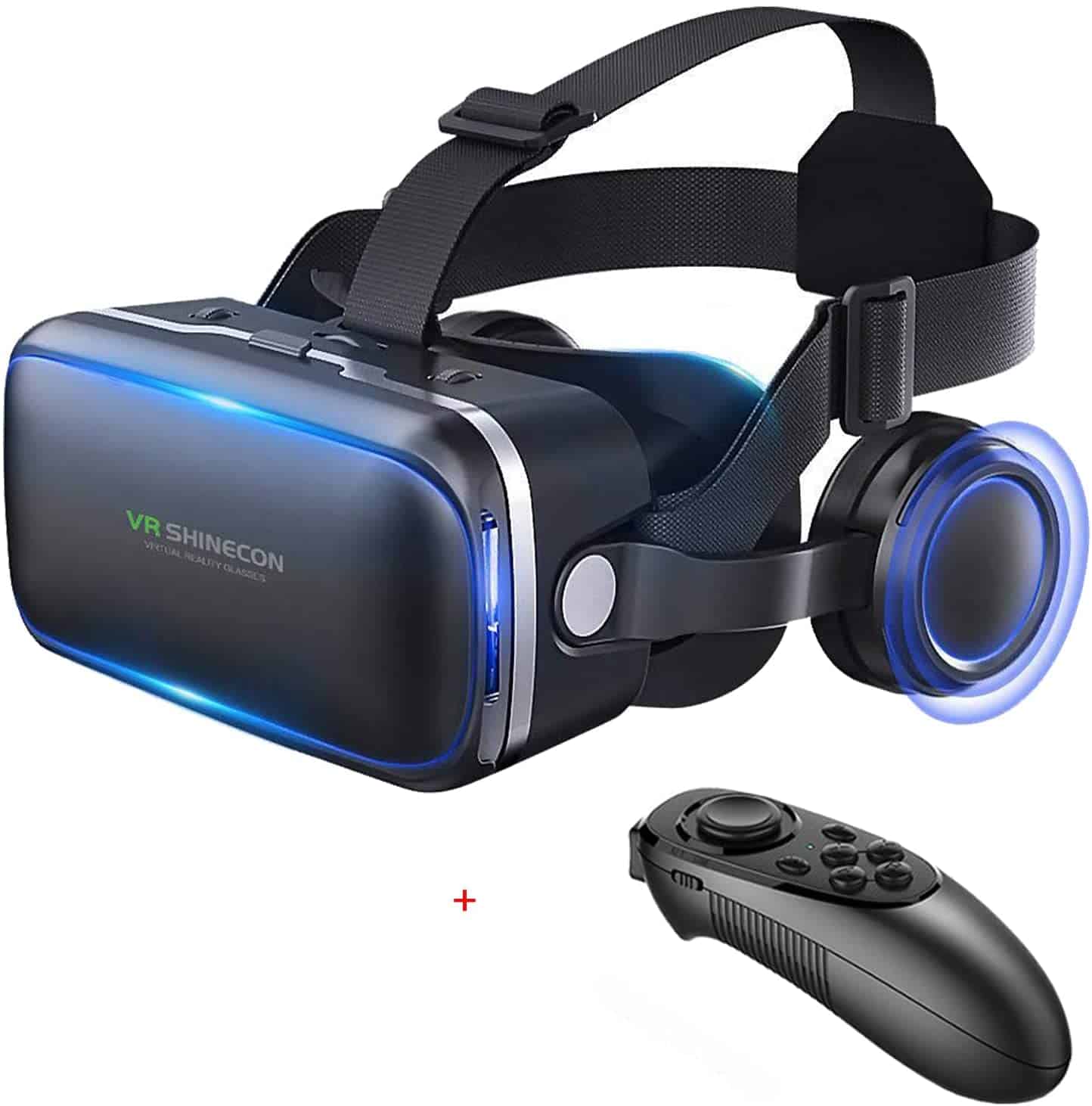 The VR Shinecon is a budget Bluetooth VR headset providing users with a great VR experience without an exorbitant cost. Although it is an economically priced VR headset, the speakers and the glass lenses don't suffer from cost-cutting. Shinecon didn't compromise on visual and audio components to keep the selling cost low. The front of the VR headset pulls out on a hinge so you can easily place your phone inside and firmly fix it in the foam grips which hold your phone in the front case. After that, just plug in your headphones, and you are all set to view your phone in 3D virtual reality!
There are three Velcro straps to firmly keep the VR Shinecon Headset attached to your head. Each of the three Velcro-adjustable straps is stretchy and can easily accommodate multiple head sizes. Although it falls short of the Gear VR, BOBOVR, or Xiaomi Mi VR Play 2 in terms of build quality, it is priced very competitively, which is the most attractive feature of this Bluetooth VR headset.
The Shinecon VR is fitted with high-quality Japanese optical lenses and an amazing pair of speakers to provide you with a great VR experience. Shinecon did, however, cheaped out in other components and packaging, which is a letdown. The durability of the VR headset is questionable.
Just like the Xiaomi Mi VR Play 2, this VR headset also doesn't come with a Bluetooth controller. However, the headset has physical buttons that control play/pause, next/previous, and a confirmation button. A Bluetooth controller is only needed when you wish to play VR games while playing standard multimedia on the VR doesn't require a Bluetooth controller. Three optical adjustment options on the Shinecon VR let you fine-tune each lens independently for your eyes and adjust the focus according to your liking. The large rotating dial will help you adjust the lenses according to your head shape and is used to adjust the horizontal distance between the lenses for the optimum focus of the displayed image. As you turn the other two dials, the glass moves closer or farther to focus the image perfectly.
The front panel that houses your phone is secured by two magnetic hinges, which you can open for additional airflow to prevent your phone from overheating, a wonderful feature by Shinecon.
Pros
Economically priced.
Great quality Japanese optical lenses.
Multiple lens adjustment settings.
Magnetic hinges allow additional airflow to keep your phone cool.
High-quality speakers.
Cons
Questionable durability.
It doesn't come with a Bluetooth controller.
Substandard packaging and components.
Not comfortable for prolonged use.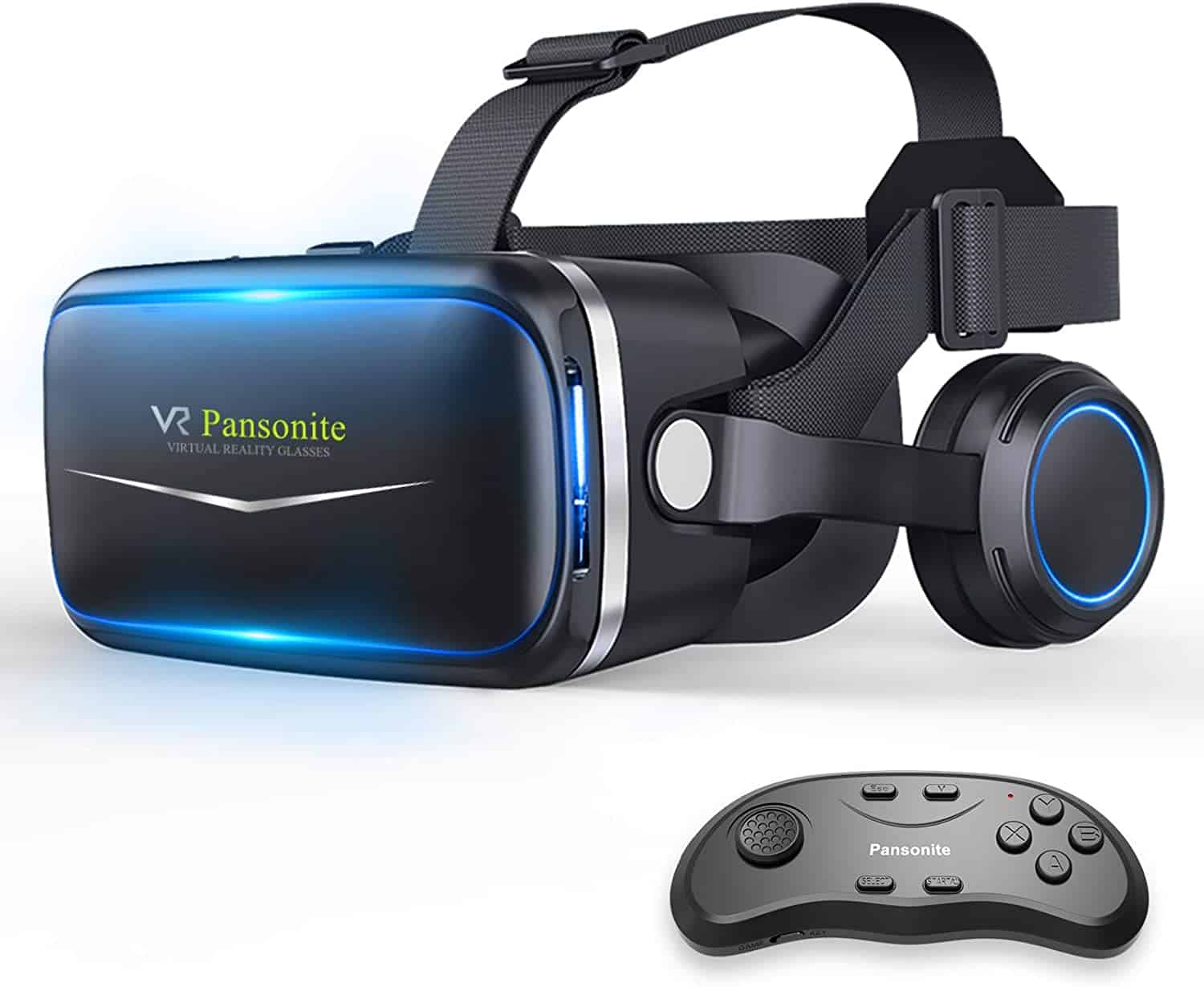 The Pansonite VR Headset is a weighty VR headset. It weighs a whopping 1.33 lbs, mainly because it comes equipped with built-in on-ear headphones and various attachments to customize the fit. Individual lens protrusion adjustment, velcro straps to hold the headset in place, and headphone pivots are coupled with the VR headset.
A short instruction booklet which is a guide to using the VR headset, is also included in the box. The process of setting up the VR couldn't be simpler! Simply place your smartphone in the dedicated slot in the front of the VR, plug in the headphones in the 3.5mm jack, and snap the front cover to enter the virtual reality world! Unlike the above two VR headsets, the Pansonite VR headset comes with a Bluetooth remote control which you can connect to your phone and start using the controller in VR.
The Pansonite VR headset is worth the money because it includes many additional features, making it a very functional and comfortable headset. It's 4.3-inch thick but still very lightweight, so much so that you can comfortably wear this headset without getting fatigued for hours on end.
The Pansonite might seem like a costly VR, but it provides many great features compared to its competitors in the same price range. You get a comfortable VR with many functions and great sound quality. You can fit your phone in the front compartment that houses your phone with rubber grips and a plastic shelf. Plug in the 3.5mm audio check to use the high-quality headphones. The VR headset comes with three Velcro straps to fit the VR comfortably on your face, and the fabric of the padding is soft and breathable, which helps reduce fog build-up due to sweat.
The VR headset includes a Play/Pause button, Fast Forward and Rewind button, Select/Home button, and volume controls on the top so you can easily control multimedia on your VR. The Pansonite VR allows IPD (interpupillary distance) adjustment from 60 to 70mm and focal distances from 37.5 to 46.5mm; thus, this device has no chance of eye strain. A few hours of using the headset should not cause any discomfort to your neck or eyes.
Pros
Extremely comfortable
Built-in high-quality headphones.
Adjustable IPD and focal distance of the lenses for perfect focus.
Breathable padding to avoid lens fogging.
Bluetooth controller included
Cons
Aesthetically unappealing.
Expensive for a Bluetooth VR.
Questionable durability.
FAQ's
Question: Can I Play Beat Saber On Mobile VR?
Answer: No. Games like Beat Saber are available to download and play on gaming VR headsets like Oculus Quest 2, HTC Vive, Valve Index, etc. You can find VR-supported games on the Google Playstore or App store to play in mobile Bluetooth VR headsets.
Question: Can You Watch Netflix In VR?
Answer: Yes, you can! Download the Netflix VR application on your phone, launch the app, sign in to your account and fix your smartphone in your Bluetooth VR headset to start watching Netflix in VR!
Question: Are Mobile Bluetooth VR Headsets Still Relevant?
Answer: Yes, they are! The cheapest gaming VR available on the market is the Oculus Quest 2 at $300 MSRP. Not everyone wants to play games on VR. Bluetooth VR headsets are much cheaper than gaming VRs and provide an amazing experience for people who are enthusiastic about watching movies in virtual reality.
My Top Picks:
The BOBOVR Z6 Virtual Reality Headset is a clear winner on this list. It is the best VR headset because it has unmatched comfort, high-quality speakers, and long battery life. It is compact, lightweight, and packed with great features.
The Xiaomi Mi VR Play 2 has a sleek design with a fabric-covered casing. It is very durable and provides a premium virtual reality experience. It doesn't come with a Bluetooth controller, so you need to purchase that separately to play VR games.
The DESTEK V5 VR Headset provides not only virtual reality immersion but also supports augmented reality (AR) immersion. It is equipped with breathable foam padding for added comfort.
Conclusion
Bluetooth VR headsets are inexpensive, entertaining, and portable. They are an amazing alternative for people who cannot afford gaming VRs or want to watch movies in VR. Numerous Bluetooth VR headsets available on the market differ in pricing, features, and comfort.
The BOBOVR Z6 Virtual Reality Headset is the best VR headset. It provides amazing comfort to the user, extra sharp images with aspherical lenses, and great sound quality with panoramic sound because of its high-quality sound card. The VR has a working battery life of 25 hours, making it very portable and highly efficient.
The Xiaomi Mi VR Play 2 is also a great choice for a Bluetooth VR headset, but you need to buy a Bluetooth controller separately to play VR games on it. It has an amazing design with a fabric-covered case and extra comfortable padding. The VR headset is well-balanced to ensure that the person wearing the VR doesn't strain their nose or forehead.
The DESTEK V5 VR Headset provides augmented reality (AR) immersion and standard VR immersion media. It is a great inexpensive Bluetooth VR headset if you also want to experience AR. The VR has a leaking light issue which takes a toll on aesthetics, but overall, it's a pretty decent VR headset when you're on a budget.
I hope that this guide proves to be helpful and aids you in choosing the best Bluetooth VR headset for you! Make sure to check out other amazing articles on our blog.
Read More