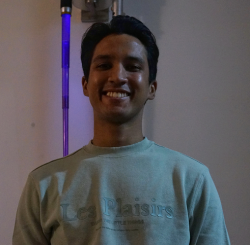 Latest posts by Sanidhya Rao
(see all)
The Oculus Quest 2 is a flagship standalone headset introduced by Oculus in 2020. It's a strong device with decent battery life and a pair of particularly interactive Controllers that allow for gesture tracking and immersive gameplay, and multimedia usage.
If you run through the library of games as quickly and as enthusiastically as I do, then you will realize you've burnt through the battery fairly quickly.
If you've been gaming for a while, then you know, having your controllers die out without notice or having to see the low battery indication when you're mid-game is particularly annoying. If you want to avoid all the hassle, you've come to the right article to learn how to charge Oculus Quest 2 Controllers.
Bottom Line Up Front
There are a couple of different methods to check the battery and plan to charge your Oculus Quest 2 Touch Controllers. You can always check the battery of your individual Touch Controllers as well as the Oculus Quest 2 headset itself while in the Oculus 2 interface.
It's no secret that for all its good features and user-friendliness, the standalone VR headset from Oculus has poor battery life for the headset itself, as well as for the accompanying Touch Controllers.
That's to be expected considering the weight and the bulk of the items. It is, however, easy to replace them, and they burn through at an adequate pace for most VR gamers. The battery life is about 30 hours of use per set of batteries.
I say a set of batteries because the Controllers use a AA cell for each individual controller. It's a very hefty battery life because of this. It's also particularly easy to continue gaming even after you run out of charge since you need only switch them out and then plug right back into a game.
The only downside of this that I noticed was the fact that spending money on batteries regularly or spending money in one go to buy a bunch of AA cells is sometimes annoying and feels like an extra expenditure or investment into the VR experience provided by the Oculus Quest 2 headset, on top of the initial price you pay for the headset as well as the Controllers.
You'd expect technology released in 2020 to come equipped with the popular lithium-ion rechargeable batteries in-built, which are borderline industry standard at this point.
However, Oculus has chosen to go the same route as Xbox and presented to its users (once again) a pair of controllers that have removable batteries that can be
While there is no way to create an experience exactly the same as the built-in batteries of other controllers such as those in the Valve Index, players can always opt for a workaround to create a similar charging set up to make their VR experience more convenient and hassle-free.
Checking the Battery Level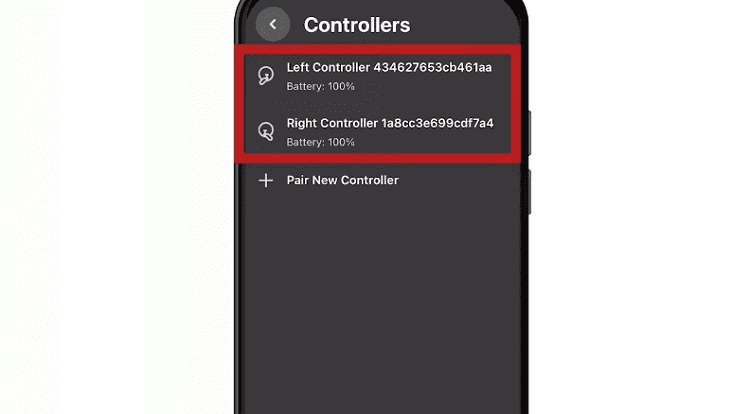 You can check the battery level of the Oculus Quest 2 controllers from the Menu Bar itself. On the left-hand side, you can see the battery levels indicated in a four-dot system for the headset as well as the Controllers.
The four dots indicate battery percentages within a bracket of 25, meaning that the first dot is 0-25%, the second is 26-50%, and so on.
If you drag your cursor over to the exact device you want to check the battery percentage for, you can see the percentage level if you hover over the device for a couple of seconds.
For the Touch Controllers, you'll see battery percentages in multiples of 10, whereas if you point your cursor over to where the headset's icon is located, you'll see your battery percentage narrowed to the exact whole number.
Additionally, the new v29 update and onwards for the Oculus Quest 2 headset enables users to see the dot indicators for the battery for their controllers directly on the controllers visible in the VR space.
So, you won't even need to head to the Menu in order to see your rough battery if you've made the update to v29 and above.
The downside to the battery indication system is that controllers could range anywhere from 1% to 25% on the first dot, and you have no way of telling which is which.
Even when you try to see the percentage indications, it's not entirely consistent, and I've found that turning the VR setup off for a while and turning it back on to play again can actually show an increased percentage.
I've had instances where I went from about 70% to 30% in a day, and I turned it off to go pick up batteries, and when I turned it back on to play again, it had miraculously jumped up to 40%. Not the most consistent indication to rely on, considering it is the only indicator that you could use to plan your charging.
Nonetheless, if you're down to the first dot for either device, now might be a good time to start planning your charging situation.
Charging the Oculus Quest 2 Controllers
If you're looking to charge your Oculus Quest two controllers, you can go about this directly or indirectly, depending on how you use your headset, how much space your VR gaming setup has for docks and how convenient it is for you to switch out batteries.
Removing the Battery Cover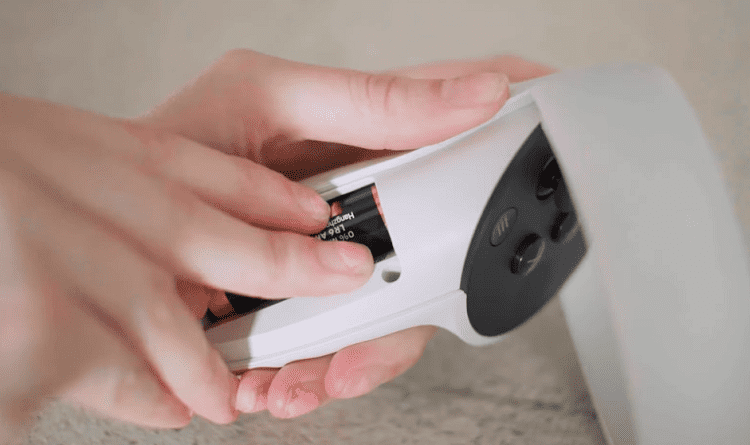 Whether you opt for the indirect options or the direct options, you need to know how to open the battery cover on your Oculus Quest 2 Touch Controllers.
While the Controller looks to have a fairly flush build, with no seams, you'll notice that right above the indicator for which hand the controller is for, you can see the symbol for 'open,' similar to how it would be on a disc player.
You can slide this panel downward, in the direction the arrow is pointing, to remove the cover and expose the slot for the AA battery.
From here, you can replace the AA battery with the battery of your choice and see that the positive end of the battery goes down.
Charging the Battery
The Indirect Method
The indirect method of charging the batteries is simple and what I prefer. You can buy two pairs of rechargeable AA cells and then keep one inside the controllers when playing and keep the other one charged whenever you run out of the primary cells to switch out.
Then, you can charge the ones that have run out as you use the secondary cells to play. This is convenient and the best experience, in my personal opinion, since there are no issues with charge and inconsistencies in battery life.
Another advantage of this setup is that you can always have more space in our VR room, with no requirement for docks or other charging accessories. You can plug the batteries in to charge at any plug point, not restricting yourself to a dock.
The Direct Method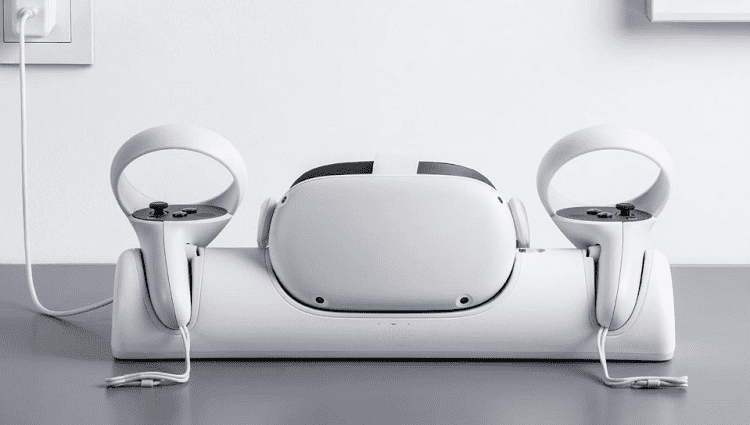 The more direct method to charge your Oculus Quest 2 Controllers is to use a charging dock. Oculus is pretty clear with their preferences on this one. I'm not sure whether they receive a cut from the sales or have a partnership with Anker, but their website itself advertises the charging set from Anker here.
Naturally, to accommodate for the nature of the new batteries, a special covering is required for the battery covers, and that comes included in the box as well.
The battery provided in the box ensures that the charging dock connects to the controllers magnetically and then clicks right into place as it charges the batteries through the covers.
Unfortunately, the suggested dock includes the price for the charging station for the Oculus Quest 2 headset itself, which is built into the dock, between the charging slots for the Touch Controllers. This puts it at an extremely hefty price of $100.
Given that price point, the fact that it's on the Oculus website as well, and the fact that the set comes from Anker, which I consider to be one of the leading accessory companies, it is undoubtedly one of the best charging docks you can buy for your Controllers, if not the very best.
It comes with rechargeable batteries included in the box, and you need to only replace the AA cells in your Controllers, which are the rechargeable batteries that come with the ones in your controllers. Swap these two things out, and you're ready to go, with a couple of 1800 mAh batteries to keep you running for a long time.
The downside is finding a spot to keep your dock in your VR play area. If you're already using a stand and need space, then you could see this as a potential problem. Moreover, the price point is a massive deterrent, at least for me.
I don't think any user entering the VR space needs to opt for a charging station that's a third of the price of the headset itself, just to play more conveniently. Further, I don't think it's realistic to carry the charging dock with you, and you'll definitely need to plan to charge and playtime accordingly when away or traveling.
The upside is you can likely skip the planning by charging overnight. The only thing that could possibly go wrong is the battery life over time, but that's true for virtually every rechargeable battery on the planet.
Alternatives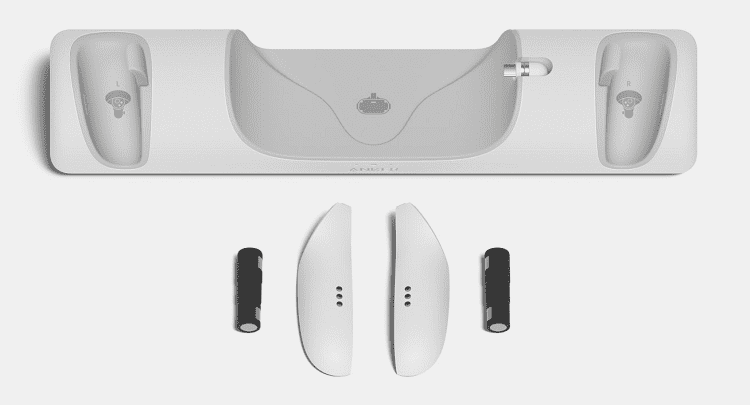 My first and suggested alternative is the simplest and most unexciting suggestion you'll read for some time: buy AA cells from a quality company like Duracell and store them close to your VR setup.
I know it sounds cheap and doesn't necessarily entail the 'premium experience,' but I've done this for a while with my Touch Controllers and honestly can say that it provides a great experience in terms of battery life and convenience if you remember to pick up the right amount of batteries at the right time.
I used to do this with my Xbox controller in spite of having access to rechargeable batteries and cases. It's more convenient, in my opinion, and a more consistent experience, with the only downside being unable to accommodate for travel unless you can carry the batteries around. Though, in my experience, you'll rarely ever need to.
The second alternative is what I think is ideal for someone who is willing to only charge rechargeable batteries through a dock. I'd suggest purchasing a dock station that accommodates only the controllers. Most of them are homogenous and cheap enough when they come from third-party companies.
None can be said to have the build quality or the promise of the Anker dock, but ones such as this one from Dobe should get the job done satisfactorily.
I'm not very sure of the battery age and capacity on these, but you can always opt for another set of rechargeable batteries in case you're faced with any issues due to the ones shipped with the box.
Frequently Asked Questions
Question: Can You Charge the Oculus Quest 2 Touch Controllers?
Answer: No, unfortunately. There's no in-built mechanism in the Touch Controllers to accommodate rechargeable batteries or cable charging.
The ways you can get closest to a rechargeable experience is that you use a pair of power outlet-based rechargeable AA batteries or use a charging dock that comes with rechargeable batteries to charge your controllers or batteries for a more convenient experience.
Question: Do You Need a Special Battery Cover for Rechargeable Batteries?
Answer: Yes, in some cases and no in others. You do need a special cover when you're buying a charging dock that comes with the rechargeable batteries in the box, such as the Anker dock displayed on the Oculus website.
However, should you opt to use a pair of externally chargeable AA batteries, you can charge them via a power outlet and be good to go, and retain the original battery cover that came with your Oculus Quest 2 Touch Controllers.
Question: How Can I Increase the Battery Life of My Oculus Quest Controllers?
Answer: Unfortunately, there's no outright way to increase the battery life on the controllers since there's no type of use for them that you can alter within the VR experience, and they rely on external batteries rather than an in-built lithium-ion.
This means that the only way to increase battery life is to do one of the following: Buy a battery with better capacity, such as a Duracell AA set; or buy an external rechargeable AA battery set with longer battery life, ideally over 1200 mAh; or lastly, buy a charging dock that comes equipped with better rechargeable batteries.
While these alternatives won't increase your battery per se, they'll ensure that the better batter and charging management that you have is more suited to a convenient VR experience with the Oculus Quest 2 Touch Controllers.
Conclusion
There's, unfortunately, no way to charge the batteries your Oculus Quest 2 Touch Controllers come with. However, you can always try and enhance your user experience by opting to use the controller batteries and managing them in alternative ways. These include:
Stocking up on good quality, long-lasting AA cells, such as those from Duracell, that can last for up to 30 hours of game and VR usage time. If you plan the purchase of these batteries correctly, you should have no problem keeping the Controllers fresh.
You can use a pair of external AA battery sets that are rechargeable. These can be powered through a wall-mounted power outlet and be switched out when you're through the power on one set. You can charge these alternatively, making sure you're virtually never out of battery.
Lastly, you can purchase a charging dock for the Controllers and (optionally) for the headset as well. These will mostly come with a pair of rechargeable batteries in the box, along with a special battery case that will fit into the charging base, such as the ones from Anker and Dobe that I mention above. You can leave it to charge when you're not playing and come back to a set of fully charged controllers every time you begin a new session of VR gaming.
Happy gaming, and remember to stay charged up!
Continue reading:
Is VR Still in its Infancy in 2022?